What is Affiliate Booster?
Affiliate Booster is a WordPress theme created and built specifically for affiliate marketers. If you are looking for an appropriate theme for your affiliate websites, then Affiliate Booster can be a gamechanger for you. Do you want to know all features and benefits of this theme? Read this Affiliate Booster Theme Review till the end.
It is a relatively brand new theme on the internet marketplace. It comes into the market in 2020. You don't need costly Page-Builders, you can now develop affiliate websites easily and quickly. You'll find 25+ pre-built Gutenberg blocks inside affiliate booster to help you quickly create outstanding designs.
>> Get Affiliate Booster Free Plugin Now!
Vendor:
Name – Mr. Kulwant Nagi.
He is a well-known affiliate marketing guru from India, who created and published this unique theme. He is a renowned affiliate marketer also.
Mr. Nagi developed this Affiliate Booster theme for his own affiliate marketing business. In his journey as an affiliate marketer, he had numerous challenges and was unable to find a suitable theme for affiliate marketing. So, he developed this theme. Later on, he published this theme for affiliate marketers.
Why will we choose affiliate booster?
The ultimate goal of an affiliate marketer is more conversions through their links. For more sales, you need a conversion-optimized theme for your affiliate website.
To obtain more conversions, we need to make our review articles, list articles, and comparative articles look more professional. 
The product reviews should highlight the positive and negative aspects of each item. For an affiliate website, this is required to be conversion-boosting features like product comparisons, star ratings, video, and more.
In addition, we require entire authority over the modification of each component of the theme. Also required speed optimization, schema optimization, and a good user experience. All of this can be optimized with the Affiliate Booster theme and plugin. 
Affiliate Booster Theme Review; Features:
Attractive design: 
You can give your blog articles a sophisticated look in a matter of seconds. To make your affiliate offer more authentic, you can use over 25 pre-built themes. Boost your article's CTR, improve the visitor's experience, and increase revenue.
Because such blocks are created by using a normal Gutenberg editor, you won't need to use any pricey page builders or plugins to give your website a polished look.
Features for advanced and simple editing:
Powerful editing tools to help you personalize the look and feel of your blog. Edit the color, size, border, button and icon colors, and other components of your web design to fit the block design to your needs. If you're a complete beginner, this plugin is perfect for you because the sophisticated editing features make it very easy to use.
Gutenberg blocks are dynamic:
For desktops, tablets, and laptops, this will be a wonderful experience. Get better rankings in Google, and your sales will rise as a result.
More clicks:  Obviously, this will enhance the purchasing experience and increase affiliate clicks. More than 25 pre-built blocks help you create attractive CTA buttons and increase your CTR and sales.
Specifically designed for affiliates:
Create more enticing affiliate designs. You can rapidly generate and use content by using pre-made and configurable content sections.
Gutenberg's editor:
The additional content blocks and design options make it easy to get the most out of the block-based editing environment.
Make your brand image:
Share your personal library of layouts to make your personal brand.
For newbie and seasoned marketers:
Create professional-looking websites using pre-designed templates even if you are a complete beginner.
Compatible with Page Builders:
Affiliate Booster is fully compatible with all page builders, including thrive and Elementor. 
AdSense Acceptable:
This is great for affiliate blogs, and also for AdSense blogs. An ad placement section is included there, this saves you a lot of time when it comes to placing ads. Just you need to copy the AdSense code and paste it into the ads section.
Fetch images directly from amazon:
You can fetch images directly from amazon and can use them inside your website. Just copy and paste the amazon product URL, Affiliate Booster will do the rest.
Use the plugin without the theme:
The Affiliate Booster plugin works with every WordPress theme. So, use the plugin without the theme.  Also, this is a blogging theme that is ideal for creating a blog's homepage.
Affiliate Booster Theme Review; Type of Blocks:
Notice:
To attract more attention, include eye-catching notices in your affiliate postings.
Pros and Cons:
Choose attractive Pros and Cons designs to assist your audience in making a decision.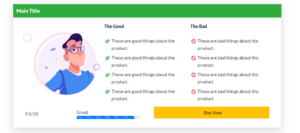 Comparison:
To give a fast summary of the products, use comparison tables in your articles.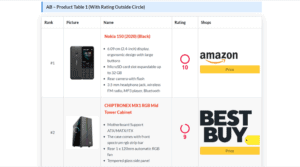 Top Pick:
Showcase your best-chosen product and make it as simple as possible for the audience to purchase it.
>> Get Affiliate Booster Free Plugin Now!
Table of Contents:
Create an excellent Table of Contents anywhere with the pre-made Table of Contents block.
Star Rating:
Offer products ratings to assist buyers in making a purchase decision.
Single Product:
Use this section to highlight individual products by displaying their benefits and features.
Progress Bars:
Use this block to display product features as progress bars.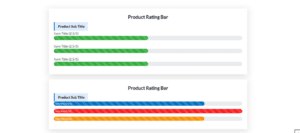 Single Pros and Cons:
By employing this, you can show the product image, pros and cons, and the ultimate judgment all in one block.
Notification:
To attract more attention, include eye-catching notifications in your affiliate posts.
Good Bad Features:
This fantastic block may be used to display the benefits and disadvantages of any product.
Conclusion:
This block should be included at the end of your affiliate articles to provide a final conclusion.
Coupons:
Choose from three amazing designs from the specifically designed coupon blocks.
Call to Action:
Insert a call to action into your blog posts to capture your audience's interest quickly.
Button:
To increase clicks, add a stunning button with full customization options.
List items:
To highlight the features and benefits of products, include list items in your blog posts.
Affiliate Booster Theme Review; Price details: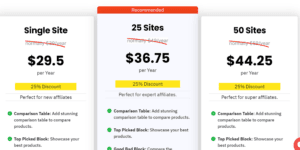 Single site: 
For a single site this costs $29.5 per year. This is very suitable for newbie affiliates.
25 sites:
This plan costs $36.75 per year, best suitable for seasoned affiliate marketers.
50 sites:
This plan costs $44.25 per year, best suitable for super affiliates.
Pros:
Schema-optimized.

Great Google's SEO score.

Loading is lightning fast.

Customization is simple.

Gutenberg compatible.

There are six different types of headers.

Nine different homepage designs are available.

5 single-page layouts.

Mobile-friendly.

Controls for typography.

Controls for color.

Compatible with Page Builder.

Gutenberg Blocks are quite powerful.

Affiliate Booster Plugin is available for free.

AdSense is compatible.
Cons:
The theme is new in the market.
Affiliate Booster Theme Review; Conclusion:
So, in my opinion, the theme is worth buying. This theme will allow you to use a variety of block options, which is amazing.  In addition, this theme is fantastic for AdSense sites. It has a pre-built ad placement option.
Overall, a fantastic theme for all bloggers and affiliate marketers at a fair price. So, grab it today and grow your affiliate business fast. I hope this Affiliate Booster Theme Review will be helpful for you to make the right purchasing decision of this theme and plugin.
>> Get Affiliate Booster Free Plugin Now!
Few related articles you may like to read: