Introduction:
This is a common question of many online marketers, how to enhance an advertising performance? To optimize your ad campaigns, you must understand how your customers behave when they come to your landing page. In this Clickmagick review, we will go through all features and benefits of this tool, and make you understand how it helps you to optimize your advertising campaign.
Unless you use excellent tracking software, you will not understand what the actual benefits are. ClickMagick is a cloud-based solution for tracking and optimizing Ad campaigns. With ClickMagic, you can create tracking links, and this awesome tool will tell you who visited your landing pages and who converted to purchases.
ClickMagick has a variety of more advanced features, which we will go over in detail in this review post.
   Start ClickMagick 14-day Free Trial Now!
ClickMagick Review; Feature:
Affiliate marketing made easy:
ClickMagick is basically created by super-affiliates to grow their own affiliate business. This allows you to simply perform split tests in order to improve all of your landing pages and affiliate marketing ad campaigns.
Evaluation of traffic quality:
It is important to recognize which traffic sources are beneficial to you and which are a waste of your time and money.
ClickMagick provides a traffic quality rating to each of your tracking links, allowing you to see exactly what quality of traffic you're getting. If the click quality is unsatisfactory, the system will notify you.
You can cut your marketing costs by using ClickShield:
Many clicks are performed by 'bots,' which are robotic software programs. And your competitors will try to outspend you by clicking on irrelevant links.
You don't have to be concerned about this because you can block 'bot' and competitor clicks. You can use Click Shield to set basic rules for the same.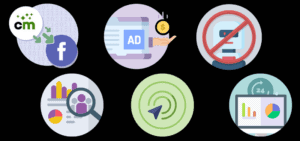 Analyze and improve your entire sales funnel performance:
Using this technology, even the most complex sales funnel can be analyzed and optimized efficiently.
This program was created for Google, Facebook, YouTube, and other advertising platforms. You can easily and quickly evaluate and improve your ads.
Cross-device tracking is feasible:
The person usually has 2 to 3 devices and alternates among them. That is why the bulk of tracking technologies failed to track their true activity.
People put email on their mobile phones, join a webinar on their iPad, and make a transaction on their PC. The majority of folks do the same behavior.
With true cross-device tracking, you can track it all and improve the ad utilizing ClickMagick.
Assist ad platforms in reaching more high-quality clients:
Both Google and Facebook use AI algorithms to find new customers, however, they mislead 20 to 50% of their sales.
It's quite simple to send your conversion data to the networks where you promote using ClickMagick target optimization, giving you more exact data to work with.
API Integration for Facebook Conversions:
ClickMagick Public Optimization Campaigns is fully integrated with the Facebook Conversion API and sends your conversion data to Facebook in real-time.
Recent changes to Facebook Ads due to iOS 14 have no impact on ClickMagick monitoring.
Retargeting across many networks:
You can considerably increase income and enhance awareness of all your offerings by monitoring your visitors throughout the web using Multi-Platform Retargeting. This allows you to add an infinite number of retargeting pixels from any retargeting platform to any tracking link.
Rotation of the link:
Link rotation allows you to have numerous URLs for a single ClickMagick link and redirect visitors to those URLs in a rotational pattern using various modes like Fulfillment, Spillover, Random, Sequential, etc.
Excellent round-the-clock assistance:
Standard and Pro users are assisted by live chat 18 hours a day, seven days a week, and via phone, if needed.
You may also send a support request, and they will respond within a few hours. It is open 24×7.
   Start ClickMagick 14-day Free Trial Now!
Best suitable for…
Affiliate marketers.

E-commerce owners.

Coach and consultants.

Bloggers.
ClickMagick Review;

Pros:
It has a wide range of features that are both detailed and extremely customizable.

Link rotation is quite useful for distributing traffic to diverse products as well as for click selling.

Cross-device conversion tracking is a complex functionality of

ClickMagick

, that is lacking in many systems.

It has a funnel builder tool that makes it simple to establish links for your funnel.

When dealing with affiliate products, ClickMagick has Postback URL support, which enables you to measure conversions without the need for any pixels.

ClickMagick comes with a variety of handy features, such as Click ID Lookup, Pixel Debugger, and many more.

It includes a batch editor for bulk editing of

ClickMagick

links.
ClickMagick Review;

Cons:
Everything takes time to implement, and there is a learning curve.

The cost of ClickMagick is a little bit higher side.
An alternative to ClickMagick:
ClickMeter, this cloud-based software is a great alternative to ClickMagick. The tool will collect as much data from your links as feasible. This application monitor, compare and optimize the conversion rates of all of your advertising links in one location.
ClickMeter may be used by advertising companies and experts to build and maintain effective online campaigns. It helps you find and optimize the most effective and profitable advertising campaigns and marketing channels.
You may use the monitoring data to evaluate where your time and money are best spent. ClickMeter is best suited for agencies, affiliates, advertisers, publishers, and developers.
ClickMagick Review; Price details: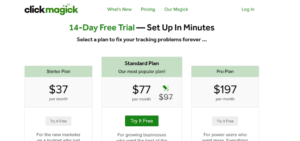 In ClickMagick, there are three price plans: Starter Plan, Standard Plan, and Pro Plan. There is a 14-day free trial period for all plans.
Starter plan.
This plan is ideal for beginner marketers with little traffic and those on a tight budget. The monthly fee for this plan is $37.
Features.
Up to 10,000 clicks every month.

Only can be used by 1 person.

Unlimited Conversions.

TrueTracking's main features.

Tracking funnels for one project.

Two custom domain tracking.

Data Retention for 6 Months

Online basic support.
Standard Plan :
This is the most preferred plan, and it is best suited for developing enterprises looking to scale. The monthly fee for this plan is $77.
Features:
Up to 100,000 clicks every month.

The software can be used by three team members.

Unlimited Conversions.

TrueTracking's major features.

Cross-device tracking through phone and offline.

Sales tracking through audience optimization.

Conversion of Facebook API.

Click Shield for PPC.

The tracking funnel for five projects.

Custom track up to 10 domains.
Pro Plan:
This section is just for super affiliates and power users. The monthly fee for this plan is $197.
Features:
Get everything from the Standard plan as well as the feathers listed below.
An unlimited number of team members can use up to 1 million clicks every month.

Custom domain funnel tracking is unlimited.

Dedicated assistance.

Data Retention for Two Years.
ClickMagick Review; Conclusion:
So, Clickmagick is a wise investment. The tracking software has extensive features, and there are no major performance challenges, except for a high learning curve for the ordinary marketer.
ClickMagick can definitely assist you in taking your business to new heights. It has some wonderful unique features, and if you need help, the support team will respond quickly and professionally.
That's all about ClickMagick Review, there is a 14-day free trial, you must try it and upgrade if it meets your needs.
   Start ClickMagick 14-day Free Trial Now!
Few related articles you may like to read: