What is Freshworks CRM?
Freshworks CRM is an excellent CRM software option that is best suitable for both low-cost small businesses and enterprise solutions. This is a great CRM tool with great customer service, a simple user interface, and a number of advanced functionality. In this Freshworks CRM Review, we will go over all of the features and benefits of this tool to help you understand how effective it is for your CRM needs. So, before purchasing the tool, make sure you read this article all the way through.
Freshworks CRM system is an excellent example of great customer relationship management. A good CRM system is more than just a lead database and an appointment calendar.
It will generate insightful reports for you, automate time-consuming repetitive tasks, log calls, and much more. It will allow you to devote as much time as possible to the critical task. What matters? Developing client relationships, hmm.
Freshworks CRM platforms strike a good balance between features and price, and they offer excellent customer service.
Freshworks is a cloud-based software that helps businesses manage relationships with current and prospective customers. Freshworks can be used for lead scoring, email, phone calls, and more. Freshworks is suitable for a wide range of industries, including real estate, e-commerce, SaaS companies, manufacturing, and retail. Freshworks is used by over 150,000 businesses to manage their operations.
Freshworks CRM Review; Features:
Lead scoring:
All leads are not interested in the same way. Some people are simply curious about the product, while others are serious buyers. You interact with that lead and determine what strategy you need to employ based on the level of interest.
As a result, the lead scoring feature allows you to score leads based on their level of engagement. This is a helpful tool that will give you more control over the selling process.
Reports and analysis:
Freshworks CRM will provide you with the necessary report. Its powerful reporting tool will show you how well you're doing in terms of lead generation, rate of conversion, and other important metrics. Freshworks includes 32 different types of reports, ranging from manual call logs to leads generated and email activity reports. Simply providing simple information is all that is required to generate the report, so there is no effort involved.
Team leadership.
If you manage a sales team, Freshworks CRM has features that can help you. You can split the team into various categories, such as location, project value, and product types, and the software will assign employees to the appropriate sales staff.
Automate the workflow by lead allocation, reporting, event tracking, sales target, system logs, as well as other amazing features.
Manage deals:
Sales Pipeline identifies deals at each stage of a pipeline, how many deals are being evaluated, and their valuation. Begin making phone calls and sending emails to prospects directly from the dashboard. Freshworks provides a mobile CRM app for Android and iOS that also keeps track of deals. Create multiple pipelines in your sales CRM.
Workflow Automation:
Your salespeople can focus on closing a sale and also ensure proper workflows across individuals and groups by automating routine and repetitive tasks.
The automation feature allows you to send emails at the right time in the customer lifecycle, keep customer data up to date, and set goals.
E-commerce integration:
Only a few CRM applications offer specialized e-commerce features, functionalities, and integrations, Freshsales is one of those. Through Freshworks' CRM, you can easily connect with your clients by sending SMS, WhatsApp, and Apple Business messages.

Reports and Insights Powered by AI:
Freddy AI, a Freshsales AI tool, provides an objective analysis of sales efforts and techniques to assist your sales team in better business decisions. It gathers information from sales activity and interaction to generate reports for your team to help them close more sales.
Freshworks CRM Review; Benefits:
Simple platform with minimal training requirements, making it ideal for newbies to pick up and use.
There is a free trial, so anyone can try it out without spending money.
It also offers a number of powerful features for companies that manage salespeople and require more than just a basic CRM.
Freshworks CRM Review; Products:
Freshworks provides six products, each with four pricing tiers based on your needs as well as the size of your business.
Freshdesk:
Freshdesk offers your customers true omnichannel assistance. Interact with more meaningful relationships with your customers. Optimize every interaction and re-establish customers by offering the assistance they want.
Freshsales:
Freshsales can assist you in personalizing engagement, shortening your sales process, and growing your business. You can close deals more quickly if you have a 360° view of your customers. Improve seller effectiveness by streamlining your sales cycle.
Freshmarketer:
You can personalize direct messages with simple and effective marketing automation. To convert more leads, use Freshmarketer to send the appropriate message at the perfect time.
Freshservice:
Cut the amount of your IT support management team. You can minimize repetitive tasks and manual processes while growing service quality instead of using Freshservice workflow processes or powerful automation.
Freshsteam:
Freshteam is an Intelligent HR software for growing businesses. Improve your human resources. You can control your hiring, coaching, time off, employment records, and HR processes all in one place.
Freshchat:
Freshchat Improves customer satisfaction by having more intelligent conversations. Interactions presently are online and continuous. Conversations that are intuitive and intelligent can help your business.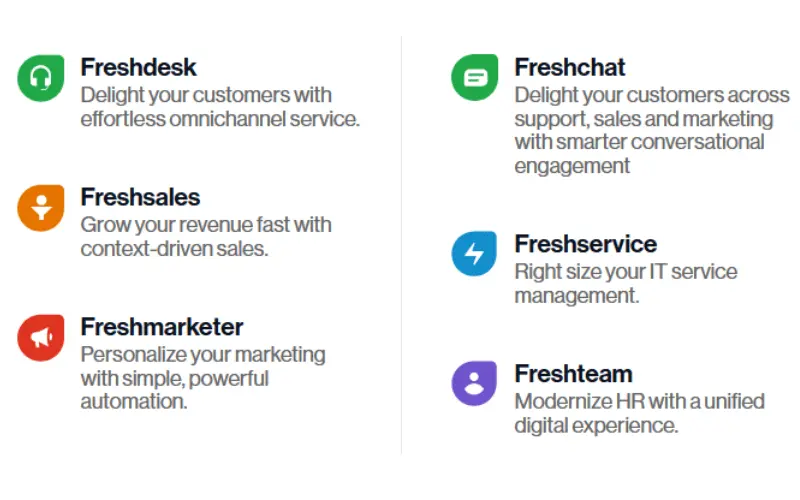 Customer support:
Freshworks CRM offers excellent customer service and makes it simple to contact support via call, email, or live chat. They also offer a variety of self-help resources, such as videos and posts.
Freshworks CRM Review; Pricing:
There is a free trial for Freshworks CRM with limited features just to test the tool.
The Growth plan costs $29 /user/month (billed yearly). This is for small and growing businesses that need an effective CRM. This plan is restricted to active 1000 contacts.
The Pro plan costs $69 /user/month (billed yearly). This plan is best suitable for an organization with a team who wants to scale their business fast. This plan is limited to 3000 active contacts.
The Pro plan costs $125 /user/month (billed yearly). This plan is best suitable for enterprises that want customization and control. This plan is limited to active 5000 contacts.
Pros:
Strong features, with a simple user interface.
Tools for monitoring how consumers connect with a brand.
Keep track of how users interact with websites.
Flexibility in the marketing funnel.
The tool is updated on a regular basis, and it fast responds to user queries.
Automation is simple to set up and use.
There are numerous third-party integrations currently offered.
Personalization options.
The interface is simple.
Cons:
Data extracting choices are limited.
The program takes more time to load when the database is heavy.
Less third-party integrations.
Freshworks CRM Review; Conclusion:
Freshworks CRM has a few distinctive features in comparison to other CRM tools. Its lead scoring feature makes it simple to determine which clients are most likely to convert and thus deserve too much attention.
That's all about Freshworks CRM Review. It is effective at managing sales staff. It also has a vast number of reports and analyses if you want every data in detail. Finally, Freshworks is a no-brainer if you require an effective and reasonably priced CRM tool.
Related articles: