Are you a new blogger and not getting traffic to your website? This is a common problem for any new blogger. Even when you write 2000 words of valuable content, Google will not rank your website in the initial days until your website is a little old and you gain authority. 
So, what to do as a newbie and how to get traffic to a new blog! Don't worry, in this article, I will tell you about six amazing websites. These websites will definitely help you to drive an insane amount of traffic for your new blog. The best thing is, these websites are absolutely free to use.
Drive unlimited traffic to your new blog from these six amazing websites:
Medium

Linkedin

Quora

Pinterest

Slideshare

Mix
Why must we choose these platforms? All the above websites are huge. Millions of traffic come to all these websites every single day. If we can drive a small amount of traffic from these websites, that will be quite a good amount of traffic for any new website. So, after the whole discussion, you will be able to understand, how to get traffic to a new blog?
Medium: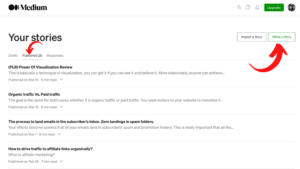 This is a platform for writers, anyone can write articles and can publish them on Medium.com. Total visitors to this website are more than 200 thousand. So, you can imagine how huge the website is. 
If you want to rank your article on google's first page, the medium is the best platform to use. But from my personal experience, always write an article of more than 2000 words to rank it. Even if you are new in the medium, your valuable will rank on Google's first page. That means this is a newbie-friendly platform to grow.
Do always publish your website articles to the medium. This is important to put your website and other post links in your medium article multiple times. Once your article ranks on Google, traffic will start coming to your article on medium. Visitors will click on the links and redirects to your website. That is the way your website will start getting traffic.
Linkedin: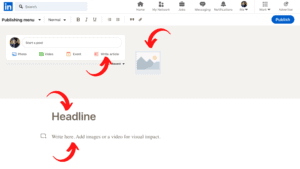 This is a little different from other social media networks, like Facebook and Instagram. Only professional people stay active on Linkedin. This platform is not at all about personal things, but more about professional matters. 
Businesspersons want to collect information related to their niche and service professionals want to know about new job opportunities. More than 700 million professional peoples use LinkedIn and it gets more than a billion visitors per month. So, we have to take advantage of this source to drive valuable traffic to our new website.
What are you waiting for? Don't have a Linkedin profile? Just create a new one and start gaining your connection numbers. Do not just share your website link there, instead go to the "write article" section and share your article. Go to your own website post, just copy and paste your article there. This hardly takes 2 minutes to do it. Definitely use your website link in different places of the article as an anchor text. 
Quora: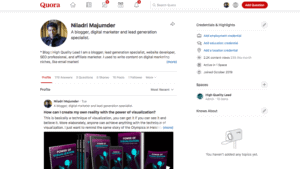 We all know about Quora. For newbies I want to describe in short, Quora is a question-and-answer website for all. On this website any person can ask any questions, people will come and can answer the question. In the current scenario, Quora has more than 600 million unique visitors per month. 
So, you can start using Quora from today onwards. Create an account in Quora. Just find out the questions related to your niche and start answering questions. 
Do not use any kind of links in your Quora answers. First, answer the questions without any link and trust build. Later on, you can put your website link slowly in your answers. People will come to Quora and read your answers and will click your website link also. Do not put too many website links in your answers. 
There is a Quora space, where you can share your articles. Create your own space and just copy and paste the same article of your blog there. Don't forget to put your website link to drive traffic. 
Use beautiful images to make your article catchy. I use 'canva' to create attractive images. You can also use the same. Keep in mind that, not only the image but your content also must be a valuable one.
Pinterest: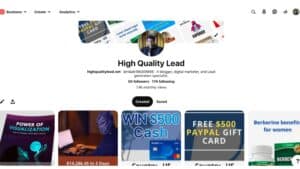 This is a powerful search engine and an awesome social media platform. This is a more visual-based platform. People can create an attractive pin, that will be displayed on the basis of search keywords. Create pins on Pinterest and give your website link there. 
This will definitely increase your website traffic. Your self-explanatory and beautiful image on a pin will encourage visitors to click on outbound links. Create different boards for a different category. You have to give a small description of your article in the pin. I will also recommend using few hashtags there.    
Slideshare: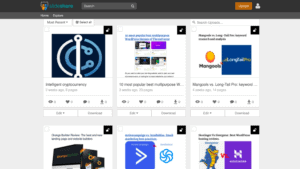 This is a website where you can put professional content like presentations, videos, documents, infographics, etc. Sharing your website in Slideshare is a little tricky. I always use Google Docs to convert my website content into PDF format. I always upload a PDF format of my articles in Slideshare. 
Mix:
This is a new platform as compared to other social media. But Mix gets more than a million monthly views every month. Sharing your article in Mix is super easy. Just copy your post URL and paste it in the Mix. Hit the mix button after pasting the URL. That's it, your article will live on Mix. This will take less than 30 sec time. 
Conclusion:
Thank you for reading this article. I feel Now you can understand, how to get traffic to a new blog? Every other day millions of people attract each of these six websites and they are massive. Their SEO is highly optimized, and Google's ranking is the highest level. So you will definitely get benefit from their search engine ranking by posting your articles to these websites. So, you will definitely get an initial boost for your website traffic.