If you are an online marketer you can't ignore Instagram. This is a fast-growing social media platform with more than 1 billion monthly users. 
If you are an influencer and want more social media presence Instagram is a great platform to start today. Also if you have a business and want to build a brand, you must leverage Instagram. 
Making an Instagram presence is not an easy job. You can't grow your follower list within a day or two. Growing on Instagram takes time, and of course, you need the patience to grow it day by day. 
But few basic tips can make your Instagram growth faster and easy. Also, this is important to grow with relevant followers. Growing with an irrelevant follower is not going to help your business. 
In today's article, I will share with you 10 basic tips for Instagram growth quickly and fast. Also, I will discuss how you can earn money through it as a newbie.
10 basic tips to grow your Instagram follower are listed below:
1. Write an effective bio:
Tell your story in a professional way because bio is the first thing people will see when they will visit your profile. Write your bio small and attractive, so you can stand out in the crowd. 
Say few words about your business. Also provide your basic contact information, website address, etc.
If you are running a business, you must switch to a business Instagram account. That will provide you more control and more analytics about your Instagram account.
2. Engage people through like, comment, and respond to their posts:
If you engage more you will grow fast. Even if you are working on the promotion of your business account behave like a human. People will like to interact with real people rather than any brand. 
Don't hesitate to like others' posts, comment, and follow back your followers. If someone comments on your post, don't delay commenting back. But all you do in a professional way. 
Beter to use common language while communicating. Do not use any local language. The simple formula is if you want to grow your engagement be engaged for Instagram growth.
3. Use proper hashtags:
Irrelevant hashtags will target irrelevant people. So, always use proper and relevant hashtags related to your niche. Using too many Instagram hashtags may look spammy. The common rule is to keep 25 to 30 hashtags in a post. 
Take your time to think about who will be the targeted people for your particular post. Also, use hashtags that are only related to your audience's interests, this will help you for relevant Instagram growth.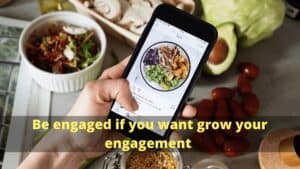 4. Geo-location tagging:
If you want to target a specific location people this is important to do geotagging. To tag geolocation just add a location when you are creating a post. This is important because various companies operate in a specific location.
Geotags will show your business address, category, opening time, website, phone no. etc. The lot more information you will provide, people will like to visit your profile more.
5. Be consistent in your Instagram account:
You can grow your follower list very fast if you are consistent in your account. Consistency is the main key to Instagram's growth. Always try to post twice a day, also do not forget to do like, comment, and share on other's posts every single day. When you become consistent and start posting every day, people will start engaging in your account slowly. 
6. Follow your competitors:
Follow competitors who already build their Instagram presence. Follow what kinds of posts they are doing every day. But do not copy and paste, just take the ideas and make your own post.
Also, watch which kinds of accounts your competitors are following, liking, and commenting on. Take an idea and apply your own strategy.
7. Use tools like Instagram Reels, Instagram Live, and IGTV:
Adapt the current trend and start using Instagram Reels, Instagram Live, and IGTV. These tools are getting popular day by day. Promote your videos as Insta stories. Instagram Reels and IGTV are the most preferred option for creating videos for your Instagram account.
8. Insta stories:
This is also a massive part to grow your follower list. So, post a single story for more engagement of your audiences. 
9. Personalized communication through DM's:
Direct massaging is a useful option to make a personalized communication. DM creates more trust and engagement. So you must use the power of direct messaging. 
10. Grow follower through Influencers:
The people who have a good number of engaged and loyal followers in their follower list are called influencers. So, leverage influencers to get access to their follower list and make them your own follower later. Make sure that influencers must be in the same niche. This is one of the best methods of Instagram growth.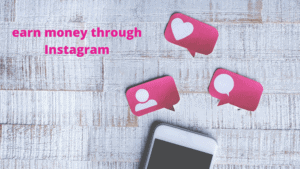 If you really don't want to invest your time to grow your Instagram account, you can try with paid Instagram tools. There are various Instagram growth tools available in the market. I found two excellent tools for the fast and organic growth of Instagram followers. Those paid Instagram growth tools are Kicksta and Upleap. You can try any one of them for quick and fast Instagram growth organically.
How you can earn money on Instagram:
I found 3 powerful direct methods to earn money through Instagram. Those are listed below.
1. Affiliate marketing: 
Affiliate marketing is promoting and selling someone's products and earn a commission. If you are a good number of followers in your Instagram account you can easily earn money through affiliate marketing. 
But you can't share affiliate links to your Instagram account. But you can put your landing page in your bio that has your affiliate link. Once your follower list reaches 10K followers you can shares links to the stories. 
Make sure your affiliate products must be from the same niche.
2. Promote your own products and services:
Definitely, you can promote your own product or services through Instagram. There are various products like software, any digital products, or even physical products you can promote. 
You can promote any kind of services like a digital marketing agency, interior decoration, website development, etc.
3. Earn through Instagram shout-outs:
If you have a good follower list you can easily earn through shout-outs. When you publish a story or posts telling about other's Instagram pages is called a shout-out. Many people will contact you for shout-out those are very new on Instagram. You can charge a certain amount of money for shout-outs.
So, Instagram has a lot of potential in today's digital world. If you are an online marketer just don't ignore Instagram. Start leveraging Instagram right from today. Thanks a lot for reading this article.