Introduction:
If you want to convert page views into a sales funnel Leadfeeder is the right choice for you. This tool recognizes businesses that are currently visiting your website and transforms them into high ticket leads for your sales funnel. In this Leadfeeder Review, we will go over all of the tool's features, benefits, price details, pros, and drawbacks to help you decide whether it is the ideal solution for your business. So, keep reading the article.
How does Leadfeeder work?
Recognize Website Visitors:
Leadfeeder recognizes the names of firms that visit your website.
Transform unidentified traffic into real-world business identity.

Showcase the particular behavior of the businesses that visit your website.

Locate employees using Leadfeeder's own database of static and dynamic IP addresses.
Identify and validate High Potential Leads:
Use customized categorization in Leadfeeder to rate and validate visitors.
Eliminate any ISP traffic, leaving just genuine businesses.

Establish personal and behavioral criteria to target the best leads.

Automatically assign a score depending on their web activities.
Make contact with decision-makers:
To find the ideal person to contact from a visiting firm, use Leadfeeder Contacts.
Look for top management in a large global database.

Contacts can be filtered by work role, seniority, or region.

Email addresses, phone numbers, and LinkedIn accounts can be seen and exported.
Connect your CRM:
Leadfeeder boosts sales with the information they need via the tools they choose.
All important CRM and business automation solutions can be integrated.

Visitor data will be automatically synced with your CRM.

Use website visitors and CRM data to make useful reports.
>> Start Leadfeeder 14-day Free Trial Now!
Leadfeeder Review; Features and Benefits:
Discover ready-to-buy quality leads:
People who have visited your site are far more inclined to purchase than those who have never known of you. Don't allow ready-to-buy leads to go away.
Win the competition for the sale:
According to research, contacting leads immediately increases the chances of closing the transaction. Make contact with your prospects before your main competitors do.
Improve your sales presentations:
Determine what content leads are attracted to and incorporate that knowledge into your pitches. Prepare for their requirements before you talk to them.
Make your sales staff happy:
Salespeople get immediate access to a high-quality, prioritized lead list. You only need to install Leadfeeder on your website.
True campaign assessment:
Finally, you can monitor which traffic sources are bringing target businesses to your website.
Improve content marketing:
Look at what organizations are engaging on your website. Use that information to target your content to the people you want to capture.
Generate high-quality leads:
You will be able to recognize enterprises and decision-makers who are already engaged with your content and marketing.
Make use of your present traffic to generate leads.

Qualify leads and concentrates on value.

Make your lead-generating funnel more automated.

Create lead lists based on their intent.
Account-based marketing:
Create accounts from your present traffic and find accounts engaged in you.

Keep an eye on your critical accounts to see when they are ready to convert.

Using your website traffic, create dynamic lists of high-intent accounts.

Improve ad campaigns to create lists of accounts for LinkedIn retargeting.
Tracking software:
Locate and verify firms that visit your website even if they do not complete a contact form.

Transform anonymous online traffic into genuine business names. Discover what each firm searches for on your website.

Look through a large database of firm workers. Contacts can be filtered by work role, seniority, or place.

Receive notifications whenever qualified prospects visit your website.

Seamlessly integrate into your existing system.
Leadfeeder Review; Pricing:
Leadfeeder has two types of pricing plans: Lite and Premium.
The Lite plan is a simple version of Leadfeeder with restricted functionality that only shows the previous 7 days' worth of leads and is free indefinitely.
The Premium plan cost starts from €79 per month with unlimited data retention. Lots of other features are included like Company details, Contacts database, Custom feeds, Visit details, CRM integrations, and more.
There is a 14-day free trial for the Premium plan. If you do not purchase it, the Leadfeeder will be automatically restricted to the free version, at the end of your free trial time.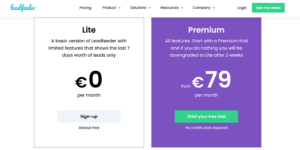 Pros:
Recognize the names of firms that visit your website.

Increase your sales.

Find folks who viewed our website but did not contact you directly.

Get you in front of company decision-makers.

Analyze and assess the quality of new and existing leads.

Good leads are filtered.

Remove any unnecessary businesses.

Excellent track record.

14-day free trial.

All major CRM and marketing automation solutions are compatible.

Using website visitors and CRM data, create useful reports.
Cons:
The filtering options can be improved.

There is no live chat support.
Leadfeeder Review; Conclusion:
That's all about Leadfeeder Review, If you want more high-quality leads, you may utilize Leadfeeder. It eliminates bots as well as other types of traffic that do not deliver helpful info. Usually, marketing automation platforms are unable of identifying all visitors to your website. Leadfeeder can assist you in locating folks that marketing automation tools likely overlook.
>> Start Leadfeeder 14-day Free Trial Now!
Few related articles you may like to read: