What is SE Ranking?
Now you can discover real-time keyword ranking positions for your website throughout significant search engines by utilizing SE Ranking. Track your ranks worldwide, country, region, or local at any time. In this SE Ranking Review, we will discuss how effective this tool is for your website SEO. 
SE Ranking offers all of the SEO tools you need at every step, from operating an individual business to managing a huge organization. So, with SE Ranking you will receive every SEO analysis and marketing tool you require.
SE Ranking Review; Features:
Track the ranking of keywords:
It Provides comprehensive ranking data for major search engines with exact accuracy.
Check out how your website comes up against the competition.
Determine which keywords and pages provide the most traffic to your website.
Proactively avoid traffic loss and spot ranking decreases.
Choose the most potential keywords and sites to concentrate on.
Locate and resolve issues with pages competing with the same keyword.
Understand how changes to ranking algorithms affect your site.
Keep track of keyword rankings on search engines such as Google, Yahoo, Bing, and YouTube.
Examine website rankings on a global level or narrow your search to a specific zip code.
See the big picture by analyzing your competitors' keyword placements to your own.
Examine the cached SERP copy or review positions on request with 100% correct data at any moment.
Obtain hundreds more data in addition to website placements and create a data-driven SEO plan with an easy-to-use interface.
Set the scanning frequency and depth to suit your needs. You may also customize the UI to meet your specific requirements.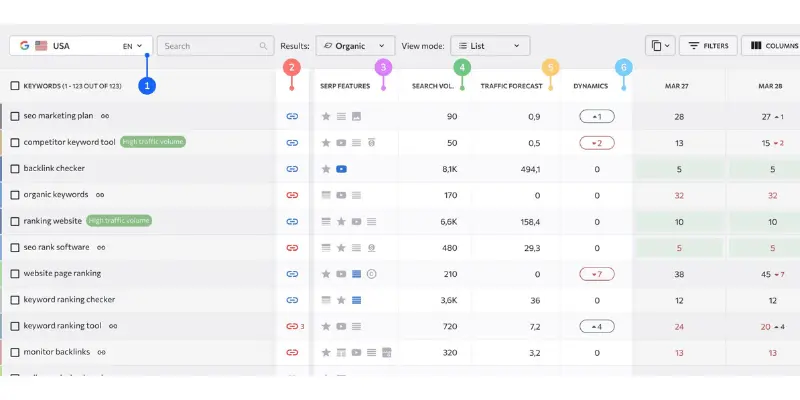 SE Ranking Review; Website audit:
Website audits simplify activities that would take a long time to do individually. This provides in-depth analytical reports on the general health, speed, and online efficiency of websites to webmasters, SEOs, and digital marketers. Such analyses highlight site problems that are blocking search engines to show your website in search results.
Identify the most important factors shown on efficiency graphs.
Complete problem reports and a how-to guideline
Examine thorough site audit reports for each issue, which include simple quick solutions.
Crawl up to 1000 pages in 2 minutes and sort the outcomes by category.
Analyze website audit findings and distribute findings to clients and coworkers.
Modify the settings to fit your requirements, configure the analysis criteria, and choose the problems to track.
Inform Google which kind your webpages are worthy of crawling and indexing.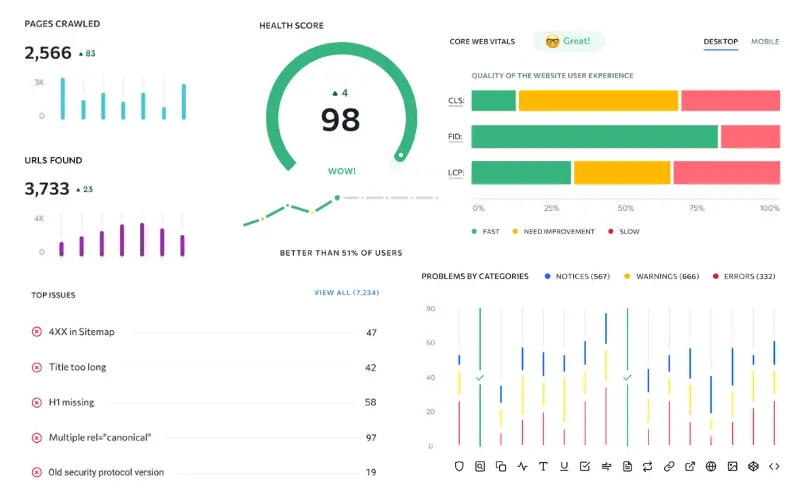 On-page SEO checker:
Find out why your pages aren't ranking well and improve them with on-page SEO.
Check your URLs: Use the page grader to see if your content and UX meet a detailed test.
Identify your competitors: Receive AI-based specialized analytics to understand how your website page optimization efforts compare to competitors.
Make an action plan: Maintain a concise, realistic list of activities for upgrading your pages.
SERP checker:
An effective SEO plan must include SERP analysis. SERP checking is essential since it helps SEO professionals to monitor how their competitors' websites rank in search engine results. Continue to outperform your competition by learning about their SEO approach from the inside.
Make use of competitive information: Expand on the essential SERP competition study by thoroughly evaluating the numerous SEO metrics of pages.
Discover the keys to great performers' success: Learn what you need to do to bring your page to the top of search results.
Equip yourself with facts: Make new pages depending on what is successful in your desired SERP.
Improve the page's speed: Enhance the speed of your existing pages by optimizing them.
Keep track of off-page analytics: Know how many backlinks you have to outrank your competitors.
Increase the number of visitors: Estimate how many visitors you can get for your keywords.
Backlink Checker:
The backlink method of analysis was designed to assist you in developing a data-driven backlinks plan.
Dofollow/Nofollow: A link characteristic that tells search engines whether to crawl or reject a backlink.
Text/Image: Determine whether a link is embedded in an image or in a text.
The anchor text: Text that may be clicked in incoming and outgoing webpage links.
Domain Authentication: SE Ranking established a domain rating score measure based on many parameters, including the strength of domain backlink profiles.
Page Assurance: SE Ranking created another metric to assess the rank possibilities of certain sites depending on page-specific characteristics.
Alexa Rank: Alexa domain statistic that compares general website traffic to certain other sites throughout the globe.
First seen/Last seen: Whenever a backlink was initially found and when it was last noticed by SE Ranking's crawl.
SE Ranking Review; Backlink tracking:
You may manually enter them or import data from Google Search Console or the SE Ranking Backlink Analyzer.
When you've uploaded your backlinks, the software will do frequent parameter reviews. If any backlinks you've entered face changes, the monitoring tool will alert you through email.
Website Monitoring:
Receive notifications anytime a web page is updated in any way.
Content: Receive notifications if any information on a page is changed.
Meta tags: Any changes including meta-markup will be sent instantly.
Links: Keep track of both internal and external links on the analyzed site.
Robots.txt: Be alerted whenever a website's robots.txt file is modified.
Index status: Examine the state of your page index in search engines.
Keyword research and suggestion tool:
Level of difficulty: Determine how challenging it will be to rank a website on Google's first page by focusing on a certain keyword. Keywords focused on sites with strong DA will often have a high difficulty score.
The total number of searches: Determine the number of monthly organic searches for the selected search term on Google. Users can also investigate the trends of a search query, for instance how the number of searches has changed over the previous year.
Paid competition and CPC: Learn the average CPC (cost per click) in a Google Ads PPC campaign. You may also view CPC statistics for other locations to get a better idea of how difficult the term is worldwide.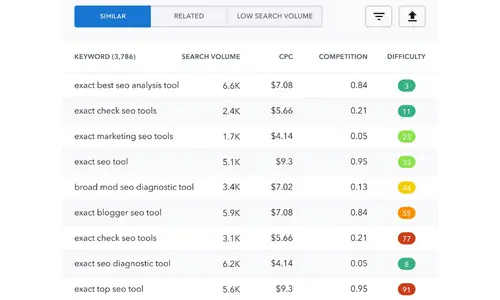 Keyword grouper:
This is the advanced keyword grouping tool. Keywords should be segmented for better distribution across your website. PPC grouping allows you to improve your standards of quality while lowering the cost of your ad campaigns.
Marketing and SEO Strategy:
A comprehensive blueprint defining your marketing and SEO plan. The Marketing Plan from SE Ranking is much more than simply a marketing checklist. It offers a comprehensive approach to all types of users, from SEO beginners to seasoned experts.
Tool for Competitor Analysis:
Examine competitor websites to acquire useful SEO and PPC insights. Analyze your competitors' keyword research and keywords against vital SEO indicators such as keyword difficulty, monthly searches, and much more.
SE Ranking Review; B2B solutions:
The White Label: Customize your SEO service while gaining your customers' confidence and reputation. SE Ranking's white label function allows you to offer statistics to customers that include your logo, header, and footer. Customized analysis customized to your business needs.
SEO Reporting Tool: Automated reports or a planned audit, are highly customized and precise, allowing you to fulfill the most strict client standards.
API: It provides an API and scripts for experts who require more advanced options. Grab SEO data and use it as you see fit.
Social Media Management Tool:
By planned posting and monitoring capabilities, you can take complete control of your social media messages. Post to all your social networks automatically. Improve your social media rankings and interaction.
SE Ranking Review; Benefits:
A Single Solution To Several all SEO Problems:
It may be difficult to navigate the complexities of search optimization with your complete team of marketers, SEO professionals, content writers, analytics, email, PPC, and marketing managers. By utilizing the SE Ranking platform, you'll be able to boost and automate all search engine marketing jobs.
Know your position in search engines: 
Determine your position in the search rankings and establish your approach from there. Irrespective of your technical knowledge, SE Ranking tools can assist you to understand the issue.
Improve your chances of getting found in search results:
You may identify the best keywords that your prospective customers look for using the keyword choices and include them in your article to improve ranking.
Track keyword rankings around the clock:
Monitor ranks in Google, Bing, Yahoo, YouTube, Google SERP, Maps, and Ads placements for multiple places and platforms to keep an eye on your website performance.
SE Ranking Review; Identify Your Competitors:
Discover which keywords your competitors are using in their PPC ads and organic SEO campaigns by researching them, and then utilize that information to your own.
Advanced Business Scaling Tools:
When your search presence grows in parallel with your work, turn your attention to much more complex techniques to expand your business.
Audit Your Website for Better SEO:
Get more visibility in searches by doing a website audit to optimize on-page and off-page SEO.
Keep an eye on your backlink profile:
Using the Backlink Analyzer and Backlink Track tools, you can obtain a comprehensive list of backlinks from numerous sites, as well as their SEO analysis, and track them around the clock in case something goes wrong.
Improve your teamwork:
To obtain beneficial results, your team may use SE Ranking to improve team activities and work as coordinated.
Support for multiple users:
Create new sub-accounts and allocate team members' responsibilities and access levels.
Monitoring of Page Changes:
Receive notifications whenever someone in your expanding team updates something on your website in any manner.
Customized Reporting:
Create and distribute customized SEO reports to coworkers and customers.
Complete customer service:
Their skilled support staff is only a click away from providing immediate assistance.
Pros:
The most cost-effective SEO tool in the marketplace.
The lead generation tool is a wonderful addition.
The online marketing strategy feature is also an excellent tool.
The reporting feature is great, and this is one of the best SEO reporting software.
Cons:
When compared to more premium tools such as SEMrush, it does not generate as much data.
SE Ranking Review; Pricing:
There are three types of pricing plans in the SE Ranking: Essential, Pro and Business.
The prices vary for all plans depending on ranking check frequency and subscription period.
For daily ranking check frequency and month-on-month basis subscription, costs are as follows: Essential – $39/mo, Pro – $89/mo, and Business – $189/mo.
Get a 20% discount if the ranking check frequency is every 3 days and get a 40% discount if the ranking check frequency is weekly. Also, get a 5% additional discount if the subscription period is 3 months. Get a 10% discount if the subscription period is 6 months. Get a 15% discount if the subscription period is 9 months. Get a 20% discount if billed annually.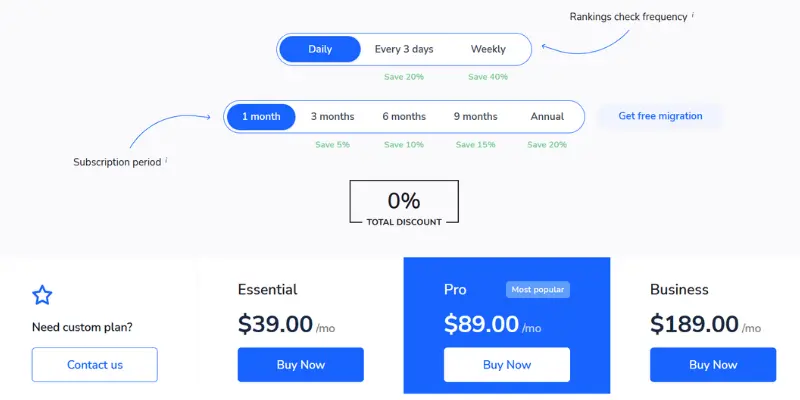 >> Check All Price details here!
SE Ranking Review; Conclusion:
This tool is for you if you want to attract more clients through organic search traffic and keep track of all the elements that impact your website's results. Create a strong SEO and marketing plan by utilizing tools created for every possible optimization work. With a tool like SE Ranking, you know exactly what to do at all times.
That's all about SE Ranking Review. SE Ranking is used by many agencies across the world to raise their customers' websites to higher the ranking pathway. With a complete toolbox created exclusively for SEO companies, you can simplify your hustle and achieve your goals easier. Finally, you may use this SEO tool to manage thousands of pages, categories, phrases, and analytics.
Related articles: