Introduction:
SocialPilot is a tool for managing social media. This tool can be linked to Facebook, Instagram, Twitter, LinkedIn, Pinterest, Tumblr, and many other social media. In this SocialPilot review, we will go through all aspects of this tool to make you understand how effective it is for your social media management. So, keep reading this review article before purchasing the tool.
It offers services like analytics of posts, automatic social media publishing, content management, conversion monitoring, etc. It works fast to organize, schedule, modify and share all your content on social media.
The tool has a basic, clean, and well-organized user interface. It will show you how to connect your social accounts with SocialPilot and set a schedule for your posting. The platform is simple and easy to operate by clicking on the specific modules, complete newbie-friendly to work.
Start SocialPilot FREE Trial Now!
SocialPilot Review; Features:
Allow you to do more posts with more social media platforms:
Add every account on social media, you can post all your updates without bothering about the constraints. Access all popular social media platforms and increase engagement with this amazing social media publishing and scheduling tool.
Use Social Pilot Scheduling Engine to promote your brand on all major social platforms:
Facebook: ​​Interact and engage on Facebook with your followers by planning different sorts of posts for all FB pages and groups. Improve the reach of your posts for more people, manage your marketing funnel and make your lead generation campaign successful.
Twitter: Circulate your brand message and link to your target consumers through the generation of advanced tweets. Also, add popular Hashtags and plan them and post them on Twitter at the ideal times to meet your marketing objectives on Twitter.
LinkedIn: Achieve business goals by promoting your products and service by planning for your LinkedIn profile and pages. Make the post highly engaging and personalized updates by mentioning your connections.
Google my business: Grab new potential customers with an up-to-date Google my business listing for your local business. Optimize your messages for greater conversion and generate more leads to a specific call to action.
Start SocialPilot FREE Trial Now!
Instagram: Make your visitors more personalized by sharing images, videos, and happy customers in your Instagram profile directly to engage more people.
Pinterest: By scheduling pins for your numerous Pinterest boards and boosting the visual interaction, market your products and services to over a million Pinterest users without effort.
White label PDF reports with social media analytics:
Use data-driven strategies to strengthen your social media posts and boost customer interaction. Share wonderful and professional social media reports with a single click in PDF format.
Engage in social inbox effectively:
This is a tool for interaction in social media, answers to comments, messages, and posts on several Facebook pages using SocialPilot in real-time. 
Work with teams and manage customers:
To work more effectively with teams, use workflows. Before it is uploaded, review and approve all content.
Automation and bulk upload:
Find out and schedule the most popular content straight via RSS feeds and content curation to your account. To publish posts in advance, use the bulk social media posting service.
Why will you choose SocialPilot?
See what works by using analytics.

Post via the web, mobile, and browser extension.

Never let your queue empty.

Support for priority emails.

Work on in-built workflows with team members.
Manage customer profiles without asking for passwords for social media.
White-label PDF reports are being shared and available without any modifications.
phone and email support.
SocialPilot is

customized to your particular need.

Configured profiles and posts for all your customers.

Complete white-label platform to support branding.

Email and telephone assistance with the dedicated account manager.
SocialPilot Review; Benefits:
Generate and schedule content for each platform of Social Media:
Maximizing engagement and making your content reach each social media site. Each social media required different sizes, SocialPilot will help you create different sizes for the same post.
Get visible by flexible scheduling:
Set your social media strategy on autopilot for each platform by selecting time slots and scheduling social media updates for a particular time when followers are active.
Use the Personalized Social Media Scheduling Calendar to visualize your long-term plan.

Never run out of great content.

Design and schedule images and media postings:
With a single click, include emojis to make the postings more interactive and attractive and to show a fun side.
Target the correct audience straight from SocialPilot when writing your posts using Facebook's audience targeting ability. Set filters and your content will show most likely to your desired audience.
Start SocialPilot FREE Trial Now!
SocialPilot Review; Price details:
There is a 14-day free trial for each pricing plan and no credit card is required to start the free trial. 
Total four types of pricing plans are there – Professional, Small Team, Studio, and Agency.
Professional Plan costs $30/month when billed monthly and $25.5/month when billed annually. In this plan, you can connect 10 Social Media Accounts and 1 user can use this.
Small Team Plan costs $50/month when billed monthly and $42.5/month when billed annually. In this plan, you can connect 25 Social Media Accounts with unlimited clients, and 3 users can use this.
Studio Plan costs $100/month when billed monthly and $85/month when billed annually. In this plan, you can connect 50 Social Media Accounts with unlimited clients, and 5 users can use this.
Agency Plan costs $150/month when billed monthly and $127.5/month when billed annually. In this plan, you can connect 75 Social Media Accounts with unlimited clients, white-label and 10 users can use this.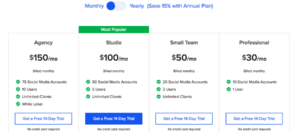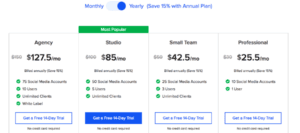 SocialPilot Review

;

Conclusion:
This is the greatest auto-posting tool that I have seen. For the last years, I have been using this tool. Over a period of only two months, my website starts getting traffic from social media.
This tool is absolutely easy to use and being a user of this tool, I can say that this is the best investment in my online career. So, grab SocialPilot, manage all your social media accounts easily, and grow your business.
Related articles: