What is upleap?
Upleap is one of the Instagram growth tools that connect you with a committed account manager. This great tool helps you to get more Instagram followers. 
The best thing about this tool is, it will help you to search for followers that are very much closely related to your niche. You also get smart targeting that guides you to get a real boost in growing real followers. The purpose of this software is to help their clients expand their social presence on Instagram.
As an individual, one of the biggest challenges is to grow your Instagram audience in any niche. The most important thing is that they must be quality followers. Growing on Instagram is difficult in reality.  Many companies and individuals are taking help from the tool upleap.
What is Kicksta?
Kicksta is also one of the best Instagram growth tools like Upleap. By using Kicksta you can easily interact with lots of Instagram users who are actively working in your particular niche. That means you can target niche-based people and can grow your Instagram account easily. 
Like Upleap Kicksta defines your audience first. For that, you have to provide some information about your work and niche. On the basis of your information, Kicksta will start to determine your particular audience.
Kicksta put your Instagram account in an automatic growth model, on which your Instagram account begins to interact with your targeted audience 24 hours a day, and your Instagram account starts growing instantly.
There is the various process of organic growth, but it takes time to grow. Kicksta will help you to grow in a rapid way and also in autopilot mode. There is artificial intelligence embedded inside Kicksta, this will help you to grow with the right kind of audience.
Main features of Upleap
It boosts up Growth: The main feature of this Instagram growth tool is to provide consistent and organic growth. The main profit here is organic development. Upleap really grows followers organically.
It increases relevant followers: The users who come and engage with you are relevant, which means the follower's niche is the same as what you are looking for. Before growing, it must be kept in mind that you only work with real users in your target community. You need to stay far away from fake followers because it just damages your account and does not benefit you.
Helps to create a brand –It helps to build your followers with hashtags, users with similar niches, as per geographical location from the beginning. The more required data you exchange with upleap, then they can target the right individuals for your business.
The setup procedure is very simple – You can get started just after registering. This tool is simple and easy. Anyone can start growing from the first day itself. This is legit software that you can trust.
Main features of Kicksta:
The growing method is organic – The followers will choose you or your business's Instagram account organically. Whatever the followers you will get, all will be real followers and also followers will be relevant. In that sense, followers will be interested in your niche.
Best automation for growth – Just you need to target the audience properly. Kicksta will help you to grow automatically. This Instagram growth tool will boost engagement in photos. When you like other photos, people will visit your account and start following you. This is a total automation procedure of Kicksta.
Filtering options – There is a filtering option where you can target desired Instagram users. You can avoid or opt-out of the kind of persons you don't want in your follower list. Other ways you can include relevant persons in your following list through the same filtration procedure.
Awesome support team – The support option is amazing. Any time you can talk and can ask for any kind of problems or issues.
The dashboard is easy – You can also check your account performance through the given dashboard of Kicksta. That means you can track progress at any time. There are different tabs that exist in the dashboard. Those are posts, analytics, targets, filters, etc.
Why should you start using upleap?
You will get more followers on your account. In a short period of time, you can grow your account in a legit way. Always you will get a real and good result. There will be no fake followers. You will get only real followers.
Get smart and niche-related targeting. This Instagram growth tool will target people who are related to or closely related to your niche. So, your followers will be related to your niche. That is the main requirement of your business.
You can grow with other Instagrammers. You will get natural engagement and you will start growing with other Instagrammers.
The signup and setup procedure is quick and easy in Upleap.
View stories of others you don't follow. You can see the stories of other Instagrammers even if you are not a follower. This is one of the best features of upleap.
You can track the progress of your account. You can track everything about your account inside.
Get the committed account manager. This is also a great advantage.
Why should you start using Kicksta?
This is a slow but steady platform. This is no matter which industry you are in. The procedure of working is exactly the same for any niche. For the people who are really interested in your niche, Kicksta will target that particular person only.
By using Kicksta your brand awareness will increase within a short period of time.
Its dashboard is super easy and user-friendly. You can immediately start growing your account just after signing up for this Instagram growth tool. You must use targeting, filtering, and analytics options to grow with proper and relevant followers.
Upleap is for whom?
Instagram is a prime social media network. Individuals, influencers, and also business persons who want to grow their Instagram profile. If you want to be more specific, this awesome Instagram growth tool is best fitted for a blogger, an e-commerce store owner, a small and medium-size business who wants to grow fast, a YouTuber, an individual, influencers, etc.
Kicksta is for whom?
Any individuals, influencers, or a business, who wants to grow their business by growing followers on Instagram can use Kicksta. Very much suitable for small and medium-sized businesses.
Pricing of Upleap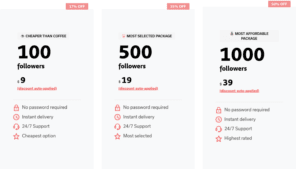 There are three types of plans in Upleap.
#1: Cheaper than coffee ($9) – Grow 100 followers.
#2: Most selected package ($19) – Grow 500 followers.
#3: Most affordable package ($39) – Grow 1000 followers.
All the plans sharing your Instagram password is not required, you will start getting followers instantly. Get 24×7 excellent customer support.
Pricing of Kicksta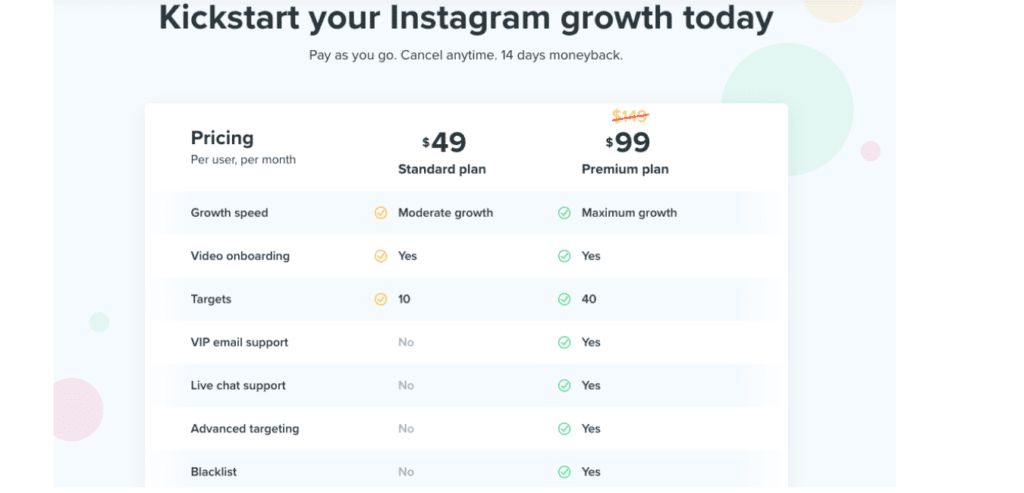 There are two types of pricing plans available in this Instagram growth tool Kicksta. The first is a standard plan and another one is a premium plan.
The standard plan costs $49 per month. In this plan, you will get moderate Instagram growth speed, video onboarding and you will get a maximum of 10 targets.
The premium plan costs $99 per month. In this plan, you will get maximum growth speed, video onboarding, 40 targets. Some other additional things also they provide like VIP email support, live chat support, advance targeting, and blacklist also available.
There is the best option available in Kicksta which I like most is 14 days money-back guarantee. After purchasing if you don't like the service you can return it within two weeks. Kicksta will return back money. They will not ask any questions or reasons.
Cancellation of Kicksta
Any time you can stop your Kicksta account, whenever you think that this tool is no more required for you. Just stop the payment, and your Kicksta account will be canceled.
Cancellation of Upleap
You can cancel your upleap account anytime. They will only charge you for the current month.
Working procedure of upleap:
When you sign up in this Instagram growth tool upleap, they will immediately assign an account manager. The account manager will ask you some questions related to your business. These questions are asked for a better understanding of your targeted customer. Then your account manager will start helping to grow your Instagram account. Within a few hours after signing in your account manager starts working, and your account also starts growing immediately.
What Upleap's account manager will do on your behalf?
When you signed up in Upleap, an account manager will assign you immediately. Your account manager will manage the Upleap account and will definitely help you to grow. This account manager will like photos and videos of others. You just sit idle, the account manager will do this on your behalf. The account manager also reviews Instagram stories automatically. Also, they will fix some engagement strategies on Instagram which will provide you results in growth.
Is your Instagram account secure with the tool Upleap?
Various peoples ask the question, is upleap safe to use? The quick answer is YES, it is safe and secure to use Upleap. To date, no account is banned due to the use of Upleap. There is no difference between organic growth and growth with Upleap. The main difference is, this Instagram growth tool will make a skyrocket of your account, and you can grow very fast, and your business will grow automatically.
Is your Instagram account secure with the tool Kicksta?
This is one of the safe Instagram growth tools. This tool does not disobey any growth algorithm of Instagram. That is the reason you will get real and organic-like growth.
Conclusion:
Upleap and Kicksta both are similar kinds of Instagram growth tools. So, this is very difficult to conclude which one is better. Both the Instagram growth tool provide you targeted followers, good customer support, and an easy working dashboard. It completely depends on you which software you are more comfortable with. In my opinion, both tools have a huge potential to grow Instagram with relevant followers.
Related articles: