Introduction:
Are you looking to grow your YouTube channel, but feel stuck? Finding it difficult to attract new subscribers and views? Do you want a tool that can help you in your journey to grow your YouTube channel? If yes, then VidIQ might be the answer you've been looking for! Read this VidIQ Boost Review about the software VidIQ and find out more about this platform to boost your YouTube views.
VidIQ was designed to boost your YouTube views, get free insights and guidance to keep your YouTube channel growing. This is one of the most advanced growth tools for video creators, discover keyword, title, and description recommendations, and designed to get you more views and subscribers for free.
VidIQ is a video intelligence platform that provides actionable insights to YouTube video publishers and marketers. VidIQ scans millions of videos in order to aggregate data, helping you grow your business through the power of video marketing. In this review, we'll be taking an in-depth look at what VidIQ is and how it works. Also covers pricing, features, pros and cons, and more. Let's get started!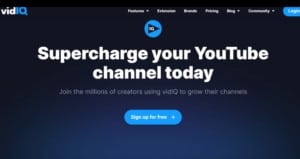 VidIQ Boost Review; Exciting benefits:
Chrome and Firefox extension:
VidIQ has a free Chrome and Firefox extension. VidIQ will give you insights and recommendations to improve your videos. Some insights include keywords to add to your title and descriptions, discover related videos, and more. VidIQ was developed by video marketing experts with decades of experience who have helped brands to grow their YouTube channels. 
Find out trending and viral videos:
VidIQ displays trending and viral videos on your YouTube dashboard so you can produce similar content to your channel. You can use these trends as a brainstorming tool, to help you come up with new ideas for your own channel.
You can easily identify topics that you can create your own related video. This enables you to avoid spending time in topic research, and gives you a greater chance of success due to VidIQ's powerful insights. 
VidIQ's related video discoveries include top uploaders, tags, titles, and thumbnails. Not only are these helpful for getting views but they can also be used as inspiration for future uploads.
When you search for a video topic, VidIQ provides you with trending and viral videos from multiple channels and gives personalized insights, which will help you understand videos better and make your own content more popular.
Stay one step ahead of your competitors: 
VidIQ is a cloud-based video platform that's designed to help YouTube video marketers monitor their progress and boost views. VidIQ supports many languages, including Arabic, French, Indonesian, Japanese, Spanish, and English. 
VidIQ Score:
VidIQ takes a look at your videos and then measures your VidIQ score. The VidIQ score is calculated based on multiple factors such as view count, subscribers, and engagement. These results are broken down into different metrics so you can measure how you're doing against your competitors on YouTube and see where there might be opportunities to grow. 
These insights can help you ensure that you're taking advantage of all available opportunities to promote your video and drive more views with each upload.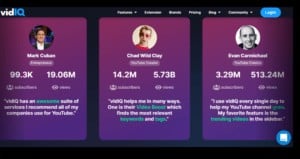 Increase organic reach:
VidIQ will give you insights and help grow your organic reach. VidIQ's algorithms sort through hundreds of thousands of videos to identify high-quality channels that are a good fit for your content. 
Increase brand awareness:
With a large audience, you can connect with your audience and turn them into raving fans. At VidIQ, there is a space for sharing knowledge and reaching out to each other. This will help you to establish trust among your followers.
Know the analytics of videos:
VidIQ allows you to get insights into all videos that are important. VidIQ, tracks your performance and compares it with other people in your niche so you can keep getting better. Get real-time analytics: VidIQ reveals statistics such as likes, comments, audience retention rate, and much more to improve every video. 
No matter if you have created a new channel or have been making videos for many years, VidIQ is there to support you.
Thumbnail Editor:
VidIQ provides you with a powerful tool to get your thumbnail's attention. Get access to an easy and fast way to create professional thumbnail images for your videos. 
VidIQ Boost Review; Features:
Get views per hour.

Get insights into your own video and your competitor's videos.

You can copy tags from any other viral videos.

VidIQ's own tag suggestions.

Historical youtube video analysis.

Keyword tool for youtube.

Find out viral and trending videos on Youtube.

Youtube trend alerts.

Analysis of your competitors.

Youtube channel audit.

Edit Youtube video description.

Edit a lot of video descriptions at a time by mess edit feature.

Keyword inspector.

Most viewed videos.

Subscriber analysis.

VidIQ

academy.
VidIQ Boost Review; Price details: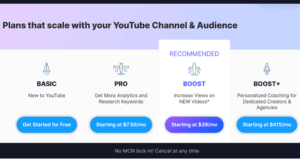 There are four types of plans inside VidIQ: 
Basic / Free plan: 
You can use the Chrome and Firefox extensions with a free VidIQ account. Inside a free account, get Video Scorecard and also the Live Stats Bar.
get relevant keyword suggestions based on popular Google searches with the free version.
Even only with the free version, you'll have access to some vital information that will help you get more views. 
Pro plan:
The Pro plan price starts at $7.50 per month, which is incredibly low. Now it helps to track six competitors, edit description campaigns for Youtube, use the Keyword Research tool, perform historical analytics, and find out the Top Trending Videos.
Boost plan:
If you want the greatest ability of VidIQ to assist you to expand your YouTube channel quicker than before. The Boost Plan costs $39 per month and you can track up to 20 competitors. It includes all of the benefits and features of the PRO plan, additionally gets SEO title, and description suggestions, tag guidelines, and more.
Boost+ plan:
This is for pro marketers, Dedicated Creators & Agencies. Here you will Get Personalized Coaching. The cost is $415 per month.
Features

Basic

Pro

Boost

Boost+

Daily Ideas

3

10

50

50

vidIQ

Keyword Engine

40, 100, or 200 Videos/Month

200 Videos/Month

Competitor Tracking

3

6

20

20

Trend Alerts

1

1

5, 10, or 15

15

Support

Basic Email

Email & Chat

Email & Chat

Priority Email & Chat

Academy

Y

Y

Y

Y

Video Scorecard

Y

Y

Y

Y

Live Stats Bar

Y

Y

Y

Y

Bulk YouTube Descriptions

Y

Y

Y

Keyword Research Tool

Y

Y

Y

Most Viewed Videos

Y

Y

Y

Top Tweets for Videos

Y

Y

Y

Top Trending Videos

Y

Y

Y
Is VidIQ safe to use?
VidIQ offers you a wide range of advantages and they include highly accurate recommendations, live-time insights and tools, high-level customer support service, and detailed analytics based on views. 
VidIQ does not collect any personal information from your computer and this is recommended by Youtube. So, we can say that VidIQ is 100% safe to use. This is a trusted company to help grow businesses and brands on YouTube. 
VidIQ Boost Review; Conclusion:
VidIQ has been established itself as an extremely valuable tool, and I recommend it to anyone who uses YouTube. YouTube content creators, marketers, SEO specialists, digital agencies, and startup organizations, all need it. I hope this VidIQ Boost Review will be helpful for you to make a right purchasing decision of this tool. Thanks for reading the article.
Related articles you may like to read: