Introduction:
The growth of online platforms has created an enormous number of alternatives for individuals to monetize their abilities and talents. Fiverr is one such network, a famous marketplace for freelancers offering services in a variety of areas.
However, did you know that you may also make money with the Fiverr affiliate program? In this complete article, we will look at the Fiverr affiliate program and how you can use it for earning money.
Fiverr offers various commissions ($15-$150) based on the category your buyer buys from. Once your buyer makes their first purchase on Fiverr, you will be eligible for CPA commissions.
What is the Fiverr Affiliate Program?
The Fiverr affiliate program allows individuals to earn commission by driving traffic to different Fiverr services called Gigs. As an affiliate, you will receive unique referral links to promote these Gigs. When people will purchase through your links, you will get a commission.
Once you become a member of the Fiverr affiliate program, you will gain access to marketing materials such as banners, text links, and landing pages that you can utilize in your promotional efforts. When someone clicks on your referral link and creates an account and makes a purchase on Fiverr, you will earn a commission.
Benefits of Joining the Fiverr Affiliate Program:
Lucrative Commission Structure: The commission rates for affiliates range from $15 to $150 per sale, depending on the category.
Wide Range of Services: With over 300 categories available on Fiverr, there are endless possibilities for promoting services that align with your target audience.
Access to Marketing Resources: Fiverr provides affiliates with a range of marketing materials and tools to support their promotional efforts.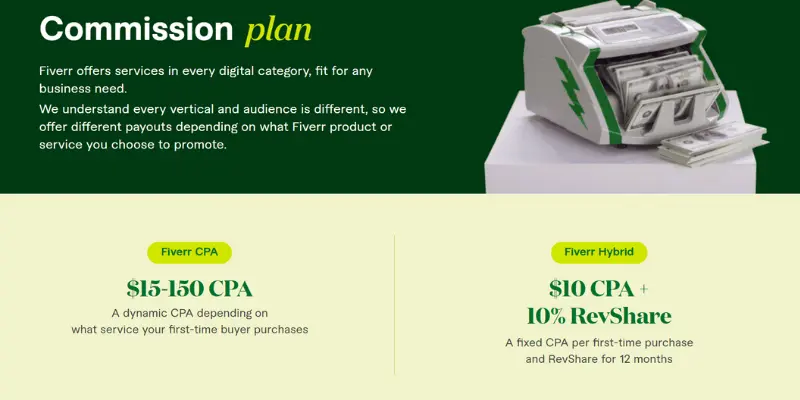 How to Start with the Fiverr Affiliate Program?
Sign up for the Fiverr Affiliate Program:
To become a part of the Fiverr affiliate program, visit their official website and navigate to the affiliate page. Fill out the required information, agree to the terms and conditions, and submit your application.
Approval Process:
Once you submit your application, the Fiverr team will review it for compliance with their guidelines. Upon approval, you will gain access to your unique referral link and marketing materials.
Choosing Your Niche and Target Audience:
Before starting your promotional efforts, it's crucial to identify your niche market and target audience. By focusing on a specific niche or industry that aligns with your expertise or interests, you can better plan your marketing strategies and create compelling content that resonates with your audience.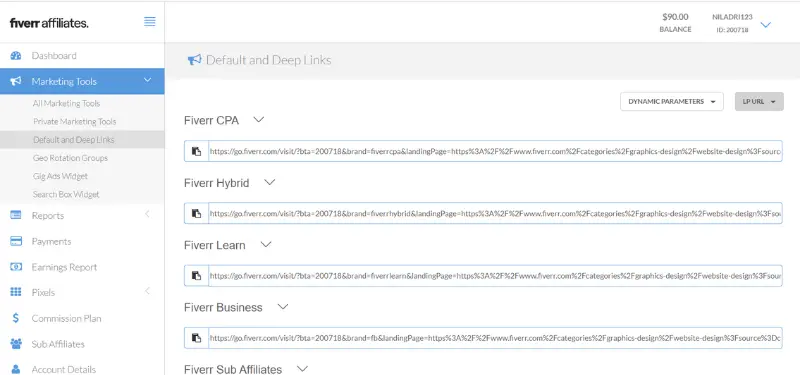 Implementing Effective Promotional Strategies:
Utilize Content Marketing:
Content marketing is a powerful tool for attracting organic traffic and building trust with your audience. Consider creating blog posts, videos, or podcasts that highlight specific services offered on Fiverr. Provide useful insights, advice, or case studies about such services while including your referral link in the content.
Leverage Social Media Platforms:
Social media platforms like Facebook, Instagram, LinkedIn, and Twitter are excellent channels for promoting Fiverr services. Create engaging posts that showcase the benefits of using Fiverr services or share success stories from satisfied customers. Don't forget to include your referral link in each post!
Collaborate with Influencers:
Influencer marketing has increased significantly in recent years. Identify influencers in your niche who have a substantial following and collaborate with them to promote Fiverr services. This can be done through sponsored content, guest posting, or product reviews with your referral link.
Optimize Your Website for SEO:
If you have a website or blog, optimize it for search engines by incorporating relevant keywords related to Fiverr services. This will improve your website's visibility in search engine results and attract organic traffic over time. Ensure that your referral links are strategically placed throughout your content.
Maximizing Earnings with the Fiverr Affiliate Program:
Promote High-Value Services:
Different service categories on Fiverr have varying commission rates. To maximize your earnings potential, focus on promoting high-value services with higher commission rates. Fiverr provides commissions based on the category.
If you promote Fiverr pro services, you can earn $150 for 1 sale. Also, promote services like Industrial & Product Design, Mobile apps, and website development services to earn high commissions.
Maintain a Consistent Promotion Schedule:
Consistency is important for affiliate marketing. Create and follow a promotion schedule. Whether it's sharing daily social media posts or publishing weekly blog content featuring Fiverr services, maintaining regularity will help build momentum and increase the likelihood of earning commissions.
Monitor Analytics and Optimize Performance:
Regularly review your analytics data to gain insights into which promotional strategies are generating the most conversions. Identify areas of improvement and adjust your marketing efforts accordingly. Experiment with different approaches, track their performance and optimize based on what works best for you.
Conclusion:
The Fiverr affiliate program is an excellent way to earn money online! By understanding the program's effective promotional strategies, and maximizing your earnings potential, you can unlock a world of possibilities with the Fiverr affiliate program. Start your journey today and leverage the power of affiliate marketing to make money with Fiverr!
Related articles: