Introduction:
In today's digital age, video content has become an essential part of marketing strategies for businesses and individuals. With the rise of social media platforms such as YouTube, Instagram, and TikTok, creating engaging videos has never been more important. In this blog post, we will compare two popular video-making tools – Pictory Vs Fliki. 
Both platforms offer a range of features to help users create professional-looking videos, but they differ in terms of functionality, ease of use, pricing, and more. So let's dive in and see which tool is the right fit for your video-making needs.
Pictory vs Fliki; Overview:
Pictory:
Pictory is a powerful online video editing platform that allows users to create stunning videos without any technical expertise. With an intuitive interface and a wide array of customizable templates, Pictory caters to both beginners and advanced users. It offers a drag-and-drop editor with various editing tools like textures, my-uploads, elements, audio, and style. Pictory also provides access to a vast library of stock videos, images, and music to enhance your videos.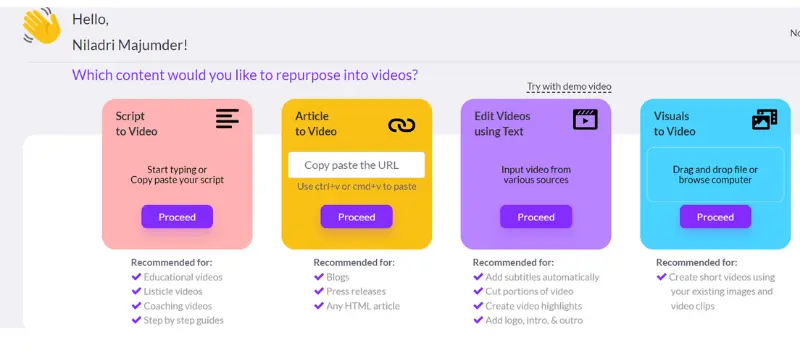 Fliki:
Fliki is another popular video-making tool that focuses on providing a user-friendly experience while offering advanced editing capabilities. It aims to simplify the video creation process by providing pre-designed templates and intuitive editing tools.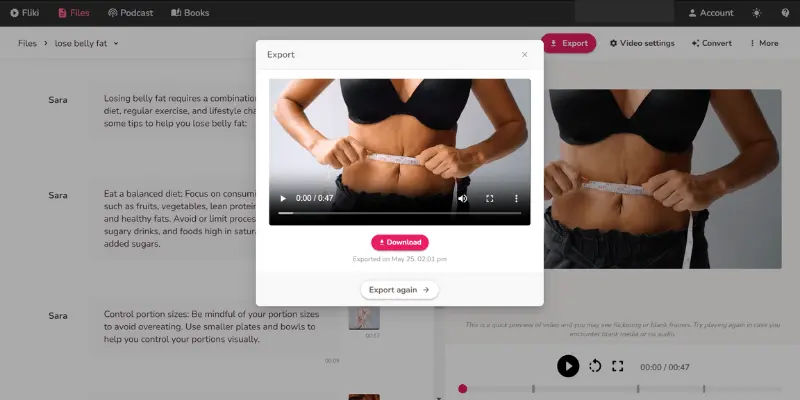 Pictory vs Fliki; Key Features of Pictory:
Drag-and-Drop Editor:
Pictory's drag-and-drop editor makes it incredibly easy for users to add media files like images or videos to their projects. You can insert elements, voiceovers, and background music easily.
Customizable Templates:
One of the standout features of Pictory is its extensive collection of customizable templates. Whether you need a promotional video for your business or a personal vlog intro, Pictory offers a diverse range of pre-designed templates.
Stock video, images, and Music Library:
Pictory provides access to a vast library of stock footage and music tracks, allowing users to enhance their videos with professional-quality content. This feature is particularly useful for those who don't have their own media files or want to add a touch of visual appeal to their videos.
Excellent voiceover:
With its intuitive voiceover feature, you can easily add a professional touch to your videos. The voiceover feature of Pictory gives you the ability to create engaging and captivating videos with the perfect sound quality. You can choose from a wide range of voices, including male and female voices in different languages, to make sure that your video stands out from the rest. 
With this tool, you can also adjust the speed and pitch of the voiceover according to your needs. Therefore, if you are looking for an easy way to add a professional touch to your video content, then Pictory's voiceover feature is definitely worth exploring!
Text Overlays and Effects:
With Pictory, you can easily add subtitles, captions, and effects to your videos. This allows you to highlight key points, provide context, or create visually appealing transitions between scenes.
Sharing:
You can share your videos directly from the platform to social media management tools like Hootsuite or download them.
Pictory vs Fliki; Key Features of Fliki:
User-Friendly Interface:
Fliki prides itself on its user-friendly interface, making it accessible for beginners with no prior video editing experience. The platform's simple design and intuitive functionality allow users to quickly create professional-looking videos without spending hours learning complex editing techniques.
Editing Tools and Effects:
Fliki provides users with a range of editing tools and effects to enhance videos. From basic adjustments like trimming, cropping, and adding text overlays to more advanced features Fliki covers the essentials of video editing.
Voiceover and Background Music:
With Fliki, you can easily pick the voiceovers from their voiceover library or import your own audio files. Additionally, it offers a library of royalty-free background music tracks, ensuring that your videos have a professional soundtrack that matches the mood and tone.
Exporting and Downloading Option:
Fliki allows users to export their videos and download them to their computers.
Pricing Comparison:
When considering which video-making tool to choose, pricing is an important factor to consider. Let's compare the pricing plans offered by Pictory and Fliki:
Pictory:
There is a free trial for Pictory. Its free trial plan allows you to produce three video projects of up to ten minutes each! 
There are three pricing plans: Standard, Premium, and Teams.
The standard plan is best for video creators just getting started. It costs $23/month on a month-on-month basis and $19/month when billed annually.
The Premium plan is best for professional creators and small to mid-sized organizations. It costs $47/month on a month-on-month basis and $39/month when billed annually.
The Teams plan for teams of video creators who share and collaborate. It costs $119/month on a month-on-month basis and $99/month when billed annually.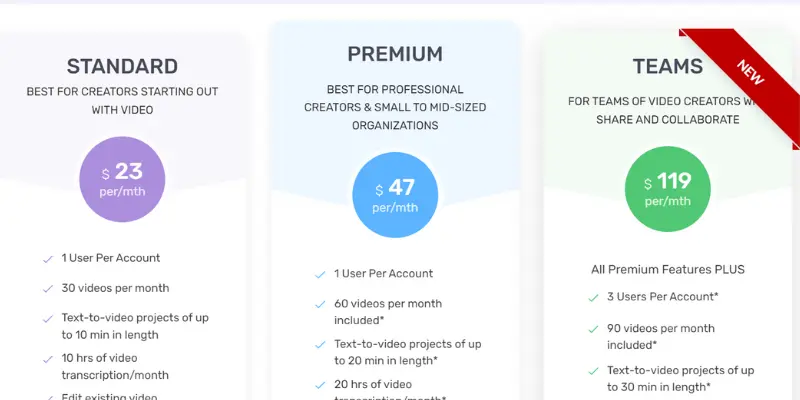 Fliki:
Fliki has a free plan. You may start a free trial without providing any credit card information. However, there will be a Fliki Watermark within the video. You will receive 5 minutes of audio and video content each month in its free plan.
Fliki has three price tiers: Basic, Standard, and Premium.
The Basic package is perfect for users who just wish to make audio using human-like AI voices. You will receive 120 minutes of audio content every month. On a monthly basis, this costs $8. When paid annually, the cost is decreased to $6 per month.
The Standard plane is excellent for individuals and professionals that wish to create videos with voiceovers quickly and effectively. You will receive 180 minutes of audio/video each month. This costs $28 per month. When billed annually, the cost drops to $21 per month.
The Premium subscription is ideal for power users and companies who want to make use of Fliki's powerful AI capabilities and develop content on a large scale. Each month, you will receive 600 minutes of audio/video. This is $88 each month. When invoiced annually, the price drops to $66 per month.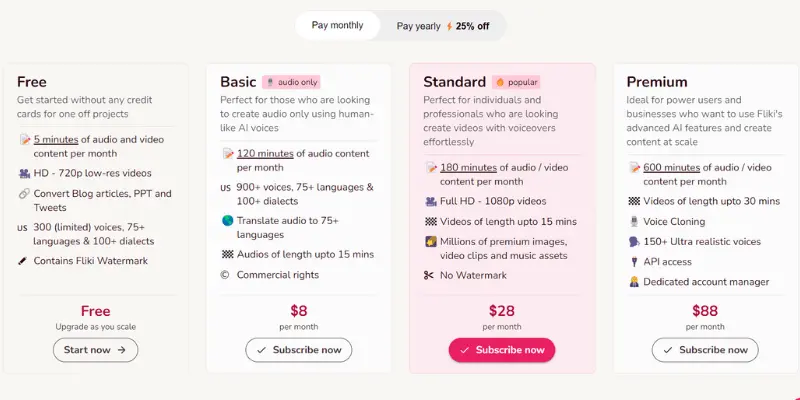 Pros of Using Pictory:
Extensive collection of customizable templates.
A vast library of stock footage and music tracks.
Powerful editing tools for advanced users.
User-friendly interface with drag-and-drop functionality.
Cons of Using Pictory:
Higher pricing compared to some alternative video-making tools.
Pros of Using Fliki:
Simple and intuitive user interface.
Essential editing tools and effects.
Voiceover and background music options.
Easy exporting and sharing options.
Cons of Using Fliki:
May lack the advanced editing features required by professionals.
Pictory vs Fliki; Conclusion:
That's all about Pictory vs Fliki. Both Pictory and Fliki offer impressive features to create high-quality videos without the need for technical expertise. Pictory stands out with its extensive template collection, stock library, and powerful editing tools. 
On the other hand, Fliki focuses on simplicity and ease of use, with a user-friendly interface, and essential editing tools. Ultimately, your choice between the two will depend on your specific needs, budget constraints, and level of video editing experience.
---
Related articles: