What is Murf AI?
Murf AI is a text-to-speech artificial intelligence (AI) tool that allows users to generate natural-sounding audio from written text. Are you still undecided about buying Murf AI? Before you purchase the tool, read this Murf text to speech review carefully.
It employs advanced artificial intelligence algorithms to comprehend the context of the text and produce speech output that is as close to human speech as possible.
Murf AI has a wide range of applications, including the creation of video voiceover, audiobooks, podcasts, and more. With its simple interface and powerful features, this tool is changing the way people create their content.
Murf Text To Speech Review
Summary
Murf's accuracy make it comfortable and even entertaining to create accurate voiceovers. It employs AI and text-to-speech technology to generate excellent voiceovers which you can modify till they're correct. You may try out the tool for free with 10 minutes of transcription and voice creation.
What can you do with Murf AI?
Voiceovers for Elearning:
Create interactive voiceovers for e-learning. Murf's powerful and flexible AI voices in 20+ languages assist in enhancing learning retention and engagement. Create monotonous teaching materials more interesting by making the content easier to understand and digest.
Create Ads:
Generate ads voiceovers for video and audio advertisements. Give your marketing messages in a voice that your clients will understand. AI voices are developed for sites such as YouTube, Spotify, Instagram, and others.
Make explainer videos:
Now you can make captivating voiceovers for explainer videos. In just a few minutes, you can record an explainer video voice-over. Pick from more than 120 AI voices in more than 20 languages.
Presentations:
Murf's human-like AI presentation voiceovers can be used to narrate a lesson. Its realistic AI voiceovers will transform your boring presentation into an interactive one by allowing you to choose from a variety of tones. 
You can now save time and avoid the headache of recording and editing voiceovers on your own. Murf allows you to customize the timeline's tone, pronunciation, music, and pauses.
Voiceovers for audiobooks:
Murf's extensive library of over 120 AI voices in more than 20 languages makes narrating an audiobook simple. Combine emotions and tones to create a satisfying sound quality.
Add multiple voices and characters to the story for incredible sound quality. Use the script, select voices for each character, do simple editing, and the audiobook is finished!
Product demos:
Voices that match your script and connect with your viewers can help your product videos stand out. Select from Murf's 120+ voices to meet the needs of the product video. 
Tone, pace, and attention can all be used to add value to product demos while maintaining video quality. Murf's AI Voice Changer feature allows you to convert your normal voice into a professional-sounding AI voice.
Create YouTube videos:
It is simple and quick to create professional voiceovers for YouTube videos. You can get studio-quality voiceovers for YouTube without purchasing any expensive equipment. Murf gives you complete control over the sound of the voiceover.
Upload the script, make any necessary changes, and export. Its multi-language options allow you to create videos in different languages. Convert the same English script into American, British, or any other accent.
Voiceovers for podcasts:
Create Interesting Voice Overs for Podcasts. Murf can assist you in telling your story or expressing yourself. Give the exact voice from Murf's extensive collection of realistic AI voices. Simply download the voiceover, edit your script, and use the Voice Changer to convert it to an AI voice. Give different aspects of your story multiple voices to keep your listeners interested in your podcast.
Spotify ads:
Murf has all of the tools you need to create great Spotify ads. Murf studio has over 120 different voices to choose from. Its rich features, such as Pitch, Stop, and Pronunciation, allow you to maintain the visual and emotional importance of your Ad script.
IVR voiceovers:
Improve your customer experience by creating clear and natural-sounding IVR and other automated telephony voiceovers. You can use Murf's human-like AI voices to create IVR voice prompts that improve customer satisfaction by leveraging more human-like interactions.
Murf AI Interface:
Murf AI has a very simple interface, extremely easy for beginners to start. From my project section, you can start a new project from scratch. Lots of templates are also there to pick from.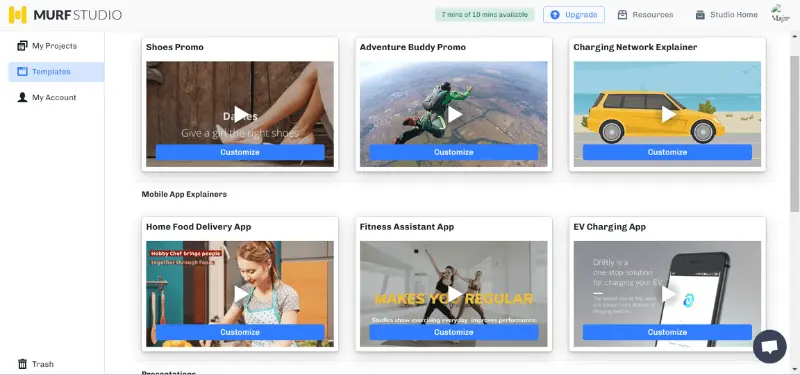 Create a project:
For creating projects on text-to-speech or video creation, you can start with a blank. Also, you can start with your specific requirements like E-Learning Module, Audio Ad, IVR System, Audiobook, Public Announcement, Podcast, Personal Listening, Presentation, Article & Blog, etc.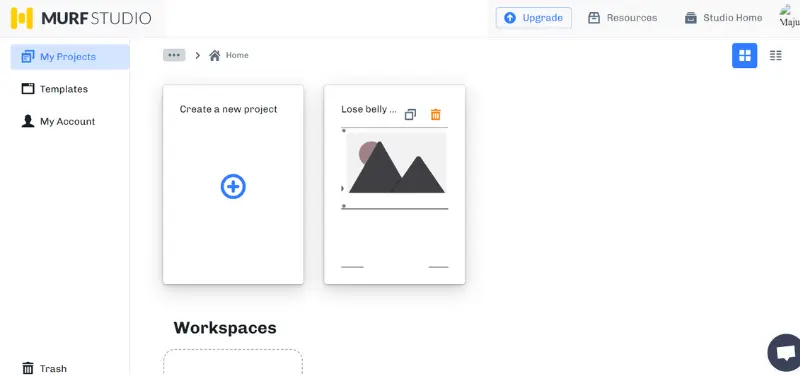 Various voice options:
You may select from a variety of voice selections based on your needs. You may choose between male and female, numerous sorts of English, and a variety of other languages.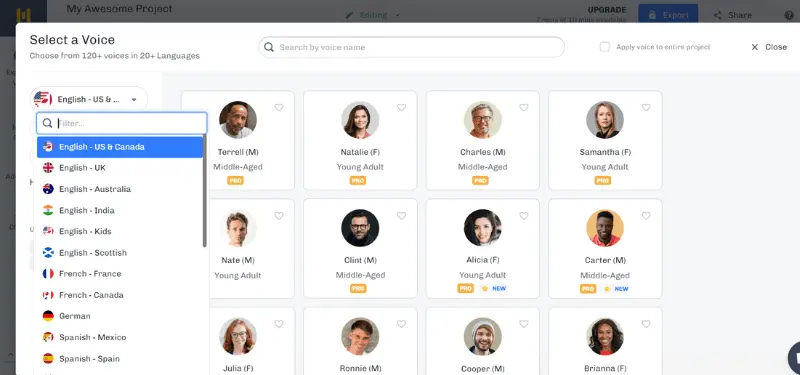 Stock music, images, and videos:
Stock music, graphics, and videos are all accessible for use in your videos or speeches. Use keywords to search for suitable stock media.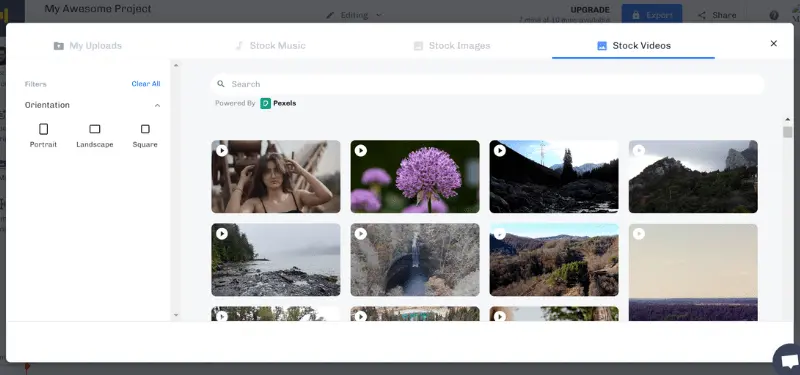 Murf Text To Speech Review; Benefits:
A wide range of voices is available for your script. All AI voices are developed by a real professional voice actor, which leads to outstanding voice quality.
All AI voices are developed by a truly professional artist, resulting in an excellent vocal tone.
You may also upload your own audio samples to be transformed into a high-quality voiceover.
Your work gets stored as a virtual studio project, so you may recover it later.
You are free to use your own background music.
There are several fantastic audio alternatives for people of all ages. You may also change the sound by adjusting the tone, pitch, and accent.
Murf Text To Speech Review; The products:
Text-to-speech:
The voices are completely human-like and have been tested across a variety of factors. People can't tell the difference between sophisticated AI voices and real human voices.
Murf provides voices in 20 languages. Several languages, such as English, Spanish, and Portuguese, also enable various accents. Employ Murf's 'Pitch' feature to focus listeners' interest on specific phrases or words that convey feelings. Make whatever changes you like to the accent to suit your needs.
Voice cloning:
Convert one recording into an endless number of script plays. Modify the AI voice clone to show different emotions based on the use case, such as ads, IVR, or personality voices. Make Murf sound exactly like the voice you want. Adjust the pitch, tone, tempo, and other parameters to make it realistic.
Voiceover video:
If you have a script, you may add a voice-over to your video without recording it and without any ambient noise.
A proper voice-over may improve the engagement of your videos. Murf is the most basic method for matching the time of voice-over with visuals. The best part? You don't need any video editing skills.
Google slides add-on:
With a simple add-on, you can now create and alter your voice-over script while creating presentations in Google Slides. You have complete control over both the slides and the voice-over.
This will allow you to create and edit voice-over scripts, as well as test and pick the best quality AI voices available in your plan.
Voice changer:
With the same script, you may substitute your voice with a professional and human-like AI voice. Background noise, pauses or flaws in the recording process, and other unattractive areas may all be eliminated before creating a fresh voice-over.
API:
Murf's text-to-speech APIs are ideal for mass content generation, e-learning, and connecting with interactive voice systems.
The API is easy to use and extremely safe, and it allows you to provide unique speech experiences to your consumers.
Types of videos you can create with Murf AI:
Product and explanation videos.
Promotional videos.
Course modules for online learning.
Audiobooks, Games.
YouTube videos.
Corporate training videos.
Software demos.
Pros:
You may take advantage of a fantastic free plan without providing any credit card information.
It has a powerful AI voice creator capable of producing excellent voiceovers.
It offers two-factor authentication for data security.
The user-friendly interface and built-in tools make it simple to record and edit voiceovers. A fantastic tool for beginners.
Cons:
Murf Text To Speech Review; Pricing:
There is a free plan in Mutf AI. The best part is, you don't need to put in your credit card information to get started. In its free plan, you can try all 120+ voices, 10 mins of voice generation, and 10 mins of transcription. But, you can't download the video. 
There are three types of pricing plans in Murf AI: Basic, Pro, and Enterprise. 
The Basic plan costs $29 per user per month on a month-on-month basis. The cost is reduced to $19 per month when billed annually.
Unlimited Downloads
Access to 60 basic voices
Access to 10 languages
2 hrs of Voice generation/month
The Pro plan costs $39 per user each month. When invoiced annually, the monthly cost is decreased to $26.
Unlimited Downloads
Access to all 120+ voices
All 20+ Languages & Accents
4 hrs of voice generation per month
The Enterprise plan costs $59 per user per month on a monthly and annual basis.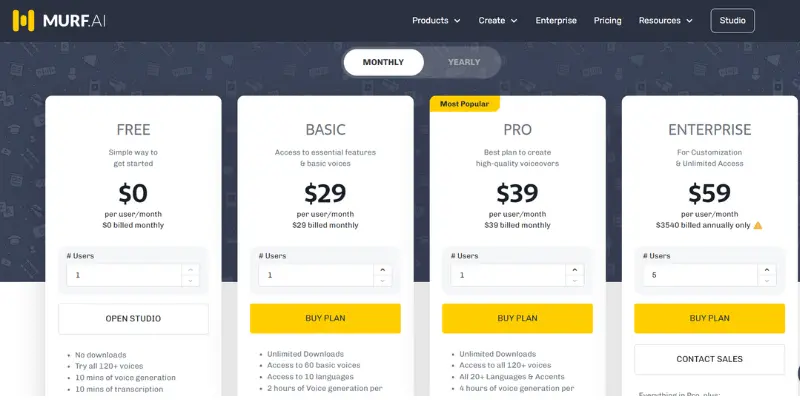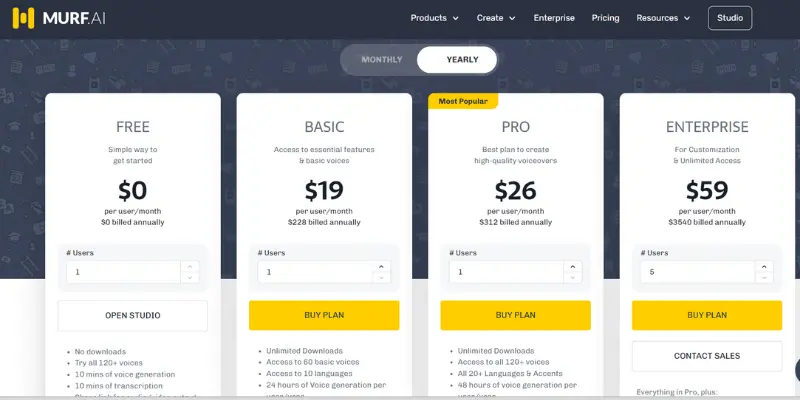 The best alternatives for Murf:
Descript:
Descript is an audio and video editor that makes editing as simple as writing a text file. You may now transcribe your video or audio file into text by simply uploading the file, then editing the text to modify the video or audio.
Remove filler words and silence gaps. Record the screen and camera as well for video. Use editing options like multi-track editing, live collaboration, exporting, and others.
Synthesia:
Synthesia is a cloud-based video editing tool featuring AI avatars. Hundreds of businesses utilize it to create high-quality videos at rapid speed.
Create a personalized avatar of yourself or someone else in no time. Each customized avatar needs the person's personal permission.
The avatar is a digital representation of a person that may be used to produce promotional videos using these customized avatars.
Murf Text To Speech Review; Conclusion:
Thats all about Murf Text To Speech Review. This is an excellent AI voiceover software that has a broad range of options that make Murf one of the most time and cost-effective solutions today, as well as being simple to use.
It allows you to make outstanding voiceovers without paying freelancers or wasting time doing voiceovers on your own. You may choose from a library of natural-sounding voices and make changes.
Related articles: