What is Play.ht?
Play.ht generates realistic Text to Speech (TTS) audio by utilizing the best synthetic voices and the online AI Voice Generator. Text may be easily converted to a natural-sounding voice and saved as MP3 or WAV audio files. In this Play.ht Review, we will discuss how effective this tool is to create natural voices from the text.
AI Voice is a machine learning-powered computer-produced voice that can synthesize speech from text with realistic tones and actual voices. Because of its pleasant tone, AI Voices are now utilized in a variety of applications. Play.ht is a prominent AI text-to-speech software on which you may rely.
Text-to-voice synthesis is real-time and only takes a few minutes to turn the text into voice. Because of the Play.ht TTS (text to speech) software works in the cloud, you may input vast volumes of text into our voice generator's dashboard and begin the conversion. You do not need to wait for the translation to complete. When the audio is finished, the recordings will be accessible for download in your account.
Play.ht Review; Features:
Text-to-voice editor:
This digital text-to-audio generator Play.ht is a software that allows you to use all of the greatest text-to-speech AI voices from Google, Amazon, and Microsoft in order to generate the most genuine voice for your requirements. This converter offers a single, simple, and easy user interfaces for converting any text to audio utilizing the finest AI voices.
Text may be converted to MP3 and WAV formats. Make high-quality audio files from 8kHz to 48kHz. Without dealing with voice actors, you can generate high-quality natural audio in a few minutes using Play.ht. You have full authority to use the created voice records for personal and professional purposes.
You can change the mood, tone, and wording and be professional. You may make as many changes as you like to produce the best voice-over recording, and you can download it as several times as you like.
There are 907 AI voices and 120+ languages available:
Gain access to an expanding library of 907 quality male and female AI voices accessible in more than 120 languages.
Voice Expression:
Discover a variety of expressive speech styles, including newscaster, formal, and casual.
Library of Pronunciations and Phonetics:
Using IPA, you may fine-tune exactly how words are pronounced and store them in the pronunciations collection.
Make your own unique pronunciations for brands, symbols, and specialty terms. The tool also utilizes the International Phonetic Alphabet (IPA), enabling you to improve your pronunciation even more.
Make your own pronunciations for business names, symbols, and niche terms. Once you've created a pronunciation, store it in the library, so that it can appear across your work. Your pronunciations may be accessible in all languages.

Audio Widgets:
Audio widgets are flexible, SEO-friendly, and entirely customizable for your websites to increase content outreach, availability, and consumer engagement. Because your readers may not always have the time to read, allow them to absorb content on their time.
Turning your knowledge to audio is an effective way of recycling older yet relevant content. Assists your website in becoming ADA-compliant for persons with vision and other challenges.
Multi-Voice Flexibility:
Several voices inside the same audio recording can be used to represent a realistic conversation.
Include Natural Pauses:
Set required pause lengths for punctuation marks or added different pauses in the audio.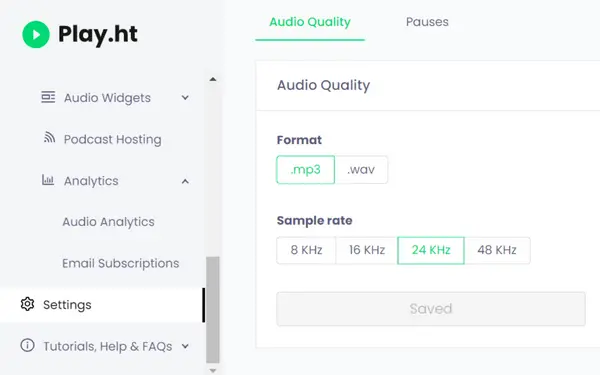 Change the voice tones:
To generate unique voice impacts, change the loudness, pace, and tone of words or sentences.
AI podcasts:
To enhance the reach of your content, the audio that you generate or upload in your Play.ht dashboard may be delivered to all main podcasting channels such as iTunes, Spotify, Google Podcasts, etc.
Play.ht assists you in entirely setting up your podcasting service and generating the RSS feed. The podcast audio clips may be maintained and modified directly from the interface. To captivate your website visitors with podcasting material, employ SEO-friendly audio widgets.
Team access:
To assist you in creating and sharing audio files with your team, they provide project collaboration, centralized billing, and word credit management. You can successfully expand your audio creations with the Teams feature by asking your complete team to interact, share, and produce audio clips collectively.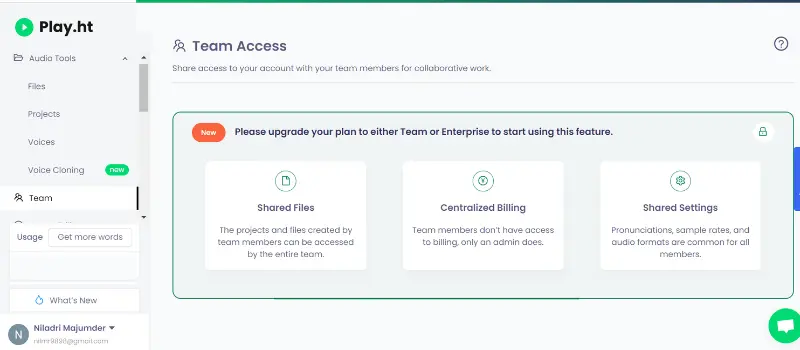 Text to Speech API.
With an easy-to-use API, you can integrate real-time speech recognition into your software and devices. Access cutting-edge artificial intelligence voices from Google, Amazon, IBM, and Microsoft in 60+ languages.
Play.ht Review; Benefits:
Useful for increasing user experience on your page.
You will also be able to monitor user behavior on your site.
You may publish your content as a podcast on iTunes, Spotify, and other platforms.
Every article may be organized into an RSS feed.
Solve any play.ht difficulties, such as setting tones for the audio, version of the content, and more.
Generate audio versions of your article.
Pros:
Continuously upgrade the languages and voices.
A variety of audio voice choices is included.
Create the audio through the use of pronunciation, audio tone, and multi-voice support.
Obtain full commercial rights over all audio created.
Review your audios before exporting them, and save those as draughts.
Excellent sound quality.
Cons:
Fixing issues may sometime take more time.
All languages are not covered.
Play.ht Review; Pricing:
They provide a free version in which you may preview all of the possible voices and transform a few texts into audio.
For individuals, there are three types of pricing plans: Personal, Professional, and Premium.
The Personal plan costs $19 / month on a month-on-month basis. The price is reduced to $14.25 / month when billed annually. Here you can generate 20,000 words per month.
On a monthly basis, the Professional plan costs $39 per month. When invoiced annually, the price drops to $29.25 each month. You may create 50,000 words every month here.
The Premium package is $99 per month. When invoiced annually, the price drops to $74.25 each month. You may create unlimited words in this package.
For businesses, there are two types of pricing plans: teams and enterprise.
The team plan costs $198 / month when billed monthly. The cost is $148.5 / month when billed annually. There is custom pricing for enterprises.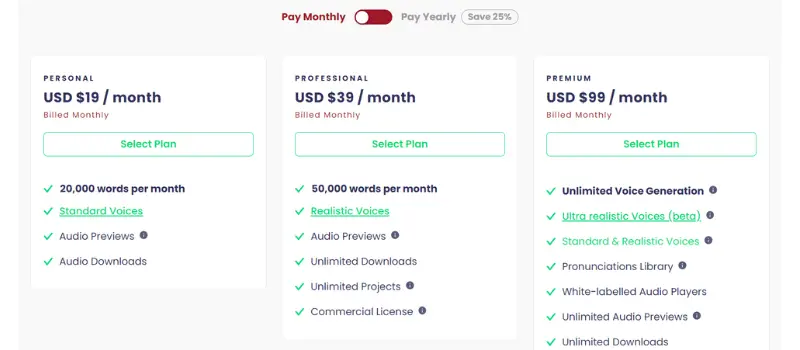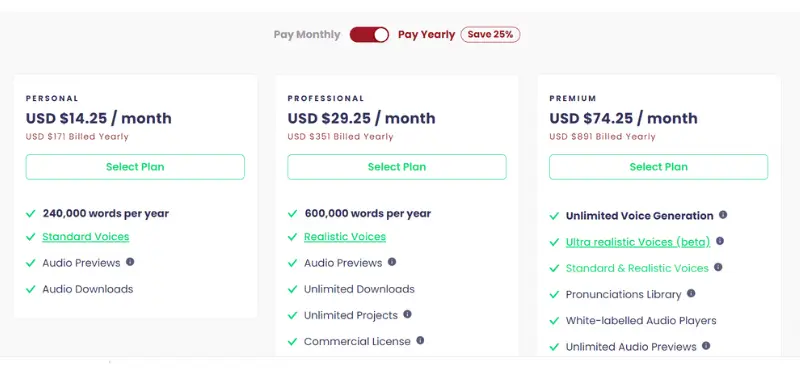 Play.ht Review; Conclusion:
That's all about Play.ht Review. Play.ht is a fantastic text-to-speech conversion tool with an integrated genuine voice generator that allows you to turn any text into speech.
It also has a text-to-speech API that any user can utilize to incorporate text-to-speech into their software, creating it more exciting and efficient.
The user interface makes it quite simple for regular individuals to understand how to utilize the text-to-speech tool. It's simple to use, entertaining, and sounds fantastic.
Related articles: