Introduction.
Do you want to make interesting audio or video content without spending hours recording and editing? Fliki AI is the solution. This unique technology uses artificial intelligence to convert text into high-quality audio or video content. In this Fliki AI review, we'll look at what Fliki AI has to offer and how it may help you.
What exactly is Fliki AI?
Fliki AI is a technology that enables users to easily turn text into audio or video content. Fliki AI can help you generate captivating content fast and effortlessly, whether you're a blogger, marketer, YouTuber, or business owner.
How does it work?
Fliki AI analyses your text using complex algorithms and delivers a natural-sounding voice in seconds. You may change the tone, tempo, and accent of the voice to suit your needs. You may download the audio file or utilize it in your video projects with a single click of a button.
Fliki AI can also make videos. Simply enter your desired text along with customized photos or videos that will be used as background throughout the video. After that, simply select one of the several templates that best suits your needs or mood, and your video is done!
Fliki AI Review; Features:
Here are some key features that make Fliki AI stand out from other text-to-speech tools:
Convert blog posts into videos:
Begin by entering the URL of your blog post, and Fliki will summarise your information, discover perfect images and videos, and make a video with a human-like voiceover in your preferred voice and subtitles.
human-like Text to Speech Voices:
Stop using robotic voices in your videos, with over 1000 voices in 75 different languages, Fliki ensures that there is a voice for all.
A large stock media collection.
Pick from Millions of photographs, video clips, and background music, you'll never run short of images and videos to match your context. Fliki allows you to select subtitles that match the color and typography of your brand.
Customization:
With customization options like tone and pace control along with numerous templates available for creating videos on any topic, ranging from corporate presentations to personal message videos. Fliki AI gives you complete control over your audio and video content.
High-quality audio and video output:
The technology behind Fliki AI ensures that the audio and video output is of the highest quality, making it perfect for professional use cases like podcasts, webinars, and tutorials.
Cloud-based platform:
Fliki AI is a web-based platform which means there's no need to install any additional software. You only need an internet connection to get started.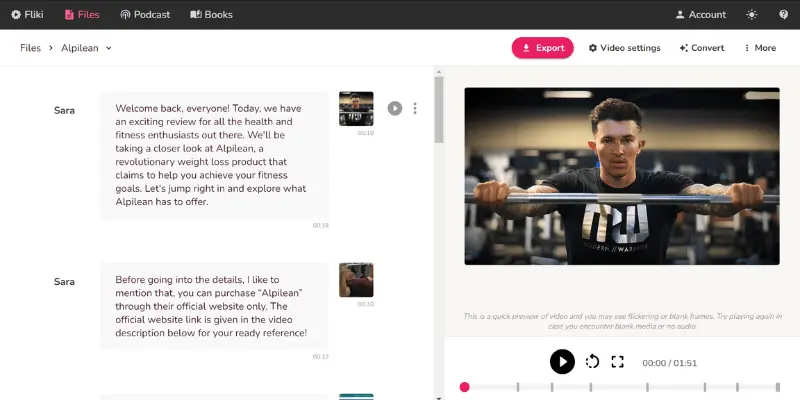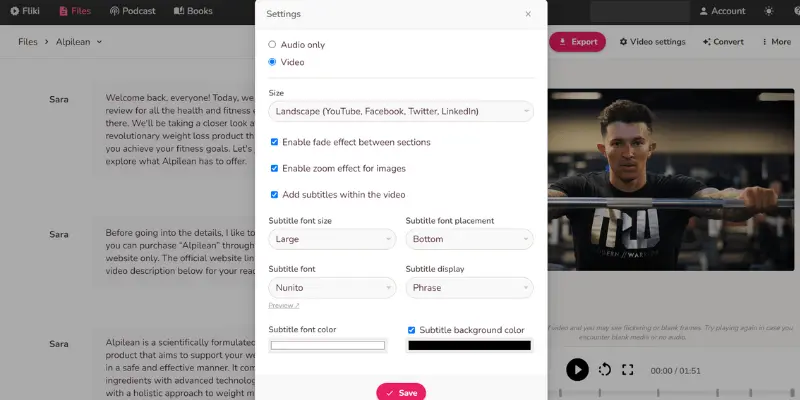 Who can benefit from Fliki AI?
Fliki AI is a versatile tool that can be used by anyone looking to create engaging audio or video content. Here are some examples of how different users could benefit from this tool…
Bloggers:
Bloggers can use Fliki AI's text-to-speech feature to turn their written posts into podcasts, reaching a new audience while also catering to those who prefer listening over reading.
Marketers:
Marketers can use Fliki AI's text-to-video feature to create compelling promotional videos, explainer videos, or social media ads without having to invest time in recording themselves.
Business Owners:
Business owners can use Fliki AI's text-to-video feature to create corporate presentations or training videos for their employees with ease.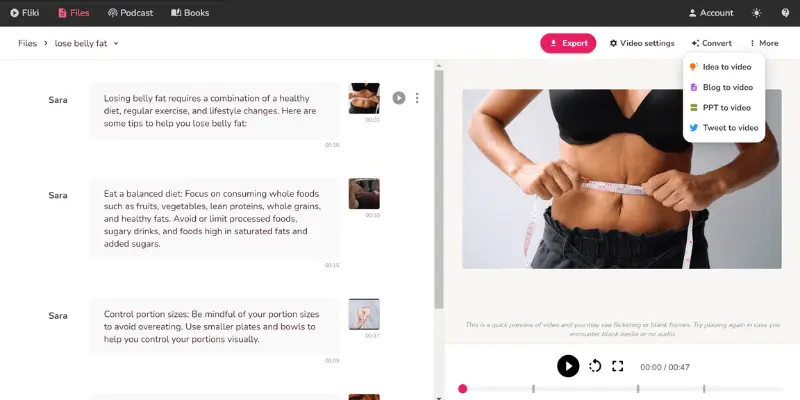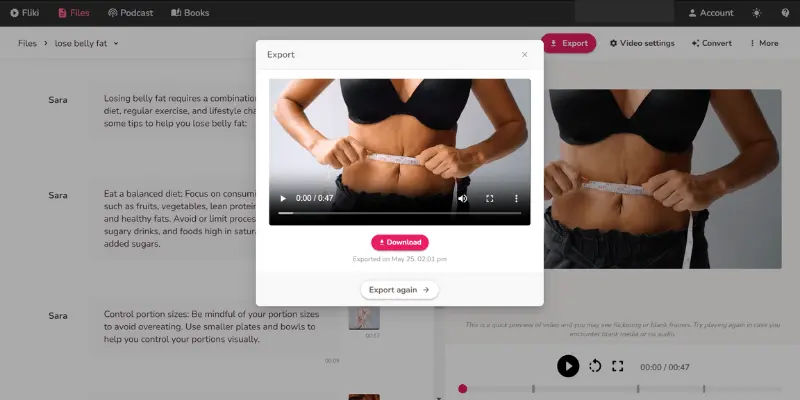 Fliki AI Review; Pricing:
There is a free plan for Fliki. You can take a free trial without inputting any credit card information. But there will be Fliki Watermark inside the video. And you will get 5 minutes of audio and video content per month.
There are three pricing plans for Fliki: Basic, Standard, and Premium.
The Basic plan is ideal for people who want to generate audio only, utilizing human-like AI voices. Here you will get 120 minutes of audio content per month. This costs $8 per month on a month-on-month basis. The cost is reduced to $6 per month when billed annually.
The Standard plane is ideal for people and professionals that want to easily make videos with voiceovers. Each month, you will receive 180 minutes of audio/video. On a month-to-month basis, this costs $28. When invoiced annually, the cost is decreased to $21 per month.
The Premium plan is Ideal for power users and enterprises who wish to leverage Fliki's sophisticated AI capabilities and generate content at scale. You will receive 600 minutes of audio/video each month. This costs $88 per month. When billed annually, the cost is reduced to $66 per month.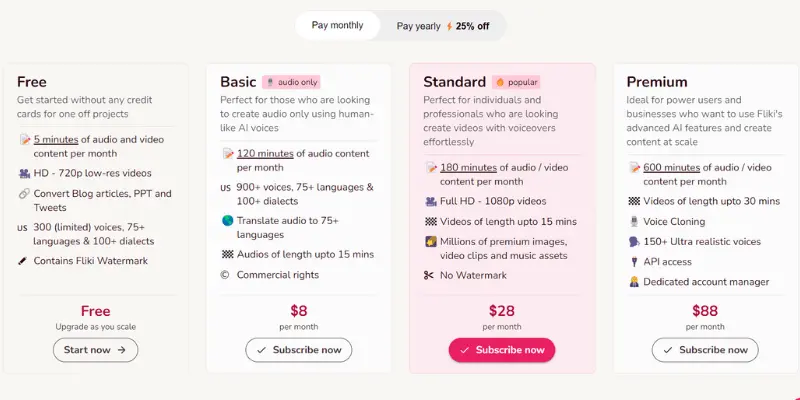 FAQs:
How does Fliki compute the amount of time spent or how do credits work?
The duration of audio or video created in Fliki is utilized to compute credits of minutes consumed.
Can You make videos on the Basic plan?
The Basic plan only allows you to generate audio content, making it ideal for those looking for voiceovers, podcasts, and audiobooks. To make videos, choose the Standard or Premium package.
What is the longest audio/video file You can make?
The standard plan allows you to create audio/video of up to 15 minutes in length. The premium plan allows you to create audio/video of up to 30 minutes in length.
Can You use Fliki to make YouTube videos?
Yes, you can make YouTube videos. You can monetize the content developed by publishing it on YouTube or other social media platforms, as long as your text content is unique.
Will You face copyright problems if use Fliki to make content?
Fliki delivers content from royalty-free media sources as well as a license to premium media for commercial usage on all social media platforms. So, there will never be any copyright issues.
Is there an API available from Fliki?
Yes, they do offer an API.
What if you want Fliki for a short period of time?
You may cancel your membership at any moment by going to your account.
How can you make a payment?
All major credit and debit cards are accepted.
Fliki AI Review; Conclusion
In conclusion, Fliki AI is an excellent tool for creating high-quality audio and video content quickly and easily. Its advanced algorithms ensure that the output is natural-sounding while customization options allow you complete control over your content. With its affordable pricing plans, it's definitely worth trying out!
Related articles: