What is Nuron Writer?
Welcome to the Neuron Writer review. The Neuron Writer is a ground-breaking AI-powered writing assistant that can aid content writers in producing better and more interesting content faster. It understands the context of the topic and suggests related words, phrases, and ideas using natural language processing (NLP).
To guarantee that your writing is both accurate and SEO friendly, the NeuronWriter includes functions such as grammatical correction, readability analysis, and keyword optimization. It also has a free trial so you can test the features before buying it.
In summary, the NeuronWriter is a wonderful tool for copywriters who want to save time while producing high-quality writing quickly. Its user-friendly design makes it excellent for both seasoned writers and newcomers who are getting started with copywriting.
NeuronWriter specializes in website content such as articles and sales pages. As a result, its user interface is mostly focused on ordinary blog post-writing.
You must first choose a search keyword for which you want to rank, and NeuronWriter will conduct a full SERP analysis to provide you with information and SEO tips to help you create content that ranks on search engines.
There is NeuronWriter's strong content editor, which uses GPT-3-powered AI to generate outlines, intros, and even full paragraphs.
AppSumo deal of Neuron Writer:
Do you want an AppSumo lifetime deal for Neuron Writer? Yes, currently the lifetime deal is going on in Appsumo. Three plans are available in AppSumo lifetime purchase: Single, Double, and Multiple. The Single plan costs $69, the Double plan costs $138, and the Multiple plan costs $207. 
All plans offer the following features:
Content creation with over 20 templates (GPT engines and ChatGPT).
Analysis of competitor SERPs.
Describe sophisticated content depending on competitors and user intent.
Suggestions for internal links.
Content optimization using NLP.
Content planning.
Schema data explorer.
Chrome extension.
All Neuron Writer language models.
In its single plan, you can create 2 projects, 25 content analysis queries/month, and 15,000 AI credits/month.
With the double plan, you can create 5 projects, 50 content analysis queries per month, and 30,000 AI credits per month.
By purchasing the Multiple plans, you can create 10 projects, 75 content analysis queries/month, and 45,000 AI credits/month.
Neuron Writer Review; The user interface:
NeuronWriter's user interface is very updated and simple to use. At first view, it looks absolutely easy for newbies. The editing interface is jam-packed with functionality. This is advantageous when it comes to usability. However, in terms of usability, NeuronWriter appears to be relatively sophisticated compared to other AI content writers.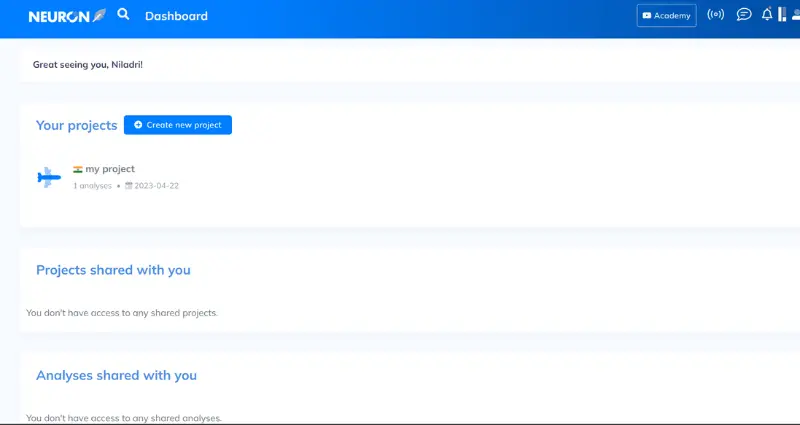 How to select competitors?
Neuron Writer will provide you with the top articles depending on the keyword. It will also give you the content score, content length, the headline of the article, and the URL. You can go with the top 10 articles, but omit those articles that are very small in length.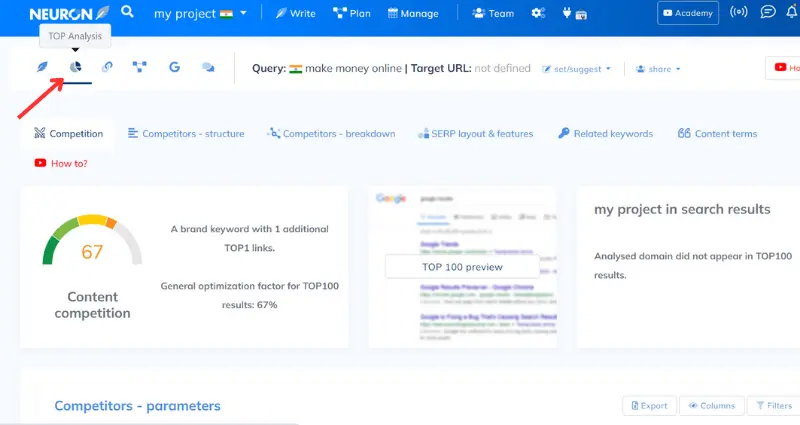 How to use Neuron Writer?
NeuronWriter can help you by creating a solid layout design, doing efficient research, and optimizing the content for SEO. It gives simple research, and NeuronWriter also notifies you of the many components of your article that are important to appear in search results and provides advice using NLP. 
The first step is to find out the right keyword and headline. NeuronWriter will show you the best content on Google while also determining what keywords to cover and what elements you must provide inside your article.
Neuron includes an article draughts creator, and the concepts are immediately directed after being put in your article draughts. NeuronWriter will produce content that is both structurally rich and SEO-friendly.
Now you can start generation paragraphs with the help of GPT-3. Start writing SEO-optimized content with the best focus keyword for your topic.
Export your work once you finished it. Publish the content and start getting traffic.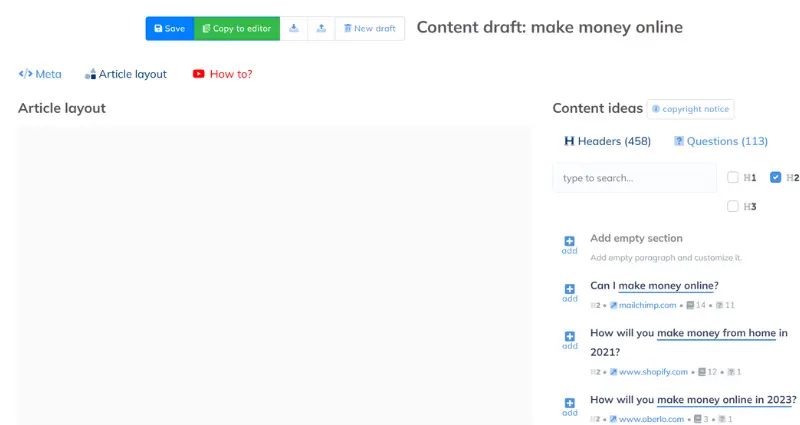 Who this is for?
Bloggers, SEO agencies, social media marketers, business owners, entrepreneurs, email marketers, freelancers, website designers, and anybody who wants to create excellent SEO-optimized content.
Neuron Writer Review; Features:
Competitor analysis:
When you search with a keyword in the dashboard of Neurom Writer, it will provide the top-ranked articles inside Google. Click on the "Top Analysis" icon in the top left, this will provide the content competition score.
It will also deliver on-page and off-page metrics for the top 100 competitors in the search results. Also, you will get the competitor's structure, competitor's breakdown, SERP layout & features, Related keywords, and Content terms.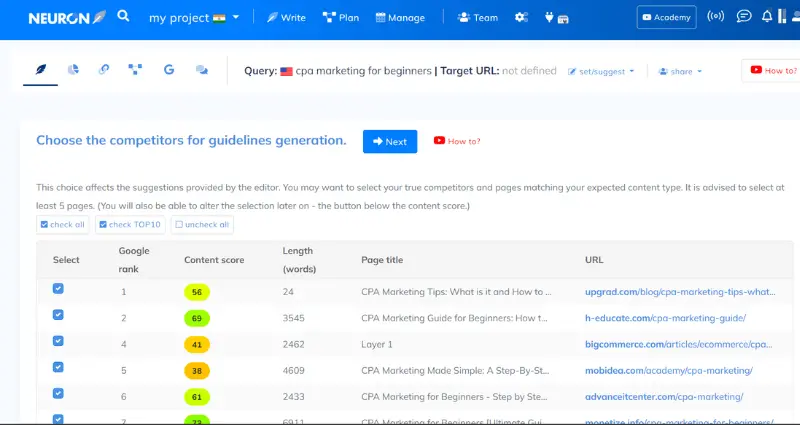 Create article draft:
After completing the competitor analysis, click on "create article draft" and the content drafting interface will appear. Neuron evaluates SERP content using NLP-based concept frameworks as the foundation.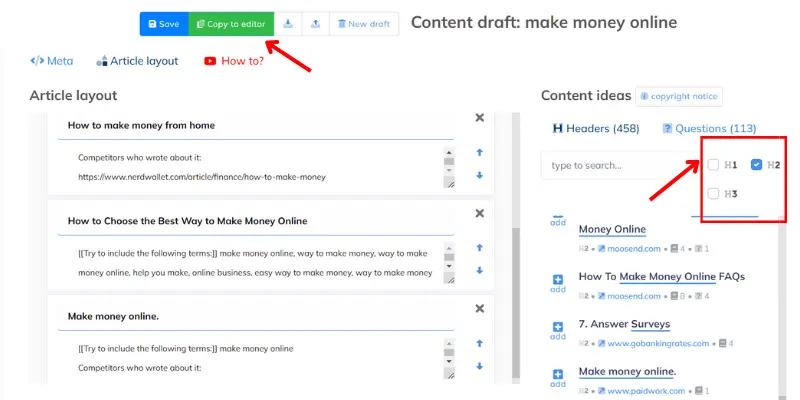 Content score:
Neuron Writer will provide the content score spending on the focus keyword used, meta title, meta description, h1, h2, and h3 headers, etc. The content score also depends on the length of the article, readability, and keyword density. The tool will provide you with the target score to rank. The higher score you will achieve, your article will be SEO optimized.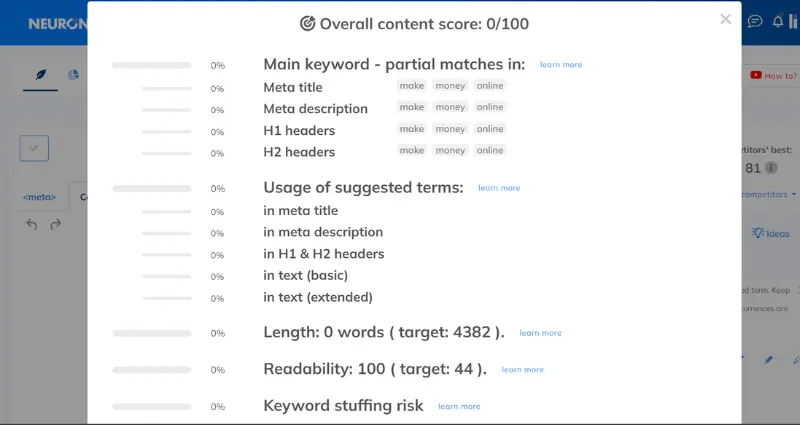 Generate content:
We might choose the headers suggested by Neuron Writer from competitors' articles. When searching for a headline, look at H1. When looking for subheadings, look for H2 and H3. Choose the appropriate H1, H2, and H3 headers.
After you've selected the headings, click Copy to Editor. Inside the editor, the headers will be copied. You can also include the meta title and meta description by clicking on the meta tab. By clicking the "generate" button, you can now begin generating paragraphs for each heading.
While creating the paragraphs, you can include suggested keywords by Neuron Writer, and you can add additional keywords on your own. Also, you can use the suggested bullet points, tone of voice, and length of the paragraph. For the paragraph word count you can choose between 50 and 400.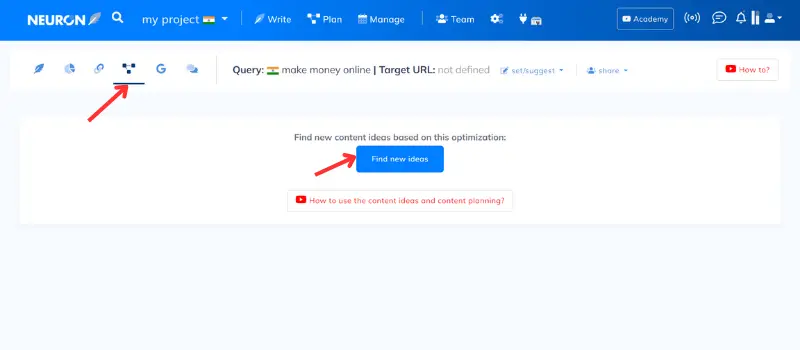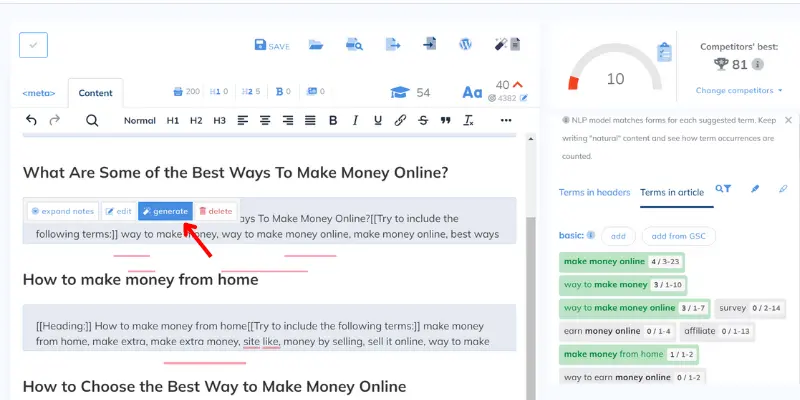 Content optimization:
The content optimization tool is the primary feature of Neuron Writer. You can create your content here, and Neuron Writer utilizes NLP-powered AI to propose keywords that will assist you rank in search results.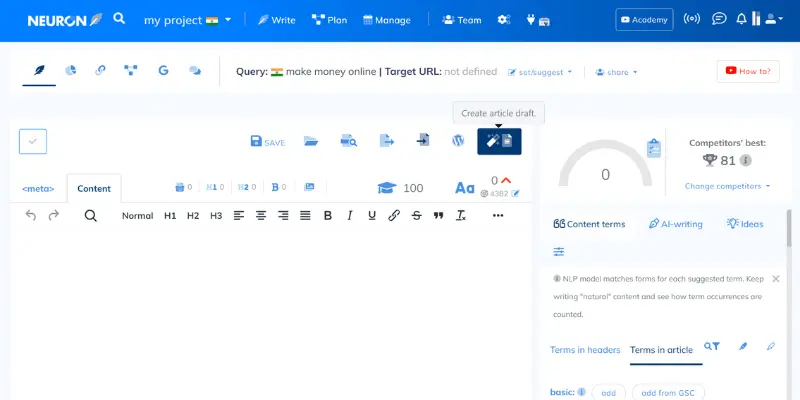 Chrome extension:
Neuron Writer has a Chrome Extension for writing and optimizing content from WordPress and Google Docs. This Chrome extension will assist to simplify the method of creating content and increase productivity. 
Pros:
NeuronWriter supports over 170 languages, giving you access to a worldwide audience. 
Get advanced analytical features to help you analyze your competitors and rank higher in search engines.
GPT3's most recent version produces high-quality content.
An effective solution for content creators. The AppSumo lifetime deal includes all of the fascinating features, this is a value for money.
Cons:
The tool has a small learning curve.
There aren't any video tutorials.
Neuron Writer Review; The best alternatives:
WriterZen:
It collects high-quality content analytics straight from the Google database, and WriterZen optimizes your content creation process. Outperform your competition by discovering interesting new ideas, powerful data analysis, and customizable solutions.
Writerzen provides topic suggestions according to search keywords. This is tremendously useful for content creators who are stuck for new topic ideas. It will provide you with captivating headlines, and the related Google Searches feature will show you what others are looking for on Google.
Writecream:
AI-assisted content production is becoming increasingly popular. Writecream can help you with blog posts, cold emails, Google Ads, LinkedIn marketing, and more.
Writecream can also assist with sales and marketing. created with the goal of creating unique, customized intros that prompt responses from receivers.
Frase:
Frase is the greatest AI-powered SEO solution for marketers that want to rank high in SERPs. This tool will assist you in streamlining the procedure while saving you time and money.
This smart technology employs NLP technology to aid you in developing content that ranks. Frase also supports you with the hot topic in your sector, ensuring that your content is search engine optimized.
FAQs:
Does it provide a free trial?
Yes, NeuronWriter offers a free trial to all new users. The free trial allows you to establish just one project, and optimize three articles only. With its free trial, you can test how exactly it works. 
Does it really help you to rank in search engines?
NeuronWriter assists you in creating high-quality SEO-optimized articles that rank. In my blog, the results are mostly positive.
How it can help content creators?
NeuronWriter can help you with keyword research and SEO tips. You may also use the NeuronWriter content editor to optimize and analyze your writing for a higher ranking.
Neuron Writer Review; Conclusion:
Before buying NeuronWriter, consider your specific writing requirements your budget, and your level of experience with AI technologies.
If you want to publish your best content and rank higher, NeuronWriter is a must-have. It combines AI writer skills and SEO article writing optimization into a single complete solution.
Moreover, your specific requirements and preferences will help you with your final decision to purchase NeuronWriter.
Related articles: