Introduction:
AI writing software is a type of software that uses artificial intelligence algorithms to assist users with writing tasks. These programs can help to generate written content with correct grammar and punctuation, improve readability, and more. In this article, we will discuss the 8 best AI writing software in the internet marketplace that will help you to write amazing articles for your Blog.
AI writing tools can be used by Bloggers, writers, marketers, content creators, and other professionals to save time, and improve efficiency. The use of AI writing software is becoming increasingly popular as more advanced technologies are developed and made available.
How do AI writer tools works?
To recognize the context and produce human-like text, AI writing tools utilize natural language processing (NLP) and machine learning algorithms.
AI writers generate text from input such as questions, user instructions, or rules. AI tools generate different types of texts based on input, such as blog posts, social media posts, emails, etc.
If you're looking for the best AI writing software that can produce content with a human touch, this is the article you can read.
8 Best AI Writing Software:
1. Jasper:
Jasper AI is one of the best AI writing software and an industry leader in artificial intelligence writing tools, with more than 50,000 users worldwide. Jasper is an excellent tool for bloggers, writers, and anyone else looking to generate content effortlessly.
This tool can help you enhance your way of writing, grammar, and sentences. You can make anything from blog articles to video scripts. The best part? Provide the right input, such as a text summary, and Jasper will analyze your texts and create content for you instantly.
It has a strong feature known as Boss Mode that allows you to quickly create a long-form article.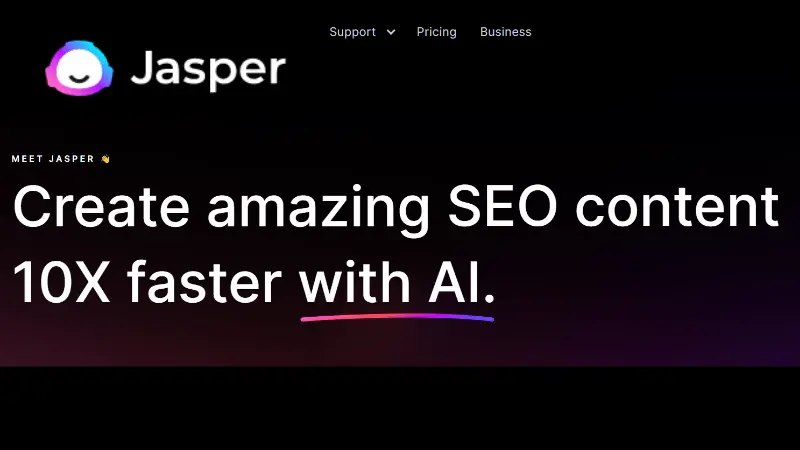 Jasper AI features:
Boss Mode allows you to create long-form content 5x faster.
Jasper supports more than 25 languages.
Integration with Surfer SEO.
More than 50 copywriting templates are available for use.
Training is available to help you produce better content.
It produces content that is completely free of plagiarism.
Grammarly is built in.
What holds Jasper above other AI writers?
In just a few minutes, you can create SEO-friendly articles.
You can produce content 10x quicker than before by using Boss mode.
Simply enter a keyword and Jasper will accomplish the rest to create original text.
It can create content in over 25 different languages.
Price.
Jasper AI has three pricing options: Starter, Boss Mode, and Business Plan.
The Starter plan is designed for beginners who are just getting started. The price of this plan begins at $29 every month for producing content up to 20000 words.
The Boss Mode is ideal for bloggers and content marketers. The price of this plan begins at $59 every month for producing content up to 50000 words.
The business plan is intended for use by teams and businesses. This plan has a custom pricing structure.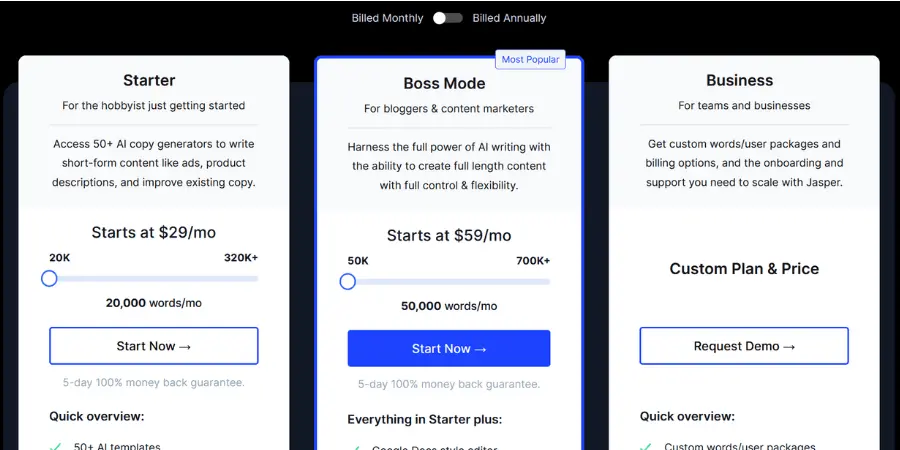 >> Click Here to read full review of Jasper
2. Copy AI:
Copy AI is also one of the best AI writing software driven by AI that generates engaging copy for social platforms, website writings, email text, blog articles, etc.
Copy AI analyses your requirements and generates excellent content. It is capable of producing content in over 20 different languages, which makes it a great tool for any type of copy. Copy AI creates content quickly while also ensuring the highest efficiency.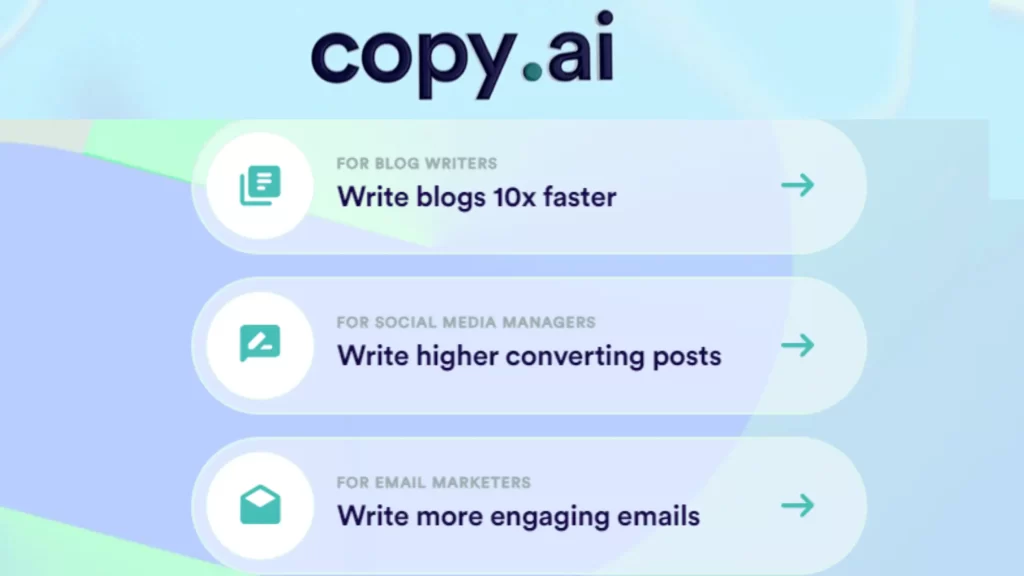 Copy AI features:
Social media posts.
Produce blog posts.
It supports approximately 25 languages.
There are over 90 copywriting tools available.
Unlimited credits to create content.
Social media content templates.
Copywriting for e-commerce.
Create Ad copies.
Write a YouTube video description.
Ideas for blog articles.
Write Product descriptions.
Blog post suggestions.
Make sales copies.
Priority support.
Subject lines for email
Ad copy.
Benefits:
Simple to use interface.
Mix and match different tones.
Impressive Text Editor.
Create different types of content using templates.
Make excellent content summaries.
Frameworks such as AIDA and PAS are supported.
Simple guidelines.
Simple Content Sharing.
Copy AI Pricing:
Copy ai offers a free plan with a monthly word count of 2000. The Pro plan costs start from $49 per month and allow you to write 40k words per month. If you pay your bill annually, you will receive three months free.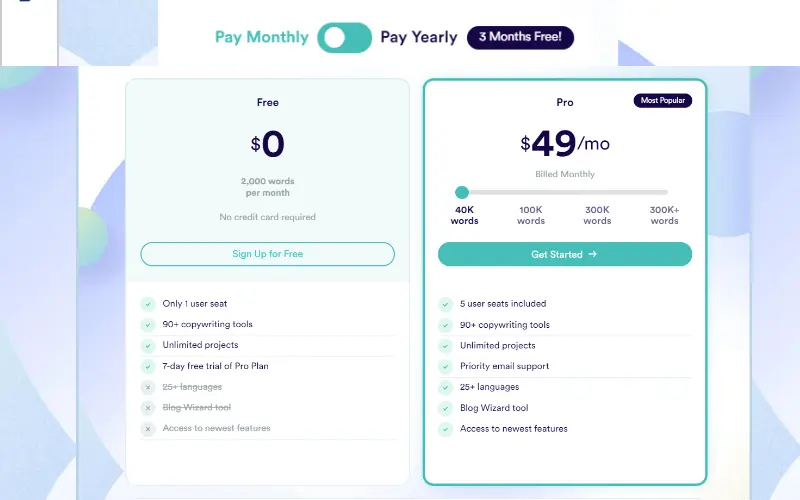 >> Click Here to read full review of Copy.ai
>> Click Here to read the comparison article Jasper Vs. Copy.ai
3. Rytr:
Rytr is an AI-powered content writing software that allows you to create high-quality content instantly. This is a fantastic tool for creating excellent content and starting a blog. This is affordable, easy to use, and saves a significant amount of time.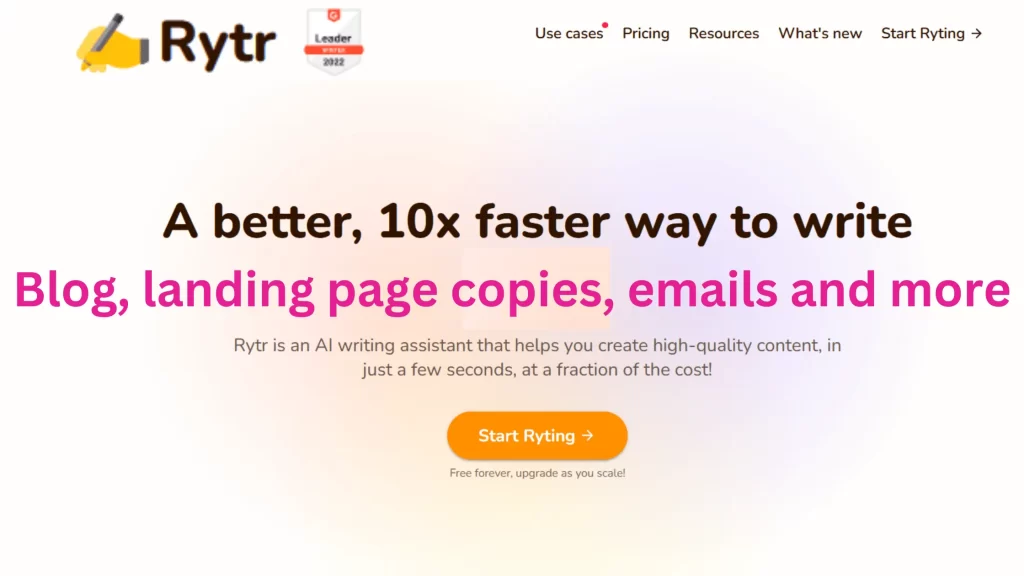 Features and benefits:
Create unique, high-quality content for any niche.
There are over 40 use cases and styles to choose from.
Support over 30 languages.
Utilizing more than 20 tones, generate everything with the appropriate emotion.
Algorithms such as AIDA and PAS are used to generate high-quality content that requires very little to no change.
Improve your grammar and write informative posts with sufficient detail.
Get only the original content. Use the built-in plagiarism checker to confirm it.
There are numerous editing options available to improve and enhance the text.
All of your work will be saved and organized in a single location.
Set up a team account to centralize user management, connect, and invoicing.
Download all work in Docx or HTML format.
Types of content it can create:
Blog articles.
Email text.
Business idea pitch.
AIDA and PAS copywriting framework.
Cover letter.
Google, Facebook, and LinkedIn Ads.
Product Description.
Profile bio.
And many more.
Pricing:
Rytr offers a fantastic free plan. You can create up to 10,000 characters per month just on the free version.
The Saver plan is $9 per month or $90 per year. This plan entitles you to 100k characters per month.
The unlimited plan costs $29 per month or $290 annually. Each month, you can generate unlimited characters with this plan.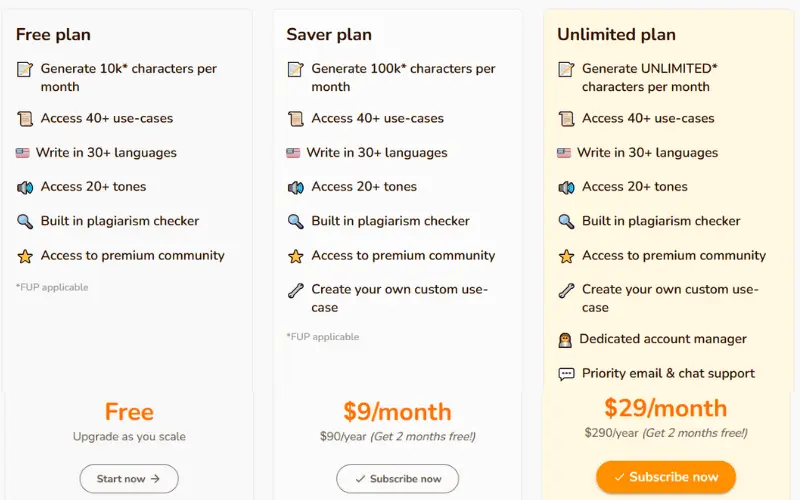 >> Click Here to read the full Rytr review article!
4. Peppertype AI:
Peppertype is one of the best AI writing software to create high-quality content powered by AI. It is easy to use and you may begin it for free. GPT3 (Generative Pre-trained Transformer 3) is the foundation for Peppertype. GPT3 prepares using its machine learning by studying sentence structures, patterns, and relevant information and then expects new and unique content from different databases.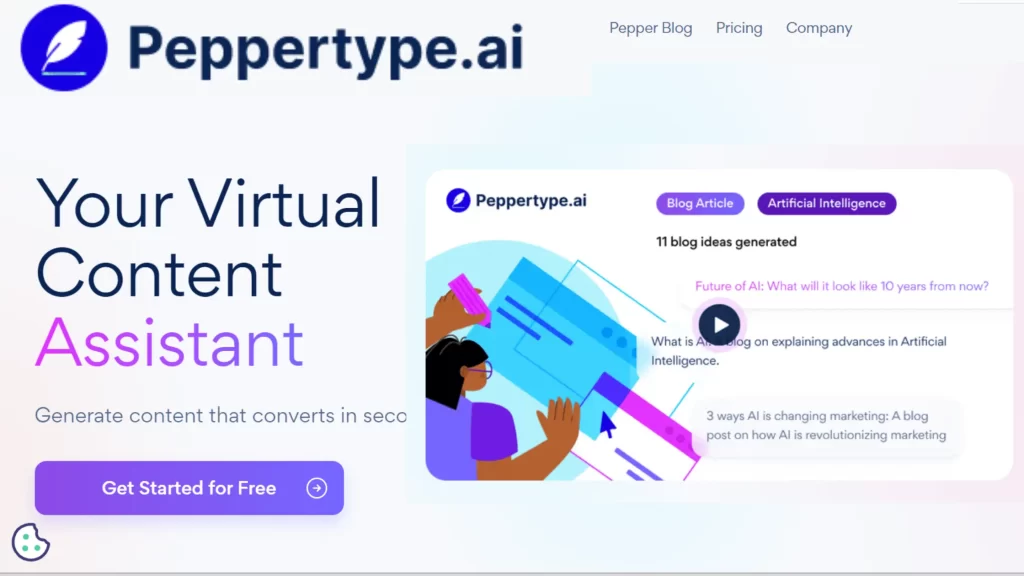 Features:
There are over 40 different types of use cases.
Long-form content creation.
Various content templates are available.
Summaries generation automatically.
Translate to 20+ other languages.
You have the option of inviting up to 25 collaborators.
Download the content.
Peppertype use cases:
YouTube video descriptions.
Topic ideas for YouTube videos.
Personal Bio.
Facebook ad copies.
Quora answers.
Writer of a paragraph.
Blog Ideas.
Blog intros.
Meta Descriptions.
Outline for a blog.
Longform editor.
Product review generator.
Feature to Benefit.
Peppertype AppSumo lifetime deal:
There are 3 tiers of license plans, and they are all single-time purchases and lifetime deals.
Tier 1 is only $99 per month. It can be used by a single user and generate up to 50000 words every month.
The Tier 2 plan is only $249. It can be used by up to five people and can generate up to 100,000 words each month.
Tier 3 only costs $399. It can be used by up to twenty users and can generate up to 250000 words every month.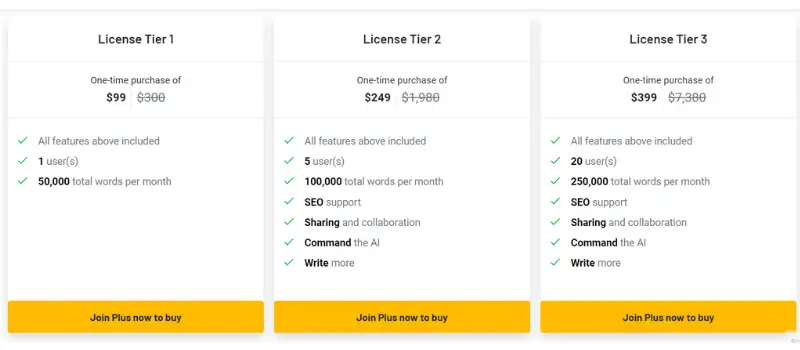 >> Click Here to read the full Peppertype AI review article!
5. WordHero:
WordHero is a content creation tool that uses artificial intelligence. You can use this advanced tool to generate a wide range of content, including emails, blog intros, product review articles, etc. The primary objective of this tool is to produce content simple and more efficient.
It provides an extensive collection of more than 70 writing assets, with new features being added on a regular basis. WordHero is an AI writing program that you must use within the tools for internet marketing.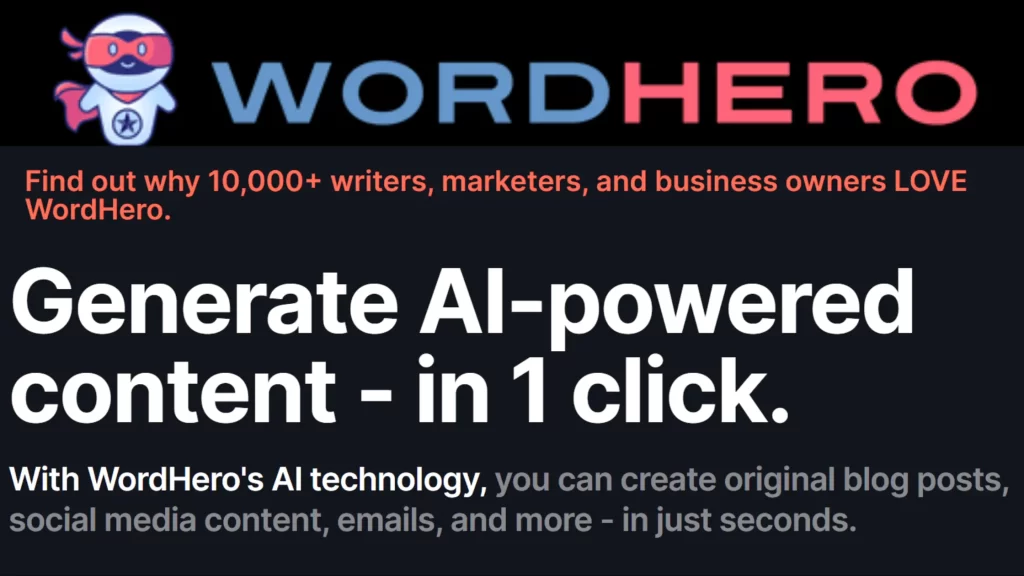 Features and benefits:
Make an infinite amount of content.
A simple user interface.
Things are constantly improving.
Mode generator.
Different tones.
Various languages are supported.
Editor mode is available.
Keyword finder.
There are over 70 use cases.
Rewrite the text.
Increase the length of short bullet points.
Grammar and spelling checker.
Produce video content for YouTube.
The name and description of the product.
Intros and paragraphs for a blog.
Copies of Google Ads.
Long-form content creator.
WordHero AppSumo Deal:
The Lifetime offer from WordHero is available on AppSumo. You can receive access to it for an $89 one-time cost. It will give you the ability to write 20,000+ words per month for life.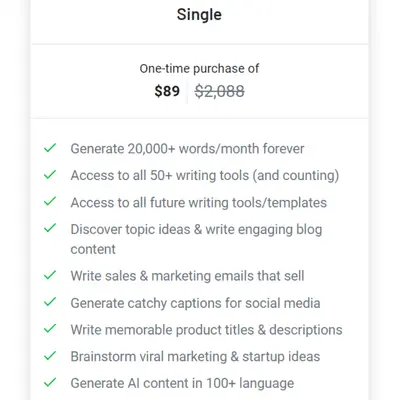 >> Click Here to read the full WordHero review article!
6. Writesonic:
Writesonic is one of the best AI writing software for producing SEO-optimized articles that drive organic search engine traffic to your website. You can boost traffic and earnings by strategically inserting keywords into your produced content.
This copywriting tool can assist you with blog posts, social media content, and a variety of other types of content. Enter a few keywords and a short outline of the topic, and it will return a number of AI-generated content.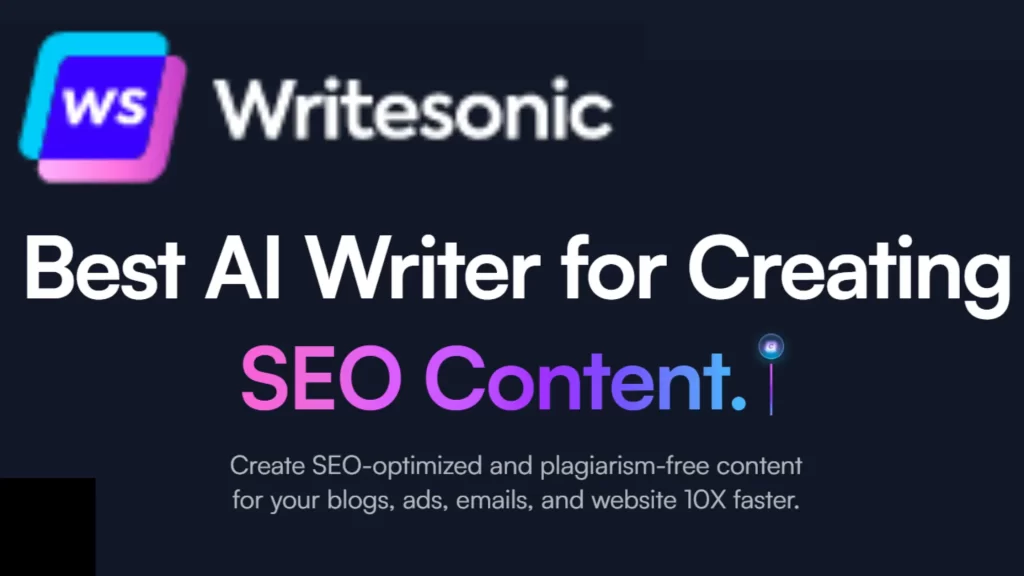 Features and benefits:
Create blog posts.
Create search-engine-optimized content.
Connect with Surfer and Semrush.
Bulk contents.
Paraphrase text.
Text summarizer and expander.
Generate product descriptions.
Generate text for high-converting landing pages.
Ad copy for Facebook and Google.
Generate Quora answers.
Pricing:
Writesonic provides a free trial version. The free trial can assist you in getting a touch with AI writing. If you select premium quality, you can generate up to 2500 words during the free trial. If you want more words, you can change them to good, average, or economy.
Writesonic has two pricing plans: long-form and custom.
The long form is for bloggers and small businesses. This is $19 per month. If paid annually, the price drops to $12.67 per month. You can write up to 19000 words on a free trial if you choose the premium quality. You can set the effectiveness to good, average, or economy if you would like to write more words.
The Long-form plan comes with 19,000 Premium words, 47,500 Good words, 95,000 Average words, or 190,000 Economy words. To optimize word usage, you can mix and match diverse quality standards.
The Custom Plan is for teams and businesses. Custom offers, custom AI concept development, onboarding, and assistance can all help you take your company to another level.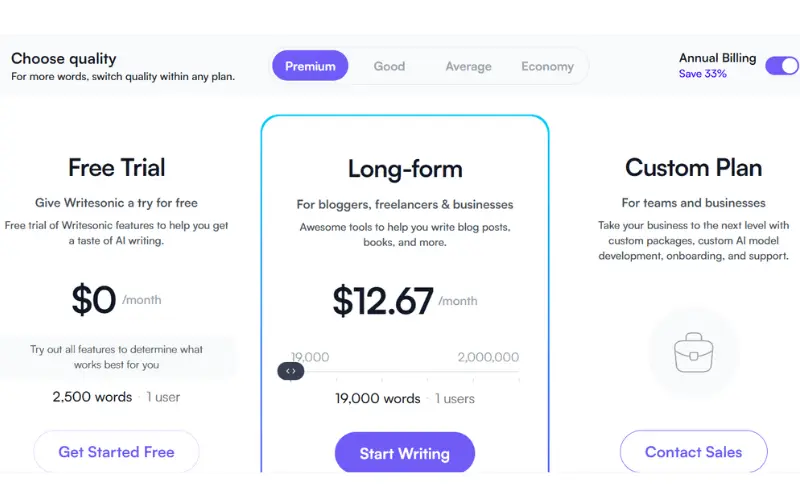 >> Click Here to read the full Writesonic review article!
7. Copymatic:
Copymatic employs artificial intelligence to generate content in seconds. AI will generate traffic whereas saving hours of labor. Make unique, engaging, and high-quality writing like lengthy blog posts, short landing pages, or Ad copies.
You can turn a quick overview into a 2,000+ word article using this AI-powered content writer. Generate any element of an article, such as titles, introductions, overviews, and conclusions. Generate as much SEO-optimized and unique content as you want.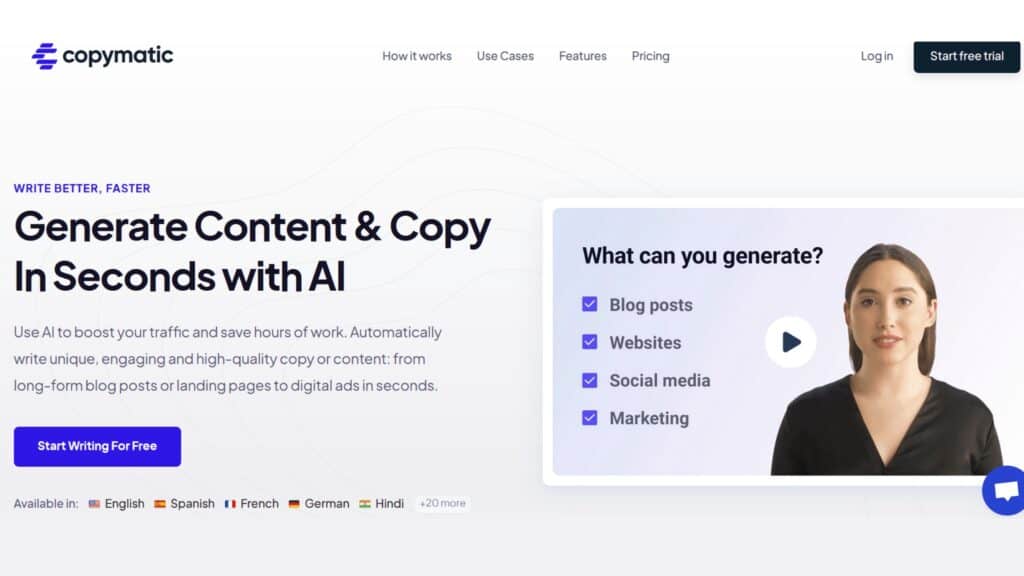 Features:
The GPT-3 AI language model is natural, efficient, and imaginative.
Change the power option to produce unique and excellent content for your business.
Develop content that helps boost people's interest and gets converted.
Generate any type of content using creative and innovative writing tools.
Copymatic will analyze and modify your content to ensure proper grammar and punctuation.
Your text is recognized by AI, and it is rewritten in a completely new and smart way.
Pricing:
There is a free trial for 10 credits. You can write approximately 1,000 words of articles with 10 credits.
There are two pricing options: Starter and Pro.
The Starter plan price is $29 each month while billed monthly and $19 for each month when paid yearly.
The Pro plan costs $49/ month if billed monthly and $32/ month when paid yearly.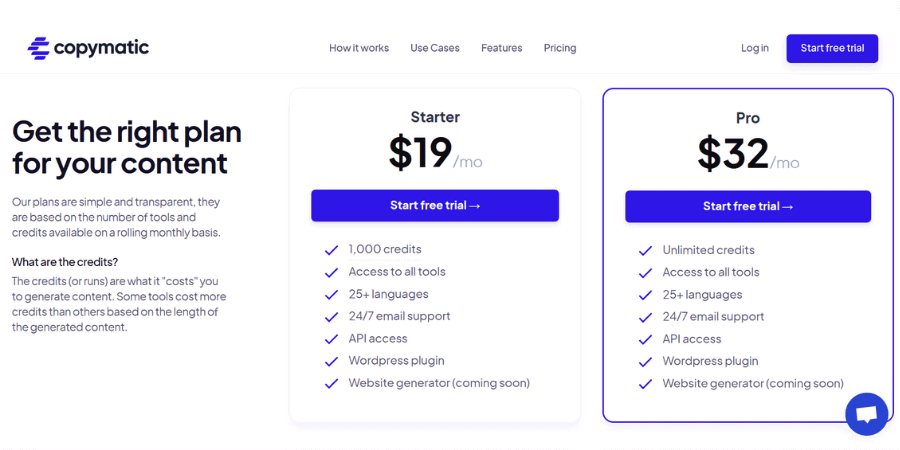 >> Click Here to read the full Copymatic review article!
8. GoCharlie:
GoCharlie, is also one of the best AI writing software facilitated by a team of skilled AI experts that offers users a variety of excellent AI writing and brand development tools that produce excellent results.
GoCharlie AI is successfully becoming one of the most efficient and advanced content-generation tools on the market. The creators are working hard to create a program that is innovative, clever, and capable of producing a great outcome.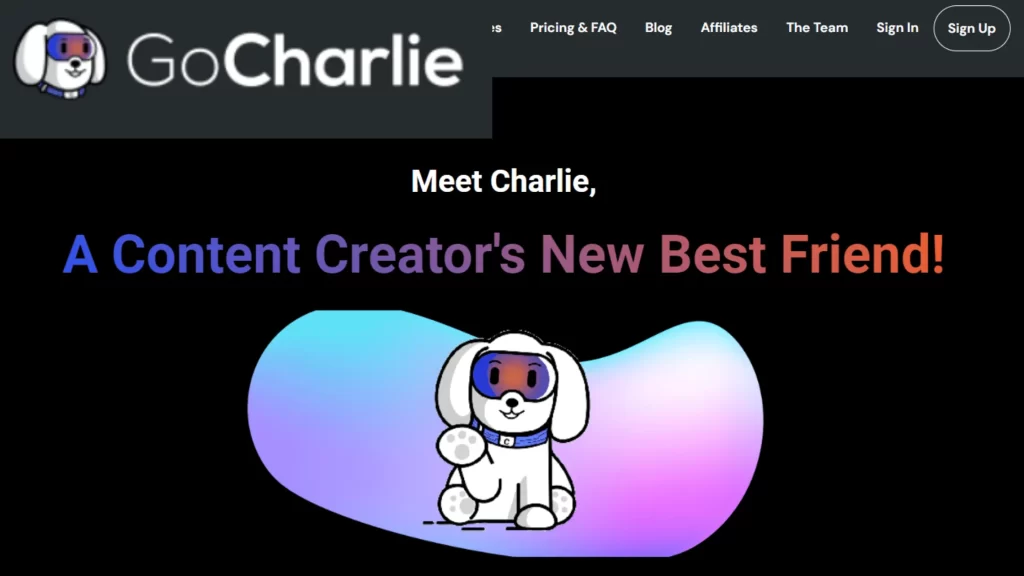 Features and benefits:
GoCharlie's blog wizard allows you to generate a 1000+ word article in a single click.
Create appealing Facebook, Instagram, and LinkedIn Ads and summaries.
Do you have an image but don't know what to write about it? GoCharlie AI will write a summary of it.
You can convert a YouTube video into an effective, smart, and SEO-optimized article in minutes.
This program creates significant writing for academic and personal purposes. The program is easy to use and contains a wide range of features.
GoCharlie is adaptable and can be used to create reports and many other types of posts.
This can generate articles for any industry or sector, including finance, medical services, and much more.
By using an in-build grammar checker, any article can be analyzed and reviewed for grammar.
This platform also provides an auto-correct platform for fixing spelling errors.
GoCharlie AI can deliver you unique articles with a human touch.
Pricing: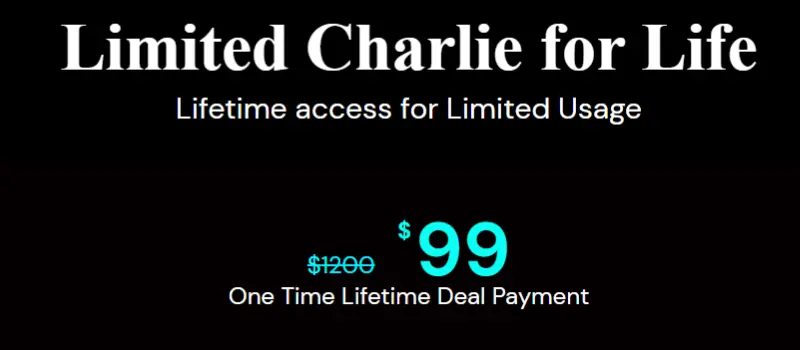 Unlimited Charlie:
This plan is for unlimited use for life. One-time payment of $435 only.
Limited usage lifetime deal:
Access will be granted for a lifetime, however, there will be restrictions. Costs a $99 one-time fee only.
Unlimited short-form copies.
35 Posts only.
4K vertical widescreen and 175 images.
35 Repurposing Content.
Monthly plan:
The month-on-month plan for unlimited monthly content generation. Costs $29/month.
Free trial:
All features are free at the Preview stage.