What is Scalenut?
Scalenut is an AI content creation tool with strong short and long-form content generation capabilities and a large template library. We will begin this Scalenut Review by explaining its background, user interface, functionality, pricing, and main features. Then we'll go over Scalenut's AI templates, system integration, assistance, and main pros and cons.
Is it worthwhile buying it? Let's discover by reading this Scalenut Review article. Cruise Mode makes it easy to generate long-form articles. Scalenut also includes a powerful SEO element to assist you in creating content that will beat the competition. The Cluster Builder assists you in organizing content all over your primary keyword so that you can establish yourself as an authority in your area. 
Gaurav Goyal and Mayank Jain founded Scalenut in 2020 as an article-writing tool. Scalenut, the company based in Gurugram, India, has assisted more than 200 companies in increasing organic traffic and currently has more than 100k+ customers.
Scalenut employs cutting-edge techniques such as deep learning and AI to generate high-quality content that ranks.
It provides more than 40 AI templates in multiple categories such as company, advertising, copywriting, blogging, and many more to create amazing and high-quality content.
Scalenut Review (2023)
Summary
Scalenut is a powerful content writing tool that will enable you to generate high-quality content. Scalenut could be the optimal solution for you if you are a beginner as well as if you require extensive requirements. Because of its SEO optimization feature and advanced AI technology, this is the best choice for content creators. Finally, Scalenut is a low-cost option for taking your content creation to a higher level.
​
How does it work?
Scalenut employs the most recent language forecasting model, known as GPT-3. It is the most sophisticated and effective language model.
It predicts fresh content based on previous ones, and also suggest brand-new concepts and titles, gives answers to questions, and more.
After you input a keyword that you would like to rank, the AI engine performs an analysis to determine what type of article is already ranking for such a keyword. Then, with some input from you, it creates a full blog article template, finishing with subtitles, key points, and key phrases, that you can update and publish.
This will save you time while also helping your blog post rank higher in Google search results. This is due to the fact that keywords are strategically placed throughout the article to avoid sounding forced or unusual, both of which Google dislikes.
Two options for creating content:
The first choice is to copy the document summary into the editor and use the AI writing platform to write the content. Use all its templates, scraped data, etc.
The second option is Cruise Mode. It will automatically import the overview and generate the content as per your requirement. After gathering the major points, the AI writing tool will write the first draught. Keep in mind, you need to read the generated content.
Scalenut Review; Features:
AI copywriter tool:
Scalenut's templates are simple to use that aid in various aspects of long-form content generation. Some of the most useful features are…
Create and save an unlimited number of blog suggestions.
Create blog introductions that are specific to your customer and keywords.
Make a high-quality article overview that is optimized for the marketplace.
Know user interest and create original content. SEO features have been optimized.
Ease full sentences so that they are understandable to all users.
Adjust the tone of your voice between passive and active.
Posts on social media:
Generating social media posts is always tedious, especially if you manage different profiles. The media platform's templates allow you to quickly produce creative posts. Users can effortlessly personalize the posts to reflect your brand.
Classic Copywriting templates:
There are several templates available, including AIDA, PAS, BAB, and Feature to Benefit. The templates are intended to assist you in structuring your copy to be transparent, precise, and compelling. Copywriting Templates can help you to make quality content that will assist you in meeting your marketing objectives.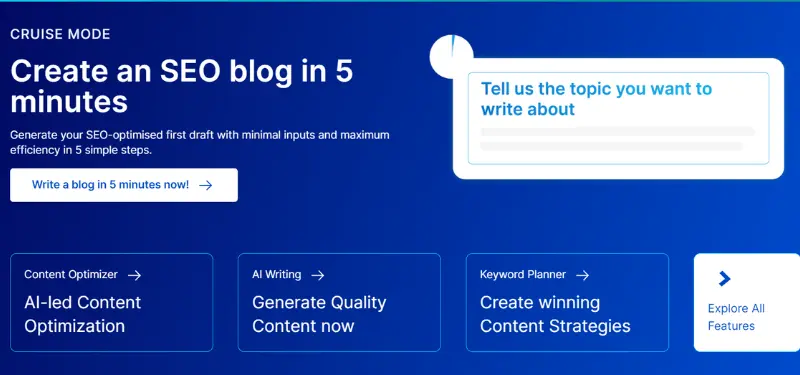 AI templates:
Scalenut AI includes more than 40 templates for generating content in a variety of types. Blog Ideas, Intro Paragraphs, AIDA Framework, Product Descriptions, Social Media Posts, Email Subject Lines, and Unique Value Propositions are some examples of templates.
Email and website copy:
Website copy templates assist marketing people to produce content faster. Hero text, Unique Value Proposition, and compelling bullet points are some of the good templates. All the templates are intended to assist you in creating high-quality content that is both convincing and interactive.
The SEO hub:
The SEO hub aids in the creation of an SEO-friendly document. It contains all of the long-form content files. Start a new document with the keywords you want to rank for.
Video Content:
You can use video content templates to quickly create compelling videos. Video templates include a video title, video script, video outline, video description, and video hook.
These templates allow you to create high-quality, engaging video content. They are extremely useful for video creators on YouTube, TikTok, and other channels.
Advertisements:
The Ad templates will help you create effective and impactful ad copy across multiple platforms.
Using simple templates, create optimized ad copies for Facebook headlines, GMB descriptions, and LinkedIn ads Headlines & Description.
The generated content has a high readability score, which allows your audience to grasp your message.
Content brief:
The scraped data will appear on a single screen in the Content Brief. Outlines of the best 30 sites, each article's number of words, titles, and so on can be presented in separate sections.
It displays the top 30 URLs and assists you in creating an overview of the document by selecting titles, questions, etc. This feature saves time, and creating content is simple with the outline.
Topical cluster:
The Topical Cluster model, as SEO experts refer to it, is the best useful method for handling the task of generating too much content for a site or blog. This strategy enables you to pick a central hub that will serve as your primary content framework.
You can write content on your website niche, incorporating relevant keywords through every piece of content to boost rankings in search engines and hence traffic.
Chrome extension:
This is a fantastic tool for saving time and effort when writing an article. The Chrome extension activates the AI-powered copywriter and makes it simple to share content on social media. It generates social media posts, ad copy, and so on.
Content Grade:
Content Grade is a Scalenut-created feature that helps you improve the quality of your writing. It ranks your long content based on its effectiveness and SEO. Create an SEO Report, and it will provide you with the details.
If you are stuck on how to utilize a keyword in the text, AI can help. It will generate content based on the target keyword.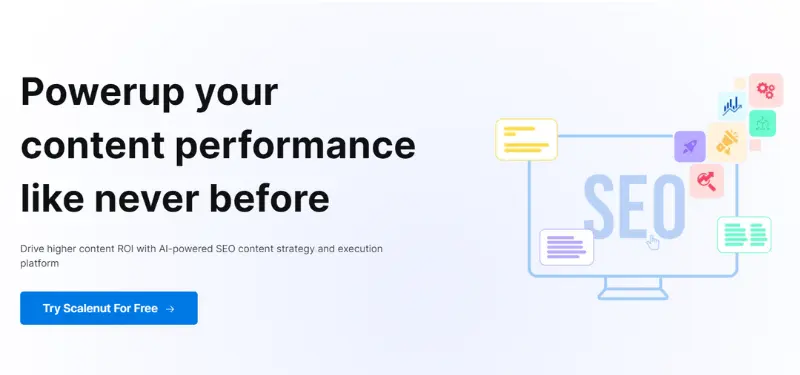 Product descriptions:
A good product description can increase your sales. Scalenut AI can create an excellent product description for you. Simply enter the product name and a brief description. 
Based on the input, it will provide you with a brief description. The quality of the descriptions produced impressed me. It can be used for affiliate blogs, sales pages, and sales emails.
Scalenut Review; Pros:
The user interface is well-designed.
Pricing is reasonable.
There are numerous short-form templates.
Long-form content creation is excellent.
Create content that Google Loves.
Cluster Builder is extremely helpful.
Aids in the creation of content that outperforms the competition.
Cons:
Some manual touch is required after the creation of the content.
There is no AI image generator.
Scalenut Review; The tools:
Cruise Mode:
This tool generates articles of 1500+ words within minutes. With Cruise Mode, you can create long-form content such as blog posts, ebooks, emails, etc.
5 Steps to Using Cruise Mode AI Writer:
Begin by establishing context.
Add a headline to the article.
Generate blog summary using SERP analysis.
Use artificial intelligence to generate writing points.
NLP Analysis:
Utilize NLP Analysis to improve the content and begin ranking high. With NLP-powered AI, you can generate content with a human touch.
AI can help you write better.
Increase the readability of your text.
Increase organic traffic.
SEO writing:
With Scalenut AI, you can create effective content at any time. AI writing assistants can help with everything from short-form to long-form content.
Use features like Write, Instruct, and Connect to fully control AI writing skills. Use real-time SEO scores and AI-powered recommendations to optimize the article. Improve your SERP by optimizing both new and old content for SEO.
Content optimizer:
Optimize Your Content to Improve Your SEO Performance. With the improved optimizer, you can obtain an SEO score, stand out in the competition, and improve your ranking.
You can ensure that your content is optimized for search results by using AI-powered SEO optimization. Obtain SEO-friendly content that ranks high in search results and drives targeted traffic.
Topic cluster:
For Advanced Content Planning, Use Scalenut's Topic Cluster Platform. You can develop a thorough content planing with useful ideas and focused keywords. Your visitors will return for further and will most likely bring new visitors. To boost your website's exposure, use long tail and low competitive search terms. 
Languages:
AI writers such as WordHero, Rytr, and WriteSonic, support different languages. But, Scalenut currently only allows you to generate content in English.
The tool is best suitable for…
Bloggers and Copywriters.
Affiliate Marketers.
Business owners.
YouTubers.
Freelancer content writers.
Free Trial:
Scalenut provides a 7-day free trial for any of its paid versions if you want to try out its tools and features. This might assist new customers in making the right choice. 
To take advantage of the free trial, you will need to input your credit card information. Scalenut's paid plans are all non-refundable. So, only purchase it if you're certain you'll need to get this AI writer.
Scalenut Review; Pricing:
There are three types of pricing plans in Scalenut: Essential, Growth, and Pro.
The essential plan costs $39 per month on a month-on-month basis. This is perfect for individual creators and consultants. The price becomes $19 per month when billed annually.
The Growth plan costs $79 per month when billed monthly. This is perfect for start-ups and growing businesses. The price drops to $39 per month when billed annually.
The Pro plan costs $149 per month when billed monthly. The price becomes $74 per month when billed annually. This plan is best for businesses and agencies.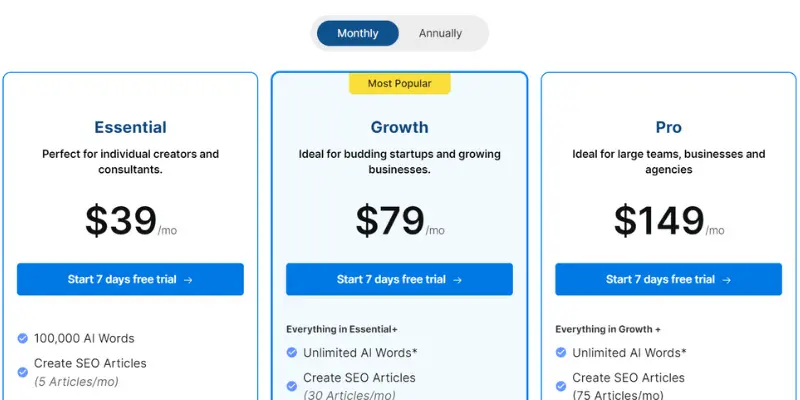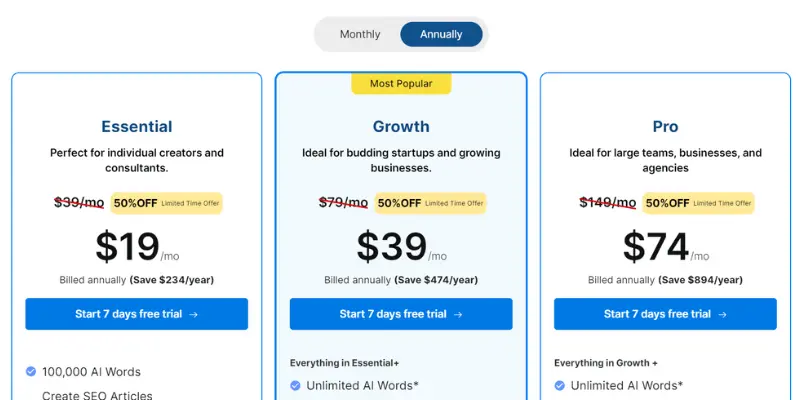 The best alternatives of Scalenut:
Copy.ai:
This is a GPT-3-powered AI content writer with numerous use cases and a fantastic free plan. It is a brilliant tool for creating a wide range of high-quality content.
Copy.ai enables you to quickly generate human-like text. Copy.ai assisted me in creating more effective headlines, email subject lines, email bodies, and blog content. 
Copy.ai generates great content for marketing professionals and copywriters by utilizing AI and machine learning.
Rytr:
Rytr is a sophisticated artificial intelligence content generator that generates compelling copy for blog posts, social media posts, email texts, and other applications. 
It contains a large number of AI use cases, such as Blog Ideas, Blog Outlines, AIDA frameworks, and others. Its plagiarism checker, landing page creator, and magic command tool make it unique.
Writesonic.
Writesonic is a GPT-3-based AI content writer. It has a variety of use cases for generating quality content. This is the best And most advanced writing tool for producing SEO-optimized articles that drive organic traffic.
This can assist you in writing blog posts, social media posts, email copies, and any type of text content. This works in the same way as a freelance content creator. Simply enter a few keywords and a short outline, and Writesonic will take care of the rest.
WordHero:
WordHero employs the most recent model of language generation known as GPT3. It provides limitless content creation, 65+ use cases, fast speeds, and high-quality outcomes.
This advanced tool enables you to create a wide range of content, including emails, blog intros, product reviews, and much more. The main objective of this software is to create content creation simpler and quicker.
Peppertype AI:
Peppertype ai is a fantastic AI-powered copywriting tool. It is simple to use and available for a free trial. It comes with a sophisticated artificial intelligence program and a wide range of use cases to satisfy the requirements of content producers, marketing people, and businesses.
Scalenut Review; Conclusion:
Scalenut AI is a robust tool for creating high-quality content. It has an amazing long-form editor as well as intelligent SEO tools. The copy produced by Scalenut is excellent.
That's all about Scalenut Review. This integrates next-generation AI technologies, NLP, and Topic Clusters to help you create SEO-friendly articles.
Related articles: