What is ThriveCart?
ThriveCart is a cart and payment processing tool that enables businesses and individuals to sell both digital and physical stuff, subscriptions, and services online. Is ThriveCart truly going to help you increase your e-commerce sales? Before purchasing Thrivecart, make sure you read this Thrivecart Review carefully. Here we will discuss all its features, benefits, pros, cons, and price details.
It has a variety of features, such as custom checkout pages, single-click upsells, order bumps, affiliate managing, and integration with a variety of payment methods, including PayPal, Stripe, and Apple Pay.
ThriveCart is intended to be user-friendly and simple to set up, requiring zero coding or technical knowledge. It also provides a variety of templates and connectors with well-known email marketing and CRM platforms like Infusionsoft, ActiveCampaign, and Mailchimp.
Thrivecart's goal is to serve as an all-in-one system for online companies to sell their products and services without requiring complicated settings or third-party plugins. It is a great option for internet course builders, digital marketers, and e-commerce companies searching for a dependable and simple platform to execute their sales online.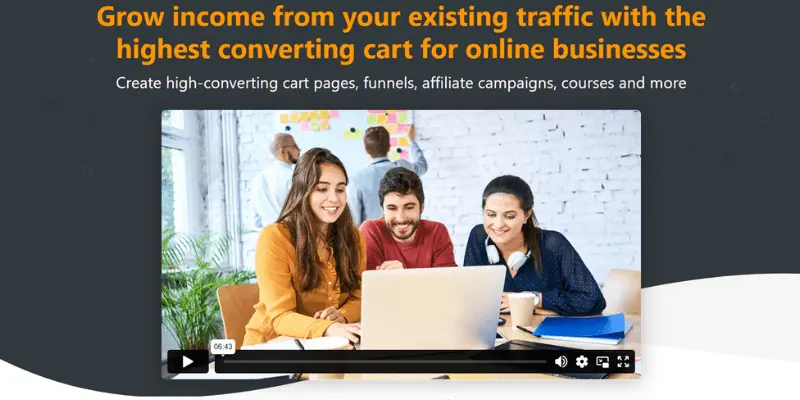 How does Thrivecart convert visitors?
Thrivecart is an internet shopping cart and checkout solution that assists businesses in selling their physical/digital products and services. Thrivecart can help you convert visitors in the following ways:
Checkout is simple:
Customers can use Thrivecart's simple and smooth checkout process. It removes the requirement for customers to create an account, which might be an obstacle to purchasing for some visitors. The checkout procedure is also mobile-friendly, allowing users to finish a buy from their phone or tablet.
Customizable Checkout Pages:
Businesses may use Thrivecart to personalize their checkout pages with their branding, messaging, and pictures. This provides clients with a more customized experience, which can boost trust and confidence in the business.
One-Click Upsells:
Thrivecart allows you to provide one-click upsells during the checkout process. Customers can include additional products or services to their order with a single click, increasing the average order value and total profits of the business.
Recovery of an Abandoned Cart:
Thrivecart provides an abandoned cart recovery tool that sends automatic emails to clients who leave things in their cart but do not complete the transaction. This can aid in the recovery of lost sales and the increase in conversions.
Integrations:
Thrivecart integrates with several payment systems, email marketing tools, and third-party apps. This enables businesses to establish a faster sales and marketing workflow, increasing conversions and profit.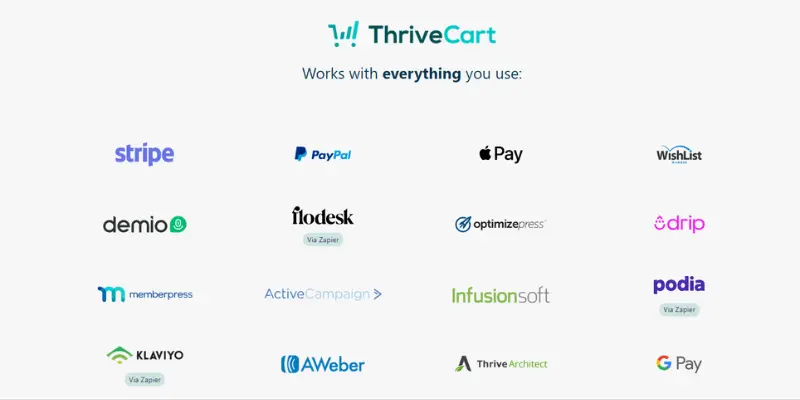 Thrivecart Review; Features:
Coupons and Payments:
ThriveCart particularly performs in this aspect, it allows you to sell a digital product with a one-time fee or a recurring product. ThriveCart can accept almost all payment methods.
You can also provide a certain number of promo codes that have an end date. By using coupons, you may provide a deal to your customers while restricting them from sharing their discount code.
Order bump:
Presenting more products to buy at the selling point is a simple way to boost your sales. This is like selling chocolate at the billing counter. ThriveCart lets you order bump at the time of placing an order.
ThriveCart also enables free promotions, various payments, and memberships. It provides almost every available choice for analyzing the product and boosting your customer's cart value.
Create courses:
Its Learn/Learn+ service is a subscription area and learning platform for the expertise you offer. With Thrivecart, you do not need to purchase extra products like Teachable to construct your courses.
The course management system assists you in directly structuring your offerings, which may include several courses. Accessing courses may help you obtain an order, and you can provide the course material in different ways, such as on a specified day, or date, all at once, during a trial period, and so on.
The ThriveCart course creation platform hosts all of the course materials except videos. Videos should be hosted on Vimeo, YouTube, or others.
ThriveCart Learn & Learn+ is a fantastic new feature for course developers. Rather than paying a monthly cost, ThriveCart can handle it all for a one-time price, potentially saving you a lot of money.
Multiple shopping carts:
Based on your pricing range and product category, you may display your cart in several different ways like Standred, Sales cart, Embeddable, etc.
Design editor:
The easy drag-and-drop builder in ThriveCart makes it simple to construct the cart, and you can easily share ThriveCart layouts with anyone else.
A/B Testing:
Thrivecart's capacity for performing A/B testing is a key feature that may help businesses optimize their sales funnels and enhance profits.
To run an A/B test in Thrivecart, you must first build two variants of your checkout page. These versions might change in a variety of ways, such as layout, color scheme, button positioning, or copy phrasing. When you've constructed your variants, you can run an A/B test in Thrivecart from the checkout settings menu.
Countdown timer:
Thrivecart includes a countdown timer function that can be applied to your checkout pages. The countdown timer is a feature that provides a feeling of urgency and may assist enhance sales by motivating consumers to act before the time ends.
Detailed reporting:
ThriveCart is a robust e-commerce system that provides thorough analysis and reporting to assist you in analyzing sales success and optimizing company strategies. 
ThriveCart delivers thorough data in a variety of methods, including Sales Reports, Funnel Analytics, Abandoned Cart Reports, and more.
Outside analytics:
Incorporating Google Analytics and Facebook Pixel into ThriveCart includes monitoring and analyzing website traffic and sales statistics, as well as getting important insight into your clients' preferences and behaviors.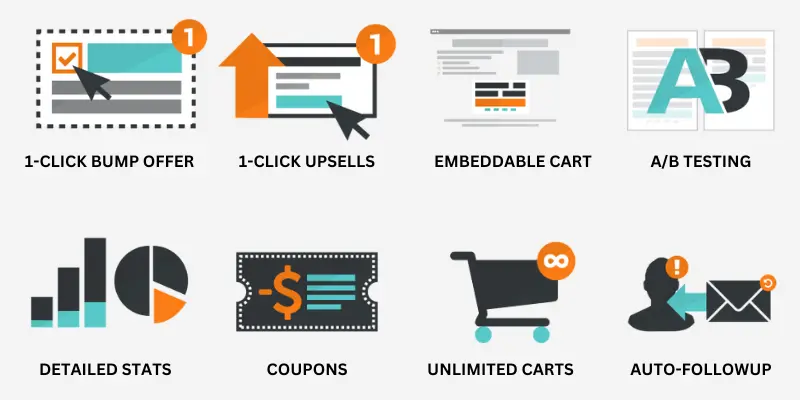 Thrivecart Review; Benefits:
Sell more:
Conversion-optimized funnels help you to sell more. ThriveCart has assisted online companies in generating a huge money in revenue. Using the drag-and-drop editor, One page, embeddable, popup carts, you can easily customize everything.
Profit booster:
Profit boosters can be used to generate more money. You can quickly construct single-click upsell, order bumps, free trials, memberships, training, and more, in addition to high-converting carts.
Bump offers:
With lucrative bump offers, you may boost the standard order value. You can provide high-converting boost offers to your consumers throughout the checkout process.
Upsell funnel:
Create one-click upsell funnels that convert. In minutes, you can sell even more by creating high-converting funnels, and adding upsell buttons.
Embed cart to any site:
With Thrivecart, you can now embed your cart wherever to maximize sales. Create embeddable carts on your site. So, you can turn your website visitors into customers.
Get business insights:
Profits may be increased by using smart business insights. Real-time analytics, predictions, and statistics will help you stay on top.
Calculate sales tax:
Thrivecart provides basic taxation functionality. Compute sales tax rates depending on location and product category, and record totals using time-saving statistics that can be used with your business.
Business on autopilot:
Create rules to automatically contact visitors who abandon your cart, change affiliate commissions based on return rate, and much more.
Business flexibility:
Complete flexibility to develop whatever deal your organization needs. Make free trials, partial payments, flexible memberships, recurring payments, discounts, and more features.
Set notifications:
Set up alerts to notify consumers when payment is due, when a card is about to expire, and other important dates.
Thrivecart Review; Pros:
Newbies will find the user interface to be extremely simple to use.
All widely used payment methods are supported.
Subscriptions, plans, and trials of all payment types are available.
Use coupons and discounts to boost sales.
Offer bump and one-click upsells available.
Affiliate managing with advanced features is included.
Simple analytics platform with advanced filters available.
Integration with Zapier is available.
There is extensive instruction and an effective Facebook community.
Cons:
This is not right for selling physical products.
A one-time price is costly.

Thrivecart Review; Price:
Thrivecart pricing options differ from those of other e-commerce platforms. It allows for a one-time purchase. A Thrivecart lifetime account costs $495. If you want to combine the Pro version with your lifetime account, you must pay an extra $195. As a result, with the Pro upgrade, the total cost is $690.
Extra features in the Pro version…
A powerful affiliate center.
Features of subscription saver (Dunning).
Basic sales tax functions.
Intelligent business projection.
JV Contracts.
Advanced user management.
Client use rights.
Custom domain name.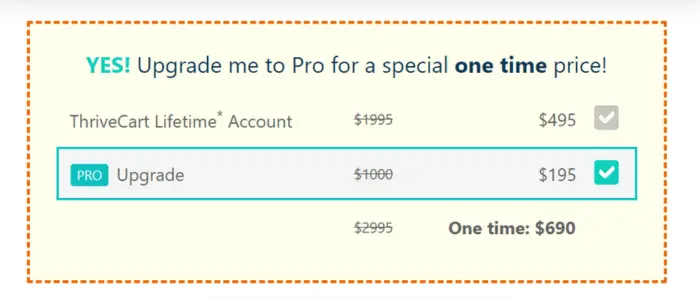 Samcart vs Thrivecart:
Both SamCart and ThriveCart are well-known e-commerce solutions that offer a range of features and capabilities to assist businesses in selling their stuff online. Below are a few important distinctions between those:
Pricing: SamCart has three price levels starting at $49/month, whereas ThriveCart charges $495 for a lifelong subscription.
Features: Both solutions have features in common, such as custom checkout, order bumps, upsells, and downsell. SamCart has more powerful features like subscription management, an affiliate center, and integration with additional third-party software.
The user interface: ThriveCart features an easy user interface that is simpler to use for newbies, but SamCart has a more advanced design with much more customizable choices.
Integrations: These systems are compatible with a wide range of third-party technologies, including email marketing tools and payment systems.
Finally, the decision between SamCart and ThriveCart will be determined by your unique business requirements and budget. If you want something more economical and don't need extensive features, ThriveCart can be a suitable choice. If you want more sophisticated features and integrations, SamCart may be the better option.
Thrivecart Review; Conclusion:
That's all about Thrivecart Review. This is a powerful e-commerce platform that allows you to sell digital and physical things online. It includes an easy-to-use interface and a wealth of tools for creating and managing your online store.
Overall, ThriveCart is a wonderful alternative for entrepreneurs and small businesses looking for an all-in-one solution for online product sales. Its integration with a wide range of payment processors and third-party apps makes it a powerful and dynamic tool.
Finally, before making a final decision, critically evaluate your particular requirements and compare ThriveCart to other e-commerce platforms.
Related articles: