What is Kenji?
Kenji AI is a bot that will assist you in increasing your Instagram followers. It claims to be optimized to work inside Instagram's algorithm so that your account is not banned. It employs machine learning to boost your Instagram follower list. In this Kenji Instagram Bot Review, we will go over all of its features and benefits in order to show you how effective this tool is for growing your Instagram account.
To begin with Kenji, you must link your Instagram id with Kenji and give proper details about your desired audiences, such as geolocations or keywords related to your industry. So, Kenji will start finding people who might be interested in your niche.
Growing your Instagram account takes time, and you don't have time to do it anymore. Engaging in your Instagram account throughout the day is not the best way to grow online.
As a result, many Instagram growth tools come into play. One of them is Kenji. This tool will handle your manual tasks, such as scheduling, posting, liking, and following. Read this Kenji review to determine whether you should go with it.
Many Instagram growth tools say that they are automated growth services. But Kenji never made such types of claims. According to their positive customer feedback, their strategy for Instagram growth has proven to be extremely effective.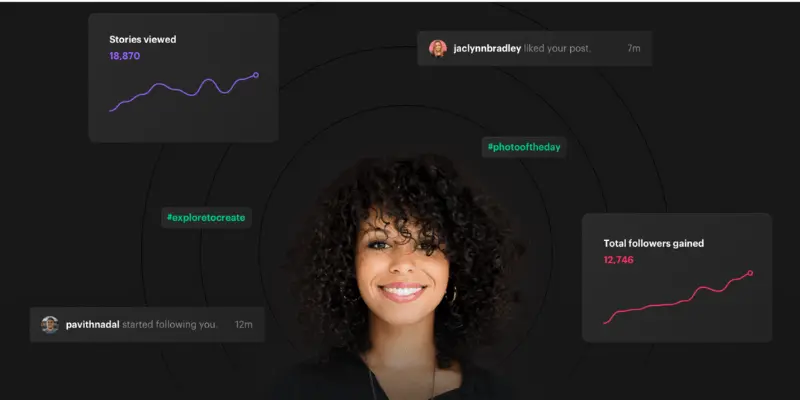 Why do you need an Instagram growth tool?
A big Instagram following is essential for your business; if you don't have a large number of Instagram followers, you can't reach many peoples. Also, without a large follower people will not trust your brand.
If you would like connections and interaction, you need to have more followers. Also, popular Instagram accounts with a large following are searching for even more. More followers get more outreach, but you must also provide good content.
To grow your Instagram account fast, you need one Instagram growth tool like Kenji. Kenji will help you to grow your Instagram account totally hands-free.
The Instagram bot does below tasks on your behalf:
It will save you time and money:
Manual tasks will take you a long time, and also Instagram will not allow doing multiple tasks at once. For example, following 1000 profiles at once may take several days. If you don't want to do manual tasks, you need to hire someone to do them for you, which will be costly.
Post scheduling:
Posting at a specific time is critical; however, staying active on Instagram is not always possible. As a result, scheduling the posts at a specific time is the best solution. The best part is that you will be able to schedule posts across multiple accounts.
Increase engagement:
You can set up auto-replies and auto-DMs, which will significantly increase interaction. When a user follows your profile and receives a new message right away, they will interact with your account. If you respond to comments automatically, you will capture their attention and thus increase engagement.
How does it work?
Kenji takes a lot of different activities to help you grow your Instagram followers and engage with other people. The Kenji activities are listed below:
Follow and unfollow
React to posts and stories
Automatically like other's posts
View other people's story
Blacklist and whitelist
Kenji can analyze your account and replicate the manner in which you prefer to interact with other clients. Of course, it observes Instagram's algorithm to make sure that this tool's activities are realistic. This will be the most efficient way to obey its regulations and guidelines and avoid any Instagram algorithm from disobeying. Kenji interacts with actual humans rather than fake ids.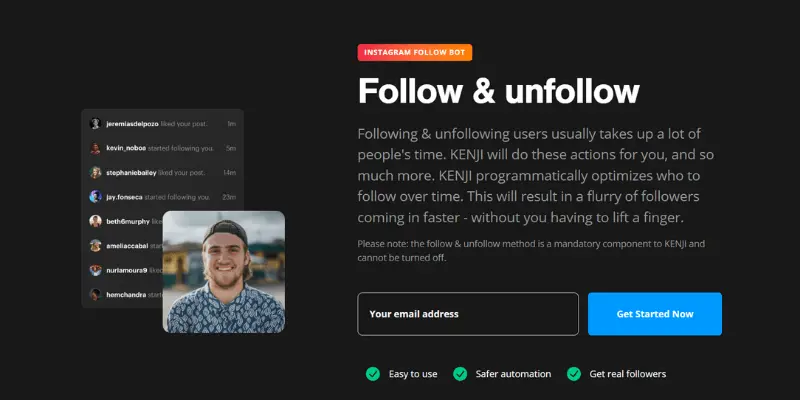 Kenji Instagram Bot Review; Features:
Audience Targeting:
An increase in random followers has no meaning. Random followers increase the number, which is useless. As a result, you require a tool to assist you in developing a targeted audience.
Targeted people will positively interact with your posts and help your business grow. There is a proper filtering option within Kenji that can target a specific demographic and location on Instagram.
You can also avoid some keywords by blacklisting them and adding friends to your whitelist who will not be unfollowed even if they use those blacklisted keywords.
Auto-like posts:
Kenji can look for relevant posts and like posts on your behalf, the more accounts you follow, the more accounts will follow you back.
Follow and unfollow:
Following and unfollowing will also assist you in boosting interaction and gaining more followers. Most of the Instagram growth tools perform this follow and unfollow feature, but there is a chance of the account being banned. Kenji differs from them in that it allows you to perform such actions as if they were performed by a genuine user rather than a bot. So, with Kenji your account is safe.
React:
Kenji helps people to react to posts, which is a good way to boost people's interaction and possibly encourage them to follow your Instagram account.
Story view:
When you see other people's stories, they will notice your profile. Kenji provides this feature to continue viewing people's stories in order for more people to interact with your account.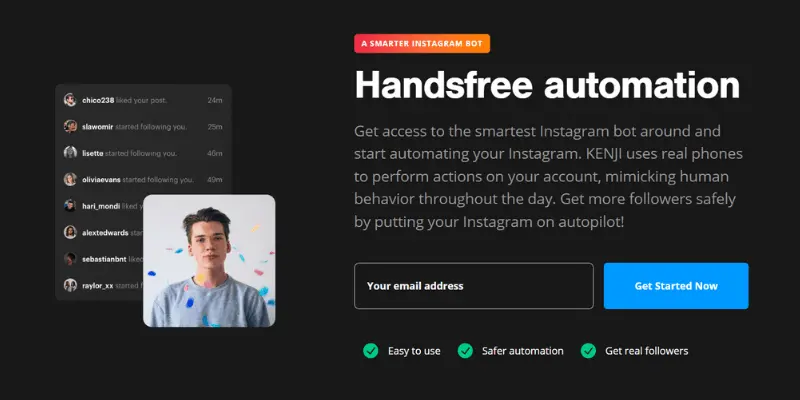 Kenji Instagram Bot Review; Pros:
Kenji allows you to grow your Instagram account naturally.
You attract people to interact with your content.
Gain followers who are interested in your niche.
An excellent retention rate of your followers.
Excellent customer support.
You can schedule posts.
Gets involved with real and targeted users.
Your account is safe.
Simple to use.
Efficient.
Features that are unique.
Affordable.
Cons:
Sometimes bot do strange comments, that may not be relevant to the post.
Kenji Instagram Bot Review; Pricing:
There are two types of pricing plans on Kenji.ai: Simple and Pro.
The Simple plan is a good starting point for anyone looking to expand their Instagram account. This costs $49/month.
The Pro plan is designed for the most serious clients, unlocking all features and providing priority support. This plan costs $79/month.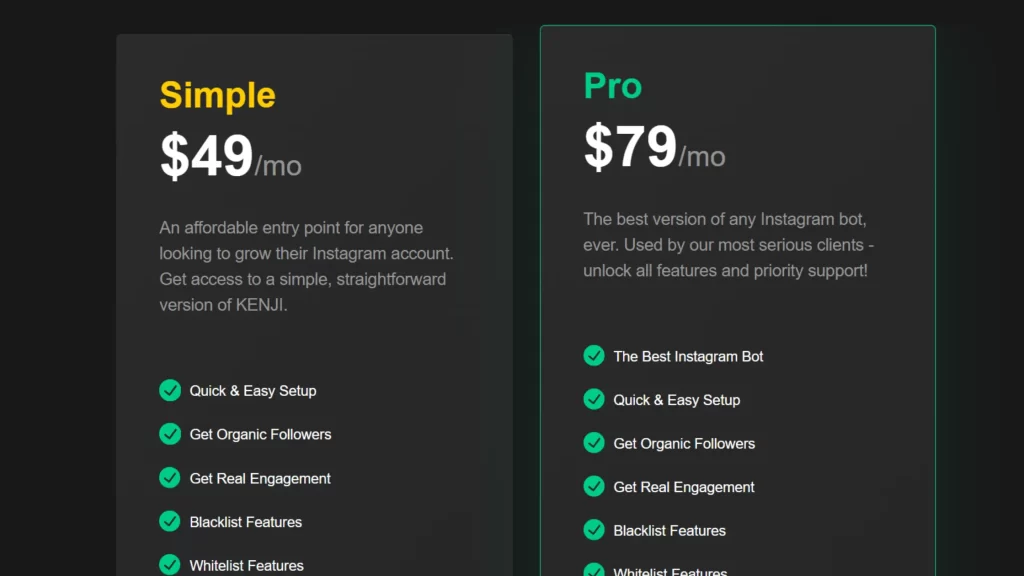 Is using Kenji.ai safe?
I personally used Kenji.ai, and it has no major flaws; it all depends on how you configure your choices. Kenji will restrict not exceeding your Instagram account limits, and it also doesn't send activities too quickly.
You don't have to be concerned about the payment processing and securing of your account. This is absolutely sure that your IG account will not be blocked or have any other negative things happen.
Is Kenji.ai a legit tool?
Kenji Instagram appears to be a legitimate tool. Their customer service team is attentive, and proper information is available on their official website. When you purchase their plans, there are no lacking features or fraudulent practices.
Best alternatives of Kenji.ai:
Upleap:
Upleap is an Instagram follower growth tool that can assist you in rapidly growing your Instagram account. This may assist you in gaining more followers in any industry.
To stand out in any niche Upleap can assist you in expanding your Instagram followers. If your primary goal is to increase your Instagram followers, Upleap's approach is particularly targeted and helpful.
Flock social:
The number of your Instagram followers is the very first thing individuals notice once they enter your Instagram account. So, if they observe you don't have a lot of followers, they're more likely to select someone else.
As a result, you'll need the help and support of an Instagram growth tool. Flock Social is among the most powerful Instagram growth tools I've found on the internet marketplace.
Nitreo:
Nitreo is a popular Instagram growth tool these days. Automation is used by Nitreo, but not in the exact manner that several other services do. Your Instagram account will not be banned as a result of using this tool. The ultimate goal of Nitreo is to gain genuine followers who are interested in your niche.
Kenji Instagram Bot Review; Conclusion:
That's all about Kenji.ai Instagram Bot Review. After using Kenji for two months, I discovered that it is a legitimate tool for growing an Instagram account. It attracts the right and niche-based Instagram users, and more importantly, it does not ban your account like some other Instagram bots.
Related articles: