What is Stim Social?
Stim Social is an Instagram growth tool that automatically expands your Instagram business or personal account. Are you unsure about Stim Social's ability to increase Instagram growth? Read this Stim Social Review to the end to learn all about this Instagram growth software.
Stim Social automates the entire process of engaging with the customers you want to convert into followers. This automation works by liking people's posts, commenting on their posts, and getting them to notice your Instagram profile. Stim Social will begin to increase the visibility of your profile and encourage people to follow you.
Instagram has grown to become one of the most popular social media networks, and its popularity continues to grow. Instagram marketing has become a favorite platform for businesses and influencers.
Here I have shown how efficiently this Instagram growth tool can generate desired user growth and assist you in growing your Instagram followers.
How does it Work?
Stim Social primarily automates Instagram operations like commenting, liking, following, and so on. This tool will give you assurance of engaging with your potential customers.
Inform them about your target demographic and the type of followers you desire. Keep in mind that the more information you provide the tool about your niche, the easier it will be to find the best people.
Stim Social will work on your behalf to increase the number of genuine, interacting, active, and organic followers on your account.
You can also monitor, maintain, and report on your progress with Stim Social. If you notice that something needs to change, you can take the appropriate steps on your end.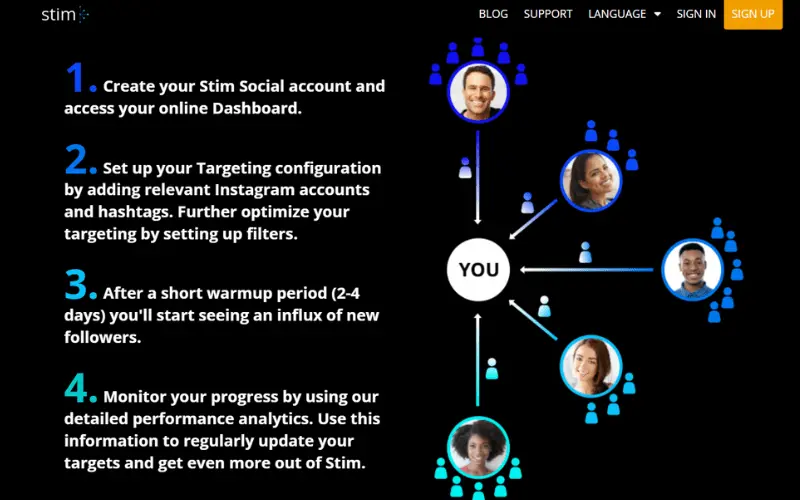 Stim Social Review; Features:
Identifying the Target Market:
Input as many filters as possible to help Stim Social find your target demographic. You can narrow down the specific accounts by gender, hashtags, place, and so on. This is a legitimate way to gain organic followers. However, you may receive a few followers at random, and several accounts appear to be incorrect.
Auto-Like:
This Instagram growth tool mostly uses the auto-like feature like any other similar tool. Stim Social uses the information that you have input to like posts related to your niche. The concept is that audiences will notice you like their own content and visit your account, and more likely they will follow you.
Auto-likes are divided into two types. Growth likes and engagement likes. Growth likes connect you with individuals who do not follow you, whereas engagement likes are to engage your followers. This auto-like feature worked well, and I observed that it liked a large number of images and videos.
If the activity happens in a little more extreme, such as too many auto-likes in a particular time period, your account could be banned.
Auto-Follow:
Auto follow helps you to get the automatically follow back Instagram accounts in the same niche.
What I obserbed, on some days, Stim Social followed a few of of related users, while on some days, there was no activity.
Story-View:
Stim Social will also view many people's stories. The logic is exactly the same: it must inform many users that you've started and desire to communicate with people.
Monitoring of growth:
The tool provides insight, understanding, and analytics on the number of followers you have gained, the margin of growth, and so on.
Stim Social Review; Benefits:
Gain New Followers:
Stim Social provides you with all of the processes you need to increase your social media following. A large number of new people will follow and interact with the profile.
Increase the number of visitors to your website:
Increase the number of people who visit your website by directing new followers by clicking the link in your social media bio.
Increase Your Influence:
Obtain sponsors and increase your marketability by getting too many followers.
Boost product sales:
Boost your ecommerce sales by increasing the number of people who see your profile and offerings.
Stim Social Review; Pricing:
There are Two pricing plans available: Professional Plan and Managed Plan.
Professional Plan costs $49 per month. Every month, increase the number of genuine and focused followers on your profile. This is ideal for small business and individual profiles.
Get genuine and targeted followers.
Influencers and hashtags can be used to narrow your search.
Advanced Filters for Targeting.
Whitelists and blacklists.
Analytics for Business Growth.
Managed Plan costs $99 per month. Get maximum speed, interaction, and high end features, all supported by a Personal account manager. Ideal for large companies, influencers, and marketing firms.
Get all features of professional plan.
Dedicated account manager.
Optimization of growth.
Whitelist and blacklist.
Strategy calls on an individual basis.
Priority assistance.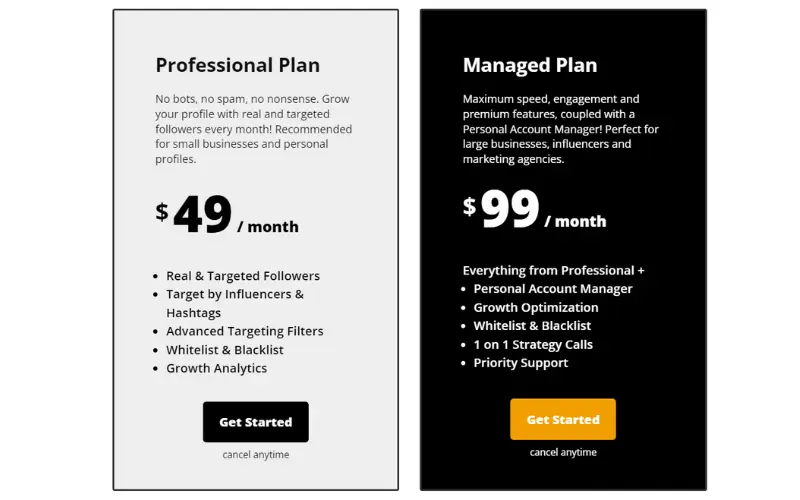 Is Stim Social safe and legit?
Your information will not be affected because the website is secure. The payment gateway is also satisfactory.
While I was growing my follower of Instagram by Stim Social, I started feel a danger of getting my account banned. But, my account was absolutely ok.
Stim Social Review; Pros:
The platform offers a broad range of options available.
The user dashboard provides a wealth of data. It's also simple to use for monitoring account follower growth.
You will not be scammed because they use secure payment options.
Cons:
There is a limitation of genuine information about customer support.
The best alternative of Stim Social:
Upleap:
If you want to grow your Instagram business, consider using Instagram growth tools like Upleap. This can help you gain followers in your niche.
People want to increase their Instagram followers, but with so many competitors in every niche, it is tough to stand out. This is something that Upleap can assist you with.
Upleap provides a service that helps clients gain a large number of Instagram followers in with there niche. Upleap's system is especially targeted and beneficial if your primary objective is to increase Instagram followers.
They use sophisticated and focused engagement with the other accounts that are relevant to you based on your choices. If you want to give this a try, you can join 14-day free trial.
Stim Social Review; Conclusion:
Instagram is an excellent platform for marketing anything and an important network of any digital advertising campaign. Instagram has nearly a billion active monthly users. This is a fantastic marketing platform, but it is difficult to scale.
The best Instagram growth tools help you stay engaged with your followers while also ensuring continuous Instagram growth. After using Stim Social, I've come to the conclusion that nothing bad or scam in it, and its viewpoints are also reliable.
Related articles: