Introduction:
Crowdfire allows you to manage all of your social profiles in one spot, as well as explore and organize content. In this Crowdfire App Review, we will discuss all features and benefits of this social media management tool. So, keep reading the review article.
Now you can find out related articles based on your favorite topics. Identify posts and graphics that your viewers would like. So, you can post the article across all of your social media sites and get your feeds booming.
Also, you can post articles from your personal blogs and websites. Get new content from your website, blog, or online store, and generate easy, attractive posts to broadcast on all of your social media accounts.
You can pre-schedule all of your content at the specific time you set,  this will help you to save your time and effort. Also, you can customize all posts for different social media platforms. Crowdfire will do all these things for you. Keep reading this Crowdfire App Review for all its features, benefits, and price details.

>> Start a free trial in Crowdfire now!
Crowdfire App Review; Features:
Curation of articles:
Curate content from numerous sources all around the web. Allow all curation to the tool while you focus on your content marketing strategy.
Customize RSS Feed:
Include any RSS feed to your dashboard and start curating content easily. Simply enter in the feed name, select the feed, and relax.
Curation of images:
Crowedfair offers image suggestions to help you curate Instagram shareable photos.
Find out relevant articles: 
Type in the subjects you'd want to curate and you'll be presented with relevant articles and pictures to publish. There's no need to browse the internet for information.
Curate content from your blog or e-com website:
To plan product new updates, a new blog or video promotions, connect your e-commerce or WordPress blog, directly with Crowdfire. This feature will save you lots of time.
Publish anywhere:
From a single dashboard, you can schedule and share content to Twitter, Instagram, Facebook Pages, LinkedIn, and Pinterest.
Advance scheduling:
Timeline content to be delivered at a specified date and time. Make a weekly routine and be consistent on social media.
>> Start a free trial in Crowdfire now!
Customized Posts with a Preview:
Every post can be customized for every social media platform. You can also preview the posts before they are published.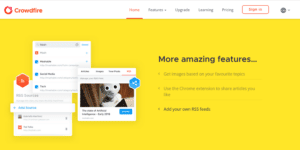 Best Posting Times: 
Customize or use automated best times for each of your accounts to publish.
Queue meter:
Schedule posts for the coming week by using the queue meter. The queue meter will also inform you whether your timeline is active or not.
Report Builder:
Create customized professional reports that showcase the sets of data you wish to focus on.
Combine all of your social media accounts.

For all of your reporting needs, there are pre-made templates.

PPT and PDF files are available for download reports.

Plan export reports weekly or monthly basis.
Advanced Analytics:
Analyze your return on investment and adjust your strategy with advanced analytics. This analytics will help you to analyze the insights on your social media accounts.
Analyze your competitors:
Evaluate your performance to that of your competitors and try to enhance performance.
Make sure you don't miss a single mention:
In your inbox, keep track of every mention, opinion, and response. Quickly track your Twitter account's mentions.
Reply instantly:
Send photos, videos, and gifs in response to any mentions.
Crowdfire App Review; Pricing: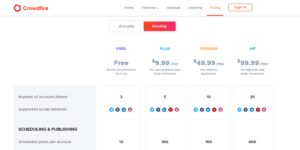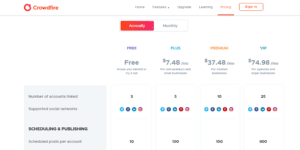 There is a free plan for Crowdfire, where you can link 3 accounts, and four supported social networks. Aso, you can Schedule 10 posts per account.
Three types of pricing plans are there: Plus, Premium, and VIP.
Plus plan costs $7.48 per month when billed annually and $9.99 per month on a month-on-month basis. This plan is best suitable for solopreneurs and small business owners.
Premium plan costs $37.48 per month when billed annually and $49.99 per month on a month-on-month basis. This plan is best suitable for medium-sized businesses.
VIP plan costs $74.98 per month when billed annually and $99.99 per month on a month-on-month basis. This plan is best suitable for For agencies and larger businesses.
Crowdfire App Review; Conclusion:
That's all about the Crowdfire App review. Finally, Crowdfire is a powerful social media scheduling and management tool that focuses on gathering your content, preparing it for posting, and combining it with content from a variety of sources. Its customized analytics will also be helpful if you can use it properly. 
>> Start a free trial in Crowdfire now!
Few related articles you may like to read: