What is Descript?
Descript is a multi-purpose audio and video editor that makes editing as simple as writing a word document. Upload or record media directly into Descript to quickly transcribe your file into text, then edit the text to straight edit your media clips. Are you still undecided about a paid subscription to Descript? Read this Descript Review all the way through to the end to get all the necessary details before purchasing it.
With a single click, you can remove filler words and silent gaps. For presentations and video messages, record your screen and webcam and edit out errors before publishing. Use professional editing features like non-destructive multi-track editing, live collaboration, auto-captioning, exports, and more.
The founder:
Andrew Mason founded Descript, a company based in San Francisco, California, in 2017. Andrew is a serial entrepreneur, having started his career as a CEO and founder at Groupon, then selling his second venture Detour in the AR field to Bose, and now as the CEO and founder of Descript. Descript currently employs 40 people and is actively expanding its workforce.
How to use it?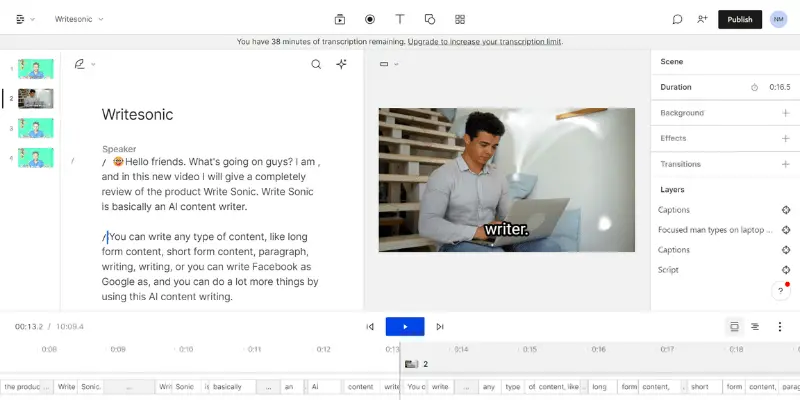 Descript is an AI-powered both video and audio editing platform invented to make the editing task quicker. Once users import video or audio files into Descript, the tool uses voice recognition AI to transcribe those.
For videos, Descript connects the transcription to the video sequence. Users can start modifying according to the text. For audio files, the same procedure is applied here.
You don't need a Digital audio workplace to make your audio sound great because Descript audio tools can assist with the editing process. Descript's audio processing allows you to record audio in a calm environment, which is important for video.
Type of AI Descript use:
For Automated Speech Recognition, Descript uses NLP (Natural Language Processing).
Descript Review; Features:
Video editing:
The audio and video are seamlessly transcribed, allowing you to edit them in the same way that you would a document. Then, just like a slide, you can organize videos.
Descript comes with a large library of templates for fast optimizing your videos. Also, you can create your own templates for future use. You'll have access to a lot of ready-to-use copyright-free videos, images, and music.
Podcasting:
Descript helps ease podcast makers of the technical stress of editing part, allowing them to concentrate on creating high-quality content. In an AI-powered world, you can now build a podcast editing tool from the ground up, simply editing audio by editing text and correcting errors. With a click of the mouse, you can eliminate ums, uhs, likes, and words. This will minimize the duration of your podcast.
Screen recording:
The screen recorder greatly enhances both your appearance and your sound. You can capture any area of the screen you want in high quality using a webcam. Descript identifies your voice and allows you to create high-quality audio that feels almost exactly like you.
The Descript engaging tutorial project contains a series of fast and easy lessons to help individuals get the most out of the editor. There are training videos for audio and video editing, screen recordings, and other topics.
Subscribers first should download the software and create an account. The signup process is followed by a brief survey.
Transcription:
With Descript, you get accurate automatic transcription and a nearly instant turnaround time. And it only costs a few cents per minute. Audio transcription is available in 22 different languages. Descript uses cutting-edge tools and techniques to keep your information safe. If you have an exact transcription, they will import it and sync it to the media word by word for free.
Clip creation:
Descript also creates videos for social media. It is simple to export your podcast or video as a document and then create video clips for social media. To transcribe, simply drag and drop audio or video content.
To improve the look of your social media posts, add images, captions, waveforms, and animations to the video maker. Export it in seconds, then embed it on your website or share it on social media.
Publishing:
With a single click, you can generate shareable pages for your audio or video. Search your transcript for what you're looking for, then click to get there in your audio or video.
Overdub:
Overdub in Descript allows you to create a text-to-speech model of your voice or choose one of the realistic stock voices. Overdub allows recording correction as simple as typing. Overdub is the only 44.1KHz broadcast quality speech synthesizer when compared to Google and Amazon.
Overdub custom voices are only available to Descript Pro or Enterprise plan subscribers. Due to the fact that uploading recordings to instruct the Overdub Voice necessitates a manual voice verification process.
Overdubbing is the practice of listening to the earlier recorded text and adding extra sound to make mixing tracking much easier. Users of Descript Pro should record a consent declaration and also an overdub training script of 10 minutes. This is required for the voice identity verification to be successful.
Studio sound:
With acoustic noise removal, you can reduce noise, improve speech, and sound like a pro in just one click. Studio Sound separates the voices of the speakers, then regenerates and improves the audio quality by reducing echo and ambient noise.
The regenerative technique in Studio Sound enhances audio quality and eliminates noise in loud places. Improve your voice quickly and eliminate background noise.
Filler word removal:
With a single click, you can delete your recordings of "ums," "uhs," "you know," and a slew of other filler words. According to research, voices that stop filler words seem more informed and convincing. The simplest method for eliminating filler words from your recordings is to use Descript.
Subtitles and captions:
The majority of social media videos are viewed on mute. Subtitles can be added using Descript. Transcript your video and make stunning captions with Descript.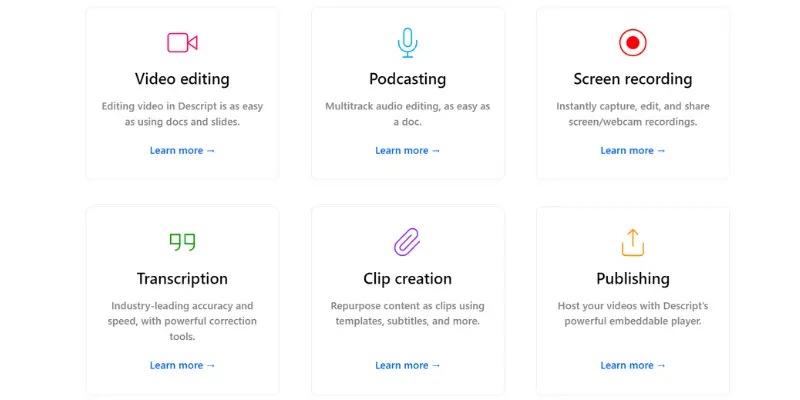 Descript Review; Pros:
Video can be edited just as easily as a word document.
AI Transcriptions.
Instead of re-recording, clone the voice and overdub recordings.
An intelligent and effective advanced video editing workflow.
Reasonably priced.
There is a free version available.
Simple to use.
There are numerous tutorial videos.
Cons:
There will be a learning curve.
Only Pro users have access to overdub.
Only in the English language.
Descript Review; Pricing:
Free plan:
The free plan of Descript allows you to use it for all of the video and audio editing functions. But it has certain limitations. The monthly transcription time limit is one hour. In a month, you can only download one watermark-free video. In addition, video export resolution is restricted to 720p. HD-quality videos cannot be downloaded.
There are three types of pricing plans: Creator, Pro, and Enterprise.
The Creator plan costs $15 per month on a month-on-month basis. The cost is reduced to $12 per month (Total of $144) when billed annually. In this plan, you will get 10 hours of transcription per month with unlimited free video export. Also, get 4k resolution while downloading the videos.
The Pro plan costs $30 per month. When billed annually, the cost is reduced to $24 per month (for a total of $288). This plan includes 30 hours of transcription each month as well as unlimited free video export. Also, when downloading the videos, you can choose 4k resolution.
The enterprise plan is for custom requirements. Here you will get all the features of the Creator and Pro plan, additionally, get a lot more other features with a dedicated account manager.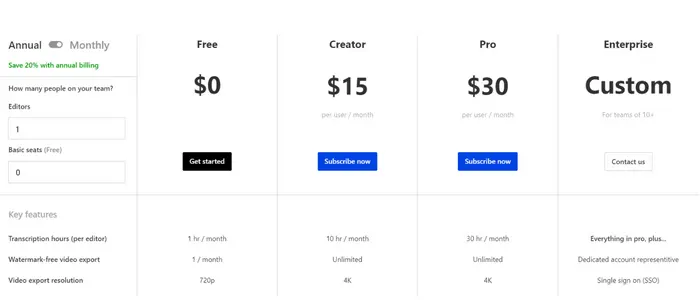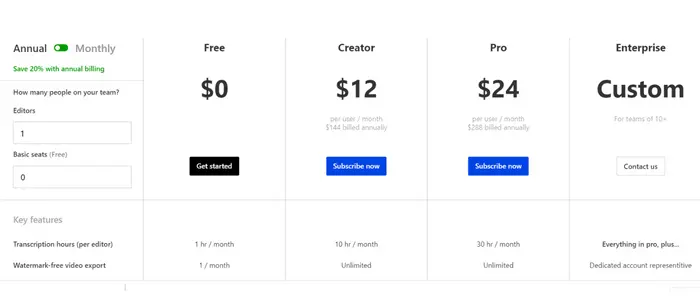 FAQs:
Is Descript a useful editing tool?
Descript is an excellent editing tool, but there is a slight learning curve. Drag-and-drop content addition, one-click audio improvements, editing like a doc file, and multitrack capturing are some of the features that make video editing more efficient.
Is Descript trustworthy?
Descript transcriptions are fairly trustworthy. But, you should edit any transcript before making it public.
Is Descript a good video editing tool?
Descript's text-based editing and storyboard style make it absolutely effective for editing lengthy video content.
Is Descript Effective as a Podcast Editing Tool?
Descript became popular between many video and podcasting editors, and for a valid reason. Its ease of use makes it suitable for innovative content producers who want new ideas and to retain their visitors engaged.
Descript Review; Conclusion:
Descript is simple to use, and the user interface is cool, well-organized, and easy to comprehend. This tool guarantees that your personal details will not be utilized for marketing reasons.
Starting a Descript paid plan is unquestionably a good move if you are unfamiliar with editing or are mainly concentrating on content creation. If you want to instantly publish a video or audio project, rather than spending a lot of time editing.
With Descript, you will be able to begin making content quicker because Descript has a lower training time than conventional video editing tools.
---
Related articles: