What is Synthesia?
Synthesia is a video creation software that generates AI videos in 60 languages in volume. This is a cloud-based video editing application that employs AI avatars. Thousands of businesses utilize it to create high-quality videos in record time. In this Synthesia Review, we will go over all of the features and benefits of this software, so that you can see how useful it is for AI video creation.
Types of videos you can create:
Videos for training:
You can create professional training videos in over 60 languages. Synthesia is a cloud-based video-making tool with AI avatars. It is used by video marketers to create microlearning videos on a big scale, saving a lot of time and money.
How-to videos:
Make brief how-to videos for digital product launching, knowledge bases, and other applications.
Videos for Product Marketing:
Produce professional-looking product overviews, video newsletters, video case studies, and much more.
Four simple steps to create videos:
Select a template and an avatar:
Pick from over 25 templates and start making videos right now.
Create your script in any of the 60+ languages.
Directly in the app, record short videos of your computer screen.
With the press of a button, you may create a video in minutes.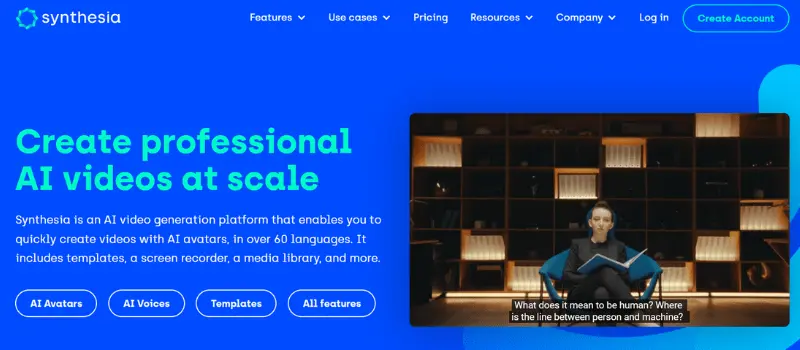 Synthesia Review; Features:
Over 50 AI avatars:
Are you camera shy? Simply select any one of Synthesia's 50+ AI avatars to play the role of a speaker. Every week, new avatars are created.
60+ AI Voices and Languages:
You don't want to pay voice actors? Its AI text-to-speech technology will generate voiceovers in more than 60 languages and voices.
Custom avatars: 
You may design your own AI avatar. This is an additional paid feature.
Screen recorder:
Record your computer screen right from the app.
Video templates:
Start immediately with one of the 25+ beautifully designed templates, or make them by yourself.
Closed captions:
With a single click, you may include or download closed captions.
1M+ media assets:
Get unlimited access to copyright-free photos, movies, GIFs, logos, shapes, and much more.
Add brand assets:
Modify the typeface and logo, change the colors, and personalize the videos to meet your brand's criteria.
Background music:
Get free background music inside the platform or add your own.
Easy updates:
Clone your video, modify it, and you'll have a new video quickly.
Video embeds are available:
Embed any video in over 30 applications and update those with just a single click.
Downloads in MP4 format:
Download the ready videos in Full HD quality (1920×1080).
Avatars:
Synthesia is a cloud-based video creation tool that uses AI avatars. Numerous businesses use it to make amazing videos at bulk faster than ever before. The avatars are all taken on video footage of professional actors, which was obtained with their permission. The raw recorded video is then processed by AI technology, which generates new captivating videos from the script.
Custom Avatars:
Easily create a customized avatar of yourself or anyone else. Each personalized avatar requires the person's specific permission.
An avatar created by Synthesia is a computerized yet stunning replica of a human. Synthesia may be used to produce commercial videos using these customized avatars.
When your customized avatar has been produced, it will show in Synthesia studio with the pre-built avatars. Then you may use it in your own videos.
You must produce a specific video clip and utilize the Synthesia custom avatar script to generate a custom avatar. The entire procedure takes roughly 10-15 minutes.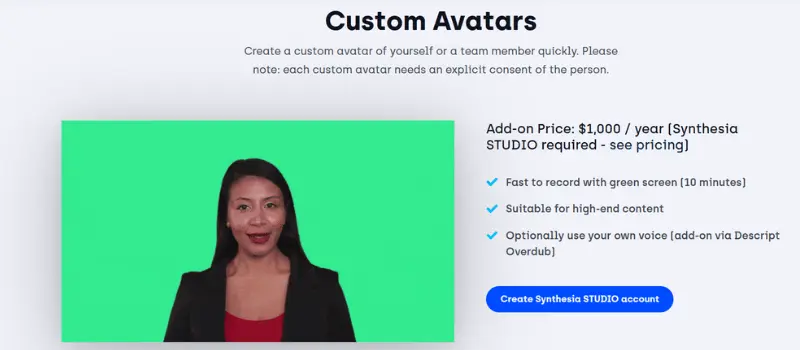 Synthesia Review; Integration:
If you want to integrate Synthesia studio with your essential tools, its easy API will allow you to do so.
Featured Integrations:
PowerPoint, LMS systems, stock media, and more.
Explore Integrations:
HubSpot Knowledge Base, Kickstarter, SAP Litmos, Vimeo, 360Learning, Thinkific, Shutterstock, Squarespace, Easygenerator, Lectora, Medium, Eduflow, YouTube, Tolstoy, Blanc, BigCommerce, PowerPoint, and more.
Synthesia Review; Price:
There are two types of pricing plans in Synthesia: Personal and Corporate.
The Personal plan costs $30 per month.
Features:
1 video credit means 1 minute of video, with videos timing up to 10 minutes.
Text to the video:
60+ Languages.
40+ Built-in Avatars.
50+ Templates.
Custom backgrounds.
Background music.
Built-in Screen Recorder:
MP4 downloads.
Video sharing pages & embeds.
Add text, images, and shapes.
Free stock images & videos.
Import PowerPoints
Up to 6 slides per video.
Custom avatars with extra payment.
If you want to scale your business Corporate plan is the best. This plan has custom pricing, You need to book a demo and talk to their personnel to finalize the price as per your requirement.
Features:
All Personal plan features.
Up to 50 slides per video.
10+ Premium Built-in Avatars.
Priority support.
Procurement-friendly.
Audio uploads.
Access to premium services.
SAML SSO Support.
Custom fonts.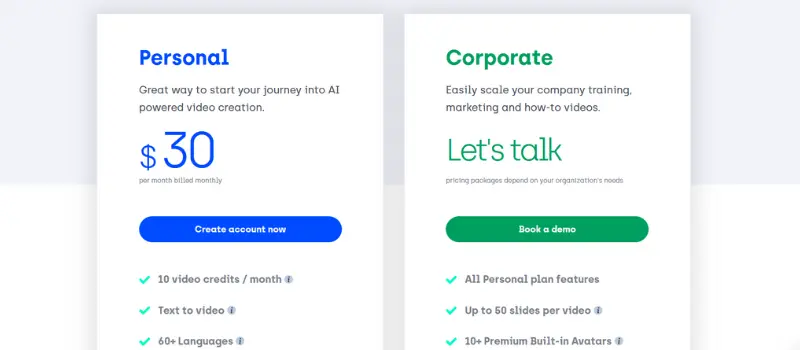 Synthesia Review; Pros:
Excellent customer service.
Presentations for the Next Generation.
the most effective AI voice generators.
really user-friendly.
Excellent graphic editor.
Cons:
This is a little costly for beginners.
Synthesia Review; Conclusion:
Synthesia Studio enables you to create high-quality videos on a large scale. It is not necessary to display your face to the camera. Finally, this is a highly recommended and excellent AI video creation tool that is a no-brainer.
Related articles: