Introduction:
Writing content with AI is becoming more popular. It will not only save you time when creating content, but it will also provide the right information. Previously, I reviewed a number of AI content writers including Writesonic, CopyAI, Rytr, WordHero, and others. And today I will provide a detailed Writecream review.
Here I will explain what Writecream is and how it works. After that, I'll go over its user interface, pricing, features, pros, and cons, and recommend the best alternatives. Writecream can help you with blog posts, cold emails, Google Ads,  LinkedIn marketing, and more.
Writecream enables you to quickly convert a product name into a blog post, YouTube video, or podcast. The Writecream AI Article Writer can generate 2,000-word text content in a matter of minutes. There are also human voice-overs available for videos and podcasts.
Also, you can generate Facebook and Google Ad copies, landing page copy, social media content, Quora answers, product descriptions, and more.
Writecream can also assist with marketing and sales automation. Your subscribers are bombarded with emails every day, and their minds have evolved to overlook them. Writecream is designed to generate personalized, customized intros that entice receivers to click and react.
How does it work?
Writecream uses the most sophisticated language model, GPT 3, to generate genuine and precise information when given a command. They use a personalized AI model in combination with GPT3 to generate more quality content.
Writecream Review; User interface:
In the left panel, you can see a lot of features like a long-form editor, email tools, social media tools, SEO tools, etc. Also, you can pick the content types from the various types of content creation options.
The interface contains a few features that appear to be user-friendly for newbies. You can reach their customer service team by clicking the chat icon in the below right corner of the dashboard.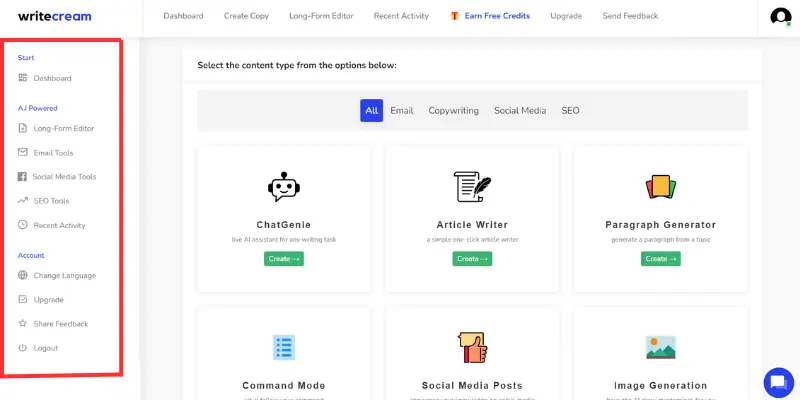 Writecream Review; AppSumo lifetime deal: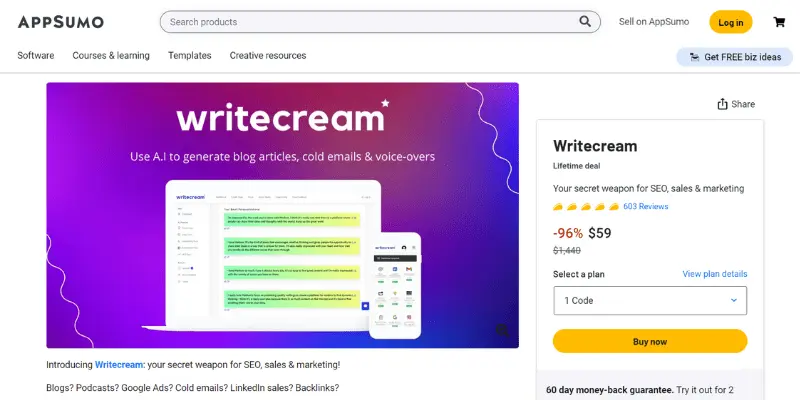 If you're serious about adopting this software for your task, check out AppSumo's lifetime deal. It has three types of pricing plans: Plan1, Plan2, and Plan3.
Plan 1 cost $59 as a one-time payment. Here you will get 200 credits per month, which is approximately 400,000 characters.
Plan 2 is a one-time fee of $118. You will receive 400 credits per month, which is equivalent to approximately 800,000 characters.
Plan 3 has a one-time fee of $177. You will obtain 600 credits per month, which is roughly the same as 1,200,000 characters.

Writecream Review; Writecream use cases:
AI article writer:
It is a simple tool that will guide you through the entire process of creating a blog post. Simply enter a keyword, and the software will generate topics and the full article. Get your blog post up and running as soon as possible. You can create the entire article without starting from scratch.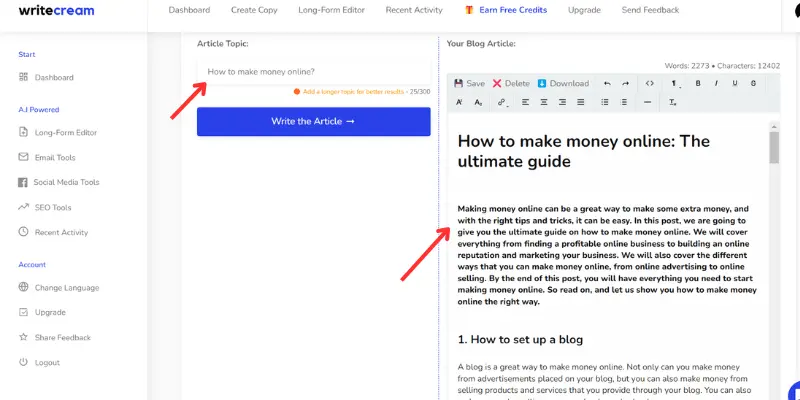 Create social media posts:
You can create posts on social media to increase the number of followers, interactions, and views. It employs artificial intelligence to help you in creating compelling text for any social network. The AI-powered social media engine will assist you in writing, publishing, and sharing social media posts.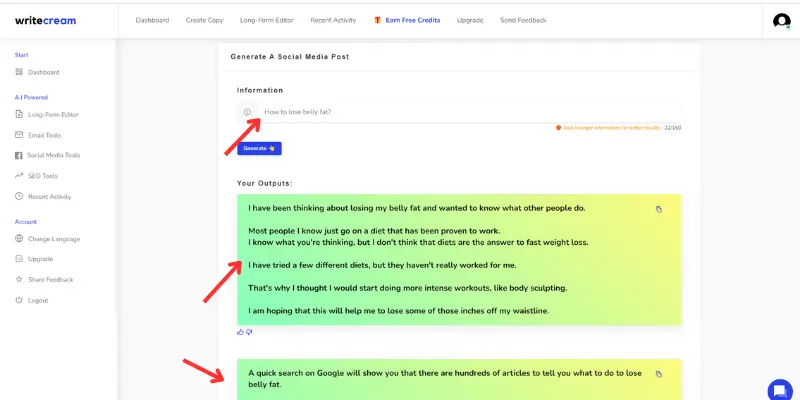 4-step article writer:
The simple four-step article writer can write an article in four steps. The first step is to enter your topic, and it will generate ideas for you. The second step is to create a compelling introduction. It will create an introduction to your topic with a single click. The following step is to create an outline for the entire article. The final step is to complete the article.
Image generation:
The Writecream image generation tool will create stunning images based on the keywords you enter. You don't need to go to third-party websites to get copyright-free images with this image generation tool.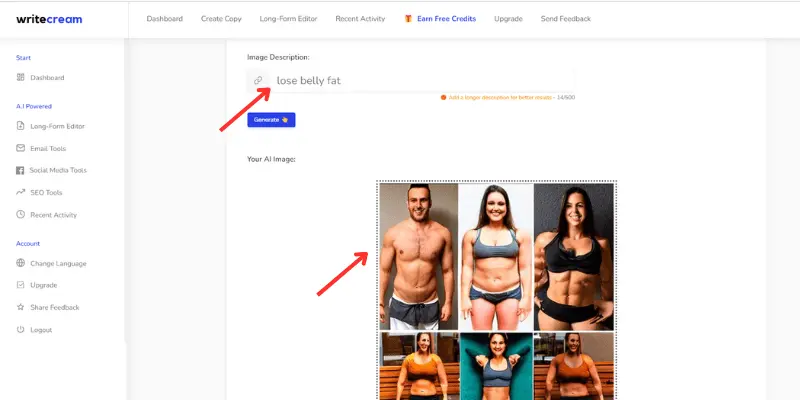 E-commerce product description:
Writing product descriptions for your e-commerce products is now simple. Simply enter your product name and a line about it, and Writecream will provide you with a captivating product description.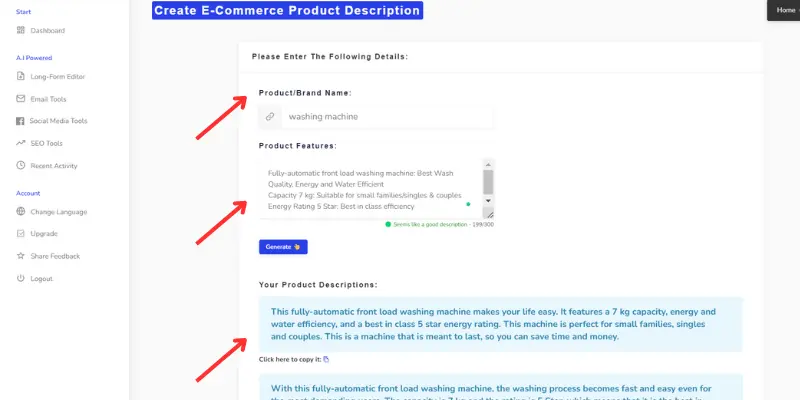 Quora answers:
Quora is an excellent resource for driving traffic to your website or landing pages. However, answering Quora questions every day is a time-consuming task. You can now use Writecream Quora answers to write great answers to Quora questions. Simply enter the question copy a few lines from the internet about it, and Writecream will provide you with excellent answers.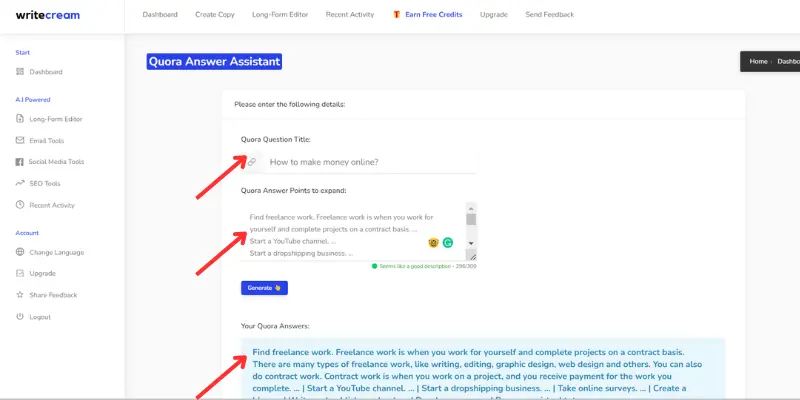 YouTube video ideas:
It's difficult to come up with new ideas for videos for your YouTube channel. Writecream YouTube video ideas will inspire you to create new videos. Simply enter your niche and say something, and Writecream will provide you with great YouTube video ideas.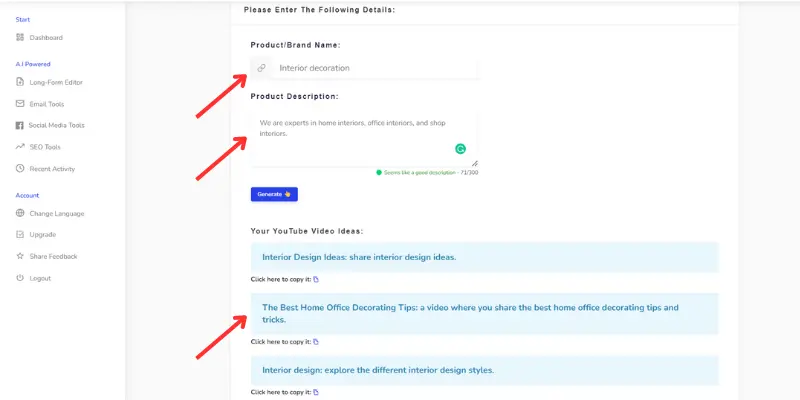 Google Ad copy:
The appealing Ad copy is a vital part of running Google Ads. Writecream will create a perfect headline and amazing Ad copies for you.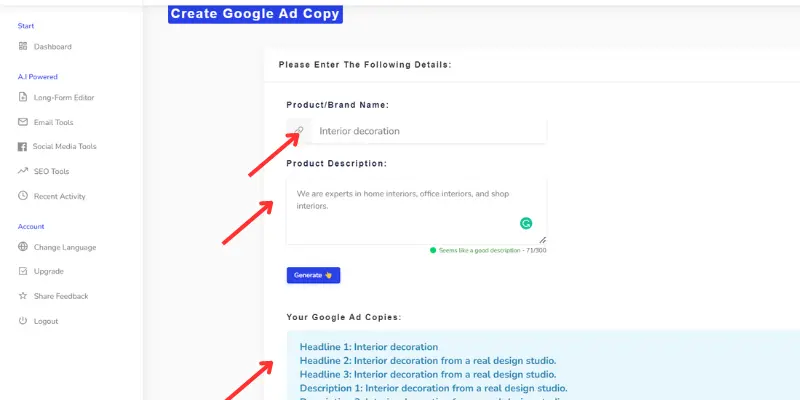 Podcasts and YouTube voiceovers:
Writecream can turn any script into voiceovers in a variety of languages. There are also various types of voices to choose from. To generate the voiceover, simply copy and paste your script and select language, tone, and speed.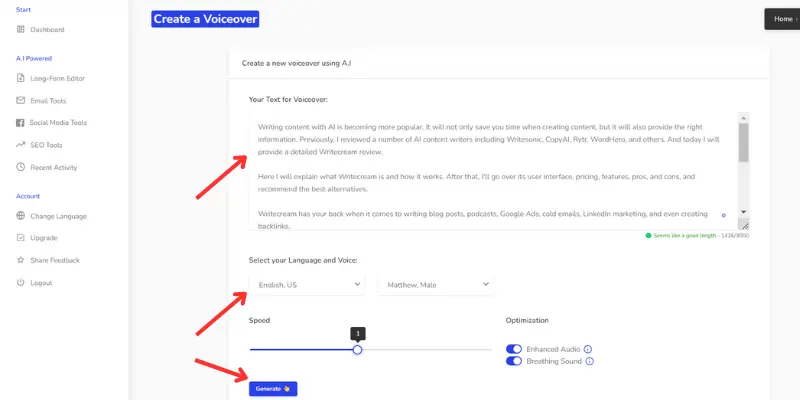 Longform editor:
There are some extremely useful tools in Writecream to help you ease your job! Longform tools enable you to create long-form articles and blog posts in seconds.
Plagiarism checker:
In Writecream, there is an inbuilt plagiarism checker. It will quickly check the plagiarized content, and give us the overall plagiarized percentage.
LinkedIn personalization.
LinkedIn is used to make professional connections and explore new business opportunities. Writecream's personalized introduction service can help you make the first move with your prospect.
Simply enter the URL of the LinkedIn profile of the person with whom you want to communicate, and it will generate the communication text. I entered my LinkedIn profile into Writecream and the result is shown below. It retrieves the necessary information from my profile and provides me with excellent communication text.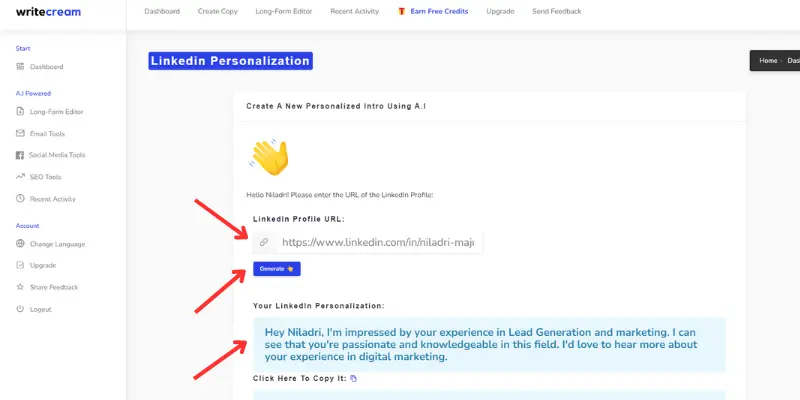 Personalized icebreakers:
Using personalized icebreakers is a method for boosting revenue. You may utilize the collection of queries or declarations to get the prospect to have a conversation. These questionnaires can be customized to your intended audience or business.
The icebreakers can be used in a variety of methods for boosting selling. For example, you may inquire regarding your prospect's true motives for purchasing your product or service.
You can learn about a company's business and its competitors by using icebreakers. The Writecream ai tool's personalized icebreakers feature will increase your sales.
Writecream is the only tool with this personalized icebreaker feature, and it is excellent for converting your prospects.
Writecream is best suitable for…
Business owners.
Bloggers.
Copywriters.
Social Media Marketers.
eCommerce Owners.
Pros:
This tool is excellent for creating product reviews, summaries, advertisements, and so on.
Both its Article Writer and its four-step Article Writer are excellent.
Writecream also provides an excellent AI Image Generator.
Use their ChatGenie tool to make custom AI queries.
Writecream supports over 75 different languages. As a result, if you produce content in a local language, this tool will be useful to you.
The Writecream Chrome Extension uses AI tools straight save you time.
Create voiceovers for your writing in a variety of languages and voices.
Cons:
The tone assists you in adjusting the emotions. Writecream does not allow you to customize the tone of the content.
The user interface seems to be quite old in terms of design.
Writecream Review; Customer support:
It provides customer support through emails, live chat, and knowledgebase. They respond immediately to solve any of your problems.
Writecream chrome extension:
After installing the chrome extension, you can see a button in the writing applications. From there you can choose the use cases to write specific content.
The best alternatives to Writecream:
WordHero:
WordHero is a copywriting tool that uses AI. You can use this advanced tool to generate a variety of content, including emails, blog intros, review articles, etc. The prime objective of this tool is to produce content creation simpler and quicker.
It has over 10,000 active monthly users, and it generates more than 100 million words per month. WordHero handles time-consuming tasks on your behalf. This is an artificial intelligence writing tool that helps you create quality content.
It provides a comprehensive set of used cases, with new tools added on a regular basis. WordHero is based on GPT3, OpenAI's most powerful language algorithm.
It employs a number of factors to generate new content based on existing ones. This aids in the creation of relevant and meaningful original content.
Peppertype AI:
Peppertype is a copywriting tool that is ideal for creating high-quality content. You can try it for free. GPT3 is the foundation of Peppertype. GPT3 prepares itself using machine learning by analyzing patterns, and information and creating fresh and unique content.
Quality content is now an essential component of any business model. A simple, yet useful tool, such as Peppertype AI, is a great introduction to marketing.
Artificial intelligence-powered tools are gradually replacing human content writers. Copywriting requires effort, but with a tool like Peppertype, the task can be completed quickly.
Read Peppertype.ai Full Review Here!
Copy.AI:
Copy.ai enables you to easily generate text with a human touch. It is worthwhile to invest in Copy.ai because this tool generates excellent text content for any niche.
Copy.ai will help you create more appropriate titles, email subject lines and body, and long blog content. Copy.ai uses AI to create great content for marketers.
Read Copy.ai Full Review Here!
Writesonic:
Writesonic can help you get organic Google traffic to your website by creating SEO-optimized content. This tool will generate blog posts, social media posts, ad copy, email copy, and other content. Enter a few keywords and a brief description of the topic, and it will return the entire content.
Writesonic is one of the most impressive AI writing tools. It is simple to use and saves time while enhancing writing. This is beneficial to anyone who wishes to improve their writing abilities.
Read Writesonic Full Review Here!
Rytr:
Rytr can help you create high-quality content in seconds. This is a fantastic tool for creating quality writing and starting a blog. This is excellent value for money, easy to be using, and saves you a significant amount of time.
Rytr is capable of writing captivating blog headlines and paragraphs. Produce unique blog content, post topics, and layouts with this AI tool. Start creating enticing emails for marketing, and engage more people. 
Produce creative, unique, and exciting brand names. Write AIDA-style articles that are unique and attractive for your products and services. Generate innovative ad copy for Facebook, Twitter, LinkedIn, and other social networking sites.
FAQs:
Is there any money-back guarantee in its lifetime deal?
The Appsumo lifetime deal includes a 60-day money-back guarantee. So, you can try it for two months and get your money back if you don't like the tool.
Are Writecream-generated articles plagiarized?
I discovered 12% plagiarism in Writecream articles. So, after creating the content, you must make a change. You should not simply copy and paste the generated content.
Is Writecream support content other than English?
Writecream supports more than 70 languages. So, you can create content in many local languages also.
Is there any free plan for Writecream?
Yes, there is a free plan of Writecream with 20 credits per month. The best part is, you don't need to put in your credit card information to get the free trial.
Writecream Review; Conclusion:
That concludes our Writecream review. I hope this review has helped you make an informed decision about purchasing this content writing tool. Finally, I am confident that this tool will help you improve your writing for your blog, social media posts, ad copy, and other purposes. 
Thank you for reading this article; I hope it has provided you with useful information about Writecream. Do you have any further questions? Please leave a comment below; I am always available to respond.