What is Peppertype AI?
Peppertype is an artificial intelligence content writing tool that is ideal for producing high-quality content. It is simple to be using and you can give it a try for free. Are you unsure about purchasing this tool? Before you buy it, make sure you read this Peppertype AI Review article all the way through to know all the necessary details.
Anirudh Singla and Rishabh Shekhar founded it in 2020. Its headquarters are in Mumbai India, and the tool currently has over 100,000 active members. It comes with a sophisticated artificial intelligence system and plenty of use cases to fulfill the requirements of content producers, marketing people, and business owners.
How does it Work?
Peppertype is based on GPT3 (Generative Pre-trained Transformer 3). GPT3 employs machine learning to prepare itself through language structure, patterns, and details and then anticipates fresh and distinct content from the data sources.
The user interface of Peppertype.
Peppertype does have an advanced and user-friendly interface. It is quick with a user-friendly configuration. Just after signing in to your Peppertype dashboard, you will find out different categories. There you will find all of the use cases. You can also view your generated content there. You can access your user profile setting, billing information, and metrics. As a whole, the Peppertype UI is simple to use, and beginners friendly.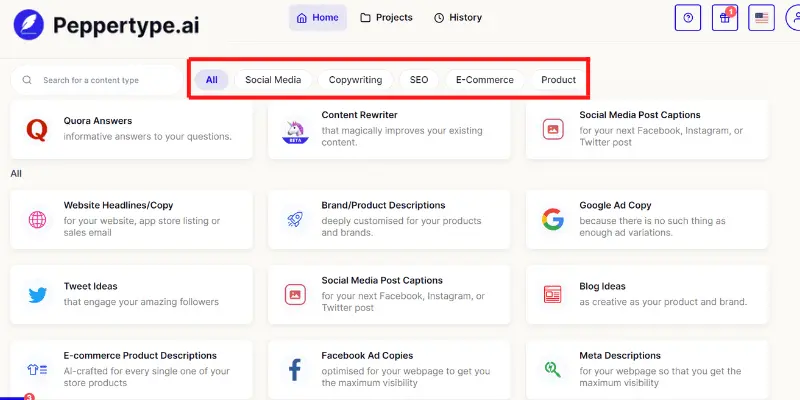 Peppertype AppSumo deal:
AppSumo deal terms and conditions:
Peppertype.ai is accessible for life.
Get updates to any future Starter (Tier 1) or Growth (Tier 2 and Tier 3) Plans.
There is no sorting required; simply select the plan that best suits your needs.
You have 60 days from the date of purchase to activate your license.
Upgrade and downgrade among three license tiers.
GDPR compliance is ensured.
Clients who previously purchased Peppertype.ai through AppSumo can upgrade their licenses to increase functionality.
Earlier AppSumo customers who purchase the current deal will receive unlimited short-form content creation.
Peppertype AI Review; AppSumo Pricing:
Three Tier of license plans are there, and they all have one-time purchases for life.
Tier1 plan costs $99 only. One user can use it and can generate a maximum of 50000 words per month.
Tier2 plan costs $249 only. Five users can use it and can generate a maximum of 100000 words per month.
Tier3 plan costs $399 only. Twenty users can use it and can generate a maximum of 250000 words per month.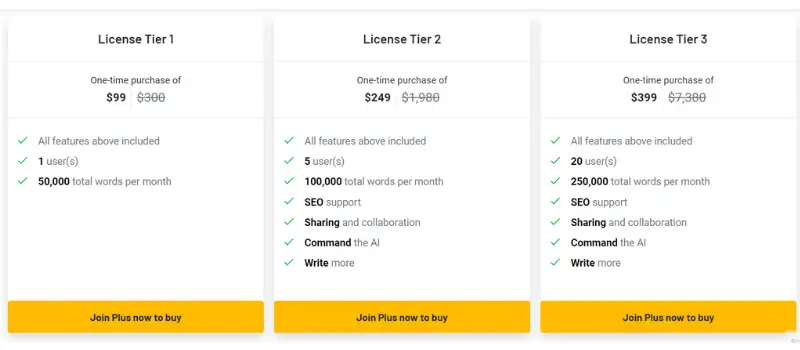 Peppertype AI Review; Features:
40+ types of content creation tools.
Notes long-form content editor.
Quick actions.
Templates.
Projects.
Automatic creation of summaries.
The translation is unlimited in 20+ languages.
Sequences.
You may invite up to 25 collaborators.
Download the results.
View the entire history.
Long-form content creation includes Before and After Bridge copywriting, video descriptions, blog posts, and other services.
Peppertype AI Review; Use cases:
Peppertype includes more than 35 use cases that address various sorts of content. These use cases are beneficial to bloggers, copywriters, advertising agencies, marketing people, businesses, and others.
Descriptions for YouTube videos:
If you are a youtube content creator, you may struggle with writing detailed descriptions for the video content. But Peppertype will have you covered. Only you need to do is enter your subject, and the tool will produce quality descriptions for your videos. You will get all the results quite well and detailed in value. Here are the results for creating my YouTube video description…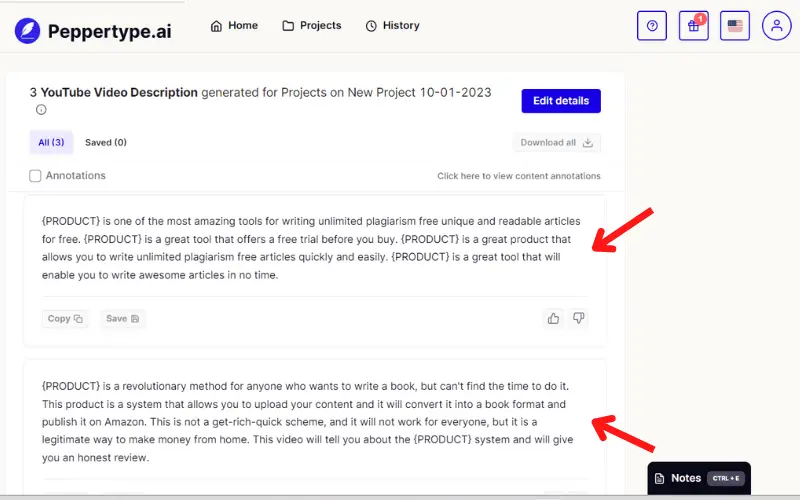 YouTube video topic ideas:
Video producers usually find it difficult with coming up with topic ideas for their video content. Peppertype could be capable of assisting in this. Below are the video topic concepts it produced to make money online. The video recommendation made is very versatile, and an online money maker can effortlessly get excellent video ideas.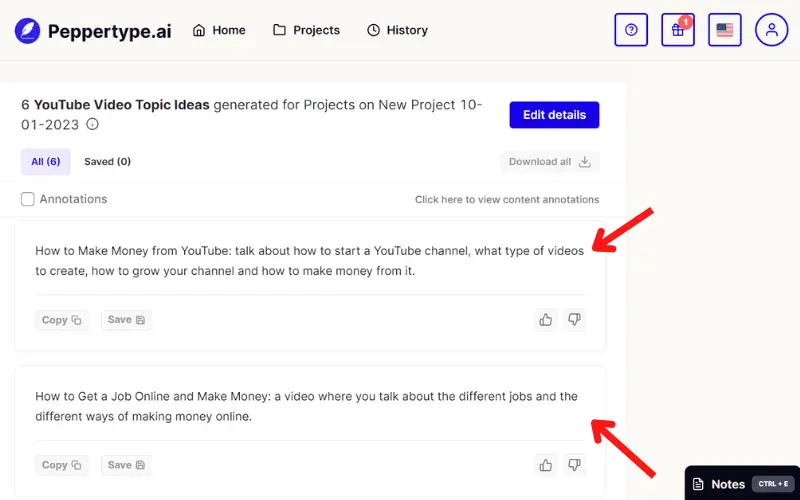 Personal Bio (Peppertype AI Review):
This is an extremely useful tool when creating personal Bios for LinkedIn or any other social media. I created my personal Bio here. The obtained outcomes are fantastic! The information it provides is amazing.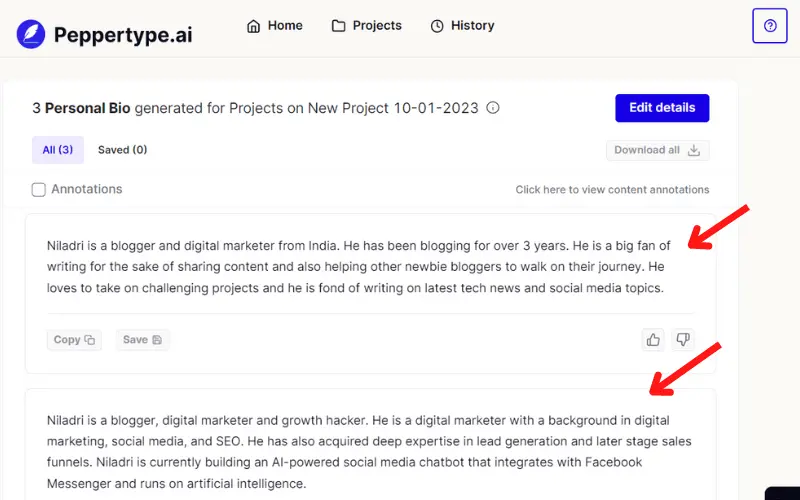 Copies of Facebook Ads:
Innovative thought is required to create compelling advertisements. I created Facebook Ads for the email marketing software "Getresponse". And it returns 8 results. I receive some results that are interesting and appealing. Others I found not impressive at all.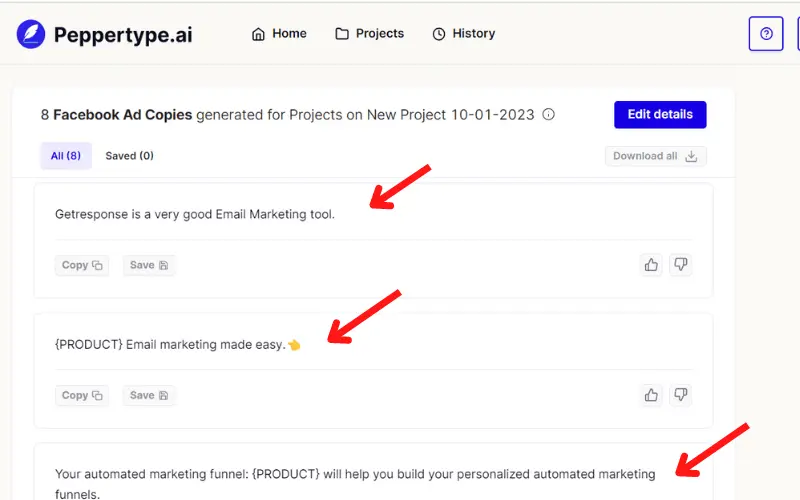 Quora answers:
Do you frequently answer questions on Quora to drive traffic to your website or any other landing page? Peppertype Quora answers can help you to produce good answers with a single click. I type the question "How to reduce belly fat" and receive the answer below…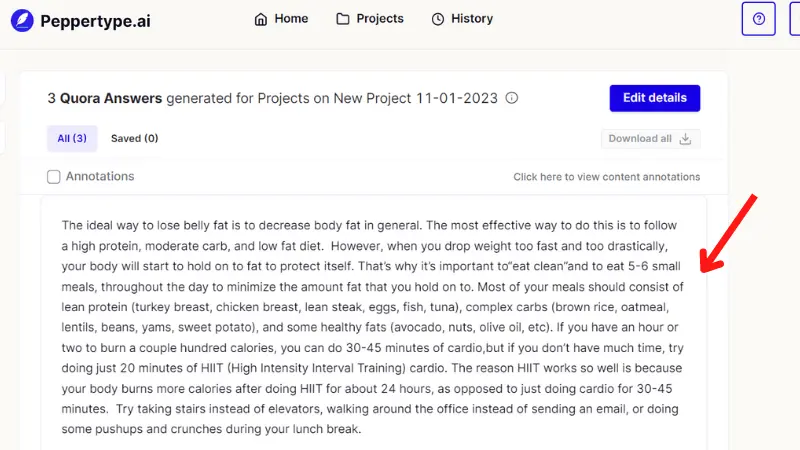 Paragraph Writer (Peppertype AI Review):
Content creators will benefit the most from the Paragraph Writer tool. When I entered "grow YouTube" into the Paragraph Writer tool, I got the result shown below…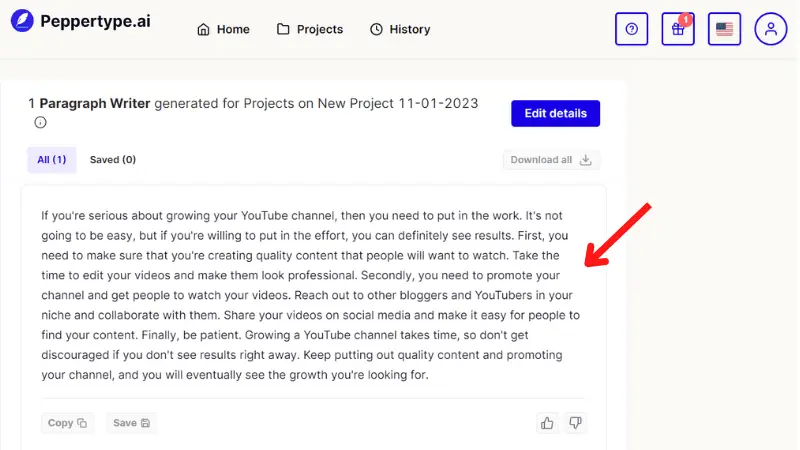 To summarise, the produced paragraphs were acceptable. However, the outcomes were not 100% appealing to what I was looking for.
Blog Ideas:
When looking for content ideas for blog articles, content writers often run out of concepts. Peppertype can help in this regard. For example, here I got 10 Blog ideas for 'email marketing' which are shown below.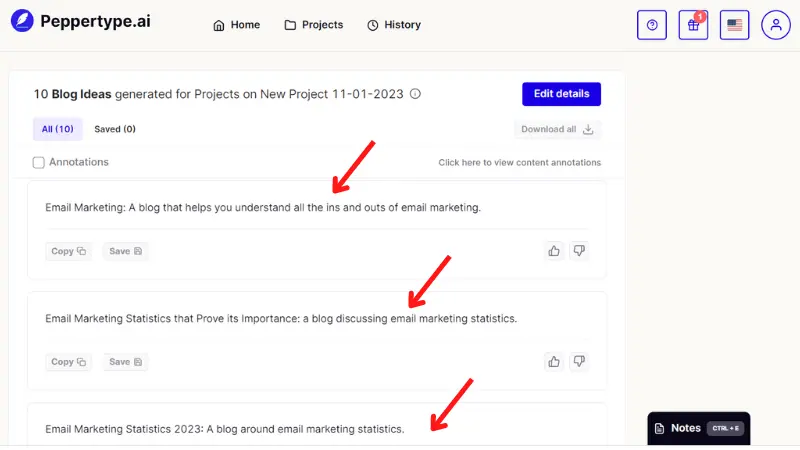 It covered a diverse range of categories under email marketing, you could simply write on any of them.
Blog intros:
You can produce a long-form article in a few hours, but the Intro takes so long. Peppertype has a Blog Intro writing tool. I have generated intros generated for one of my blog topics "Step by step method of affiliate marketing" and I got detailed informative results. One of the four results, in particular, amazed me because it was so detailed.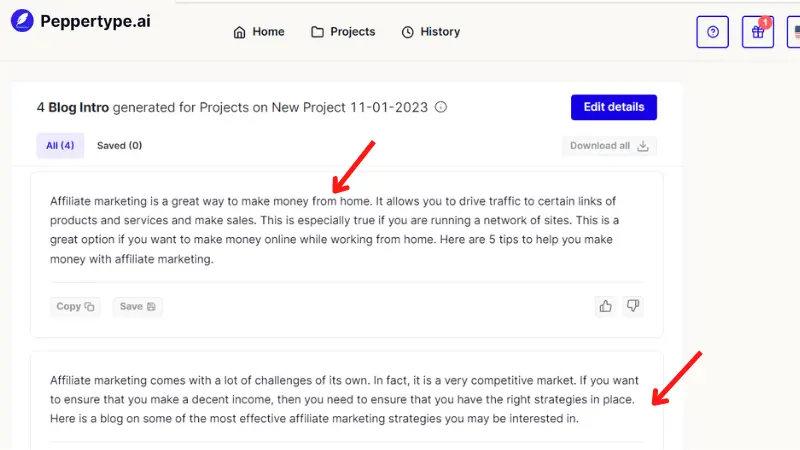 Meta Descriptions:
Meta descriptions play an important role in SEO. That appears beneath a blog post when you search for it on Google. I created a meta description for the topic "email marketing," and this is what I got…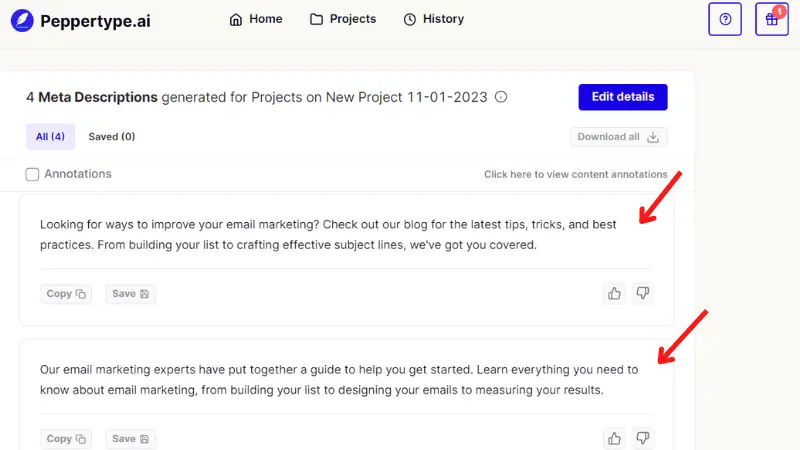 All of the outcomes were fantastic. The results were clear and precise. I must use this tool to produce a brief meta-description for my articles.
Blog Outline:
Whenever you begin preparing your blog post, you must first create a solid summary. Peppertype Blog Outline may be helpful in this situation. I generated a Blog outline for the topic "How to choose affiliate products to promote", and this is the outcome…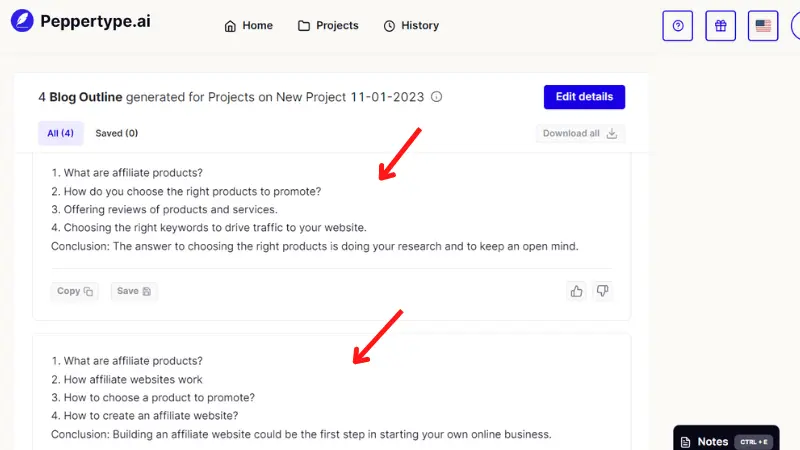 The results are satisfactory. The fantastic aspect is that, in addition to the outline, it includes a small conclusion.
Blog Conclusion:
An effective blog summary can summarise the entire article in a few lines. A strong conclusion is essential for your blog article.
I wrote a blog conclusion for my blog post "What are the best ways to get started with affiliate marketing as a total beginner?" Here are the results…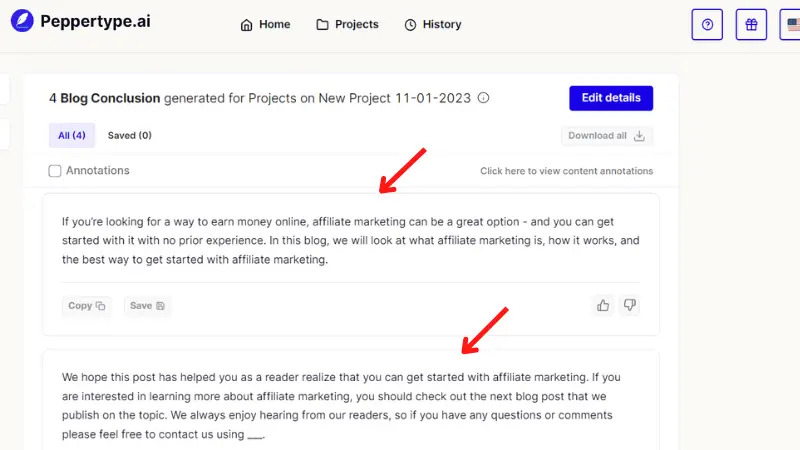 For me, the results were satisfactory.
Longform editor:
A long-form content editor is also available from Peppertype. It is accessible at the bottom of the dashboard and named a Notes app. To produce complete content, minimize the Notes window and use other AI tools. Employ different use cases independently and then copy and paste the produced result in the Notes App.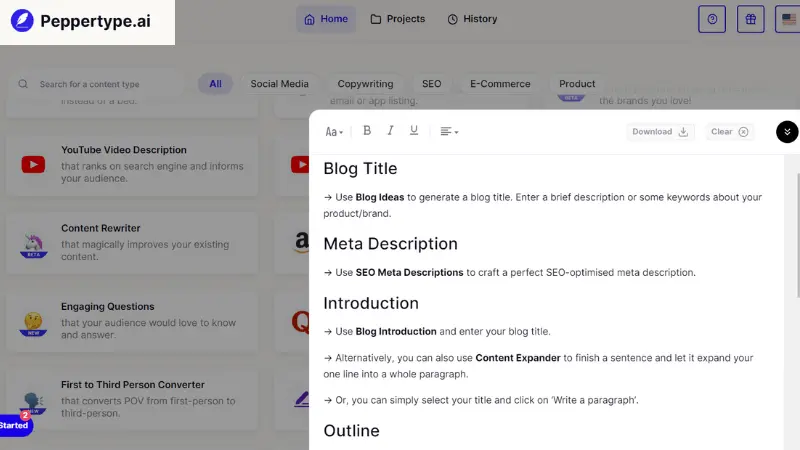 Product review generator:
This will help you to create attention-grabbing reviews for any product you want to sell. You need to provide the product name, a short description, and the purpose of the review. This is the result I found when I do a review of the product "Jasper".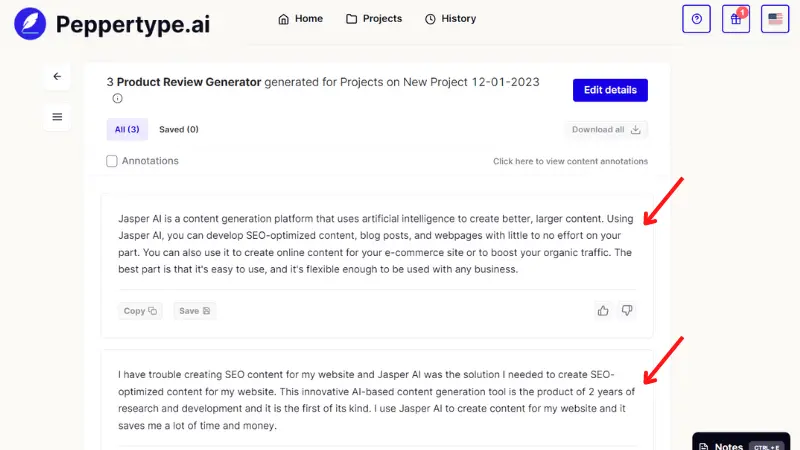 The results I got were original and informative. I definitely can use it for my detailed product review.
Amazon Product Title:
Peppertype can help you create a unique and informative headline for the Amazon product. Although, the results are determined by the input data. Its performance may differ depending on the category. Here are the titles produced for 'Kitchen chimney,'…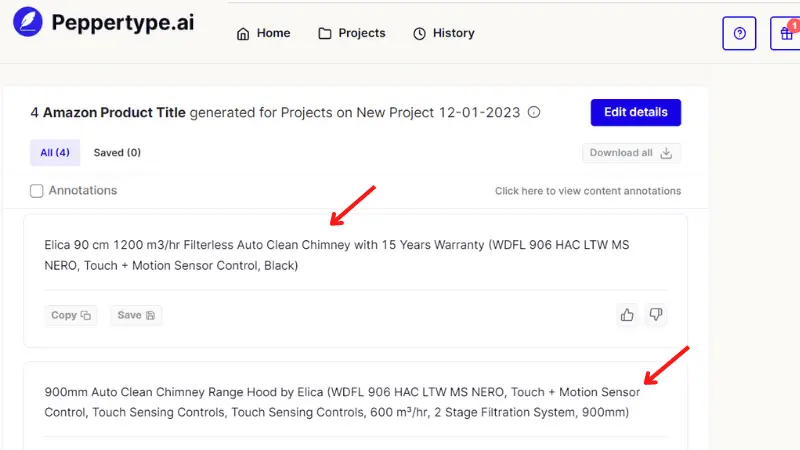 The final outcome was very fantastic and detailed it.
Peppertype AI Review; Feature to Benefit:
Another important aspect of copywriting is creating features into benefits. I don't believe this tool is very effective to convert features into benefits. None of the outcomes I found impressive. They must concentrate on making this tool better.
Content Expander:
Sometimes it is difficult to frame a sentence into a paragraph. In those cases, use the Content Expander tool to help you out. You just need to provide a statement, a keyword, and a tone. The sentence expansion was excellent. I discovered the outcomes are extremely relevant to the subject.
AIDA Copywriting:
A really preferred copywriting framework is AIDA (Attention Interest Desire Action). You can use it in website copy, sales pages, email texts, and even blog introductions. I found the results of the topic 'What is affiliate marketing?'.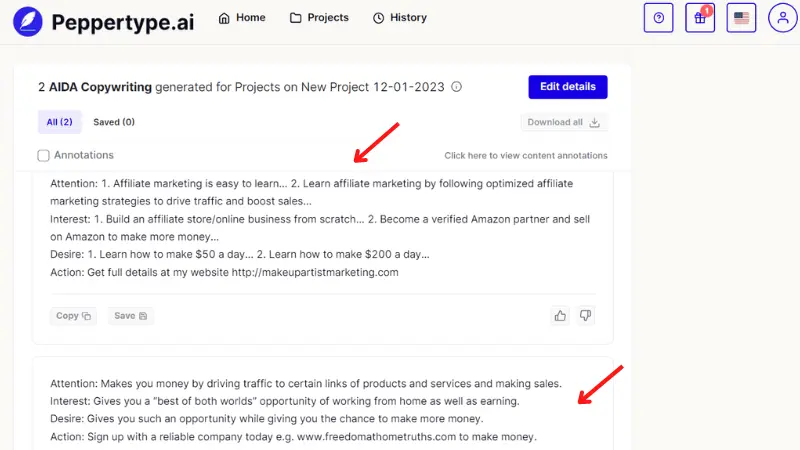 All of the outcomes were really well in my opinion. This tool makes it simple for me to create blog introductions and video summaries.
Email Subject Lines:
Start concentrating on creating a strong subject line if you desire your email messages to be opened. I found a few results that were related to the subject. The email text generated is convincing enough to entice the viewer to open the email.
Content Simplifier:
Do you want to describe in detail a complicated subject in simple form? Make use of the Content Simplifier. This tool works well, and you can surely use it to simplify complex ideas in blogs.
Peppertype AI Review; Pros:
Content generation saves a lot of time, and the saved time can be invested in more essential business activities.
The Peppertype is capable of producing high-quality content in a matter of minutes.
There is a free trial of 10,000 words.
It offers a neat dashboard along with providing team data analysis.
This is created primarily to help writers overcome writer's block, and it has proven to be extremely effective.
The produced content is 100% unique and free of plagiarism.
It includes more than 35 copywriting use cases.
You can create unlimited content.
It also provides different pricing structures.
User interface that is advanced and fast.
There are no bugs inside the software.
Peppertype AI Review; Cons:
Peppertype does not allow you to change the tones, work quality, creativity stages, and a number of output values.
There is no live chat assistance. You can reach them through the use of email or browse the knowledge base.
Peppertype also lacks built-in tools for detecting plagiarism or grammar mistakes.
The Longform Editor is fairly basic in terms of options.
Peppertype best alternatives:
Jasper:
Jasper is an excellent content creation tool that employs AI to generate long and more comprehensive content. Individuals can create SEO-optimized text with Jasper to help them get more traffic, leads, and sales. Jasper AI is a great option if you'd like to enhance your content quality.
Copy.ai:
Copy AI is a content writing platform powered by AI that generates captivating copies for social networks, website copies, emails, blog articles, and more. Copy AI analyses your specifications and creates great content.
It is possible to generate copies in over 20 different languages, which makes it a great software for marketing copy. Copy AI creates content quickly while also ensuring the highest effectiveness.
Rytr AI:
Rytr is a content creation platform powered by AI that can assist you in producing high-quality text content. This is an excellent piece of tool for producing small to long-form articles.
This is fantastic value for money, simple to use, and will save you time. This is a robust and simple text generator. The free trial gives you 10,000 characters per month.
Writesonic:
Writesonic is the most advanced writing software for creating SEO-optimized content that brings search traffic. You can generate traffic and profits by perfectly utilizing key phrases. This software can assist you in creating blog content and social media content.
Peppertype AI Review; Conclusion:
Presently, good content is an essential component of any marketing plan. A straightforward, yet robust tool like Peppertype AI is an excellent consideration for your marketing needs for assisting you in producing amazing content fast.
That's all about Peppertype AI Review. AI-powered tools are gradually replacing human content creators. Peppertype.ai is a fantastic example. Content creation requires hours of effort; however, the work could be completed in a short period of time by using a tool like Peppertype.
Related articles: