What is Visme?
Visme is a cloud-based tool that enables businesses, organizations, and entrepreneurs to make and share infographics on a real-time basis. Do you want a visual communication tool like Visme for your business? Read this Visme Review, to know all the necessary details before purchasing the tool.
The program enables users to generate presentation slides and data visualizations by using customized layouts and branded content. You have control over the effectiveness of the visual design. Even if you have no previous design knowledge, you can begin your 1st design in minutes.
Infographics may be embedded on websites, shared on social networking sites, and downloaded for personal use. It allows individuals to make engaging infographics or presentations by using unique different fonts, sizes, and colors, finding related photos, swapping symbols, and much more. People may download infographics from Visme as PDFs, and HTML5 files.
Why Visme?
Business owners, and tiny businesses, understand how tough it is to generate the advertising and presentation resources required for any organization. Client PowerPoint presentations, social media images, and logo creation all need time and expertise.
Visme is for creating excellent visuals like Powerpoint slides, infographics, artwork, and Facebook advertising for businesses. Visme is a unique type of product that combines functionality in demonstration and collaborative software.
Visme's templates, stock pictures, animations, and other material collections are huge. As a result, businesses may start with prepared visuals and easily transform these into custom branding.
To develop amazing infographics, you do not really need to be a professional artist. Customizable layouts and strong insights are in your hands with infographics tools like Visme. This Visme review may tell you how to quickly transform data into captivating representations.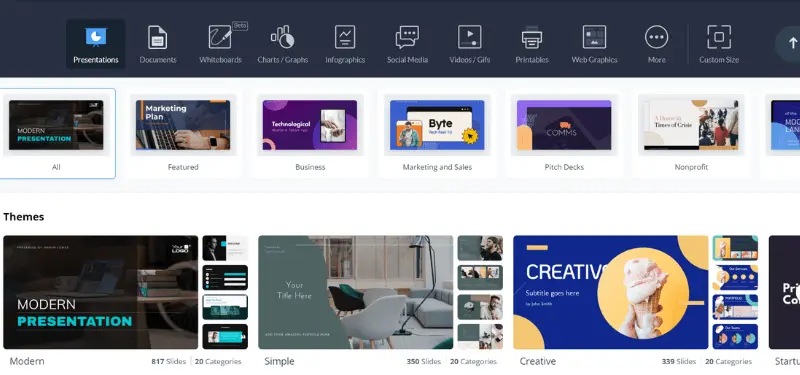 What exactly you can do with Visme?
Visme is intended for small company owners, marketing people, and creators that lack graphic design knowledge yet need excellent graphics for their business. Visme will help you to create a lot of things like below:
Producing eye-catching, captivating presentations.
Creating awesome engaging infographics.
Creating graphs and maps to help people visualize data.
To generate excellent initial trust, use posters, advertisements, and some other website features.
Developing and organizing your social networking visuals.
Visme Review; Features:
Make attractive graphics out of data and facts:
Communicate to potential consumers with attractive data visualization that is designed to impress and amaze them.
Lots of customizable templates are available:
Tons of designs covering more than 50 content kinds are available in their collection. Change, share, and save them as needed for your organization.
Customized content development from start to finish:
To produce attractive, relevant content, simply add your business styles, colors, and logo. Enter your website's URL into the Branding Builder and wait for the branded content.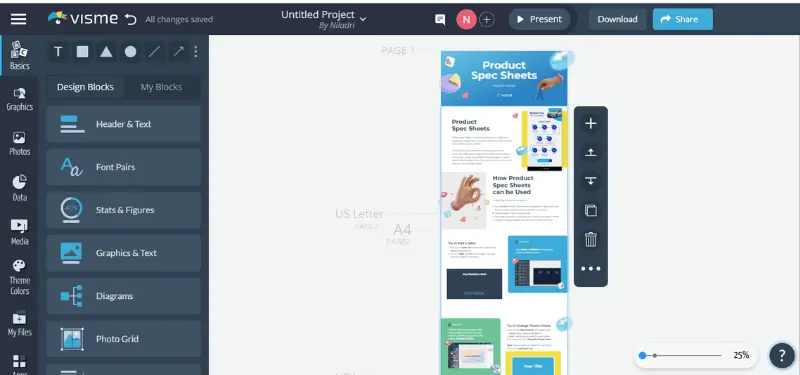 All of your content can be created, scheduled, and published from a single location:
All of your social media posts and creative activities can be planned, scheduled, and published using a single calendar.
Thousands of creative photographs and icons to help you stand out:
Pick from a large selection of high-quality pictures, icons, videos, and audio files. Unique and captivating 3D visuals will make your presentation professional.
Connectivity and animations can assist you in involving your visitors:
Use hotspots hover effects, and clickable options to build an interactive interface. Include animated features in your content to capture the interest of the audience.
Schedule social media posts:
Create your content and schedule them instantly, without the requirement for extra software. Content may be scheduled for LinkedIn, Twitter, Facebook, Instagram, Pinterest, etc.
Collaboration and brand consistency:
Connect your workforce together, regardless of their location. In real-time, you may talk about ideas, provide comments, and contribute.
There will be no email exchanges or Group messages for suggestions. Encourage your team to discuss, interact, and quickly progress from proposal to final design.
Save, organize, and explore your group's materials and designs with ease. Access all of your uploaded files in one location, whether you're working on a demonstration, analysis, or infographic.
Types of content you can produce:
Presentations:
Visme is the best software for presentations that is suitable for teams that need real-time collaboration. This is also important for people who want advanced features and flexibility for demonstration. Create eye-catching presentations in minutes, not hours.
Infographics (Visme Review):
Produce amazing infographics in seconds with the online free infographic builder. Select from lots of ready-made designs. With its simple drag-and-drop infographic designer, you can tell stories using statistics.
Social media graphics:
Social networking templates that are simple to customize. Stock pictures of high quality and other wonderful design components. Create compelling social media posts by uploading your own photographs and brand colors.
Visual documents:
Develop and share a wide range of visually appealing documents. The flexible online document tool will enable you to create presentations, reports, ebooks, surveys, and other sorts of documents more quickly.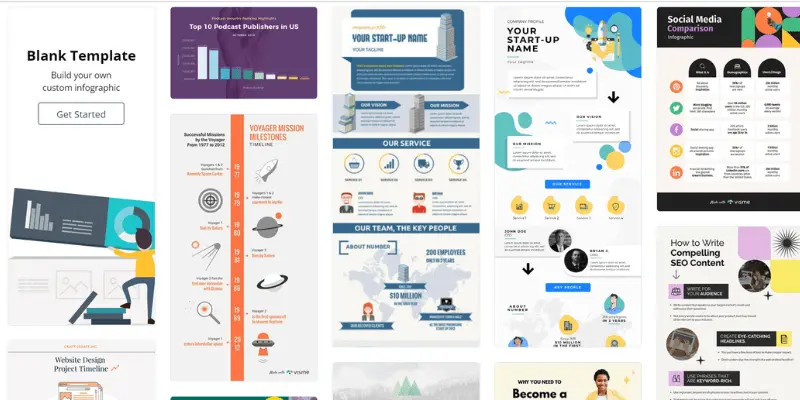 Printables:
Generate and download a variety of attractive Printables. The flexible web design program will let you create banners, flyers, brochures, timetables, cards, and some other printables more quickly.
Mockups:
This lets you create a range of various mockups just inside the platform.
Video contents:
Make high-quality videos without the help of a designer. Begin with a template, then change the images and text, add voice or audio files, and download. Make promotional videos, presentations, instructional, explainer videos, and other types of videos.
Chart and graph maker:
Visme's graph builder allows you to easily create over 30+ graphs and charts. Flexible templates, real-time data integrations, and visual graph features are all available.
Steps to create Social Media Graphics:
Select from a variety of nicely produced social graphic layouts.
Change the look of the social media layout by adding text, images, and symbols.
You may post your work online or download it with a single click.
Visme Review; Pros:
In 70% less time, create high-quality branded content.
Generate perfect content regardless of your creative level of ability.
Create and share interesting project schedules and summaries in minutes.
Create effective presentation slides and ideas.
Elegant and simple to use.
Completely drag-and-drop creation.
Around two million free photos are available.
Characters, pictures, and symbols are animated.
Cons:
Some file types are only available with costly subscriptions.
Storage space is limited.
Visme Review; Price:
There are 4 types of pricing plans for Visme: Basic, Starter, Pro, and Visme for Teams.
The Basic plan is free. Here you will get 100 MB of storage with limited templates & design assets.
The Starter plan costs $25 per month when billed monthly, and the costs are reduced to $15 per month when billed annually. Here you will get 250 MB of Storage with Full Access to Templates and Assets.
The Pro plan costs $49 per month when paid monthly and $29 per month when billed yearly. Here you will get 3 GB Storage with Full downloading options including PPTX, HTML5, Video, & GIF.
The Visme for Teams plan has custom pricing as per your requirements. For groups of any size, Get access to all Visme has to provide to take collaboration and control to new heights. Here you will get 10-25GB Storage/User, Custom Sub-domain, and Team Collaboration.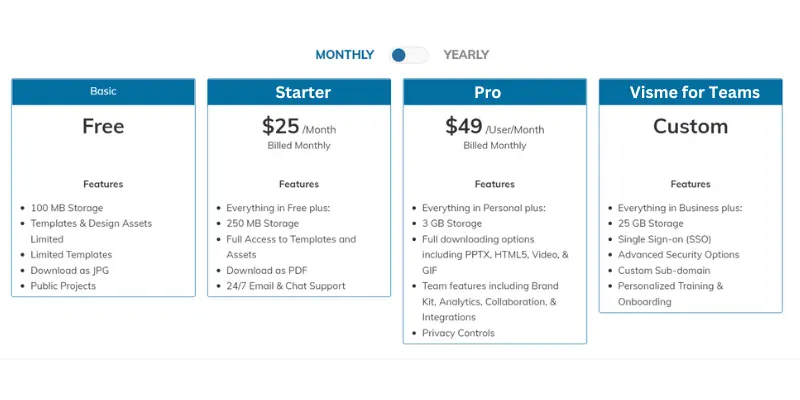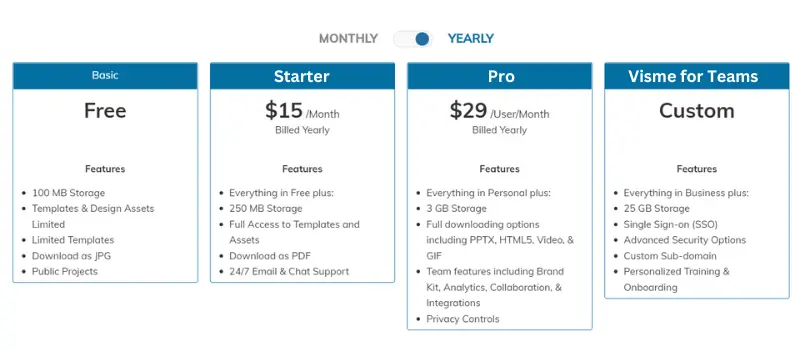 When you cancel your membership, what happens to your content?
After you end your membership, your membership will be changed to a free version with limited functionality. But, you will be able to view any earlier published work. Keep in mind that the Visme trademark will display on any item you upload online. You may always renew your membership to obtain access to upgraded features in the future.
The best alternative to Visma:
Visme's main alternative is Canva. Canva is a web-based software application with both free and premium subscription options. Canva's free subscription allows customers to use the majority of its functionality.
Unlock premium features require users to subscribe to a paid subscription. The premium plan is to use premium photos and access particular templates.
Visme Review; Conclusion:
Visme is the finest option if you want a simple and straightforward platform for creating spectacular visuals. Visme makes it simple to generate graphics for any channel, like social media, websites, and presentations. You can quickly personalize your graphics by including your logo, colors, and fonts.
That's all about Visme Review. This is one of the greatest visual design tools available today, thanks to its powerful capabilities and user-friendly creative layout. It combines innovative features such as dynamic infographics with user-friendly, drag-and-drop customization. Test it out with a basic account now and upgrade if required.
Related articles: