Introduction:
Copy AI and Jasper AI both are widely used AI copywriting tools on the internet marketplace. Which one is the best for your copywriting needs? In this Copy AI vs Jasper AI comparison article, we will give you a clear idea of which one is the best for you.
AI copywriting tools are gaining popularity as online marketers and bloggers understand their ability to enhance their copy. Both tools let you produce content with Ai and have several advantages.
Jasper AI offers a few extra features over Copy AI, but both of them work well when creating high-quality text. If you're looking to generate a blog article, an email copy, or even a sales page or a landing page, these two copywriting platforms may assist you in completing the task easily and effectively.
What Exactly Is Copy AI?
Copy AI is an artificial intelligence-powered copywriting tool that creates engaging copies for social media platforms, website texts, email copies, blog posts, and much more.
Copy AI evaluates your requirements and generates compelling content. You can create content in more than 20 languages, making it an excellent tool for marketing copies. Copy AI instantly produces content, and also assures the best quality.
What Exactly Is Jasper AI?
Jasper AI is a content generation platform that uses artificial intelligence to create better, larger content. Using Jasper AI, you can develop SEO-optimized content that will assist you to obtain many visitors and leads.
If you want to improve your content while simultaneously generating traffic and leads, Jasper AI is well worth considering.
Copy AI vs Jasper AI Features:
Copy AI Features:
Make digital copies of your ads.
Posts on social media.
Write Blog articles
It supports around 25 different languages.
More than 90 copywriting tools.
To generate content, you have an unlimited number of credits.
Projects are unlimited.
Priority support.
Templates for social media content
eCommerce copywriting
Ideas for blog posts
Write sales copies.
Email subject lines
Ad copies.
Templates for YouTube video descriptions.
Blog concepts
Captions for social networking.
Create product descriptions.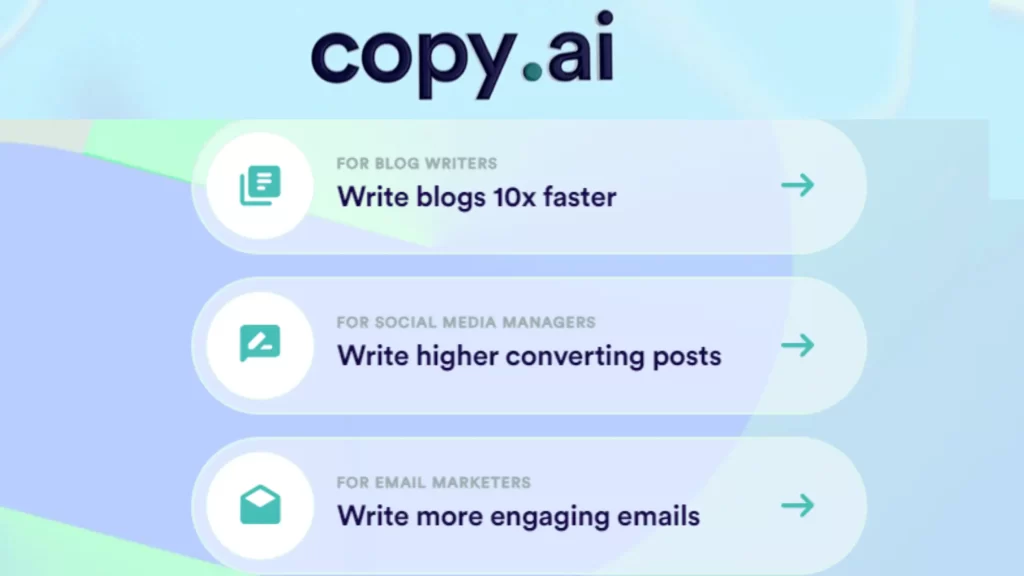 Jasper AI Features:
Create SEO-friendly content.
Grammarly is integrated.
Integrate Surfer SEO
Various sales copy templates are available.
Create blog posts.
Supports 25 different languages.
Write YouTube descriptions.
AIDA and PAS sales frameworks.
Write Product descriptions.
Google Ads templates
A 3,000-character review.
Pre-built workflows include a sequence of Jasper commands.
There are more than 50 copywriting templates available.
To make long-form content, use Jasper's Boss mode.
Projects are unlimited.
User logins are unlimited.
Modify and organize your document content.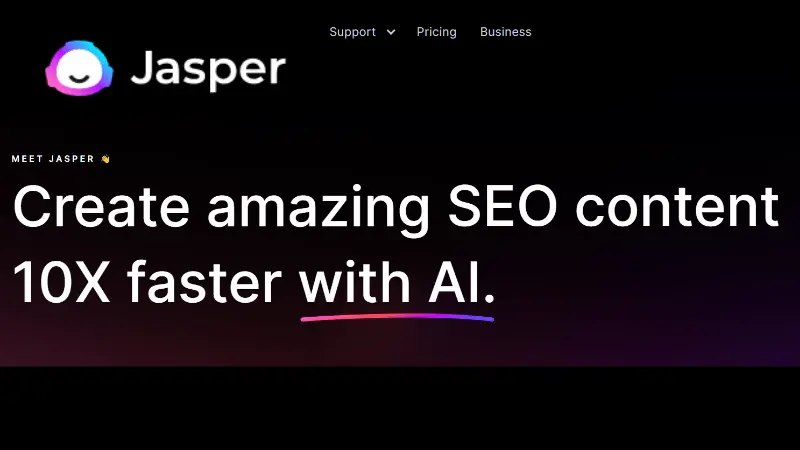 Copy AI vs Jasper AI; Pros & Cons:
Copy AI Pros:
Use artificial intelligence to produce content.
You can create high-converting copy for all of your campaigns with only a few clicks.
You may speed up article writing by using 90+ tools and templates.
It has a simple, easy-to-understand user interface.
It has an excellent text editor.
You may build a number of content categories by using templates.
Content may be changed to match different tones.
There is training provided in the help center.
Easy content sharing.
Copy AI Cons:
Sometimes strange content appears.
It requires little checking after the content is created.
Jasper AI Pros:
The greatest AI and GPT-3 content generator online.
Boss Mode allows you to create a big amount of content at a minimal expense.
Extra features, functions, and templates are added on a continuous basis.
Create unique content.
Integration of Surfer SEO for blog post optimization.
Make both small and long pieces of content.
It supports over 25 different languages.
Jasper AI Cons:
For newbies, it's a little pricey.
After the material is generated, it requires a human touch.
Copy AI vs Jasper AI; What is the main difference?
Copy AI concentrates on using social media, website copy, and email copies, whereas Jasper AI is a lengthy content-generating software.
Jasper AI offers additional features than Copy AI, yet both perform good work when it comes to creating quality writing.
Copy AI vs Jasper AI; Which one to choose?
Understanding your content requirements is essential before deciding on tools Copy AI vs Jasper AI. Will you intend to produce long content? Or do you require a copywriting tool to generate a brief piece of copy? Jasper.ai is the way to go if you intend to write excellent blog articles.
Copy.ai is a beautiful option if you need to write promotional text. If you are a blogger, affiliate marketer, or small and medium size company owner looking for a copywriting tool, Jasper is the best.
Copy AI vs Jasper AI; Pricing:
Copy AI Cost:
Copy.ai offers a free plan that allows you to create 2000 words each month. The Pro plan starts at $49 a month and allows you to produce 40k words a month. If you are invoiced annually, you will receive three months free.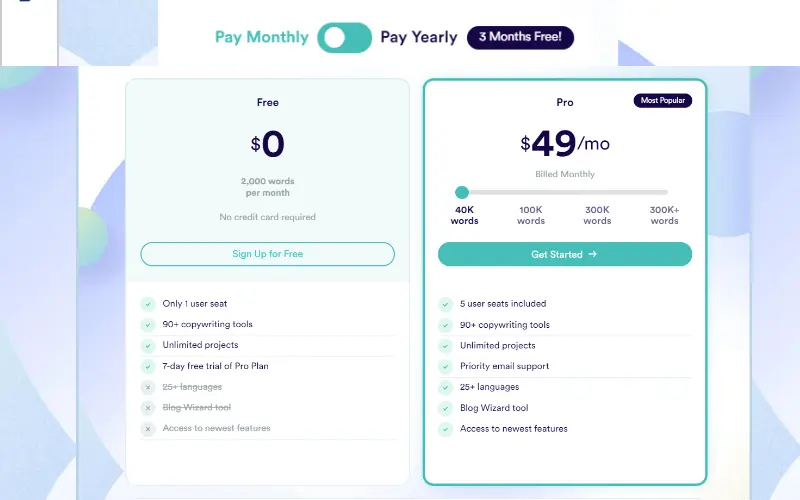 Jasper AI Cost:
Jasper AI has three price choices: Starter, Boss Mode, and Business Plan.
The Starter plan is intended for newbies who are just getting started. The pricing of this plan begins at $29 / month for writing content up to 20000 words.
Bloggers and content marketers should use the Boss Mode. Employ AI writing's maximum potential to produce long content. The pricing of this plan started at $59 / month for writing up to 50000 words.
The business plan is intended for use by organizations and businesses. This plan has a customized price structure.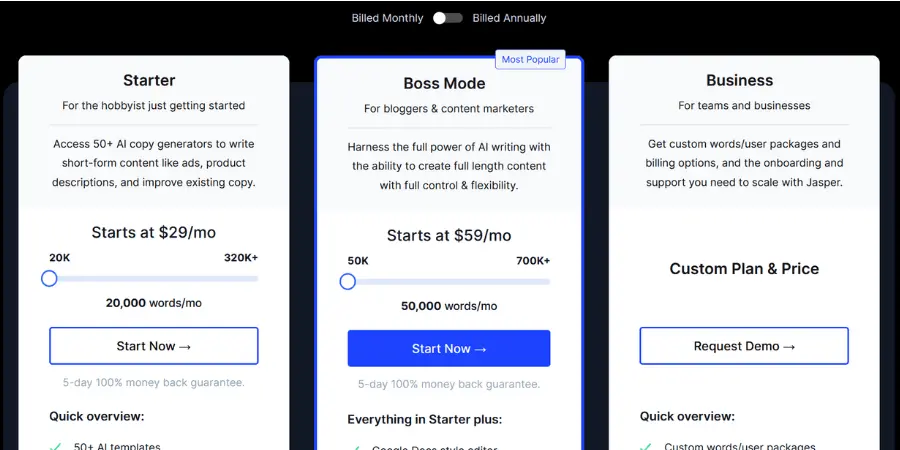 Copy AI vs Jasper AI; Which one is the best?
Being a blogger I personally like Jasper AI, because I always need to produce long-form content. So, my vote will go with Jasper AI. Other online marketers' opinions may be different. 
Because this works in combination with Surfer SEO, I now focus on specific keywords while the Jasper AI assists me in writing SEO-optimized articles. It has saved me a lot of time and allowed me to enhance my writing quality.
Copy AI is the best alternative if you need assistance with social media postings, idea generation, or ad copy. Finally, both the tools are very good as per your specific requirements. 
Related articles: