What is Rytr?
Rytr is an AI writing tool that assists you in creating high-quality text in a matter of seconds and for a small fee. In this Rytr AI Writing Tool Review, we will go through all of the tool's features and advantages to help you understand how efficient it is as a content writer. 
Rytr is a wonderful tool for producing product descriptions and getting started with blog content. I discovered Rytr as an alternative to buying PLR content that requires massive modification. This is a great value for money, simple to use, and saves me a lot of time.
Type of contents Rytr AI Writing Tool can produce:
Generate blog articles:
Rytr can create compelling blog titles and paragraphs. Using this AI writing tool, you can easily generate unique blog articles, and post subjects and content layouts. 
AI email writer:
In seconds, you can create captivating emails for promotion, business, engagement, and more.
Brand name:
Use AI to generate innovative, unique, and interesting names for your brand.
Business Idea Pitch:
Create a concise and interesting company pitch.
Business Concepts:
Discover innovative ideas and possibilities that are suited to your talents and interest.
A call to action:
Generate unique and high-converting CTAs for your advertisements, articles, landing pages, etc.
AIDA copywriting framework:
Write innovative and appealing AIDA-type articles for your goods, service, and business.
PAS copywriting framework:
It can help you generate compelling and innovative copy following the issue, Provoke, and Remedy copywriting methodology.
Cover Letter:
Create enticing and appealing cover letters for resumes.
Ads on Facebook, Twitter, and LinkedIn:
Create unique and creative advertising copy for Fb, Twitter, LinkedIn, as well as other social media platforms.
Google AdWords:
Create unique and creative ad copy for responsive Google advertisements.
Interview Questions:
Write thought-provoking and insightful questions for any job interview.
Detailed job description:
To engage the best people, write intriguing job descriptions.
Keywords Extractor:
In any text, recognize the most important key phrases, and queries.
Keywords Generator:
Using an AI writing helper, generate relevant keywords, key phrases, and queries.
Landing Page & Website Copies:
Make an innovative and convincing copy for your landing pages and websites.
Product Description:
Create captivating product descriptions for your e-commerce business or website to enhance user engagement and conversions.
Profile Bio.
Create unique and compelling biographies for your social network accounts, such as LinkedIn, Instagram, Twitter, and Facebook.
Question & Answer:
Create questions and answers for Quora, your company's knowledge base, etc. Use Rytr's AI Q&A generator.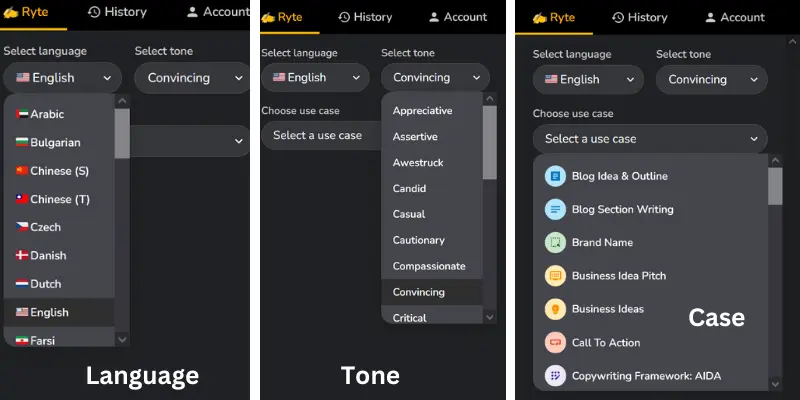 Create many other types of content you can think of:
Magic Command.
Post & Caption Ideas.
Respond to Reviews and Messages
The meta description for SEO.
Meta Title for SEO.
Lyrics to a song
The plot of the Story
Headline and tagline
Review and testimonial
Shorten Content
Video Channel Description
Video Description
And more
Rytr AI Writing Tool; Features and benefits:
Using cutting-edge language AI to produce unique, quality content for almost any niche.
There are more than 40 use cases and styles to pick from to meet all of your writing demands.
Pick from over 30 languages to compose in your own tongue or in another language for your customers.
Create everything with the proper sentiment using 20+ tones of voice.
Includes scientific copywriting algorithms like as AIDA and PAS to produce high-quality content that needs little to no modification.
Create reader-friendly articles with sufficient information as needed, and also improve the grammar.
If you don't like that messy, boring statement, you may rework or simplify it to make it more appealing and simple.
Never ever be bothered about content uniqueness. Look for portions of your writing that are similar to any available content with the in-built plagiarism check.
There are several editing options for making the text richer and more appealing.
All of your projects will be stored and organized in one location, with a basic directory structure.
To access earlier work, simply browse and explore results in history.
Establish a team account to organize users, access, and billing all in one location.
Work in Docx or HTML format can be downloaded.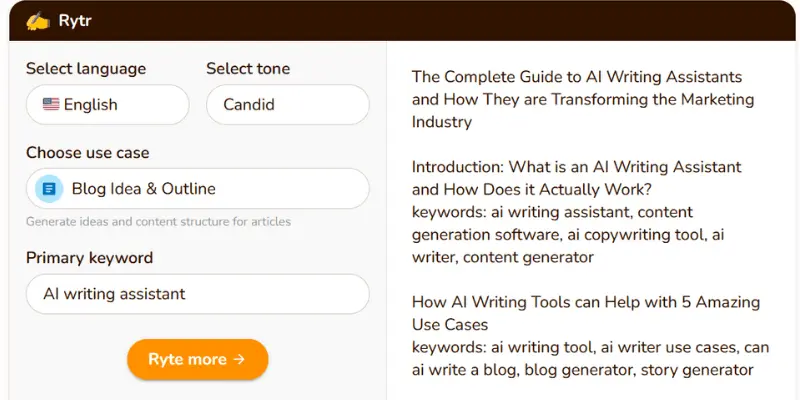 Pros:
Utilize an SEO analyzer to choose the right keywords and create a structured content summary.
To stay ahead of the competition, get quick assistance, and stay responsive.
With a 99% overall satisfaction rating, they have the best customer service in the market.
Interact with other Rytrs who share their interests and learn more.
WordPress, Shopify, and other popular software plugins are available.
Integrate the Rytr API into your existing apps.
Very simple to use.
A trial version is also available.
Excellent value for money.
Produces a variety of content.
You have control over the tone of your voice.
Cons:
Information is not always correct.
Need little editing to make the content quality better.
Steps to generate content…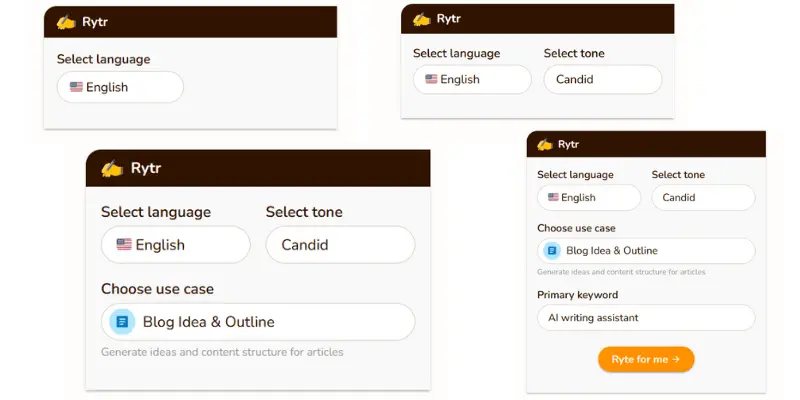 There are simple four steps that involve generating your unique blog content.
Choose a language: The first step is to select an output language. Select one from the dropdown menu of 30+ language options.
Choose a tone: The following step is to select a voice tone for the text content type. Choose any one from 20+ tones to go from modest to powerful.
Select your use case: Simply start the app and select Blog Topic & Layout again from the dropdown menu. They offer over 40 different use cases and content categories in over 30 different languages.
Provide the input: Lastly, enter some ideas, phrases, or headlines and press Ryte to generate the content.
Watch the official demo video below:
Rytr is best suitable for…
Bloggers
Copywriters
YouTubers
Entrepreneurs
Businessmen
Sales Professionals
HR Professionals
Social Media Managers
Creative Writers
Rytr AI Writing Tool; Pricing:
There is an excellent free plan for Rytr. On the free plan, you can generate up to 10k characters every month.
The Saver plan costs $9/month and $90/year. So, When you choose the yearly plan, you will receive two months free. This plan allows you to generate 100k characters every month.
The unlimited plan is $29 per month or $290 per year. As a result, if you select the yearly plan, you will receive two months free. This package allows you to create an unlimited number of characters each month.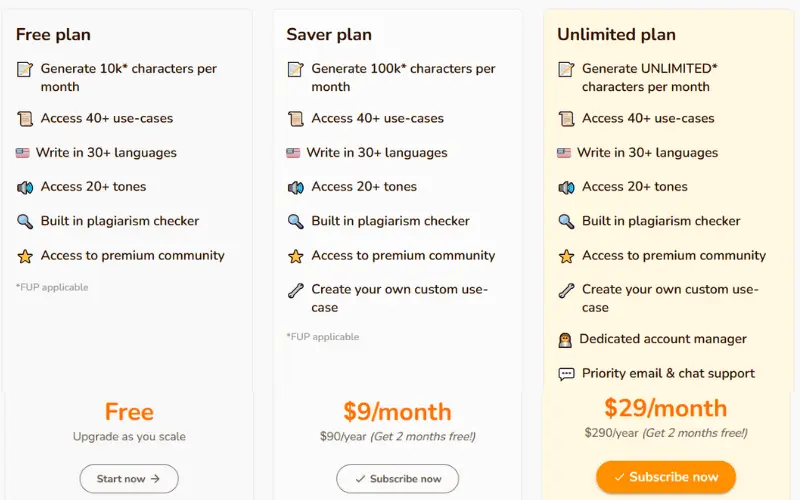 Rytr AI Writing Tool; Conclusion:
Rytr, in my experience, is a strong and simple platform for fast-creating unique content. You should absolutely try this. But keep in mind that AI technology will not work in all subjects. So, first, check it on your blog. That's all about Rytr AI Writing Tool. You may start with Rytr's free edition, which gives you 10k characters every month. Upgrade it, if you found suitable for your niche.
Related articles: