What is Nightwatch?
Nightwatch is a fantastic cloud-based rank tracker that gives precise, up-to-date statistics on your website's SEO activity. The program provides backlink analysis and website audits in addition to keyword analysis. This tool gives helpful statistics that can help you improve the success of your SEO efforts. In this Nightwatch SEO Review, we will discuss how effective this software is to keep track of your website's SEO activity. 
Nightwatch is the most precise rank tracker available. Some rank trackers simply utilize the randomly selected Google Data Center. Nightwatch allows you to connect to any Google Data Center on the globe.
Monitoring your local rankings is essential for growing business for visibility and sales. Nightwatch has more than 50,000 areas under monitoring than any other company. You may now track your important keyphrases in 107,296 different locations across the world. It collects accurate data from a wide range of devices and continuously improves.
Why Nightwatch is different?
Nightwatch provides outstanding functionality, an extremely cheap price, a superb API, and the market's highest rank tracking precession. The user interface is quite simple, and the excellent use of some little charts, and infographics makes it simple to track the success of the SEO effort.
You may view a side-by-side assessment of ranks in the Local Packs and standard Organic Rankings. The ability to generate highly customized frequent reports is one of Nightwatch's most helpful features. Nightwatch allows you to customize the report and deliver it differently to each unique consumer. Nightwatch now allows you to provide daily reports to your clients and update them on each and every step of the way.
Nightwatch SEO Review; Features and benefits:
Rank Tracker:
Featuring reliable rank tracking data over 107,296 locations globally, you can stay competitive and successful, and construct customized segmentation that identifies decaying data.
Custom segments can be used to unlock potential growth.
Generate segmentation easily to find decaying content, and keyphrases inside a striking range, and track your success over transaction-oriented keywords, sets of pages, and much more. Nightwatch enables you to observe how different portions of your searches perform in search engines.
Local tracking is accurate:
The majority of local rank tracking is inaccurate. In measuring both local and worldwide ranks, Nightwatch employs the most accurate method.
The method allows you to connect to any search engine data center from any place and at any moment, ensuring very precise tracking with little data inconsistencies. When customers search for your company locally or worldwide, your website will appear in organic and map results.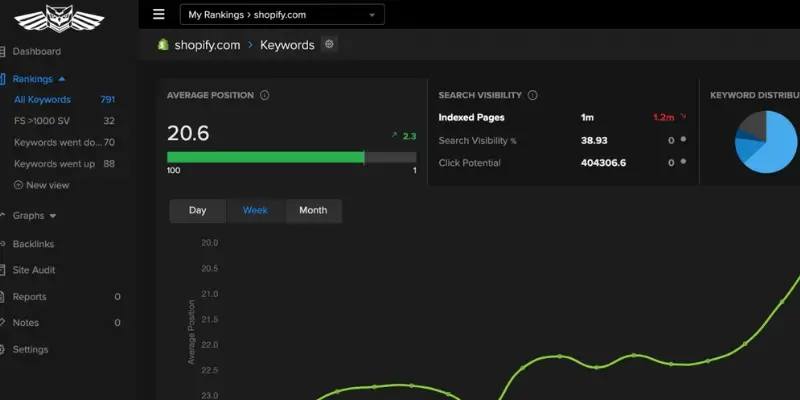 Track your SERP features exactly:
Discover all of the possibilities for increasing your site's search exposure by utilizing SERP elements. Nightwatch will perform the job for you and display SERP rankings globally.
Precise and useful reporting available:
Systematic reporting provides the knowledge you really have to make critical business decisions. Take data from Search Console, implement modifications, boost visibility, and increase conversions.
Track rankings across many search engines:
Track ranks on all main search engines regularly. Track ranks for every place to gain a thorough view of your position on SERPs.
Reports generated automatically:
In minutes, you can create attractive, easy-to-understand reports with its drag-and-drop tool. This is ideal for agencies.
Use Site Auditor to improve rankings:
Examine your website's codes to find broken pages, lost tags, links, and other issues. Configure automatic crawling to monitor new and repeated problems every time. And then forward the data to the development team.
Find Rank-Boosting Keywords:
Use Nightwatch's Keyword Discovery function to increase your visibility on search engines. Submit a URL to find new keywords, then categorize by part and plan your campaign's expansion.
Include the most vital info:
Nightwatch allows you to incorporate your segmentation, configurable charts, and summaries of your ranks, backlinks, or site audit data. Allowing you to easily create reports that showcase your customers' most necessary information.
Sort your audit results by URL:
Take priority of your improvements quickly by separating your top essential URLs. Knowing the impact of each URL on your total SEO efforts is crucial for your SEO optimization.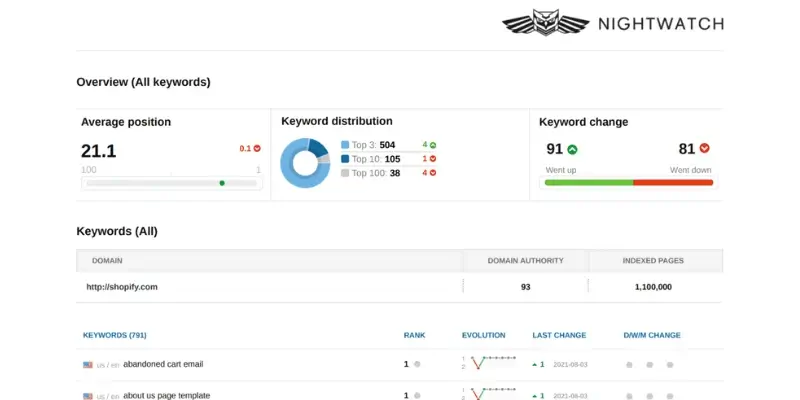 Pros:
Excellent Rank Tracking.
Outstanding User Interface.
Client reporting that is simple to understand.
There's a 14-day free trial available.
Cons:
They do not provide access to the backlink tools during the free trial period.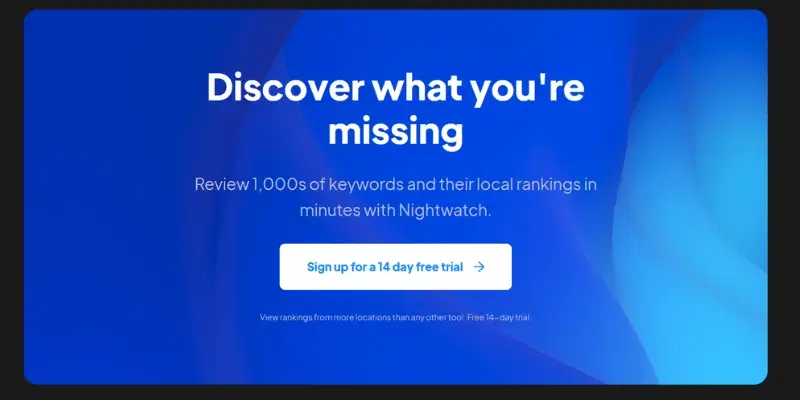 Nightwatch SEO Review; Pricing:
There is a 14-day free trial for all its plans Starter, Optimize, and Agency.
The starter plan is designed for freelancers, small businesses, and marketers on a limited budget. On a monthly basis, the fee is $39 each month. The cost is reduced to $32 /month when billed annually.
The Optimize plan is for growing SMBs and marketing agencies. On a monthly basis, the fee is $99 each month. The cost is reduced to $79 /month when billed annually. 
The Agency plan is for For larger agencies and enterprise businesses. On a monthly basis, the fee is $369 each month. The cost is reduced to $295 /month when billed annually.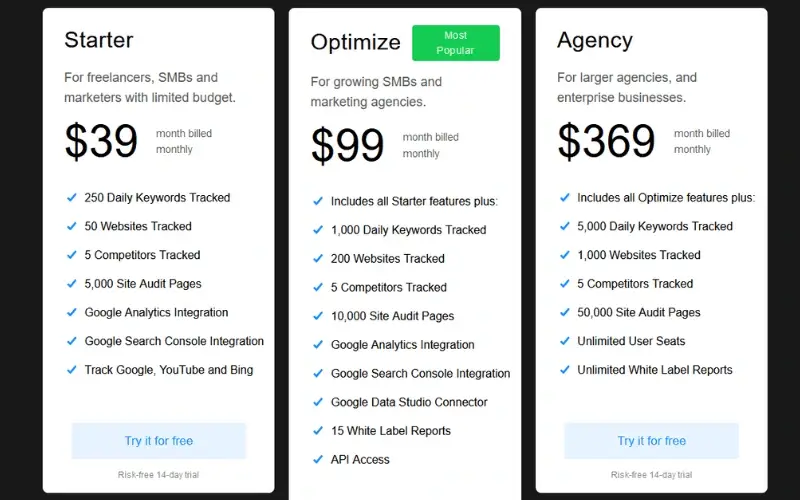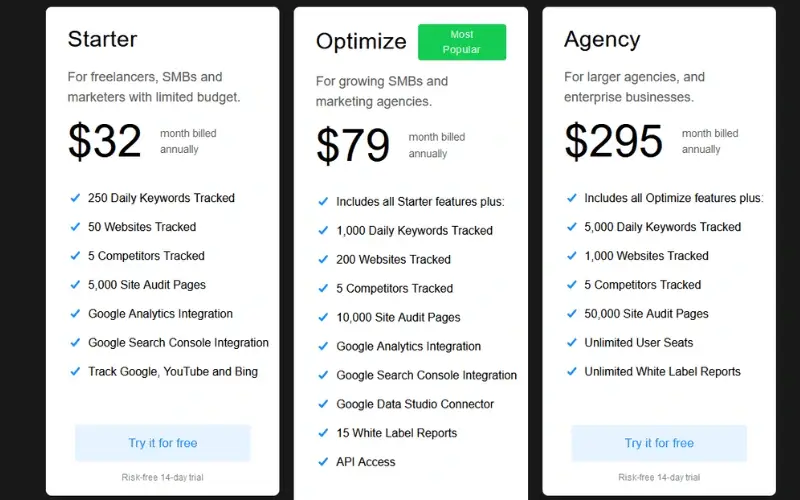 Nightwatch SEO Review; Conclusion:
Customer service is excellent and prompt. Experience the software's rich design as well as great features such as Stats and Search Console for further collecting information. The reporting function is strong and simple to use, allowing you to provide stunning presentations to customers.
Nightwatch is excellent and fulfills its claims. Its metrics and aggregated keyword ranks are fantastic. The ability to choose between Dark and Bright modes makes it easy to work.
That's all about Nightwatch SEO Review. What I appreciate best about Nightwatch is the visual display of rankings, particularly the general average position and progression for targeted keywords. It is a simple, yet effective tool.
Related articles: