What is Voluum?
A cloud-based ad tracker that integrates with several advertising platforms and connects all elements of your ad campaigns. In this Voluum Review, we will go over every facet of this product to show you how beneficial it is for your advertising efforts. So, before you buy this, read this review article all the way through.
Voluum is not simply a sales tracking tool. It collects precise information from your website visits and sales. It supports you in finding the most effective traffic, advertisement, landing page, and product combinations.
Voluum provides all such data that is left by Google Analytics. You could simply track all of your campaigns, including AdWords impressions, views, sales, expenditures, and revenues.
What exactly does Voluum do?
Keep track of all things in a single location:
It allows you to track everything, including Native ads, PPC ads, push ads, social campaigns, and video ads. The reporting will help you to monitor about 30 factors for each viewer, click, and sale for every sort of visitor, from sponsored to organic.
Optimize campaigns:
Help you develop a compact campaign flow that performs well by directing visitors to the best offers and landing pages. Anti-Fraud Kit makes it simple to avoid fraud and bot activity in your marketing processes.
To automate tasks, use rules, and reminders:
All of your digital marketing campaigns may be managed straight from the Voluum ad tracker. Using the Automizer tool, you may pass sales, stop and resume campaigns, change bidding prices, set up auto-rules and reminders, and much more while remaining within the Voluum platform.
Anti-Fraud Toolkit protects bot activities:
Identify suspicious clicks and accesses instantly and simply identify sources of harmful traffic. Bot traffic can skew your information, harm your affiliate network credibility, and result in a loss of money.
Voluum will assist you in preventing this by automatically detecting unusual traffic in your statistics, allowing you to ban bot activity or even receive a refund from the visitor.
Automate everything:
Connect all of your traffic with Voluum and manage all of your campaigns from a single platform. Monitoring and optimizing for affiliate marketing is a full-time job. However, you don't have to accomplish everything on your own. Voluum automation capabilities allow you to maximize your returns even while you are offline.
AI for Traffic Distribution:
Increase your performance by dynamically directing additional visitors to the best-performing offers and landing pages.
Per minute, Traffic Distribution AI reviews your information from the previous 24 hours and changes the weights of every campaign configuration based on its success. This functionality will save you a significant amount of time.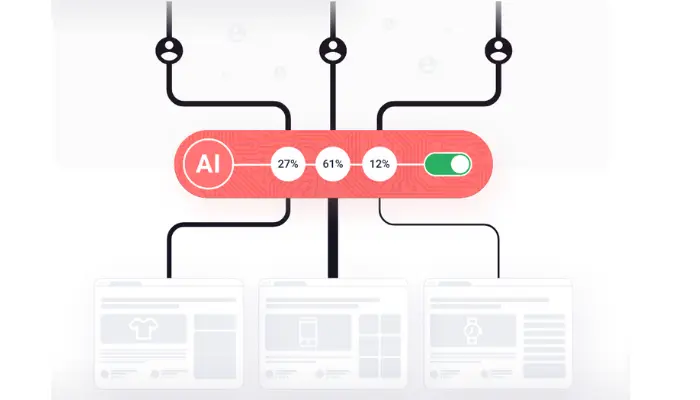 Voluum Review; Features:
Affiliate marketing dashboard:
You can easily track ad campaign data including visits, clicks, expenses, and revenues. Only with a single interface, you can control the whole of your affiliate conversion tracking.
Custom conversion tracking:
Without the requirement for custom affiliate tools, track various forms of sales across your visitor's path.
Tracking of impressions:
Ad impressions can be tracked every time your ad appears on a webpage.
Tracking organic traffic:
Monitor visitors that come from some of the other websites or google searches.
Webhook redirection:
Every time a visit happens, your server will receive a message and will be capable of responding with a new landing page with a new offer.
Mobile app:
Keep track of the efficacy of your campaigns even while you're not at your pc. iOS and Android versions are available.
Redirect tracking:
Track via the HTTP redirection technique without using third-party cookies. For even more complicated tracking solutions, tracking scripts are given.
Direct tracking:
Without a redirect, you can track sponsored and organic traffic. Excellent for GEOs with slower connectivity. Compatible with Facebook's ad-tracking standards.
Landing page security:
Individuals or programs that did not arrive via a campaign URL should be denied access to your landing page. Stop your competitor from stealing and utilizing your landing page.
Templates for traffic sources and affiliate networks:
Voluum can easily integrate 50+ different affiliates. Create new ads quickly and easily without the requirement for manual configuration.
Manual cost update:
If the traffic source does not provide the fee directly, you must individually alter your campaign expenses in Voluum.
Support for multiple currencies:
Evaluate traffic source expenses and affiliate network earnings in real-time, whether they are in multiple currencies.
Upload through manual conversion:
If the affiliate network does not give a valid postback to Voluum, manually input sales.
Traffic log:
Download full information about each and every visit. Detect any data discrepancies among your visitor and Voluum with ease.
Lander scanning system:
Quickly identify any issues with your landing page configuration.
Reporting in real-time:
Real-time visibility into your campaign statistics.
Drill-down and data grouping:
Browse through multiple layers of your data with ease and gain significant information.
The error log:
Identify improper campaign funnel configurations and difficulties associated with external networks quickly.
Split testing or A/B testing:
Discover which deals and landing pages work the best.
Markers in reports:
Use visual icons to identify and identify parameters in your reports.
Proxy reports:
Examine whether your traffic conceals its source using different proxy solutions. Maintain compliance with affiliate network rules.
Trend analysis program:
Using Voluum affiliate statistics, you can observe how your results fluctuate from day to day. Keep track of the effects of your campaign optimization.
Workspaces:
Coordinate your team. Build compact working groups and assign different degrees of access to your partners.
Multi-User:
Allow your collaborators to join you on your Voluum account. You can limit their access to certain workgroups.
Shared Reports:
Generate reports that will automatically update for your collaborators or customers.
API accessibility:
Using the REST-style API with JSON, you may integrate Voluum with various systems.
Bot prevention (IP/UA):
Remove any identified bots from the reports. Create Customize filter rules depending on IP addresses or IP ranges, as well as user agent data.
Notifications:
Receive automatic notifications on your mobile or PC for your conversion, achieving a conversion threshold, payment progress, etc.
Cost integration:
Voluum updates the prices of your traffic.
Automation rules:
Establish if and then rules to allow Voluum to automatically optimize your campaign configuration.
Bid changing:
Adjust the bid amounts for your traffic sources directly from the advertising tracker.
Campaign pausing:
Voluum allows you to pause and restart whole campaigns or individual components.
Blacklists & whitelists:
Make blacklists and whitelists of creatives, websites, widgets, areas, etc.
Custom alerts:
Whenever anything updates in your campaigns, you'll be notified right away.
Voluum Review; Pros:
It is quite simple to use.
Voluum might come with its own detailed suite.
Pixel for Direct Tracking
It's been efficiently constructed and updated.
Domain Tracking Using SSL
A/B testing to optimize campaign
Marketers may expect live updates with Voluum.
Cons:
Customer service might be better.
The cost is a bit pricey.
Voluum Review; Pricing:
There are three types of pricing plans for Individuals: Discover, Profit, and Scale.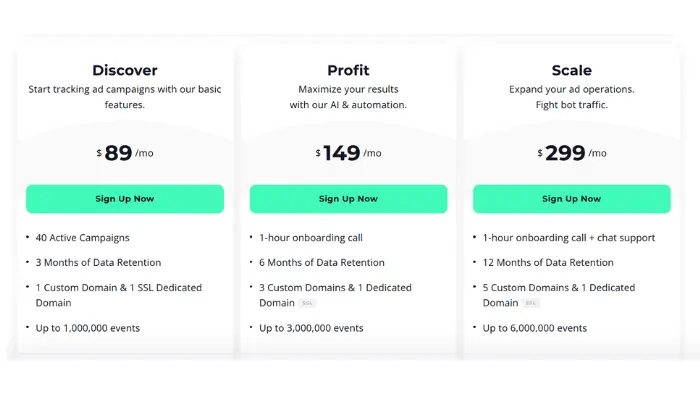 The Discover plan is for starting to track ad campaigns using the basic tools. This costs $89/mo on a month-on-month basis. The price is reduced to $69/mo when billed annually.
The Profit Plan is to maximize your results with AI & automation. This costs $149/mo on a month-on-month basis. The price is reduced to $119/mo when billed annually.
The Scale Plan is to Expand your ad campaigns and fight bot traffic. This costs $299/mo on a month-on-month basis. The price is reduced to $239/mo when billed annually.
There are also three types of pricing plans for businesses: Startup, Agency, and Enterprise.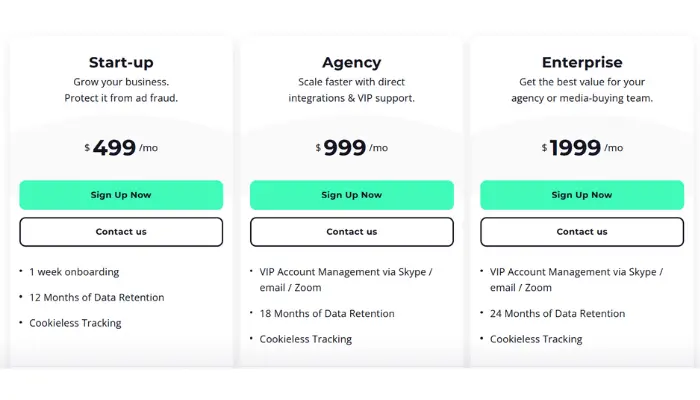 The Startup Plan is to Grow your business and fraud protection. This costs $499/mo on a month-on-month basis. The price is reduced to $399/mo when billed annually.
The Agency Plan is to scale more quickly with direct integrations and VIP support. This plan costs $999/mo on a month-on-month basis. The price is reduced to $799/mo when billed annually.
The Enterprise Plan is to get the greatest deal for your advertising agency or media buying team. This plan costs $1999/mo on a month-on-month basis. The price is reduced to $1599/mo when billed annually.
Voluum Review; Conclusion:
That's all about Voluum Review. Voluum can help marketers, however, it looks to be mostly focused on performance marketing campaigns. You can analyze your results from a single location if you advertise your website through numerous channel campaigns. Regardless of the advertising solution you use, you will get the same powerful insights about your visitors.
Related articles: