Introduction:
Improvely is a well-known tracking tool and fraud detection software. The tool assists you in detecting fraud and monitoring any activity linked to your internet marketing operations and advertising strategies. In this Improvely Review, we will deep dive into all major features and benefits of this 
The application works with all major advertising platforms like Facebook Ads, Google Ads, Twitter Ads, Bing Ads, and more. The platform is appropriate for a wide range of users, from individuals and businesses to huge corporations. It enables them to optimize your campaigns, regulate business budgets, generate engaging landing pages, and combat fraud.
>> Start Improvely Free Trial Now!
What you can do with Improvely?
Designed to improve your marketing:
Improvely tracks the origin of each registration and sale, whether it came from a marketing campaign or another network.
Integrated click fraud detection:
Each click is analyzed by the monitoring systems for signals of unusual activity. Instantly detect suspected click fraud and take steps to safeguard your advertising revenue.
Find out your most valuable customers:
Improvely displays actual people utilizing your site by creating a data set for every user. Learn about your most important consumers so you can attract even more people.
Collaborate with the team and your customers:
Improvely features team logins, customer reporting, export options, and anything else your company requires to work single, as a group, or even with your customers.
Improvely Review; Features:
Conversion tracking:
Improvely

tells you exactly where your sales and income are coming from so you can optimize your campaigns.

There is no need to establish funnels before gathering data.

You may track an unlimited number of custom conversion objectives.

Filter traffic by seeing who buys.

Save numerous funnel reports to view at any time.

Discover your best customers.

Track recurring visits.

There are built-in A/B Split Testing tools.

Click fraud detection for all of your ad traffic.

Dashboards provide quick access to your essential KPIs.

All reports update in real-time.

Reports and raw data may be exported to Excel CSV.

Reports from Google, Bing, and other sources can be imported.

E-mail notifications of new conversions are sent immediately.

IP exclusions and automatic duplication detection.

See IP addresses, device details, referrers, and other information.

API for custom tracking.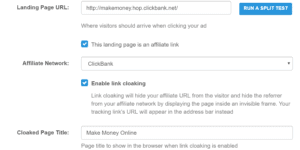 Fraud click monitoring:
Clicks from fraudsters and rivals cost you a lot while generating no sales, signups, or income. Its cutting-edge tracking system analyses the accuracy of every ad click 24×7.

Improvely

can identify and inform you of unusual activities, such as numerous non-converting clicks from particular zones or a rival continually clicking your ads.

When click fraud is found, Improvely will provide analysis with all the information you have to notify the website or search engine where your ad is. Each unusual click tracked in a fraud report includes the IP addresses, geolocation, referring URLs, etc.
Affiliate marketing:
Improvely

can identify which of your campaigns, adverts, landing pages, and keywords are producing commissions for you.

Protect your ads from affiliate managers and competitors' theft and spying.

By utilizing Improvely's link cloaking feature, you may cloak the route of your links from the visitors to the site.

Improvely is compatible with any affiliate program that uses tracking pixels. That includes most of the affiliate networks and the individual affiliate programs.
>> Start Improvely Free Trial Now!
Improvely Review; Benefits:
Prevent click fraud:
Its authentic tracking can detect and prevent unusual click traffic on your advertisements, even if it spans numerous ads, allowing you to stop charging for false clicks.
Reduced Customer Acquisition Expenses:
Determine the top and poor running traffic sources and categories for your website instantly. Improvely will tell you where and how to target your advertising to maximize results while eliminating ineffective ads, keywords, and landing pages.
Test new landing pages:
Split testing allows you to add or delete landing pages from numerous ad placements without having to wait for a third-party approval. They will immediately begin delivering ad clicks to the new variations and tell you whichever performs the best.
Discover who is visiting your website:
Improvely creates a profile for each visitor to your site, displaying the activities that led to each conversion.
Always remain updated:
Respond instantly to fresh inbound links, search queries, and advertising campaign updates. Improvely's reports and metrics are updated in real-time as visitors arrive and engage with your website.
Everything is in one location:
There's no need to sign in to different websites to track your marketing, organic search, SEO, and social media. Improvely gathers insights from all of the traffic sources in one location.
There is nothing to install:
Because Improvely is completely cloud-based, no software to install. Improvely may be accessed using a web browser on any device.
Always trying to improve:
Improvely is continually being upgraded, providing you with updated information, reports, and tools to help you improve your marketing performance.
Improvely Review; Price:
There are 4 types of pricing plans for Improvely: Freelancer, Startup, Small Agency, and Large Agency. All plans include a 14-day free trial and you can cancel whenever you want.
The Freelancer plan costs $29/mo. 1 team member can use the tool and 10,000 visits can be tracked per month.                            
The Startup plan costs $79/mo. 3 team members can use the tool and 50,000 visits can be tracked per month. 
The Small Agency plan costs $149/mo. Unlimited team members can use the tool and 100,000 visits can be tracked per month. 
The Large Agency plan costs $299+/mo. Unlimited team members can use the tool and 250,000 visits can be tracked per month.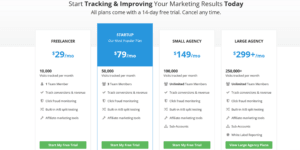 Pros:
The dashboard is informative, and the product itself is simple to use. It does not require any technical skills to operate.

You may make the business strategic decisions basis on facts, not assumptions. You will be aware of which marketing efforts are producing results and which are not.

It allows you to save money. You can generate a report to assess click fraud data and can prevent it.

A 14-days free trial is available.
Cons:
In the freelancer plan, a link tracking number is limited.
Alternatives of Improvely:
There are various alternatives available in the internet marketplace. But, here I want to mention only two: ClickMagick and ClickMeter.
ClickMagick is a cloud-based tool for tracking and improving advertising campaigns. You may build tracking links using ClickMagic, and this fantastic tool will notify you who viewed your landing pages and who leads to sales. Read this article to know more >> ClickMagick Review.
ClickMeter can be used by advertising companies and individuals to build and manage effective online campaigns. It helps you identify and optimize the most effective and profitable ad. Want to know more about ClickMeter? Read this article >> Clickmeter Review.
Improvely Review; Conclusion:
To summarise the Improvely review, the application is simple to use and has the ability to track your links and improve your marketing results. 
Its intelligent functions and affordable pricing plans are worth considering since they have the potential to save you a lot of money by protecting your ad campaigns against competitors and fraudulent activities.
>> Start Improvely Free Trial Now!
Few related articles you may like to read: