Introduction:
You must choose and promote the greatest products to be a successful affiliate marketer. The majority of new affiliate marketers do not profit from their efforts. One of the most common causes of affiliate marketing failure is the mistake to choose the right product to promote. So, how to choose affiliate products to promote? In this article, we will discuss 10 aspects to pick the right affiliate products to promote.
Success in affiliate marketing is not as tough as you would think. To promote affiliate products, you must be dedicated, consistent, and have the right affiliate products and marketing channels to promote.
The best aspect of affiliate marketing is that you don't need a large following to make money on autopilot. When you have a website or a modest social media presence, you may start looking for the right affiliate programs to join.
When you begin selecting affiliate products, you will notice that they come in a variety of categories and payouts. It's a good idea to go with a higher-paying product. Here we list some of the basic criteria to pick the right affiliate program.
How to choose affiliate products to promote?
1. Choose a product with a high attachment rate:
The attachment rate must be considered while choosing an affiliate product to promote. Generally, people continue to utilize the product or service for a long time. 
We can take an example of an email marketing product like GetResponse. If someone opts for this service, that person will build an email list, landing pages, and the whole sales funnel inside the software. So, it is very difficult to migrate to some other email marketing tool. Because there are a lot of things to do while migrating. So, we can say that there is a high attachment rate for this tool.  The same is true with hosting services, you're unlikely to switch unless there's a big performance difference. 
2. Choose a product with a recurring commission:
If we take an example of the same email marketing service GetResponse, it has an affiliate program. They provide a 33% recurring commission for every purchase. So, GetResponse is a great affiliate product to promote, as there is a high attachment rate and a recurring affiliate commission. Choosing a recurring program is an instant answer to the question of "how to choose affiliate products to promote?"
Among hosting service providers Cloudeways has a recurring affiliate program and a high attachment rate. You will find a very limited number of affiliate programs with a recurring commission. Follow this article for more recurring affiliate programs >> Top 10 high paying recurring affiliate programs in 2022.
3. Promote high commission affiliate programs:
Most of the new affiliates ignore high-priced products under the misconception that they are more difficult to sell. If you trust in your selected product and know it resolves a problem that many people are facing, then go for the higher-cost products.
Many affiliate marketers sell both low-cost and high-cost products in order to attract a wide range of consumers. Promoting a diverse range of products and pricing can provide your business with more alternatives.
4. Promote affiliate products with upsells: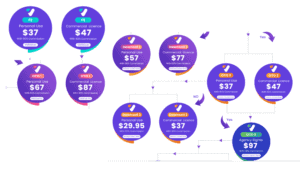 Upsells are another method for increasing commission. Following the purchase of the front-end product, the customer is provided access to a number of extra packages. This is known as upselling. If the buyer takes advantage of these offers, the affiliate's commission will rise.
5. Quality products with a good market reputation:
The product must be of excellent quality. When there is a high return rate, it is a sign that the product is of low quality. Making your customers happy is the most effective way to establish long-term affiliate success, and good products play an important role in this. 
Over time, you will establish a good reputation. So, promote good vendor products that have a strong market reputation. Also, don't ignore new product creators if they provide high-quality products with a good commission rate.
6. Promote products with good customer support:
Promote products that offer excellent customer support. Issues may come, and your customers need assistance then. So, check the support options like a dedicated account manager to live chat, email support, phone support, etc. are available or not.
7. Need enough affiliate assets to promote:
Always check to see if an affiliate marketing network offers creatives to promote before joining. Affiliate assets, such as advertising banners or graphics for use on your website.
For example, when You chose "Thrive Theme" to promote, you will be able to generate money by adding pre-made content to your website. They provided you code to copy and paste in order for their offers to be displayed.
8. Promote a product that fits your niche:
Always choose a product that is closely related to your niche. For example, my website is on digital marketing. So, I promote affiliate products like email marketing software, hosting service providers, website themes, and related products.
9. Promote two-tier affiliate programs:
Promoting two tire affiliate programs is a very good way to earn passive income. In two-tier affiliate programs, you can invite other affiliates to join the affiliate program through your link. 
Whenever they promote and earn a commission, you will also get a small percentage of money. Let them work and you can earn money passively. There are various two-tier affiliate programs like Fiverr, Groovefunnels, Paxful, ShareASale, PureVPN, and many more.
10. Consider earning per click (EPC):
Earnings per click (EPC) is a major indicator for affiliate marketers. It can assist you in determining if a product is profitable to promote or not. EPC is calculated by dividing your earnings by the number of affiliate link clicks.
Conclusion:
As an affiliate, you must always be knowledgeable of current market trends. Many of the products and services you choose may be a short period market presence and will rapidly become obsolete. 
If you want to simplify things and pick the right affiliate programs, use tools like Google Trends and select popular and best-selling products with a strong market presence. I hope this article will help you answer the question "How to choose affiliate products to promote?". Thank you for taking the time to read this article.
Few related articles you may like to read: