There are various ways to earn money through a blog, one of the most robust and effective ways is affiliate marketing. In affiliate marketing, you need to select a product that is relevant to your niche and start promoting the product through your blog. In this article, we will discuss how to promote affiliate products through your blog.
When someone purchases a product after clicking on your affiliate link, you will earn a certain percentage of commission. I want to mention here, that the blog is one of the best methods to promote affiliate products. 
You must include affiliate products inside your blog to provide more value to your readers, even if you are not an affiliate marketer. But is not a good idea to monetize your blog through ads only. You must join affiliate products and networks and share your affiliate links inside your blog.
In today's article, I will discuss 10 killer ways to promote affiliate products through your blog. I will also mention some common mistakes that affiliate marketers make. So, you can avoid those mistakes and skyrocket your affiliate marketing journey utilizing your blog.
How to promote affiliate products through your blog?
1. Write a killer review of the affiliate product:
An excellent product review can engage your audience and of course, it leads to sales. Writing a killer review is one of the best ways to promote affiliate products through your blog.
A review post explains the product in front of your blog visitors while also expressing your viewpoint on why people should buy the product.
While writing a review article to promote affiliate products through your blog, there are a few things to keep in mind:
While writing reviews people just discuss the positive aspects of a product and forget to mention the cons. You must discuss both positive and negative aspects.

You must include product photos and any other relevant details.

People are seeking genuine suggestions in review posts, therefore write a review with a human touch.

Use star ratings in Google to boost the click-through rate of your reviews.
Also Read: How to write a high converting product review for affiliate marketing?
2. Compare two similar kinds of products and write a post:
Publishing a comparative article is another method to promote affiliate products on your affiliate blog. Pick two products to write a comparative post. Follow the sales page of each product for writing a comprehensive comparison article on your blog.
Compare two products in every aspect, like features, pros, cons, price, customer support, money-back guarantee, etc.  Summarize all of the product's features. Finally, provide your own perspective and of course, include the affiliate links.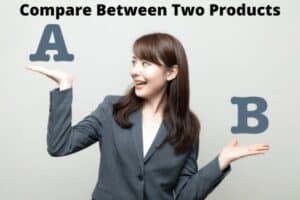 3. Give coupon codes:
Saving money is always the most powerful marketing motivation. When a client wants to buy something online and notices a coupon code, there is always a higher chance to make a purchase immediately from your review page. So, use a coupon code (if available) to promote affiliate products.

4. Keep your popular and

affiliate product review

post on the top of your blog posts:
If you want to aggressively promote affiliate products, just write a detailed blog post and keep it at the top of all blog posts for a few weeks or months.
Just enable the check box "Stick this post to the front page". You will find this in the editable WordPress dashboard of the particular blog post.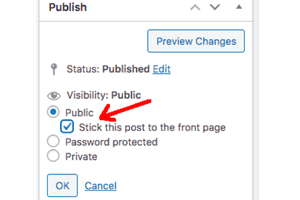 5. Use deep links:
Some of the affiliate programs provide deep link options. So, use deep links to land customers on the particular page to take the action. This is a useful trick to promote affiliate products.
Take the example of the Fiverr affiliate, instead of promoting the homepage you can give the particular services or Gig for more conversion. Similarly, the Envato market and impact radius have a deep linking option.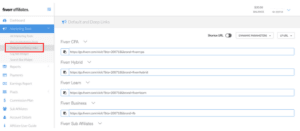 6. Place your affiliate links in a smart way:
Place the links logically with expert advice as a real user and encourage them to make a purchase decision.

Don't place too many links, overload of the affiliate links looks spammy.

To promote affiliate products, make the links bold and use eye-catchy colors.
7. Insert Clear CTA (Call To Action) button.
Always use a clear CTA button at the end and also in the middle of the post. You can use the "mango button" plugin for text-only CTA buttons. Also, you can use image CTAs.
8. Use affiliate banners to promote affiliate products:
Mostly you can use the affiliate banners in the sidebar of your website article. Banner ads are effective when you are getting relevant organic traffic to your blog. You can use the "sticky sidebar plugin" of WordPress for more visibility of your sidebar.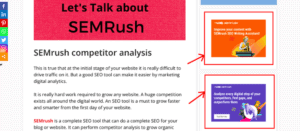 9. Post title does matter:
A catchy title is important. Use some buying intent keywords, like "best", "discounts", "excellent features", "advantages" etc. Also start with "How to" for writing problem-solving titles.
10. Suggest alternative products:
Whenever you write a review post to promote affiliate products in your blog, always mention one or two alternative products. Do not forget to insert your affiliate links to the alternative products also.
Mistakes:
Do not use too many banner ads for different similar products. This may confuse visitors.

Don't insert affiliate links directly in your blog post. Use an anchor text or cloak your link. You can use the "Pretty link" WordPress plugin to cloak links.
Conclusion:
So, these are the most helpful pieces of advice on how to promote affiliate products on your website for more clicks and conversions. Finally, the maximum results depend on your product, audience, and niche. 
But, I am pretty much sure, you can give your affiliate sales a boost if you can use these simple tips. If you find this helpful, do not forget to share the article.
Read Further:
20 Best Affiliate Marketing Tools For More Affiliate Sales.
Affiliate marketing strategy – Follow 7 simple steps.
10 important things to optimize your Google PPC ad campaign for affiliate marketing.