Introduction:
You can start an Affiliate Marketing business right from today even if you are a complete beginner. In this mini-course, you will learn how to start, where to start, and how to scale it. In this article, we will discuss the step-by-step methods to start affiliate marketing for beginners.
Do not quit your job before starting your affiliate business. You just need to put in some extra effort after your office hours. I know it's a little difficult for anyone to do a job and a business at the same time.
Quitting a job is not a good decision when starting an Affiliate Marketing business. Because from day one you are not going to start earning money. For earning money you need to give some time to your business. This time frame is not fixed for everyone. It depends on how much time you are giving to your business and how much you are learning every single day.
Don't know what affiliate marketing is? In short, promoting and selling someone's product and earning commission is called affiliate marketing. The product creator will give you a unique link to their product sales page called an affiliate link. If someone purchases the product from your affiliate link, you will earn a commission. This is affiliate marketing in a nutshell.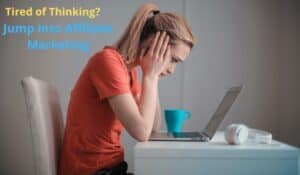 In this mini-course, I will discuss step-by-step methods of affiliate marketing for beginners.
Affiliate marketing for beginners; Step by step:
#1: Niche selection:
I watch some videos on youtube and also read some articles on Google about niche selection on affiliate marketing for beginners. Most people say niche selection is very important for affiliate marketing.
From my personal experience, I would say niche selection is not required to start an affiliate marketing business. You can promote any product from any niche.
You need complete niche research before starting a blog, not affiliate marketing. Always select a niche for your blog where enough products are available to sell if you want to monetize your blog by affiliate products.
Product research is more important in affiliate marketing than niche research. Before selecting a product for affiliate marketing you must know about affiliate networks. So, let's jump into step 2.
#2: Join Affiliate networks:
An affiliate network is a platform where product creators list their products and affiliate marketers select any of the listed products to promote and sell.
There are various affiliate networks like CJ, Impact Radius, ShareASale, Digistore24, etc. But for beginners, I will recommend joining three networks, those are ClickBank, Warrior Plus, and Jvzoo.
ClickBank is a famous affiliate network where you will find products from any niche like weight loss, software, manifestation, and a lot more. Warrior Plus and JVzoo are the affiliate networks listed with mainly software products.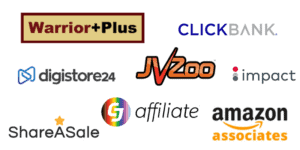 Also, beginners can join some individual affiliate programs. These products are not listed inside any affiliate networks, instead, they have their own affiliate dashboard. A few individual affiliate programs that beginners can promote are Fiverr, GetResponse, Sendinblue, Kicksta, Constant Contact, Bluehost, Hostinger, etc.
#3: Product research:
You can research affiliate products from any network or individual affiliate program. But in this article, I will discuss how you can choose affiliate products from the ClickBank affiliate network.
Look for products that payout more than 50% commission. Check to see whether the product affiliate page provides adequate affiliate information, support, and guidance. Look for keyword lists, banners for advertising, videos, blog articles, and other things.
Also, check the gravity of the product. There are a lot of stats related to each product on the ClickBank Marketplace, one of which is gravity. Gravity is a performance number that indicates a unique calculation by ClickBank that considers the number of different affiliates who earned a commission by marketing this product in the last 12 weeks.
I personally select a product with a gravity of more than 30 and a minimum front-end commission is $50. But this is not a standard to choose the product. You do proper market research and choose the right product to promote. CB ENGINE is a website that will help you to select new ClickBank products to promote.
#4: Start promoting the product:
There are two ways you can promote any affiliate product. Free method and paid method. For beginners, I will recommend starting with free methods first. Once you start converting then you can shift to paid methods also.
Free methods to start affiliate marketing for beginners:
To promote affiliate products through free methods you need one basic skill, that is content creation. Content in the form of writing articles, creating videos, and also creating catchy images. Selling products through your content by providing value to the people is called content marketing.
So, you have to learn content marketing if you want to establish a long-term affiliate marketing business. The valuable content only can provide you with huge traffic to your links.
You will find various software on the internet claiming that they can provide free buyer traffic in three clicks. My simple suggestion is to never buy these kinds of fake claiming software. That software will not be going to generate traffic for your affiliate links.
Create a review blog:
Creating a review website or a blog is the first major step of content marketing. Here you need the proper niche research to start a blog. Always select a niche where enough affiliate products are available for sale.
If you choose weight loss, there are various products available for writing product reviews. Inside ClickBank, there are a lot of products available in the weight loss niche.
In this article, I will discuss promoting software products through a review blog or more specifically an affiliate blog. Because you never run out of products, as there is a huge list available of software products in the digital marketplace.
Here I am providing a list of 20 digital products that all have an individual good affiliate program. You can join all the affiliate programs and can write product reviews for all. Follow the below list for individual affiliate programs:
AWeber, Sendinblue, GetResponse, SEMRush, Fiverr, Constant Contact, WP Engine, Bluehost, Hostgator, Hostinger, Shopify, IPVanish, ActiveCampaign, Teachable, ClickFunnels, Kicksta, BigCommerce, Long Tail Pro, KWFinder, Thrive Theme.
Now we will concentrate on affiliate networks instead of individual affiliate programs. If you want to sell software products, you will find a lot of products inside Warrior Plus and the JVZoo platform.
Here I want to mention a website called muncheye.com, this is a future product launch calendar. On this website, you will find various software products that are yet launched within a few days.
You can select software products from this website. But the products are listed inside the platform like Warrior Plus, JVZoo, PayKickstart, etc. So, before visiting muncheye.com, go and create your account inside Warrior Plus and JVZoo. Write a small bio catchy inside your created accounts.
You can check my review blog highqualityreview.com for your ready reference.
Product selection and getting approval:
Select a future launch product from muncheye.com. Visit their JV page for detailed affiliate information. Inside the JV page, you will find a "get your affiliate link" button. Clicking on this button you will be redirected to Warrior Plus or JVZoo where that particular product is listed.
Apply for the approval of the product. Write 2 to 3 impressive lines about yourself while applying for approval of your selected product. These catchy lines will help you to get approval for the product.
If you are a beginner in affiliate marketing, you may not get approval for all the products. Experienced product creators sometimes denied the approval request. Because they want experienced affiliate marketers for their product promotion. When you will start getting conversions, you will definitely get approval for all your approval requests.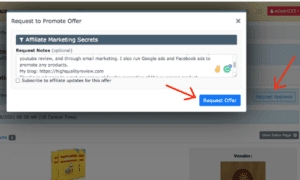 Write a detailed review of the product:
Once you get approval for any product from Warrior Plus or JVZoo, now it's time to write a high-converting product review on your website. Don't know how to write a high-converting product review? Follow my other article >> Here.
Do not forget to insert your affiliate link inside your review page. Include at least 3 to 4 CTA (call to action) buttons in certain intervals.
There are a lot of products launching every day on Warrior Plus and the JVZoo network. Apply various products for approval and write at least one product review every day. Also, you can write product reviews on some individual good affiliate products.
Keep patience and keep on writing product reviews until your website ranks on Google. After a few months, you will start getting traffic slowly on your website and also you will get clicks on your affiliate links. Getting clicks on your affiliate links means you are in the right direction. Making your first sale is just a matter of time only if you start getting clicks on affiliate links.
Do not forget to comment below when you get your first affiliate sale. Repeat the same method for months and even years. Slowly you will start getting unlimited traffic on your website. This unlimited traffic will give you lots of affiliate link clicks and sales every single day.
One important thing I forgot to mention here, is your exclusive bonuses.
Include Bonuses:
The one basic question that may play in your mind is, why people will buy products from your affiliate links? Include some exclusive Bonuses in every product review post. Follow my website highqualityreview.com for your ideas about Bonuses.
The Bonus may be anything like an ebook, video course, WordPress plugins, etc. Make sure your Bonuses must be relevant to the product. I feel, that now you can understand the reason for purchasing products from your affiliate links. From where will you get Bonuses? Follow these websites freeplrdownloads.com, idplr.com.
Share your product review post on social media:
Do not forget to share your review post on different social media. You can share your review posts on Facebook, Instagram, Twitter, Pinterest, etc. Share your post in relevant groups and communities only, instead of random sharing everywhere on social media.
Finally, a review blog is not the only option, you can create any type of blog for affiliate marketing. But before starting your blog, do proper research on the niche. This is important that enough affiliate products must be available to sell on that particular subject.
Other free methods of affiliate marketing for beginners:
There are various other free methods of affiliate marketing for beginners like interacting with people on Facebook and Instagram, Pinteresting marketing, and promoting through Youtube.
Facebook groups and pages:
Facebook is a huge platform for doing affiliate marketing for beginners in any niche. If you are a complete beginner you can definitely start with Facebook. You can use Facebook groups and pages to promote your product. Join various Facebook groups related to your niche and start promoting. Do not share your affiliate link directly on Facebook, instead provide values and share your link to interested persons only through Facebook messenger.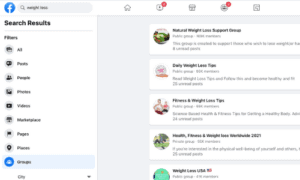 Create a Facebook Business Page and a group instead of spamming your affiliate link in different other groups. Grow your page and the group slowly to scale and make a long-term affiliate business through Facebook. You must establish yourself as an influencer and create a relationship with your audience if you want to run a successful Facebook affiliate business.
Affiliate marketing through Instagram:
You need to choose a niche before starting affiliate marketing on Instagram because you can't promote different niche affiliate products through your one Instagram account. Write an attractive bio for your first impression. An attractive bio will help you a lot to engage people with you.
Find affiliate products that you believe in, and you can be confident that you'll be selling high-quality products to your followers. Also, seek a brand that has an image that is appropriate for you and your account. Choose a brand that you can rely on in the long run.
You will not become famous immediately, to grow on Instagram will take some time. Make use of all of Instagram's tools, including video, stories, reels, IGTV, live, tags, and more. Try to be real and relevant. Also, maintain an aesthetically attractive image at all times.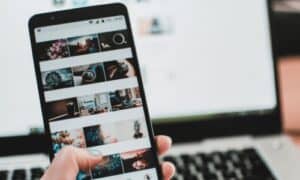 Here I want to mention a tool that can help you to grow relevant Instagram followers quickly. The name of the tool is Kicksta. For your information, this is not a free tool. Only use paid Instagram growth tools when you don't have time, otherwise, I will always recommend going for natural growth.
There are a lot of other strategies you must follow for proper growth of your Instagram account like strategic use of hashtags, posting consistently, etc. Instagram shoutouts are also a good option to do affiliate marketing for beginners.
Affiliate marketing through Pinterest:
Pinterest is a huge platform to start affiliate marketing for beginners. To generate money on Pinterest, you technically don't even need a website. However, if you want to generate regular money in the long run, you'll need a website.
I personally prefer to use my website link instead of using the direct affiliate link. Because of sharing more and more direct affiliate links, Pinterest may disable your account in a few cases.
Pinterest is a search engine that focuses on images. Pinterest combines high-quality pictures and graphics with a search-driven platform. For creating a Pin you can use Canva. This tool is well known for creating attention-grabbing images. Use a catchy title and also write a short description of the product.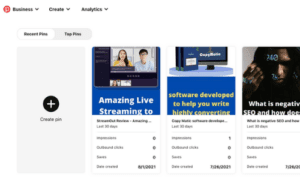 Never upload any other pin from Pinterest by simply downloading it. Pinterest will raise a red flag if you continuously upload any other pin from Pinterest itself. In my opinion, uploading five-pin in a day is enough to grow steadily on Pinterest.
All the niches are not equally performed on Pinterest. Here I want to mention top-performing niches:
Health and fitness, Wellness, Food and drink, Make Money Online, Travel, Fashion, Lifestyle, Interior design, Graphic design, etc.
Affiliate marketing through Youtube:
In the present times, video marketing is the fastest-growing platform for affiliate marketers. I personally believe Youtube is one of the best platforms to do affiliate marketing for beginners.
Like a review blog website, here also you need to create a review Youtube channel. Whatever the basic things you followed to create a review blog, you need to follow the same things here. The only difference is you have to create video content instead of text content.
Upcoming products you can choose from the same website muncheye.com if you want to promote software products. Also, use Warrior Plus and JVZoo networks. You can also create video reviews on different individual good affiliate products.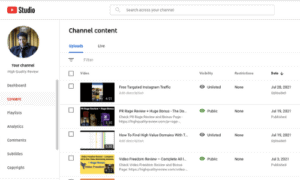 How to create a high-converting video product review?
Show your face, instead of only voice-over. People want a review from a real human being. Only a voice-over will not be going to work in this case. Be very frank, only providing voice over your conversion rate will be low.
Your review video language must be in English instead of any other local language. Because high intent buyer traffic will come from tier one countries like the US, UK, Canada, Australia, etc. So, this is mandatory to create your review in English.
Provide a short intro about the product and tell something about the product creator.
Get approval for review access from the vendor. Getting approval for review access is important for providing a product demo. For most of the products from Warrior Plus and the JVZoo network, you will find review access on their JV page. If a

review is not available you can mail it to the vendor for the same.

In your video, you must include a product demo. People want to know how user-friendly and effective the software is.

Discuss some key points like features, pros, cons, and money-back guarantee time period.

Do not provide a direct affiliate link in the video description. If you wrote a text review on your review website, provide your website review link. People will also read your website reviews and check your Bonuses before purchasing.

Also, do not forget to mention all your Bonuses in the video review.
Paid methods of Affiliate Marketing for beginners:
The paid method is the fastest way of generating affiliate commission. You don't need an audience, a Youtube channel, or a website.
It's a way of getting genuine people to your affiliate links via social media ads, banner ads, or pay-per-click (PPC) ads.
Paid traffic quickly boosts the number of visitors to your affiliate link, as long as your budget allows. As a consequence, the number of possible conversions rises, which is especially beneficial if you are a complete beginner and have to generate income quickly.
Let's take a look at three of the most common methods you can utilize paid traffic to drive visitors to your affiliate link:
PPC Ads:
PPC (pay-per-click) advertising is a type of online marketing in which your website is displayed on other huge websites. You only need to pay when someone clicks on your website.
Social media Ads:
The benefit of using social media advertisements is that you can focus your marketing directly on your target market. You can use distinct keywords, hobbies, and interests, you can carefully target individuals who are most likely to engage.
Banner Ads:
Banners and text links are the most basic kinds of internet advertising. Visitors will come to your website via plain-text links and image banners. The best part about this form of marketing is that it can be utilized anywhere in blogs, social media, and emails.
Affiliate marketing for beginners; Paid ads platforms:
This part is more practical than theoretical. To be very frank, it is not possible to learn paid advertisements by reading theory only. You need to experience everything practically by running ads on your own. Of course, you can take help from some good youtube videos. Here I am just briefing you about some major paid advertising platforms.
Google Ads or Adwords:
This is one of the greatest ad networks that give excellent exposure but at a somewhat high cost per click.
With Google Ads, you choose keywords that your potential buyers are looking for and then make an offer to create your ad show as a sponsored ad at the top of the search results page.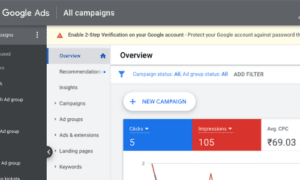 On Google Ads, you can't use the direct affiliate links in your ad. You have to create a landing page. People will come to your landing page just after clicking on the ad. Use the call to action button or anchor text to insert your affiliate links. People will be redirected to your affiliate link from your landing page.
Bing Ads:
Because it offers high-quality traffic at a lower cost than other paid traffic sources, Bing is an excellent choice for launching new paid traffic campaigns.
When compared to Google, traffic is of similar quality and far less expensive. Bing is not a very strict platform that will approve your ad easily.
Bing is a platform, where you can insert your affiliate link directly. So, the positive point is, that you don't need to create a landing page.
Check affiliate marketing for beginners video on Bing Ads Mastery Training:
Facebook Ads:
The benefit of Facebook is that you can connect with any targeted group of people. Static and dynamic campaigns, small and big campaigns, retargeting campaigns, and campaigns with a high or small budget can all be created. People may easily give you their contact information with Facebook lead advertisements by pre-filled form. So, Facebook ads are one of my favorite ad platforms for affiliate marketing.
Solo Ads:
This is an email advertisement in which the email list owner sends your email to an email list for a fee. Your email, together with your links and message, gets forwarded to a list that you do not own. In short, you are renting someone else's email list.
Assume you're marketing a weight loss affiliate product and you reach out to a blogger with a big weight loss mailing list. For a certain amount per email, the person promises to deliver your email to the list. A solo ad is basically this. The list owner is paid, and your landing page or affiliate link receives highly targeted traffic.
There are various solo ad platforms available in the digital marketplace. My favorite platform for solo ads is udimi.com.
Native Ads:
Paid ads that fit the appearance, feel, and function of the media format in which they appear are called native advertising. Native advertisements are frequently seen in social media feeds or as suggested content on websites.
Unlike display or banner ads, it does not appear like an ad. My favorite native ad platforms are Redirect.com, Outbrain, Nativo, etc.
Twitter Ads, Quora Ads, and Reddit Ads can also be used for affiliate marketing, but these are not so popular. To be very frank, I personally never use these platforms for affiliate marketing.
Affiliate Marketing for beginners; Email marketing:
Email marketing is also a great method of affiliate marketing for beginners. But for email marketing, you need an email list. There will be no email list if you are a complete beginner.
Start building your email list right from today. You can build an email list by using a lead magnet. Here you need to provide some giveaways in exchange for visitors ' email addresses. A giveaway can be an e-book, a cheat sheet, or a digital course. Also, you can use an opt-in form on your website to collect leads.
For email marketing, you need a good email marketing tool. You can use GetResponse or AWeber as an email marketing tool.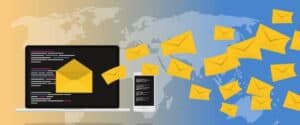 If you want to do affiliate marketing through emails from the beginning you can set up an email autoresponder inside your email marketing tool. An email autoresponder is the sequence of emails that your email marketing tool will send to your email subscriber.
Send 5 to 8 emails in a certain interval like 1 day or 2 days. Send your welcome email just after subscription. Do not insert any affiliate link in your first email, instead provide some real values to build trust. Also, send your promised giveaway in your first email. From the next email, you can insert your affiliate link strategically.
Experts say, if you are not building your email list then you are not building your business. I also believe the same. So, start building your email list and skyrocket your affiliate marketing business.
Affiliate marketing for beginners; Conclusion:
This is just an introduction to affiliate marketing for beginners. When you jump into the real business you can learn a lot from your mistakes. I heard somewhere that your last mistake is your best teacher.
Finally, I want to say that keep patience, you may not get your first sale quickly and first. Learn new things every day and take action. This is the only way to become a successful affiliate marketer. This is all about affiliate marketing for beginners. Thanks for reading this article.