Your ad copy is the key to success in your ad campaign. A high converting ad copy will improve your ad click-through rate(CTR) and the landing page will do the rest.
High CTR ad campaigns gain higher quality scores. An ad campaign in Google with a higher quality score has the possibility of a higher ad ranking. That means your ad may come in the 1st or 2nd position on the Google 1st page.
So, writing a high-converting ad copy is important. In today's article, I will provide you with 10 simple tips to write a high-converting ad copy with ease.  
Use powerful Adverbs in your ad copy:
Adverbs are an important component of ad copy. Powerfully written adverbs can express specific information that cannot be obtained from other elements.
The correct use of adverbs can help to distinguish your ad copy from others. Adverbs are helpful to describe how things happen. They are essential for a high converting ad copy to assist a reader to picture an activity.
For example the words like instantly, thoroughly, creatively, Immediately, quickly, naturally, etc. These are attention-grabbing words to make your ad copy more effective.
Instead of using "lower your blood sugar", use "lower your blood sugar instantly". You will get a higher CTR if you use the second one.
2. Focus on customer problems:
Great ad titles must focus on the problems of your target and show how to resolve them. People click an ad if it provides solutions, not because it is optimized for particular search keywords.
In the above examples of both the ad copy, the headline is all about solving the problem "Diabetes". So, these kinds of headlines are attention-grabbing and always get a high CTR.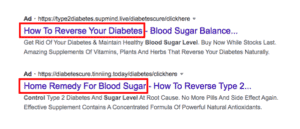 3. Make the audience curious:
Always create curiosity in your high converting ad copy to know what exactly is inside your ad. 
The above ad copy is an excellent example of creating curiosity. People want to lose weight, but they don't want to leave their favorite food. So, they must click the ad to know how to lose weight by eating more.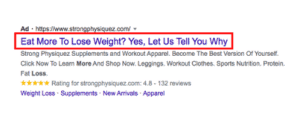 4. Proper placement of primary targeted keyword:
As for the location of your primary targeted keywords, try inserting your keyword in the URL, headline1, and in your ad description.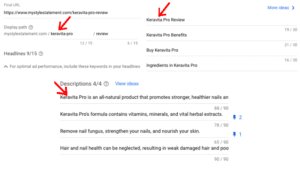 5. Include a proper CTA (call to action):
That might be the best tip of all. If a user takes your desired action, this is the last objective of your advertisements. A proper CTA is important for the same.
A little English grammar you must know, just joking! Not an Adverb, you have to use verbs here, like get, buy, shop, learn, etc. Examples are given below for your better understanding.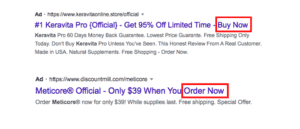 6. Be focused and specific:
Users who click on ads seek a very specific product or service. So, you need to be specific to create your high converting ad copy. 
For example, the keyword "weight loss" is broad, if someone wants a diet plan you must include "diet plan for weight loss". For booking, a cheap airline ticket people will search "cheap airline ticket" instead of "airline ticket".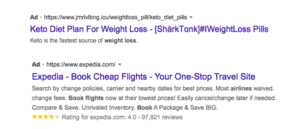 7. Create an attractive offer:
You have to create your ad copy by providing some discount and offer. The offer part is not in your hand if you are running an ad to sell affiliate products. In that case, you can provide some bonuses and can mention them in your ad copy.
If you found any discount offer on the product do not forget to mention it. Offers and discounts will make your ad copy more attractive.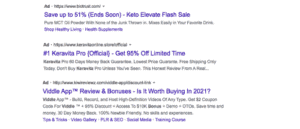 8. Your ad copy content and keyword must relate to a landing page:
There must be similarities in content and keywords between the ad copy and landing page. If the content is different, and the targeted keywords are not present in both places, people will come to your landing page and bounce back immediately. Google also considers it irrelevant and may suspend your account.
If you discover your landing pages have a very high bounce rate despite the high click-through rate of your ad copy, the reason is the keywords and content on your landing page are not matching. Take fast action to solve this problem.
9. Always keep your best copy on first:
There is a restriction to how many characters in an ad copy a copywriter can include. People also can see a limited number of characters depending on the device.
That is the reason always keep your best copy on first.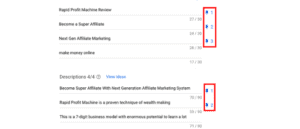 10. Create urgency:
Try to create urgency in your ad copy by using the sentences like "Hurry", "Offer to end soon", "Limited time offer", "price will increase" etc.
Conclusion:
So, these are the 10 basic guidelines to write a high converting Ad copy for Google Ads. You can't include all the points in a single Ad copy. Try to follow at least 5 guidelines for a single Ad.
If you can follow these points, I am pretty much sure you will create a high converting ad copy with a high CTR. That's all for today, thank you very much for reading this article.
Related articles: