Introduction:
SEO or search engine optimization is the process of getting more organic traffic, whereas PPC or pay per click is the process of buying traffic through advertisements.
As a complete beginner, which method should you follow? In this SEO vs. PPC article, I will discuss the benefits and drawbacks of both SEO and PPC before deciding which is ideal for a new business. Also, you'll discover how utilizing any or both ways can boost your business.
What is SEO in digital marketing?
If you write an article inside your website, Google will crawl it first, and if found valuable as per google algorithm it will be indexed. Finally, Google will rank your article in certain keywords. As a result, your article will get traffic organically.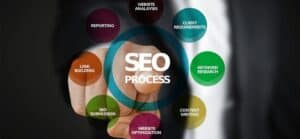 What is PPC?
This is an advertisement method, where marketers pay for each click. Most of the search engines and social media included this model of advertisement including google, bing, FB, and other social media.
SEO Vs. PPC, What are the major benefits of SEO?
SEO is inexpensive:
If you are a beginner, you can start your SEO journey completely for free. There are several free tools available in the internet marketplace to do SEO research for free.
I always recommend Google keyword planner for your keyword research as a beginner. There are many other tools available from Google to analyze your traffic and speed like Google Analytics, Google search console, Google page Speed insights, etc.
But if you want the best tools for perfect SEO, you need to spend some money. SEMrush is a robust SEO tool used by professionals, influencers, and business owners for the SEO of their websites. SEMrush is a little costly as there are various tools and features. Want an effective SEO tool at a reasonable price? You can try Long Tail Pro and KWFinder.
SEO builds trust for your business:
You can easily build trust for your business if people can see your website on the google first page. So, SEO can grow your business by building trust in visitors, because we all know that trust breeds more leads and sales.
Valuable content, proper keyword research, on-page SEO, and quality backlinks can bring your article to the first page of google. Initially, it may take some time, but once you manage to build trust and authority in Google, you can easily rank your articles.
Get higher CTR:
The ratio of people who click on an article in the search engine results divided by the total impressions is known as the organic click-through rate (CTR).
SEO plays a vital role to improve your click-through rate. You must be creative about the title of your articles and analyze them to improve the CTR.
The second most important thing is the meta description. When people are viewing your ad on the google first page, ensure that your description is relevant. A proper and relevant description will improve the organic CTR.
Get unlimited traffic consistently:
Once you get a high ranking in search engines, your website traffic remains steady and long-lasting. It is important to continue conducting SEO to maintain your high ranking. Always keep updated on your articles to prevent your competitors from outranking your pages.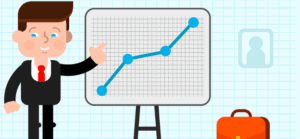 SEO Vs. PPC, Cons of SEO:
Competition is high:
As everyone wants organic traffic for their websites, competition is always on the higher side to rank on the google first page.
The ranking was very easy 10 yrs back, anyone can easily rank in any keyword in those days. In 2022, you need to target long-tail and low-competition keywords to rank your articles. 
SEO is a long-term game:
You can't rank your articles in search engines in a short span. SEO needs time to become successful. Even if your website articles rank in Google, you have to keep on working on SEO to maintain your rankings.
SEO Vs. PPC, What are the major benefits of PPC?
Start getting results from the first day:
You don't need to wait months to start getting clicks in your URL. You will get visitors right from the same day when your PPC campaign is approved and get impressions.
Make sure your bid price per click is competitive to get more clicks. There are various factors to improve the CTR of your PPC campaign. Do you want to bring your PPC ad campaign to the first position on Google's first page? Read this article >> 10 tips to write a high converting ad copy for Google ads.
No need to pay for impressions:
You need to pay only when people click on your Ad. If your Ad copy is relevant to your landing page, people are going to stay on your page and read your offer. So, this is a great thing that you don't need to pay a single penny if no one clicks on your Ad.
Target the right audience:
You can target people as per the keyword searches, location, age, income, gender, interest, and more. You can also exclude people if you don't want to show your Ad for some keywords, location, age, interest, etc. Proper targeting will show your Ad to the right people for more clicks and sales.
Control your Ad expenditure:
You can control your expenses as per your budget. The bid price is to some extent in your hand, that is how much you are ready to pay for a single click. Also, you can fix your daily budget and lifetime budget. Stop your Ad campaign whenever you want to stop it.
SEO Vs. PPC, Cons of PPC:
It's expensive:
PPC ads are expensive when you want to run ads in tier 1 countries. Cost per click (CPC) depends on location and keywords. For some certain keywords, CPC is quite high. So, you need a good budget to become successful in a PPC ad campaign.
Are you struggling to get more sales through PPC ad campaigns for your affiliate marketing business? Follow this article >> 10 important things to optimize your Google PPC ad campaign for affiliate marketing.
Account ban:
Ad account ban is a common problem for running ads on Google and FB. There are various ad policies you need to maintain for the smooth running of your ads without account suspension.
If you are a beginner and your Google or FB account is getting banned for some reason, you can try Bing ads.
Need experience:
You must need experience to become successful in PPC ads. For gaining experience you need a split test for your ad campaign. Sometimes testing your ad campaign becomes very costly. So, there are chances to lose money if you are a complete beginner.
Decrease of effectiveness:
The efficacy of PPC adverts may gradually decline as they show more frequently in the SERP. Ad Blindness occurs when users begin to consciously or unconsciously avoid adverts.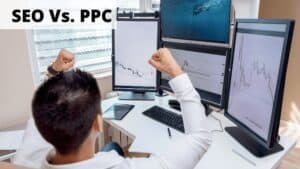 SEO Vs. PPC, Conclusion:
You can run a PPC ad campaign in the early stage of your website to compete among long accepted and strong websites. It's not simple to rank higher by using SEO instantly. So you'll need a little help from PPC. Because PPC is a fantastic method to get instant clicks to your links.
If you don't have enough budget to run PPC, you continuously try SEO. This may take some time, but your business will rock when you start ranking organically.
What do I normally do for my business?
I run PPC and do SEO simultaneously. Because I get maximum results in a short span by doing both at the same time.
That's all about SEO Vs. PPC. I hope this article will be helpful for you to adopt the right marketing strategy for your business. Thank you very much for reading this article.
Few related articles you may like to read: