What are KPIs?
A few things you need to measure if you are promoting your business online. Key Performance Indicator is some value that entrepreneurs and marketers measure in all marketing channels to analyze success and performance. In this article, we will discuss 10 Important KPIs you must track in digital marketing.
One of the major reasons advertisers focus on these digital techniques is that they are measurable and can improve their marketing strategy depending on KPIs value. Through this process, you can obtain an insight into your marketing performance and make smart decisions to grow your business.
It is possible to set objectives and targets and analyze success based on these values by generating particular digital marketing KPIs and monitoring them.
In today's article, I will share with you 10 important marketing KPIs you must measure to grow your business.
The 10 important KPIs are listed below:
1. Cost Per Lead:
Cost per lead (CPL) indicates the cost of generating a new lead. Simply how much money you need to spend to get the right prospect. This is important that your CPL must be less to reach more customers at less cost. So, CPL is one of the important KPIs you must track the data.
You need to concentrate on your most effective free and paid campaigns to boost your business. In order to obtain free website traffic and potential prospects, produce and share great content on social media. Also, start doing SEO on your website to reach more people at less cost. Start running cost-effective paid campaigns simultaneously.
2. Lead conversion rate:
This is important to know how many prospects are converting into paid customers. The rate of conversion indicates the percentage of your leads that turn into customers.
You take the number of leads turned to potential customers over a certain timeframe and divide them by the number of leads generated during the time to get the lead conversion rate.
A good lead conversion rate varies for different businesses. For example, for an e-commerce business, if the lead conversion rate varies between 3% to 6%, we can say that it's a good rate of conversion.
3. Monthly website traffic:
Website traffic is one of the important KPIs to grow any business in the present time. Evaluate the number of page category views such as your homepage, blog, and sales page views, click on the add to cart, checkout button, etc. Figure out from which page the bounce rate is more, you need improvement in those web pages. You can grow your website traffic through SEO and paid advertisements.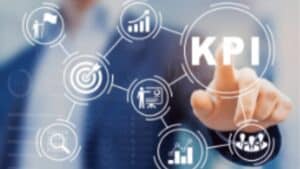 4. Returning visitors to the website:
You can observe how your audience is involved in your website by tracking the number of returning visits. For instance, a poor blog return rate indicates that your content is not very attractive and problem-solving for anybody to go return for further.
Publish valuable content in your blog on a regular basis to increase your visitor's return rate.
5. Organic search volume:
Increasing organic search volume is the key thing to attracting more leads for your business. Monitor how many leads you are getting through the search engine query on a monthly basis.
This measure displays the number of monthly visits to your websites from various search engines. Again the same thing, you need to publish more quality content to rank higher on SERP.
6. Domain authority and page authority (DA & PA):
Your website will appear in the search result if your website DA & PA is high. The tool Moz measures any website's domain authority and page authority. The simple way to increase your website's DA & PA is to create more backlinks.
Always try to create backlinks from high-authority websites and the same niche. Guest posting is also a robust method to create high-quality backlinks. Internal linking between different posts and pages of your website is also important.
7. Traffic from marketing videos:
Video marketing becomes an increasingly utilized format of marketing. A captivating video sales page can convert 50% higher than a text-only format. So, leverage your video marketing starting from today and also track it.
If the conversion rate is less, then you need to improve your video content. There is various good software available in the market to create professional videos within a minute like InVideo, Doodly, etc.
8. Paid advertising ROI:
ROI (return on investment) monitoring is crucial. This measure should be included in the KPIs evaluated by your organization. ROI is the estimate of your profit or loss in your digital marketing initiatives on the basis of the amount of money. This assessment shows you whether your marketing campaign investment is really worth it or not. 
ROI varies depending on your advertising strategy. The strategy needs to change as per your target audience, your monthly budget, and your goal. 30% and above Return on the investment is considered good and 50% and above is excellent.
9. PPC ads click-through rate:
This marketing KPI shows an overview of your pay-per-click ads' performance. If the CTR is poor, it indicates that your Ad copy is not convincing enough to click on it.
You can follow the other article (10 tips to write a high converting ad copy for Google ads) to know how to write an amazing ad copy. Also, A/B testing is important with different Ad copies and different landing pages to find out a winning ad campaign.
10. Social Media traffic:
Though many advertisers utilize social media as a source of brand awareness, it is also a valuable tool for lead generation. Monitor the number of regular leads and sales from social media to evaluate the effectiveness. You can use CRM software to manage leads and customers from social media.
Conclusion:
So, these are the 10 important KPIs you must track to optimize your marketing campaigns and grow your business. Most online marketers depend on marketing KPIs to take major investment decisions and changes in advertisements. That's all for today, thank you very much for reading this article.
Related articles: