Are you a Restaurant owner, running a Gym or Salon? Are you involved in any kind of service business like Interior Decoration, real estate mediator, plumbing services, etc? If you are dealing with any type of local business, then you must read this article on how to grow your local business exponentially. 
Yes, you can double your local business within six months of time if you follow these 7 amazing tips. Also, if you just now started your local business, you apply these from day one of starting your business.
You have to keep in mind your business needs to be visible on the internet. Maybe your shop is not in the bang on the main road, it does not matter if you are visible on people's smartphones.
Especially in service businesses, your internet presence is more important than your gorgeous office. At present days service businesses only can survive if their brand is active on the internet. 
The 7 simple and basic guidelines are listed below:
1. List your business in GMB (Google My Business):
Google My Business has always been significant since customers can see it first on Google when they look for any kind of local business. 
GMB has amazing features for more visibility and interaction with the customer and to help you grow your local business. 
Some excellent features are:
Google Maps integration to find your business. You can locate your business inside Google Maps and people can find you easily. 

Include information for your business, like address, phone number, service hours, etc.

Consumers can give you great reviews and also you can answer consumer reviews, queries, and comments.

Share new work photographs and publish special offers and events updates.

You can see how clients on Google find your business and engage.
Normally three listings are visible first in GMB when someone searches for any local business on Google. All other listing comes after clicking on "View All" below. 
You can optimize your GMB business listing to come in the first three positions. You can upload photos and update information and stay active to optimize your listing.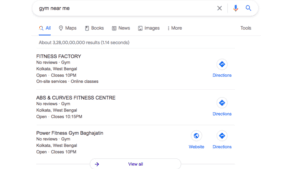 2. Create your own website:
Creating a professional business website is a must to grow your local business. You can hire a professional to create your business website or you can do it by yourself.
To create a website you simply need a domain and hosting to purchase. The domain is nothing but your website name. Hosting is the server where your website data is stored. Namecheap is a platform where you can buy domains at cheap prices. To purchase hosting, you can go with Hostinger or Bluehost.
Connect domain and hosting and create your professional business website in "WordPress". There you will find a lot of free themes to choose from, you can choose any one of them.
Keep in mind, make your website a professional one, and do not forget to include a contact us page with the location and all your contact information.
Once your website is ready, start sharing your website link everywhere on the internet. First, include it inside your GBM profile and also inside your visiting card.
3. Register in local directories:
There are a lot of local directories available on the internet for local businesses. So, start registering on local directories for free.
A few examples of local directories ate Justdial, Sulekha, Nearbuy, Nice local, Magicpin, etc. These all platforms have paid services also. 
Few platforms are available for special categories of businesses. For example, Swiggy and Zomato for food delivery services, for real estate businesses 99acares and Magicbricks, for doctors Practo and Lybrate, for service professionals Urban Company and Home triangle are applicable.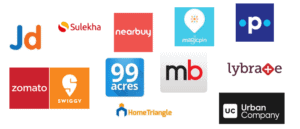 4. Local SEO techniques:
Local SEO is an SEO technique that helps your company be seen on Google in local search results. Every local company with a physical location can profit from local SEOs.
People like to search keywords like "Gym near me" or "Salon nearby area", and sometimes they search by city name. So, you have to optimize your website and GMB profile by these kinds of keywords and with your city name.
5. Create social media pages:
Without social media pages, rapid growing your local business is impossible. Social media has the enormous potential to grow your local business.
Create a Facebook page first and upload photos and posts on regular basis. Invite people to follow your page.
Also, create a business account on Instagram and Pinterest. If you have a B2B business LinkedIn is a great platform to grow. There are other platforms like youtube, Twitter, and Quora to make visible your local business.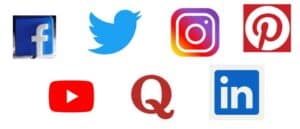 6. Run paid ads:
Paid advertisements have major potential to grow your local business to a new high. There are various platforms to run paid campaigns for your business. Google, Facebook, and Quora are the best platforms to run ads.
7. Collect customer contact details:
This is important to collect customer contact details from the first day of your business. Phone numbers and emails are the major contact details of customers.
You can send customers new offers at a certain interval. Also, can send personalized emails on different occasions and festivals. Because of these activities, customers will remember your brand and take services from you when required.
Conclusion:
So, these are the 7 major steps to follow to skyrocket your local business. Finally, your product or service must be unique and amazing, that is the most important thing over all the above points. If you are providing a poor product or service, people will not remember you and they will not refer your brand to their friends and family members. I hope this article will be helpful to growing your local business if you follow all the above points. Thank you very much for reading this article.
Related articles: