What is Originality AI?
Originality.ai is a platform that helps you determine whether your text content was written by AI or if there is any plagiarism. This originality AI Review article will provide you with a detailed understanding of how effective this tool is at distinguishing AI-written and plagiarised content vs human-written and unique content.  
AI writing has grown in popularity. You can now create high-quality, unique content in seconds. However, there is always the issue of the written content. Also, search engines dislike AI content because it provides less value to users.
Originality.ai will provide you with the perfect insight into a piece of content, whether it is written by AI or not. Even if the content appears to have been written by a human, Originality.ai can detect the truth.
What exactly does Originality.ai do?
Originality.ai assists you in determining whether your content is been written by AI or if it contains plagiarism.
These two things are most important because search engines never like plagiarised and AI-written content. This is the reason Originality.ai comes into play.
Originality AI Review; The tools:
Text compare:
The text compare tool is excellent; it allows you to perform plagiarism checks and compare similarities in between two text documents.
This built-in keyword density tool displays the occurrence of single or two-word search queries in an article. This tool makes it simple to compare an article to a competitor's article to see the key differences in keyword densities. 
This will assist you in optimizing your blog's content for search engines. You can compare files, URLs, and simple texts.
Chrome extension:
This is a simple Chrome Extension that allows you to quickly validate any text that you're reading, writing, or checking. This chrome extension feature can be used wherever you are reading or writing, such as Google Docs, Gmail, WordPress, or another writing environment.
API:
AI detection can be integrated into any tool or workflow using a simple API. If you already have a content generation workflow or a personalized tool and want to incorporate AI detection, Originality AI has an API for you. API key access is open to all tool users.
Who this is for?
Web Publisher:
As a web publisher, you no longer need to rely on the assurances of content creators that the content is human-written and free of plagiarism, or waste time checking it yourself. Originality AI will do those tasks for you.
Content Agency:
To scan thousands of articles per month, you no longer need a large team. You can now manage your content agency with a small team. You can easily add and remove team members while also tracking their activity. By not being original, you can take business away from your vendors.
The purchaser of a website:
Originality AI can perform a full site scan. It crawls the entire site by simply copying and pasting the domain, after which it performs a full Plagiarism Check and AI Scanning Check on the entire website. Discover the full extent of a site's plagiarism and AI content probability. It is capable of scanning up to 1000 pages.
Originality AI Review; Features:
Check AI Content:
The most important feature is the AI track. As per studies, uniqueness can identify across all writing created by GPT-3  to ChatGPT with an accuracy of 99.5%
Chrome Extension:
The Chrome Extension allows you to check content for plagiarism and AI content to the entire website with a single click.
There is no client confusion for content marketing agencies:
You can ensure that you only receive articles created by humans. There will be no more possibility to accept writing from a robot.
Originality score:
The AI score will tell you about the originality of your content. You don't have to be concerned about your website being flagged as low-quality, AI-written content.
Plagiarism check:
You can now easily check your content for plagiarism. I checked with an article that has been published on our website but has not yet been indexed, and Originality Ai can still detect that the content is fully plagiarised.
The entire website can be scanned:
By simply pasting your website address into Originality Ai, you can now scan your entire website. This allows you to conduct full content reviews that scan an entire website for AI. It is capable of scanning up to 1000 pages of any website.
Manage team:
This is a very good feature for agency owners, publishing houses, educational establishments, and professional web firms. Each team member also receives a reporting dashboard to check the content. You are able to view what they've done with their accounts.
Pros:
When it comes to locating AI-written content, AI is a very powerful tool. When I tested it myself, it correctly identified 90% of the AI-generated content.
To ensure that your content is unique, use the powerful plagiarism checker tool.
You can't just change a word or comma to mislead the AI detector into providing you with a better score. The tool is extremely intelligent.
Cons:
Sometimes the score varies between 2% to 5% for the same content.
The tool is prone to give false positives.
Originality AI Review; Testing:
Test 1:
This testing is for content written by a freelancer on the topic "CPA marketing for beginners". As the article is written by a human the originality score comes to 96% and the AI score is 4% only.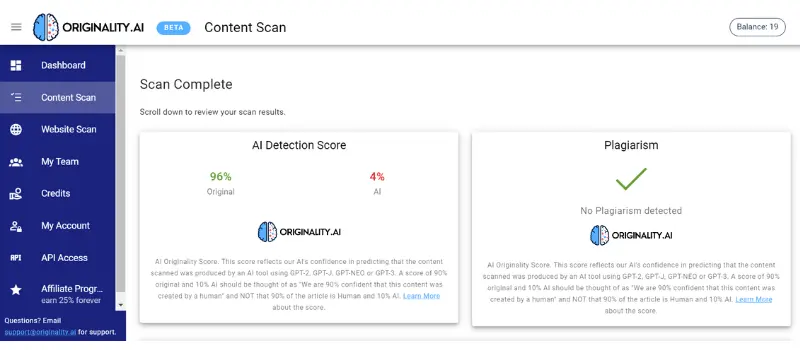 Test 2:
The below testing is for content written by OpenAI or ChatGPT. The article topic was "How to make money online?". As the article is written by a robot, the AI originality score showing 87%.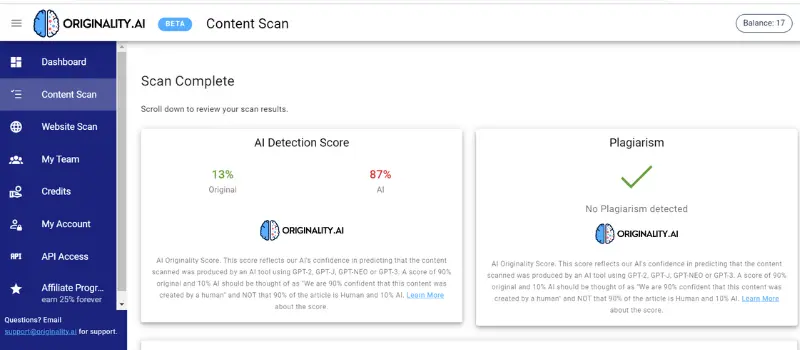 Test 3:
I created content with the Copy.ai tool. "How to Lose Belly Fat" is the topic of the content. It caught right away because the content was completely written by a content writing tool.
How much accurate the tool is?
It is not totally correct. I did run content that I knew really wasn't AI, and it gave a little (13%) AI score.  
Originality AI Review; Pricing:
The credit-based pricing model. There is no monthly or lifetime plan. The software costs $0.01 per 100 words scanned, which equals one credit.
For $20, get 2,000 credits, $50: 5,000 credits, $100: 10,000 credits, and so on.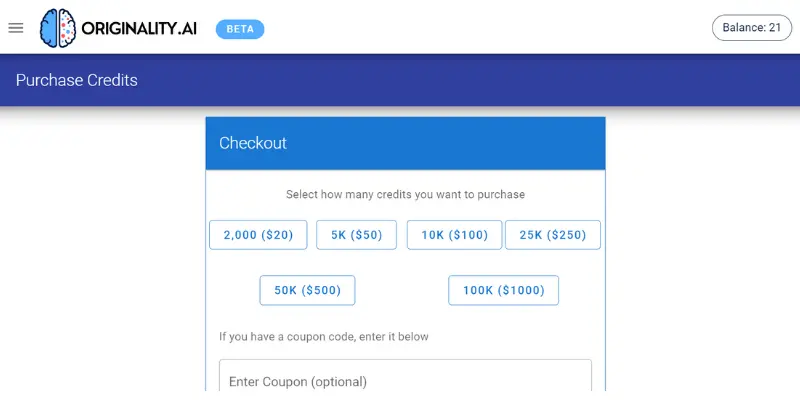 FAQs:
Is there a free trial for Originality.ai?
Yes, you will 25 credits free when you sign up inside Originality.ai. Also,  You will get 10 free credits when you will install the chrome extension.
Is there a lifetime deal available from Originality.ai?
No, you need to buy the credits whenever you will run out of it. There is no monthly, yearly or lifetime model of pricing.
What Kind of AI it Can Detect?
GPT-2 to GPT-J, and ChatGPT, it can detect all types of AI contents.
Is there a word limit when testing?
To test for AI, enter at least 50 words, or 100 if using the Chrome extension.
Does it help to change the Content?
No. They only offer plagiarism and AI detection; they will not assist you in changing the content.
Originality AI Review; Conclusion:
In general, Originality.ai is very nice, and it is reliable as it changes over time. I did a lot of testing because there is a strong link between original content and high traffic on websites. I recommend that you do the same.
Related articles: