What is SEO in digital marketing?
The full form of SEO is search engine optimization. This means enhancing your website's presence when someone browses Google, Bing, and other search engines for any product or service related to your niche. 
The more presence of your search results show on your pages, the more attention you will get, and your website will reach more people. 
So, the method of sending traffic to your website organically through search engines is called SEO.
SEO may target many search types, including keywords, images, videos, etc. Using a good SEO strategy, your website is correctly placed in front of the right audience. So, that is the SEO in digital marketing in a nutshell. 
Benefits of SEO:
It improves your brand awareness:
You get more traffic to your website when you focus on SEO. This improves the awareness of your brand to attract more people to buy your products or services.
Improves user experience of your website:
Google algorithm says that you can rank higher by search engines if your website user experience is good. You can use SEO-friendly website themes to improve the website user experience. Also, write high-quality articles with proper keyword research for a good user experience.
It increases search visibility:
You probably won't gain clicks or promote your business to anyone if you're not on page 1. Only proper SEO can help you to bring your website to Google's first page.
SEO reaches your targeted audience:
Search engine optimization will place your website to the right people when they search through Google, Bing, or any other search engine.
SEO Improves Trust and Reputation:
The top page ranking of Google increases the trustworthiness of potential customers. SEO established confidence in the search engine.
SEO provides continuous boost 24×7:
Optimizing the search engine does not end after working hours. Content does not disappear, as with sponsored advertising, when a budget is exhausted. SEO rankings advertise your website 24×7 which allows you to get more and more visitors to your website.
Get good ROI through SEO:
Return on investment is always important for any investment in online marketing. SEO takes some time to bring your website to a higher ranking in Google, but it always gives an amazing return on investment.
On-page SEO:
On-page SEO is the optimization of various parts inside of your website that impacts your search engine rankings. When your site shows in search engine results, several variables such as accessibility to your site, page speed, optimized content, keywords, title tags, etc are decided. In the case of your site, you have control over these things and may change them on your own website.
Major checklist for on-page SEO in digital marketing:
Your blog post title:
In the title tag for each page of your site, include your selected keywords. There are several good strategies to write a title tag.
Restrict 55-60 character tags for your title.

Put the keyword nearer to the title beginning.

Don't put your keywords inside anything.
Heading and subheading:
Headings are normally the larger words on your page, which makes it a bit more important for search engines. So, include your keyword in the H1 headings. Also, you can include the keyword inside H2 and H3 if possible.
Structure of the URL:
Keep URLs short.
Keep your keyword inside your URL but don't repeat it.
Images alt text:
Use some keywords that allow your search engines to identify the content of your website while properly describing the image.
The loading speed of your web page:
Always try to keep your website loading speed good. Google provides a PageSpeed Insights tool, which will assess your site speed on mobile as well as on your desktop. And then also provide page speed optimization tips. There are a few fast remedies for removing everything that slows down your website loading speed.
Make your website responsive for any device:
Your website must be responsive to any device like mobile, laptop, or tablet. In present times most of the views come from mobile. So, make sure your website is mobile-friendly.
Provide valuable content:
The information must be beneficial to users on your pages. You need to be able to figure out what people are looking for on your website post. Your content must be simple to read and give visitors real value.
Try to write the content of at least more than 1000 words. Although the actual requirement for the number of wording for a page is not known. Google likes to favor if a web page contains a great deal of material, and surrounding your targeted keywords. Valuable content plays a huge role to improve the SEO in digital marketing for your website.
Must do some internal linking:
Internal linking is very much important for proper on-page SEO. Do some internal linking in every post. People will read your article, and click on the links given in your post and that will redirect them to the relevant post or pages.
This internal linking plays a huge role to reduce the bounce rate of your website. Visitors spend more time on your website if there are more internal links.
But make sure to do internal linking with the relevant post or pages. Irrelevant internal linking may harm your website experience and also may harm SEO in digital marketing for your website.
Include the social share button:
If people like your post helpful and valuable they must share your post. So, make sure that you include a social button in your post and pages.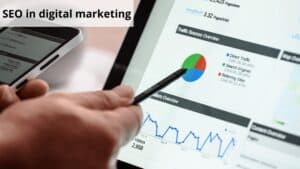 Off-page SEO:
This is something that you do outside your website for more traffic. This involves website activity needed to increase the search engine rankings of the website. Common off-page SEO measures include generating backlinks, creating brand awareness, and increasing social media sharing and engagement.
Major checklist to improve off-page SEO in digital marketing:
Link building or backlink creation:
Receiving reputed website links back to your website has two primary advantages. The first is driving traffic to your website and the second one is to improve your ranking in search engines. Popular website links are very valuable for any new website.
There are two types of backlinks that exist, do-follow and no-follow backlinks. When you get backlinks from a high authority website, and if that website is passing the authority to your website is called a do-follow backlink. Do-follow backlinks improve the off-page SEO in the digital marketing of your website.
In the case of no-follow backlinks, the website does not pass authority to your website. That is the reason no-follow backlinks do not help in SEO.
Guest posting is a legit way to create do-follow backlinks from good authority websites. Guest posting is to write posts on authority websites and link back to your own website. This is only possible when the owner of the website will allow you to write an article on that particular website.
Blogging:
Blogging is one of the best ways for off-page SEO of your website. Whenever you publish an article inside your blog, people will come and share your post on social media. This will help you a lot to grow your website.
You will get noticed by continuously posting on your website. This process will create your brand slowly.
Social media marketing:
To grow online social media plays a big role to reach more and more people. Social media marketing offers any business to promote their products and services, interact with their present customers and reach new ones.
Social Media SEO refers to how efforts in social media can improve organic traffic on your website using search engines.
If you can share your content on social media on a regular basis, this will drive a lot of traffic to your website. This way you can grow your brand awareness and also can improve your off-page SEO.
Forum posting: 
Forums are an excellent place to advertise your website and obviously, they are part of off-page SEO technology. Provide values to other queries in Quora, Reddit, and Yahoo Answers to improve SEO in digital marketing for your website.
Forums are a fantastic place to meet people and talk to them about subjects of interest. So, post in different forums, and do not forget to link back to your website there.
Commenting on Blogs:
Blog commenting still plays a big role in off-page SEO. Visit different blogs related to your niche and start commenting. Keep in mind, do not spam. Comment only after reading the article. Your comment must be meaningful and relate to the topic and put your website link there.
Conclusion: 
So, that's all about SEO in digital marketing. Above are the key concepts that you must know, including the requirements for a good on-page and off-page SEO. Keep in mind, that the wrong way of doing SEO may harm your website ranking. Thank you for reading the article.
Related articles: