What is B2B leads?
B2B stands for business to business. Here a business sells its products and services to other businesses. For example, if a battery manufacturing company sells its products to car manufacturers then it's a B2B business. The car manufacturer is a B2B lead for a Battery manufacturer company. In this article, we will discuss 7 tips to generate high-quality B2B leads.
Generation of B2B leads is the method of finding the right businesses to sell their product or service. This is a crucial part to grow any B2B business. In the B2B business model, both companies profit from one another and have equivalent bargaining abilities, and get benefited.
7 Tips to Generate High-Quality B2B Leads:
1. Leverage LinkedIn:
LinkedIn is the best platform to generate B2B business leads. B2B is very successful with LinkedIn and may produce extremely profitable outcomes. It is the only social site focused on business contacts entirely. LinkedIn is one of the best platforms to generate high-quality B2B leads.
LinkedIn is an efficient marketing platform that can bring your company to new heights. B2B marketer says 80% of social media leads come from LinkedIn only.
A good profile picture with a strong headline and a professional bio is required inside the LinkedIn account to grow it. Also, don't forget to mention your key skills, nature of business, and what product or services your company offered.
As we know Google applies SEO to rank your content in the top few pages, and LinkedIn utilizes SEO to enhance profile visibilities. When you appear on the top few pages on LinkedIn, you are more sure to find potential leads for your product or services.
To get more visibility be active on LinkedIn, write your success stories, and post pictures of your work, on a regular basis. Also, share your website article and write an article on LinkedIn.
Send contact requests to the people of your same niche industry on a regular basis. Also, commenting and mentioning is a major factor in growth in LinkedIn.
2. Write helpful and quality articles on your website:
Write engaging and quality content on your website to attract more business persons to generate B2B leads. Writing valuable articles is a strategic marketing technique intended to generate and deliver valuable, relevant, and consistent content. This is the only strategy that engages, retains, and ultimately encourages customers for sales.
A valuable article is crucial as it answers the questions of your viewers. You can gain confidence with your website visitors, and generate leads through your content. Regular articles develop your business credibility, confidence, and reputation.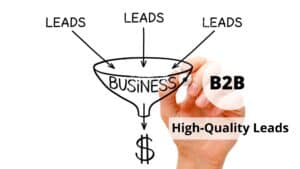 3. Concentrate on SEO:
You have to work on SEO if you want to rank your article inside Google as your valuable content will help you to acquire more high-quality B2B leads for your business.
SEO is the most long-term and sustainable method to generate B2B leads. The first buying step of the consumers is to collect information about the product or services. That is the reason SEO is the most important part of any B2B business.
SEO plan is the best approach to enhance the ranking in the search engines and generate high-quality B2B leads. This approach focuses on various strategies including on-page SEO, off-page SEO, content strategy, and user experience.
4. Write a guest post on the same niche to various authority websites:
Writing guest posts to high authority websites is one of the most robust ways to generate B2B leads. Business people always search and collect information from big brands or established websites. 
So, writing a guest post with do-follow backlinks on high-authority websites will redirect people to your article. They will read your article and know about your product or services and what they are actually searching for and you will be able to generate valuable leads.
The guest post also helps you to increase your website authority and your website will get a better ranking in search engines. The more guest posts you will create, there will be more chances to collect B2B leads.
5. Start paid advertisements:
Paid advertisement is required if you want quick results to generate high-quality B2B leads. If the website is new, you may not collect enough leads through your website only through SEO strategy. 
So, you need to run paid advertisements for more leads. Target industry or business-related keywords to reach the right audience. Write a killer ad copy for a high CTR. Don't know how to write a high-converting Ad copy? Just follow another article >> "10 tips to write a high converting ad copy for Google ads."
You can run paid ad campaigns to generate B2B leads on various platforms like LinkedIn, Google, Facebook, Quora, and more. Also, run retargeting ads for better outcomes from your ad campaign.
6. Use a lead magnet:
Always use a lead magnet on your website to generate high-quality B2B leads. A lead magnet is a concept of giving away something valuable in exchange for a visitor's contact details. The giveaway can be an e-book, a video course, etc. 
Use a free giveaway that is valuable and closely related to your product or services. Business owners will visit your landing page or your website and your lead magnet will collect leads in exchange for valuable free giveaways. 
Always integrate an email auto-responding service in the back end to nurture your leads.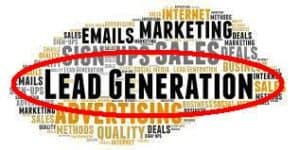 7. Start video marketing:
In present days video marketing is the fastest growing marketing strategy. To generate high-quality B2B leads, video marketing is super effective. Through videos, you can show your product or services in a more effective way to reach prospective customers. 
You can make a captivating video that convinces viewers to learn more about your product or service. Provide a call to action to your landing page and visitors will find out more about it or make a positive decision.
Conclusion:
So, these are the most effective 7 ways to generate high-quality B2B leads. These steps will allow you to find the perfect leads for your product or service. I am pretty sure if you effectively use the above methods, you will be able to generate quality B2B leads for your business.  
Related articles: