Introduction:
In the online marketing world, email leads are the foundation. Email marketing is the most cost-effective way to reach out to your target market. In today's article, I will discuss how to generate email leads to skyrocket your online business.
What are email leads?
Email leads are persons who have expressed interest in your product or service. A genuine  Email leads are a really interested person in your product or services. 
When people are providing emails, that means they want to know more about your business. So, An email lead is a prospective consumer who has expressed interest in your product or service and has filled out your opt-in form.
Email leads are a type of permission marketing in which the prospect grants you permission to reach him or her. Email marketing has gained popularity in recent digital marketing strategies. Do you want to save your money, time, and effort? You must understand how to generate email leads.
A good quantity of email leads can boost your sales instantly. But in this article I will not discuss the positive sides of email marketing, rather I will tell you a few procedures of collecting emails.
How to generate email leads?
1. Provide an opt-in form inside your website:
Providing opt-in forms on your website is an effective method of gathering email addresses. You can display an opt-in form on your website home page and also in the sidebar and end of your blog post.
Also, you can create a floating opt-in bar on top and the bottom of your website. This floating opt-in bar grabs the attention of your visitors and helps you to collect more leads.
Want to create high converting opt-in form? Try Sendinblue
2. Exit popups might help you turn on visitors who are about to leave your website:
Pop-ups are a little annoying if it arrives while scrolling a website or while reading some Blog post. But exit pop-up is somewhat different. Exit pop-up arrives when visitors are about to leave the website. This will re-engage visitors to input their email addresses. You must give a call-to-action in your exit pop-up to engage visitors again. 
3. Lucrative giveaways in exchange for email address: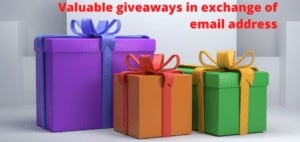 Valuable giveaways inside your lead magnet will undoubtedly inspire many visitors to provide their email addresses. You must ensure that the lead magnet adds significant value to your viewer's journey.
A wonderful example of a high converting lead magnet is a sequence of valuable video lessons that assist your readers in solving problems related to your niche. I stop questioning "how to generate email leads?", when I start providing valuable giveaways to collect emails. Because, now I am getting consistent email leads through this method.
4. Opt-in pop ups:
Popups are a popular way to gather email addresses and it's powerful. Many renowned internet marketers claim that  pop ups increase lead generation rates. A well-timed, well-placed, and well-designed popup will significantly boost subscribers.
A few things you need to keep in mind to optimize your pop ups…
Use eye-catchy photos, modify the colors and fonts, and add animations to make the pop-up to make it more attractive.

Show popups to the audience as per location, platform, new or returning users, etc.

Display popups at the most appropriate moment to gather emails from your audiences.
5. Provide a coupon:
Giving a coupon for a discount on any related products or services will increase your email opt-in rate, and it will also enhance sales. 
Display a signup popup promoting your deal and then provide a discount coupon code to your subscribers in the welcome email.
6. Quiz builder to gather emails:
Everybody enjoys quizzes, you can also make a quiz inside your website. Ensure the quiz you build is related to the niche of your website so that you can collect emails from the people you're looking for.
7. Grab emails from social media: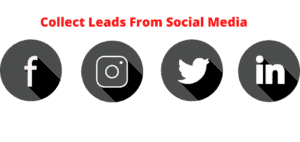 Create a landing page and drive traffic from social media to collect emails. You can establish a Facebook page, including a Sign-Up tab at the top. This will drive people to a landing page in which you can gather email addresses.
You may include a website or landing page link in your Instagram bio to drive traffic and collect leads. In the same way, you can use Twitter and other social media to collect leads.
Want more visitors from social media? Try Sprout Social.
8. Leads through Youtube:
Youtube is a huge platform to collect leads. Produce valuable video content on Youtube and put the landing page in the description. Viewers will watch your videos and from the video description, they will come to your landing page and give their email addresses.
9. Valuable content inside your website:
Helpful and valuable articles will encourage visitors to give their email address to your website. So, always provide high-quality and easily understandable content inside your blog to grab visitors' emails.
Want to generate more text contents? Try Spin Rewriter.
10. Emails through paid ads:
You can run ads on your landing page to collect emails. For collecting emails google search ads and solo ads are the most powerful ad platforms.
Conclusion:
There are several alternative methods to collect email leads. Email marketing consistently provides the greatest ROI as compared to any other online marketing methods. I hope now you get a clear answer to the question, how to generate email leads to grow your online business. Thank you for reading the article.
Few related articles you may like to read: