Introduction:
This tool will help you to boost your sales without any extra effort. With Omnisend's simple platform for e-commerce email marketing, SMS, and automation, you can decrease the time to boost your sales. In this Omnisend review, I will discuss all features and benefits of this tool for better understanding whether it is worth it or not. 
Omnisend is not just an email marketing software, you can increase sales and drive traffic to your newsletters with autopilot emails, personalization, and the extra option of SMS.
This tool will help you to increase sales on autopilot.  Pre-made automation for cart dropping, welcome messages, transactional emails, can help you to lead more sales.
Why will you choose Omnisend?
Increase sales on autopilot for e-commerce:
Pre-built automation for cart leaving without purchase, welcome sequence, transactional emails, and more can help you to drive more sales.
Strong Categorization will help you improve your targeting:
Segment your clients based on their purchasing habits and other characteristics to boost sales with targeted, customized emails and SMS.
In email and SMS marketing, be relevant and consistent:
Using one single platform, you can add SMS and other channels right next to your emails to give a consistent, and excellent consumer experience.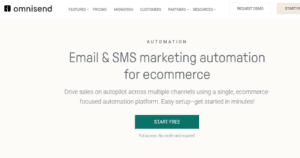 Omnisend

review; Exciting features:
Ecommerce marketing automation:
Using this e-commerce focused automation system, you can automate sales across different channels. You'll be up and running in minutes by simple setup.
You can provide a reliable, personalized experience while increasing your impact and conversions. You can easily drag and drop these channels into a single Omnisend procedure.
Welcome sequence:
With pre-written sets of welcoming emails, you can welcome new subscribers and turn them into purchases.
Abandonment of a product:
Reach out to customers who have seen items but did not complete a purchase.
Abandonment of a Cart:
Utilize pre-built series with automated email and SMS communications to recapture more abandoned carts.
Confirmation of Order:
Deliver a confirmation email and SMS to your consumers with a sales invoice as soon as they complete payment.
Confirmation of shipment:
Make your consumers happy by informing them that their order is out for delivery.
Cross-Sell:
Increase sales by recommending additional goods based on prior orders from your clients.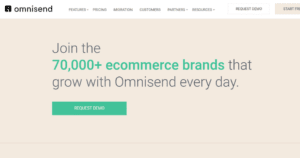 Omnisend

review; Optimization features:
Splits in Automation:
Customize your unique offers and incentives to allow for many customized communications channels inside a single process.
A/B Split Testing:
Test to determine which channel, incentive, or subject line generates the most conversions–and then use data to make informed decisions to optimize your operations.
Reporting tools:
Message Reports Included:
Track sales and engagement statistics without leaving the Automation Editor to improve your operations.
Reports on Automation:
Investigate the performance of each process to compare different channels and follow the customers that converted.
Advanced Reporting:
Analyze total workflow income and engagement statistics to get a list of your highest-performing automation.
Utilize the data from your integrations:
Omnisend makes it simple to use third-party data to improve the reach of your customized communications. Create workflows by loyalty and reward programs, help desks, review programs, shipping and tracking services, and other systems.
Personalized email campaign:
It's simple to create beautiful, customized email campaigns. Forget about coding and time-consuming editing. Using Omnisend's powerful email marketing tools, you can create professional, personalized campaigns in minutes and watch your opens and business increase.
Create eye-catching, on-brand campaigns.

Create shoppable emails quickly.

Increase your conversion rates with segmented emails.

Increase your email open rates and sales.

Measure and understand what works best.
Ecommerce SMS marketing:
Forget about the hassle and added costs of operating several emails and SMS programs. You can integrate SMS directly alongside your emails with Omnisend, and they will provide you free SMS credits also.
Combine automatic SMS, email, and push alerts into a single automated procedure to give a uniform, personalized experience to your consumers.
Sales report:
With accurate income tracking and reporting, you can easily keep track of the sales that Omnisend is producing for you. Keep track of all sales made by campaigns and automation.
Omnisend

review; Pricing: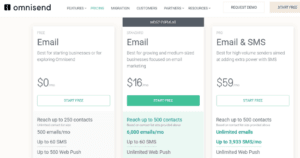 Free Plan:
There is a free trial for this software. In the free trial, you can build a list of up to 250 contacts, and you can send 500 emails per month. Also, get up to 60 SMS and up to 500 Web Push. This is ideal for starting a business or learning about Omnisend.
 Few free trial features are listed below:
Email Templates with a Professional Design.

Automation and Workflows that are pre-built.

Signup Forms and Popups.

Customer segmentation and analytics.

Reports on Sales and Performance.

A/B comparison testing.

Email Customer Service.
Standard Plan:
This is ideal for small and medium-sized companies that are focused on email marketing. Price starts from $16 per month and ends with $720 per month, depending on the number of contacts and the email sent per month.
Features are listed below:
Everything is included in the free plan.

Get a dedicated customer relations manager, from 60K contacts.

Chat and live support are available 24×7.
Pro Plan:
Perfect for high-volume senders looking to boost their SMS strength.
Price starts from $59 per month and ends with $1150 per month, depending on the number of contacts and the email sent per month.
Includes everything in the Standard plan.

Advanced Reporting.

Customer Relations Manager (from 27K contacts).

Priority Support is available 24×7.
Conclusion:
It's time to conclude the Omnisend Review, in my opinion, this tool is really a no-brainer deal for you. Combine Omnisend's email, SMS, and web push alert methods with its customer sync for Facebook and Google. This will definitely increase your exposure, message regularity, and 4x conversion rates.
Few Related articles you may like to read: