Introduction:
Keap automation is a user-friendly customer relationship management (CRM) application that makes it simple to generate more leads and sales. The system enables everything a growing business requires to handle sales and their clients. 
This tool handles CRM, sales automation, marketing automation, and finances, all in a single dashboard. Keap is my choice because this is the perfect CRM for simplicity of use. Over 200,000 enterprises have chosen Keap to solve their business hazards over the past 20 years.
Three ways of Keap automation:
Simple Three different ways Keap automation in Sales & Marketing can help your business succeed.
Increase the efficiency with which leads are captured and converted:
Generate leads and arrange them in a single location. Your contacts must be categorized and customized. Move prospects through your sales funnel effectively and dynamically.
Utilize pre-built templates to easily set up automation for follow-up customers, such as invoice approval and payment reminders, etc. With native WePay, Stripe, and PayPal, you may accept payments.
Organize your tools into a single location:
Using Keap, you can manage your lead generation, customer data, email and SMS marketing, schedule booking, invoicing and payments, and more all in one location.
Keap automation, Exciting features, and benefits:
Keap

Integrations:
Integrate with over 2500 different apps, with numerous connectors, you can manage your business from a single location. 
Your company is fully integrated by using Keap. Connect your company's data, apps, and devices to become more effective.
CRM:
With Keap's CRM, you can stay organized while also triggering sophisticated Keap automation. Keap's CRM is driven by sales and marketing automated processes to help you maximize your user experiences and put a stop to the mess that comes with running a company.
Sales pipeline:
With sales pipeline management, you can close more prospects. The drag-and-drop sales pipeline of Keap lets you progress your leads quicker, close bigger sales, and keep track of the progress of every opportunity in one location.
Stay organized:
Forget investing time in your manual databases. Have a complete overview of your whole workflow and simply monitor new leads as they progress inside your funnel. Build several, configurable pipelines that integrate with Keap's automation CRM to convert leads into purchases efficiently.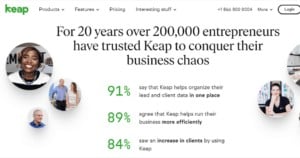 Follow up clients:
Monitor and nurture lead on your customized interface and converts sales quickly. To nurture prospects through the sales funnel, you can set up automatic follow-up and activities.
Keap

automates the sales funnel:
Generate more prospects and move them into your sales funnel. Build automated systems directly in the pipeline, and set up quick Keap automation.
Ecommerce and payments:
Keap's integrated e-commerce and payments will help you increase your online sales. Small companies can sell online more easily than ever before. You can configure Keap's CRM, e-commerce, invoicing, and payment processing to meet your specific needs while avoiding the additional third-party applications.
Promo codes to boost conversion:
Increase conversion rates through upsells and promotions. Using the correct offer at the right moment, promo codes help to generate repeat sales. Upsells can increase your minimum order value and increase your profits.
Abandoned cart follows up:
Don't let the sale slip through your fingers at the final minute. You can now design a streamlined, personalized checkout process that represents your branding and triggers an automatic follow-up to your drop cart clients.
Sales report:
Inside the Keap app, you can follow simple sales data and create success measures that are customized to your company's growth objectives.
Keap

automation CRM analytics:
CRM analytics allow you to look into your company.
Using the newly enhanced analytics dashboard, you can visualize traffic, data, or insights. With sales data and statistics, you can gain useful insights that can help you make wise business decisions.
Analytics and reporting for marketing.

Sales data.

Analytics for contact growth and engagement.

Analytics for payments and income.
Appointment scheduling:
Appointment scheduling software sets up automated follow-ups with ease. Customize the details, availability, and alerts to your company's needs. There are no other tools required. The appointment planner in Keap is a robust dashboard that allows you to see everything at once.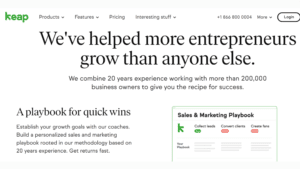 Email marketing:
When a lead enters, he or she is immediately classified and segregated depending on the parameters you've specified. You can send them a personalized introduction email instantly.
Your leads will begin to get customized emails based on their interests. Keep your customers interested, nurtured, and on the edge of a purchase.
Don't limit yourself to just one sale. Your clients will get automatic emails and newsletters from Keap automation, which will increase repeat transactions to ensure long-term recurring income.
Pricing:
There is a free trial for the Pro plan of Keap for 14 days. The best part is, you don't need a credit card for the same.
There are basically three types of pricing plans: Lite, Pro, and Max. 
Lite Plan:
This plan is good for new businesses. The price starts at $40 per month and ends at $190 per month depending on how many contacts you have.
Features:
CRM

Email marketing

Lead capture

Easy Automation

Appointments

Mobile app & business line

Automated text messaging

Payments & invoicing
Pro Plan:
This plan is absolutely good for growing businesses. The price starts with $85 per month and ends with $235 per month depending on the number of contacts.
Features:
Get everything of Lite Plan, plus:
Landing pages

Advanced automation

Sales pipeline

Text message broadcasts

A/B testing

Checkout forms

Sales reporting

Pipeline analytics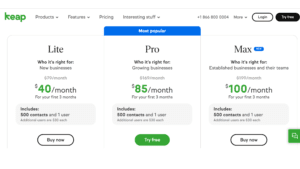 Max Plan:
This plan is absolutely good for established businesses with a team. The price starts at $100 per month and ends at $250 per month depending on the number of contacts.
Features:
Get everything of Pro Plan, plus:
Sales funnels

Lead scoring

1-click upsells and cross-sells

Recurring upsells

Promo codes

Marketing performance analytics

Engagement analytics
Conclusion:
With the assistance of the expert staff, Keap automation allows the smooth migration of your contacts and data. They make transferring from businesses like Mailchimp and Constant Contact simple, quick, and effortless. There is no chance for your business to be hampered.
Few related reviews you may like to read: