Introduction:
Freshworks is a multiproduct software system that provides comprehensive assistance for business organizations. In this Freshworks review, I will discuss all aspects of this tool and make you understand and know whether this tool is best suitable for your business or not.
Its five solutions enable CRM for customer service, sales, marketing, IT, and HR solutions. Freshworks is ideal for small organizations looking for a CRM at a low cost and with a quick and simple setup. For businesses, the Freshworks software package provides a full CRM solution. 
Users can choose from five products: customer service, sales, marketing, human resources, and information technology. This innovative concept of business technology has helped over 50,000 firms all over the world satisfy their client and employee requirements. 
Freshworks CRM has a user-friendly interface, where workflows and automation can be effortlessly configured with the sequences for your email campaign. 
Why do businesses need CRM software?
To establish a relationship with prospective clients.

Improve existing customer relationships.

Developing a trustworthy, client-centered sales methodology.

Other tools and systems integration and automation

To deliver outstanding customer service.
Freshworks Review; Total five products:
Freshworks has five products, each one with four pricing levels based on your demands and the size of your firm. Each product is a fully working platform that supports a specific company requirement, such as customer service, sales, marketing, HR, or IT.
Freshworks Review;

Freshdesk

: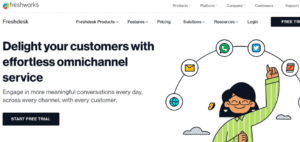 Freshdesk provides seamless omnichannel support to your consumers. Interact in much more significant relationships with your customers every day, across all channels.
Clients will be surprised and delighted:
Optimize each engagement and put consumers back in control by providing the help they expect through their preferred channel.
Start making every employee a customer winner:
Provide additional information and intelligence to agents in order for them to properly analyze client requirements and deliver the best.
Increase the speed of service.
Provide outstanding customer service in time. With the NEO platform, the clients achieve service performance improvement in less than three months and expand more quickly.
Messaging:
Connect with consumers through platforms they enjoy.
Customers will be impressed with availability in their preferred channel and smooth transitions at every point in their trip. 
Connect a variety of communication experiences, such as live chat, online, mobile, and call center assistance. Assist clients in finding solutions quickly. Launch AI-powered chatbots to help customers find answers to their problems.
Contact center:
Increase the effectiveness of phone interactions and link clients to the correct specialist from the start. Increase call performance by enabling agents with a 360-degree picture of the consumer and guided solutions. 
Field Service Management:
Provide field service that distant agents can rely on.
Field personnel must serve clients safely and effectively while working remotely. Provide field service that remote employees can rely on to quickly fix issues on the way.
Service teams are effectively routed subject to availability, location, and technical skills. Provide real-time updates to consumers through interactive bots and streamlined appointment booking.
NEO platform:
With the combined forces of the Freshdesk NEO platform, you can react to market trends quicker and allow teams to get to know consumers better.
Manage your growing customer support requirements by connecting easily with comprehensive APIs and which was before integrations from 1,000+ Marketplace applications.
>> Start 21 days free trial in Freshdesk.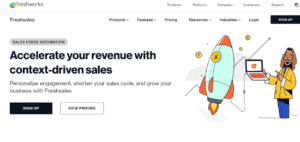 Context-driven sales can help you increase your revenue.
Freshsales can help you personalize engagement, minimize your sales cycle, and expand your business.
With a 360° perspective of your consumers, you can close sales faster.

Streamline your sales process to increase seller effectiveness.

With a complete solution, you can reduce IT complexity and costs.

Prospects on the website are the most engaged. Launch chat campaigns to transform your website into a lead generation powerhouse.

Engage in context-specific interactions. Reduce your sales cycle.

Drive agreements to completion more quickly. AI-powered insights can help you increase sales conversions.
>> Start 21 days free trial in Freshsales.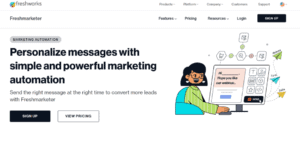 Using easy and effective marketing automation, you can personalize messaging. With Freshmarketer, you can send the correct message at the right moment to convert more leads.
Engage website visitors, initiate contextual interactions, collect behavioral data, and transform your website into a lead creation engine.

Recognize the customer's intention. Create marketing efforts that have an impact.

Provide user experience at a large scale. Engage throughout platforms with the appropriate messaging at the appropriate time.

Create long-term consumer relationships. Boost recurring sales by assisting with upselling and cross-selling.
>> Start 21 days free trial in Freshmarketer.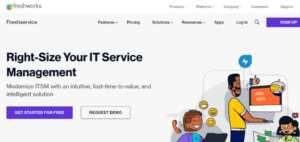 Reduce the size of your IT service management.
Update ITSM with a user-friendly, and smart solution.
Without using any workflows and strong automation, you can eliminate routine tasks and manual procedures while increasing service efficiency.
Streamline service management on a specific platform to remove obstacles, enhance time to resolution, cut expenses, and increase visibility.
Freshservice's no-code system allows for quick customization. Get skilled onboarding, migration services, and round-the-clock support.
>> Start 21 days free trial in Freshservice.
Freshworks Review;

Freshteam

: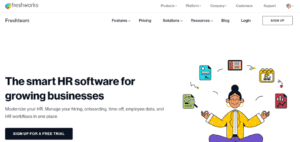 Intelligent HR software for developing organizations.
Develop your human resources. In one location, you can manage your recruitment, training, time off, employee data, and HR procedures.
Automate monotonous schedules and decrease recruiter burden by up to 75%.

Reduce the number of new recruit onboarding questions.

Better data organization by securely storing all employee data and files.

Easily manage data and keep track of and report on time.
>> Start 21 days free trial in Freshteam.
Freshworks Review; Pricing:
There is a free trial period of 21 days for all services, and premium packages ranging from $19 to $125 per user, each month. Visit the Freshworks CRM website to compare all options and sign up for an account.
Conclusion:
Freshworks is a robust platform that comes at an affordable price. It provides extensive HR and IT support, which is absent in many CRMs.
It is also really simple to set up. Most CRMs might take several weeks to set up, however, Freshworks can be up and operating in less than 48 hours. I hope this Freshworks Review will be helpful for you to make the right purchasing decision of this powerful CRM software.
Few Related articles you may like to read: