Introduction:
Paxful is a cryptocurrency trading marketplace and digital wallet service that operates on a peer-to-peer basis. Customers can purchase and sell cryptocurrencies using any of the 350+ payment options. In this Paxful wallet review, I will go through all the features and benefits of this platform to make you understand whether to use this crypto wallet or not.
Paxful operates in more than 190 countries worldwide. The exchange platform was founded in 2015 with the purpose of making Bitcoin more accessible. Paxful allows buyers and sellers of cryptocurrencies to connect and deal directly with one another.
>> Create a Free account in Paxful Now!
What are the things you can do with Paxful?
Bitcoin can be purchased online:
Make Purchases Bitcoin in real-time on Paxful. Utilizing the live chat, you may deal with some other people online.
You can sell Bitcoin:
Sell the Bitcoin at your desired price and receive payment through any one of various payment methods.
Trade securely:
Keep your Bitcoin safe in the account till the deal closes completely.
Build a reputation as a trading partner:
The customer feedback system allows you to find reputable and experienced trading partners.
Receive a free wallet:
Have a personal Bitcoin wallet for life from BitGo.
What coins can be purchased in

Paxful

?
Paxful allows users to purchase Bitcoin (BTC), Tether (USDT), and Ethereum (ETH). No other cryptocurrencies are allowed to purchase and sell on this platform. This trading platform is very restricted in comparison to Binance and Coinbase.
>> Create a Free account in Paxful Now!
350+ payment methods; a few methods are mentioned below:
Bank Transfers.

Online Wallets.

Gift Cards.

Cash Payment.

Debit/Credit Cards.

Digital Currencies.

Goods & Services.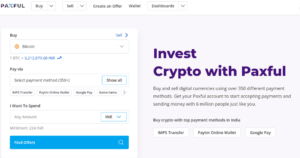 Paxful wallet review; is this safe?
 Paxful BitGo wallet service guarantees cutting-edge security measures to safeguard customer digital assets. There is two-factor authentication for account login, three-dimensional encrypted payments integration, and double code requirements for any crypto payments. Paxful creates a fresh wallet for each transaction, decreasing the possibility of hacking. 
Fees:
When you buy Bitcoins on Paxful, you will not have to pay any fees. But Sellers on Paxful need to pay a 1% commission to the service.
How to start with Paxful?
Sign up and log in to Paxful:
 Sign up is very simple, it just asks you to fill out a few details such as your name, email address, password, cell phone number, country, etc. Next, you will receive an email, you just need to validate it.
Account verification needed:
Before starting the trading, you need to register an account. This is accomplished by checking the trader's identification, such as name, date of birth, and phone number.
Deposit and Withdrawal:
After creating a new account, start to Buy or Sell Bitcoin utilizing the primary payment methods. PayPal, Western Union, bank transfer, and credit cards are available for transferring funds. In the same way, you can withdraw money when you sell crypto.
Paxful wallet review; Is

Paxful

legit?
Paxful allows customers to buy Bitcoins with any payment method. The user interface is extremely simple, and while all appears to be in order. In my opinion, this is absolutely a legit platform to buy and sell crypto.
But, one thing I want to mention here, ensure that the vendor you choose has a good reputation by Paxful and has completed enough deals in the past to prevent being scammed. If you keep this in mind, the marketplace provides a valid platform for buying and selling Bitcoins.
You will find some negative reviews inside Trustpilot, but those reviews are from a few competitors' end, not from the real Paxful users.
Pros:
Codes for referrals.

There is no commission to buy crypto.

Trading using escrow is safe.

Positive feedback about the wallet.

Mobile app with complete account functionality.

Choose cryptocurrency vendors based on your needs and cost.

There are over 350 payment options.

During a trade, there is live chat.

Identification and biometric verification.

A full-featured and secure wallet app.

A well-known affiliate program.

With Bitmart integration, real-time trading will be possible.
Cons:
There is no phone support available.

Not accepted in a few countries.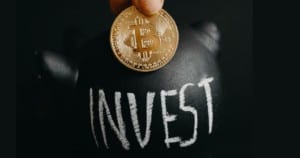 Paxful wallet review; customer support:
Paxful offers a seamless, clean, and customizable customer experience, as well as a consistent customer assistance system when you need to resolve a problem. Paxful is designed with customer assistance in consideration, including a thorough FAQ area, forums, and 24-hour everyday account tracking.
Conclusion:
Around 3 million consumers have been using the Paxful wallet to buy and sell crypto. The platform is useful, safe, and simple to use on any device.
After you've fulfilled the ID verification procedures, you can fast and conveniently establish an account and start buying and selling crypto. I hope this Paxful wallet review will be helpful for you to choose this wallet as your crypto buying and selling platform.
>> Create a Free account in Paxful Now!
Few more articles you may like to read: