Introduction:
Woodpecker is an email marketing tool that specializes in cold email outreach and lead generation. It is utilized by small and medium-sized B2B businesses. It helps to grow sales and income while also improving customer connections. Woodpecker cold emails may be sent straight from Gmail, Office 365, or Exchange accounts.
Woodpecker is a SaaS for follow-up autoresponder that helps B2B enterprises interact with their potential clients. Emails and follow-ups are sent automatically one by one, much like manual sending, and repetitions are also verified. Woodpecker was created specifically for cold emails and follow-ups. 
What is a cold email?
Cold email is a method of establishing and maintaining business connections. Consider how business connections grow in the offline world, typically, everything begins with a discussion. To get new clients, a salesperson visits an industry conference or trade fair. Cold emails do the same thing digitally.
Throughout the internet world, cold email is a method of starting a discussion. It's a message you deliver to someone who probably knows nothing about your business. It is called cold leads because they are hearing about you for the first time.
The purpose of a cold email is not to convert random people into business relationships right away, but to create a connection between strangers to business associates. Those leads should be warmed up slowly and gradually. 
   Start a Free Trial in Woodpecker Now!
Woodpecker cold email; Features:
Integration is easy:
Start by integrating all of your preferred tools and email providers.
Account onboarding:
If you're transferring from another tool or beginning from fresh, their help and training will help you send emails fast.
Warm-up and recovery time:
Woodpecker assists you in warming up your domain and prevents your emails from being sent to spam or promotion.
Email list validation:
Woodpecker searches for invalid email addresses just before you send your campaign to prevent unwanted emails from coming in and affecting your results.
Interest level Powered by AI:
Woodpecker simplifies your job by monitoring English chats with customers and identifying who is keen on your offer.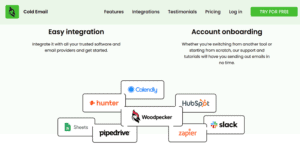 Monitor the Deliverability:
This detects email delivery difficulties prior they occur and responds properly.
Bounce Shield:
This ensures that your email provider's daily sending restrictions are not exceeded, preventing you from being blocked.
Follow-ups are unlimited:
A single follow-up email may raise your response rate, that is why follow-ups are an essential component of every cold email marketing campaign.
Unlimited team members:
You can add as many people as you wish and connect with all from the same login.
Pros:
They will work with you to ensure that your onboarding goes as smoothly as possible.
It is simple to integrate:
Woodpecker works seamlessly with most of your existing software.
Even if you are not an expert at cold emailing, its user-friendly design, support team, blog articles, and training will help you get in there.
Personalization of emails:
Ensure each email you send looks authentic and personal.
Woodpecker interacts with your email inbox and delivers welcome and follow-up emails from there. Whenever the contact replies, you take the initiative.
Emails land in the inbox:
More emails that land in the inbox is the best part of a cold email marketing system. At this point Woodpecker truly excels, most of the emails will be delivered to the customer inbox.
Cons:
Email attachments can't be sent.
Few tools you can integrate with:
Calendly, Google Sheets, Pipedrive, Hubspot, Close, Salesforce, Uplead, Leadfuze, hunter, LinkedIn, Twitter, Sendgrid, Office 365, Bouncer, slack, LiveChat, WordPress, and more.
Woodpecker cold email; Price:
Monthly contact with up to 1500 new people, costs $39 per month. If you include API keys & integrations the costs will be $44 per month. Get 2 months for free when billed annually.
The cost of monthly contact with up to 6000 new persons is $44 per month. If you add API keys and integrations, the monthly fee will be $49. When invoiced annually, you will receive two months free.
Unrestricted interaction with new people Monthly fee of $49. The monthly charge will be $54 if you add API keys and integrations. When you pay your invoices on an annual basis, you will receive two months free.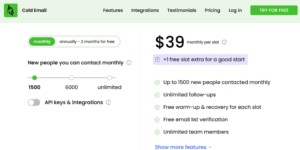 Free Trial:
Using Woodpecker Cold Email you can start sending cold emails right now. It includes a 30-day or 500-cold-email trial. The best part? You don't need a credit card for the free trial. Your free Woodpecker account will just be put on freeze after 30 days. Your data will be kept safe and private until you pick a subscription or cancel it.
   Start a Free Trial in Woodpecker Now!
Woodpecker cold email; Conclusion:
Woodpecker assists you in sending cold emails and follow-ups that initiate friendly business discussions. Using an easy-to-use Woodpecker cold email tool, you can contact and follow up across multiple platforms.
The emailing algorithm in Woodpecker has been optimized for optimum deliverability. The software sends emails at odd intervals within a given span of time to replicate human sending.
Before sending an email, the email address is confirmed. The built-in genuine email verification helps to avoid bounces.
Few related articles you may like to read: