Introduction:
Email marketing is an important aspect of every company's marketing strategy, but selecting the proper autoresponder needs some research. Read this comparison article Getresponse vs AWeber to pick the right email marketing tool for your business. 
Both Getresponse and AWeber are market leaders as email marketing service providers. Email marketing is still one of the most effective marketing tactics, with a high ROI. Email marketing has a higher level of trust than any other marketing method.  
80% of small businesses use email as their major means of acquiring and retaining customers. If your subscriber list is growing rapidly, you can't rely on any underperforming autoresponder. You have to pick tools like Getresponse or AWeber. So, let's compare Getresponse vs AWeber.
Getresponse vs AWeber; Features:
Getresponse features: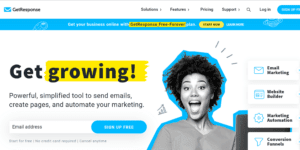 Easy for beginners:
From creating a campaign to building a landing page, Getresponse is extremely easy for any newbie. GetResponse offers a variety of theme options when creating a campaign. Under each theme, there are various distinct templates to assist you in best designing your campaign. 
Robust autoresponder and email marketing system:
GetResponse is a lot more than simply a platform for sending emails. It also assists in the optimization of your email marketing process.
It provides user-friendly analytics that shows you how well your campaigns are performing. This analytics will help you to choose the right campaign, and kill which one is not working for you. Keep track of user behavior to improve your targeting. 
Sales funnel:
There is a product called Auto funnel that allows you to automate your sales.
There are Opt-in funnels to capture leads.

Sales funnels navigate customers through a complete sales process.

Webinar funnel targets border audiences and joins them to a webinar and converts them.
Landing pages:
You can create stunning landing pages with ease. There is a drag-and-drop landing page builder with lots of themes. So, any beginner can create a high converting landing page within 10 minutes.
Get back abandons the shopping cart customers:
GetResponse has a robust ruleset for creating triggers. If someone abandons their shopping cart, GetResponse will perform a specific action. You can tell the tool to send an email for a discount.
Also, you can create web push notifications, live chat, sign-up forms, and a lot more.
Customer support:
A trusted customer support team is available 24×7. Start live chat and phone support in eight languages.
AWeber features: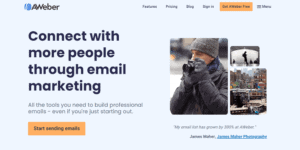 Robust autoresponder:
You don't need to think about sending welcome emails to your new subscribers, email sequences while promoting any new products, or any other automated emails. Everything you can manage from AWeber single dashboard. 
Easy to design emails:
This email marketing service helps you to build great customer experiences by creating professional email designs. It offers you access to its collection of email templates so you don't have to start from scratch. You can start with a beautiful design. Simply drag and drop email features and create professional emails.
Landing pages:
Creating an opt-in page or a sales page is very easy with the AWeber drag-and-drop builder. Don't want to create landing pages from scratch? There are lots of templates to pick from.
You can Drag-and-drop items like text, photos, and videos to make professional and responsive landing pages. The landing pages will open smoothly on any device.
Push notifications:
Push notifications can help you increase visitors to your website. This allows the user to send messages to people who aren't currently on your landing page. Push notifications suddenly pop up when your browser is open.
Newsletters:
Easily you can create a newsletter for your email marketing needs. The same drag-and-drop method can use. You can create your own newsletter from the theme library.
Excellent customer support:
There are phone, email, and live chat customer support available. The support desk will assist you even you are on the free plan.
Getresponse vs AWeber; Pros & cons:
Getresponse Pros:
You can scale your business.

Build a great landing page and a sales funnel.

Build webinar sales funnels.

There are numerous themes to choose from for the landing page and email design.

Advanced marketing automation.

No need for a credit card to join in the free plan.

24×7 customer support available.
Getresponse Cons:
The form building option is limited.
AWeber pros:
Easy email list management.

Excellent customer service.

Easy integration with outside tools.

Up to 500 subscribers you can use

AWeber

for a lifetime.
AWeber cons:
Few templates are outdated. 
Getresponse vs AWeber; Price details:
Getresponse price details: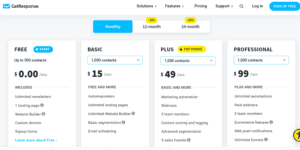 Free plan:
There is a lifetime free plan up to 500 contacts.
Basic plan:
For up to 1000 contacts, the price starts at $15 per month.
Plus plan:
This plan cost starts from $49/ month up to 1000 contacts.
Professional plan:
This plan cost starts from $99/ month up to 1000 contacts.
AWeber price details: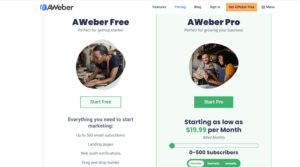 Free Plan:
AWeber has a lifetime free plan up to 500 subscribers. You can create unlimited landing pages. Also, get drag and drop builder, Email templates, Sign up forms, and more.
Pro Plan:
This plan starts from $19.99 per month when billed monthly up to 500 subscribers. The price increases when your subscriber list grows.
Conclusion:
That's all about Getresponse vs AWeber features and benefits. But I can understand, that choosing an email marketing tool, is not an easy task.
Analyze the advantages of each feature before choosing one, and the right tool that best meets your business needs.
This is the reason I writing this Getresponse vs AWeber comparison post to assist you to pick the best email marketing software.  So take your time and make the right choice.
If you ask my choice, I like Getresponse. So, I will keep Getresponse one step ahead of AWeber. Thank you very much for reading the article.
Few related articles you may like to read: