What is a VPN?
VPN stands for the virtual private network. A VPN is a way of safeguarding your computer from internet connections. It is possible to build secure connections by using encryption. In this PureVPN vs IPVanish comparison article, I described all features and benefits of these two VPN service providers. By reading this article you will get an idea that which VPN service provider is best for you. So, keep reading.
By using VPN outsiders and strangers will be unable to read or access any digital data. A VPN does more than just improve your internet security and privacy. It also allows you additional online security and flexibility by changing your device's IP address.
PureVPN vs IPVanish; Features:
PureVPN Features: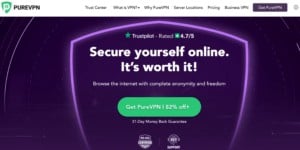 Secure Wi-Fi:
Hackers use the WiFi network as the most common entry point to obtain access to your online activities, actions, and data. It's also easier for them to gain access if your WiFi password is simple to crack. Poor WiFi protocols systems make it easier for a malicious attacker to obtain access to your entire local network.
PureVPN has reliable, and secure Wi-Fi wireless networks accessible via a router. The AES 256-bit encryption used by a secure Wi-Fi connection encrypts your internet activities. When you add a VPN network to your WiFi connection, you are guaranteed total data security because all data is sent over an encrypted channel that protects you.
IPv6 Leak Protection:
IPv6 (Internet Protocol Version 6) provides an infinite number of internet addresses. This becomes very popular to access the internet as IPv4 addresses become limited. IPv6 is mostly neglected by individuals, most people utilize IPv4 addresses. Whatever type of system an IP address is connected with, the internet hazards are the same. PureVPN utilizes IPv6 addresses for your devices for extra protection.
DNS (Domain Name Server) Leak Protection:
You can visit websites from all over the world while maintaining your online security. The DNS leak prevention offered by PureVPN keeps all online activity safe. Once you're linked, all web pages you visit are encrypted to the maximum level.
Split Tunneling:
Split Tunneling VPN secures the traffic you send through the VPN network while keeping access to your local area network and devices connected to it.
Your VPN IP address and services that require your ISP's IP address can exist in the same place since split tunneling separates the requests.
VPN Kill Switch:
PureVPN adds an extra layer of security, a powerful network lock feature that protects your VPN connection from accidentally exposing your real IP address. The Kill Switch disables your internet connection when your VPN connection drops.
Multi log-in:
Get a total of 10 simultaneous logins on a single account.
Excellent support:
PureVPN provides excellent customer support 24/7.
AES 256 bit encryption:
The next level Encryption process is known as AES 256-bit encryption. This is a data encryption safety mechanism that encrypts data using a 256-bit key.
P2P VPN service:
You'll have quick access to peer-to-peer platforms and the ability to transmit and receive P2P files.
>> Get Access to PureVPN official website Now!
IPVanish features: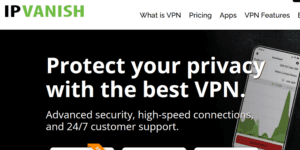 Over 2,000 servers spread across 75+ different VPN regions:
IPVanish runs over 2,000 VPN servers in over 75 different locations across the globe, giving you complete choice over your online location. IPVanish provides a high-speed VPN connection anywhere in the world.
Access to secured media:
Remain personal media consumption secret and gain secure access to the websites you use frequently. Enjoy all of the benefits of the Internet while being safe.
Shared IP addresses:
With over 40,000 IPVanish IP addresses, you can increase your privacy and hide your genuine online personal device identities. Those IP addresses are allocated across users, ensuring that no data can be traceable to a single user.
Browsing the internet safely:
Strong encryption standards protect your internet traffic from spammers, attackers, and advertisers. VPN connections from IPVanish secure any internet connectivity by encrypting individual data.
Excellent customer support:
If you really want support, the support team of specialists is available via live chat, email, and phone 24×7. They also have a knowledge resource with FAQs and tutorials.
VPN for all devices:
Using IPVanish, you can get the data security you expect for every device you possess. IPVanish covered with desktop and mobile VPN compatibility, and also other devices.
High-speed surfing:
Experience all of the advantages of a VPN without reducing your internet speed. This VPN service is designed to give the best connectivity feasible, and the WireGuard VPN protocol makes it even better.
There are no traffic logs:
They provide top privacy at IPVanish. When you use the VPN service, they don't ever track or log your traffic. Their strong zero-logs policy means that no one, including IPVanish, will be allowed to see your online behavior when you are using the VPN service.
Money-back guarantee:
If for any reason you're not completely pleased with IPVanish, they will refund the full amount if you request a refund within 30 days of the purchase. This is applicable to yearly plans.
Unmetered connections:
They will safeguard your safety while you're online, therefore each IPVanish account comes with an unlimited number of connections. This means you can use the VPN service on as many devices as you want.
Split tunneling:
For such a custom connectivity setting that matches all of your digital needs, select the programs you want to be filtered through a VPN and those you don't.
Kill switch for VPN:
If your Proxy server drops suddenly, turn down all internet activity to safeguard outsiders from using security flaws.
SOCKS5 proxy: 
This is a protocol that allows you to connect to the internet through the SOCKS5 proxy, a more versatile option to standard proxies, you can increase your performance without losing privacy by avoiding encryption.
Automatic startup:
The VPN connection will automatically switch on when online activity is detected with an auto startup.
DNS leak protection:
Built-in DNS leak protection is activated, ensuring that your traffic and actual location details remain safe.
Multiple connection protocols:
IPVanish adapts to your speed and safety requirements with a variety of VPN protocols, including WireGuard, OpenVPN, IKEv2, L2TP, and IPSec.
>> Get Access to IPVanish official website Now!
PureVPN vs IPVanish; Price details:
PureVPN Price: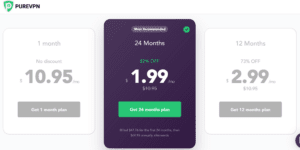 There are three types of pricing plans: 
$10.95 per month on a month-on-month basis.
$2.99 per month when billed for 12 months.
$1.99 per month when billed for 24 months.
IPVanish Price: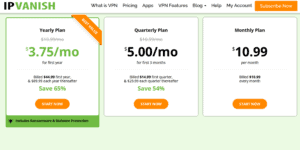 IPVanish also has three types of pricing plans: 
$10.99 per month on a month-on-month basis.
$5.00 per month for a quarterly plan.
$3.75 per month for the yearly plan.
PureVPN vs IPVanish; Pros & Cons:
PureVPN Pros:
There are more than 6500 servers in over 140 countries.

For public WiFi networks, there are unique functions.

Subscription for a company available.

Split tunneling is a suitable option.
PureVPN Cons:
Money-back guarantees are subject to certain restrictions.
IPVanish Pros:
Good accessibility.

In terms of security, IPVanish has no opponent.

Speedy enough to stream 8K video.

Good price plans.
IPVanish Cons:
Customer service sometimes can be delayed. 
PureVPN vs IPVanish; Conclusion:
PureVPN is a reliable VPN provider. There is a large country list, unblocks several streaming providers, keeps no logs, and more. On the other hand, IPVanish is a secure Vpn service provider. It has a lot of features, like a kill switch, split tunneling, and encrypted cloud storage, and it gives pretty fast speeds appropriate for streaming.
In my opinion, both VPN services are excellent, but IPVanish has a little advantage over PureVPN in terms of functionality and security. I hope this PureVPN vs IPVanish comparison review will be helpful for you to pick the right VPN service provider for your business. Thank you for reading the review article.
>> Get Access to PureVPN official website Now!

>> Get Access to IPVanish official website Now!
Few related articles you may like to read: